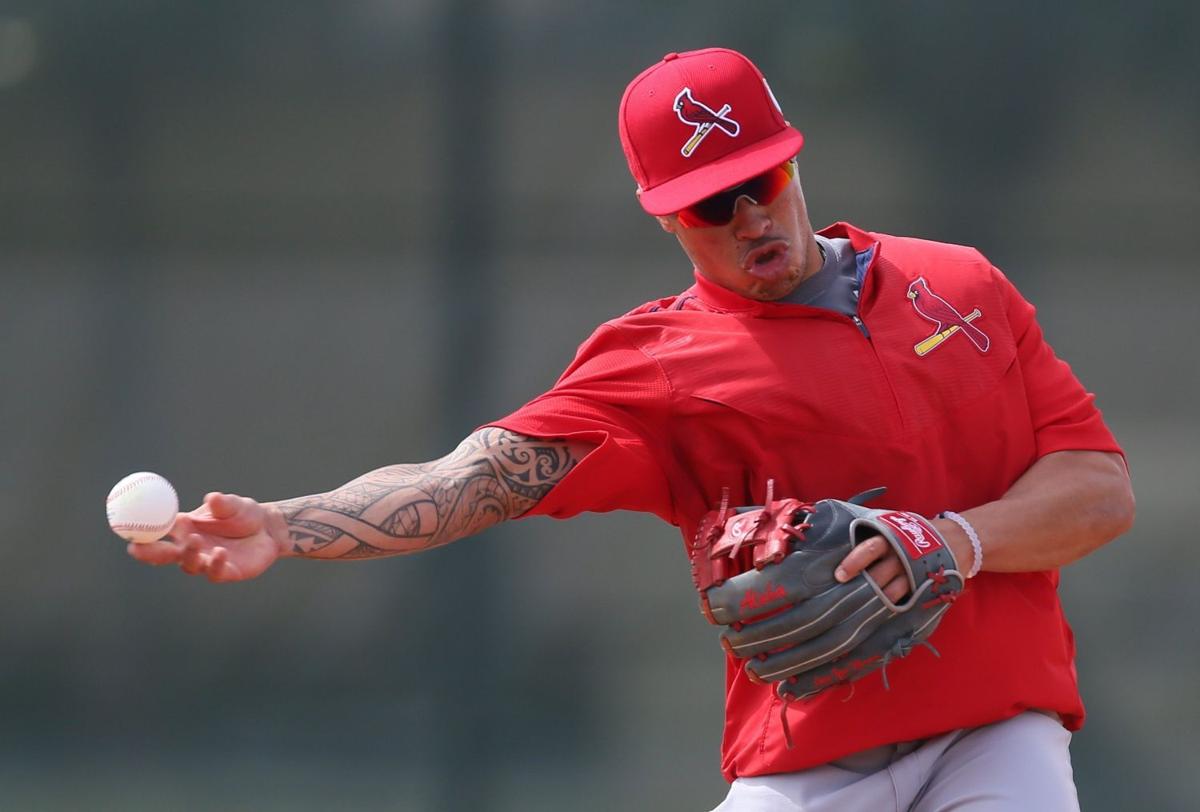 JUPITER, Fla. • Known for being picked off, Kolten Wong should now be known for being a steal.
And after a winter in which the Cardinals, and their fans, had their confidence shaken, the Wong contract extension is bit of reassurance this spring.
The Cards signed the second baseman Wednesday to a five-year deal for a guaranteed $25.5 million, and I'm telling you, this will be cheaper than if he ultimately became a free agent. And not only is this a financial steal for St. Louis, but it was also Wong's idea in the first place.
"I came to my agents and said I wanted to do an extension, because I have a lot of ties to St. Louis," Wong said during a news conference at spring training, an hour before the Cards' opener against Florida Atlantic University. "After '13, they gave me a chance to come back and really reinvent myself and show them that wasn't me. After that, I wanted to be a Cardinal. I feel like it was something I needed to do. Now, we get to step in and be a part of a bunch of brothers out there."
We've heard much this offseason about the Cardinals' aging core. It's fitting they've come down to Florida.
And yes, Jason Heyward, we know how good Anthony Rizzo is (and Kris Bryant and Kyle Schwarber). But the Wong signing signifies the next generation of Cardinals here. No, Wong's not going to be Ryne Sandberg. But like locking in an offensive lineman in the NFL, Wong is set at second for a half-decade, a mainstay in the making.
"We're happy to have Kolten for the foreseeable future," Cardinals Chairman Bill DeWitt Jr. said. "We look forward to him being a key part to our success in the future."
As general manager John Mozeliak announced the signing, Wong sat stoically to his left, while Matt Carpenter, Matt Holliday and Adam Wainwright sat in the back, soaking in the moment. Carp, in particular, was symbolic. He's signed through 2019, the longest current contract for an offensive player (though don't tell slugging pitcher Mike Leake, signed through 2021, that he's not an offensive player).
"It's exciting, getting a chance to look at guys who can be that future core, it's a cool feeling to carry on that tradition," Carpenter said. "It's a lot of responsibility, but we're looking forward to it, excited about it.
"He's got all the talent in the world. It should be fun to watch him grow into who he can become."
Who can he become? He's only 25, and if things go to plan, the Cardinals will still be playing when he turns 26 during the postseason (Oct. 10). Last season, he batted .262 with a .386 slugging average and hit 11 homers, too, but, man, he splattered into a wall. Wong hit just two of his homers and batted just .238 after the All-Star break. He was two for 14 against the Cubs in the playoffs. He was spent.
But talking to Wong in Jupiter, it's impressive to hear his honesty and confidence in how he approached this offseason. He still vigorously worked out but managed his time smarter. And he got hitched, taking some time off.
"The amount of rest I've had, I feel rejuvenated and excited to play," Wong recently told me, "instead of working my butt off like I've been and getting to spring training kind of dead."
So, yeah, this sounds like a beneficial change in approach (Wait, he used to arrive to spring training "kind of dead?"). But here's the thing. Even if Wong is just good-not-great, he should provide solidity at a position that's been a carousel for pint-sized glove men. And provide value for his contract.
New Cub Heyward has an average salary of $23 million.
Wong's five-year deal is $25.5 million.
"When you look at development and building of a pipeline, this is really an extension of that," Mozeliak said. "We try to identify the right players to invest in, and historically we've done pretty well with that. And Kolten is added to that list now."
Wong made headlines during the Winter Warm-Up, when he asserted that he wants to bat leadoff. Elsewhere in this newspaper, you'll read about Carpenter's own steadfast desire to bat leadoff. Only one guy will get the gig — and, honestly, having on-base master Stephen Piscotty lead off might make the most sense for this season — but I love this hunger, this public assertion of confidence. The Cardinals looked meek against the Cubs in 2015. They're not talking meekly about their own abilities, personal or team, in 2016.
And speaking of the Cardinals' speaking, did you hear Mo? Intentional or not, his words Wednesday brought to mind Heyward, who led the Cards in wins above replacement last season, but jilted the team and a big offer to play for Chicago.
"You think about all the things we deal with on the free agent market," the general manager said. "And having someone who has the desire to want to be a part of the Cardinals, and want to remain here, is something that's very important to Mr. DeWitt and myself."