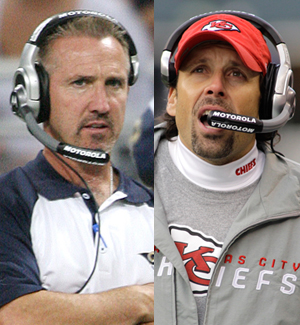 Five questions about Sunday's showdown between the Kansas City Chiefs and the Rams at the Edward Jones Dome:
1. Each team has a promising second-year head coach, with Steve Spagnuolo in St. Louis and Todd Haley in KC. But Haley has the more established and acclaimed coordinators in Charlie Weis (offense) and Romeo Crennel (defense.) Weis and Crennel, after all, helped head coach Bill Belichick and the New England Patriots upset the Rams in Super Bowl XXXVI. How will Rams offensive coordinator Pat Shumur and defensive coordinator Ken Flajole measure up to their more heralded counterparts? If it's a close game, coaching strategy looms as an important factor.
2. Thousands of Chiefs fans are expected to stream into the dome for Sunday's festivities. Are Rams fans going to make some noise, or will they allow Kansas City to take over The Ed?
3. The Rams are ranked 31st among 32 NFL teams in the percentage of touchdowns scored on red zone opportunities (36.2 percent). And the Chiefs defense ranks 31st in preventing red zone touchdowns, with opponents scoring TDs on 59.5 percent of their chances. And on the other end of the equation, the Chiefs are ninth in the NFL in red zone TD percentage, and the Rams defense is 13th in preventing red zone touchdowns. Who will win the battle of the RZ?
4. If the mending Matt Cassel can't go, or stay in, at quarterback for the Chiefs, then what do we expect to see from Brodie Coyle? He's 0-10 as a starter for the Chiefs. Is he really that bad, or is the 0-10 a misleading number?
5. Do the Rams have the outside linebackers and the rugged run support from the defensive backs necessary to contain Kansas City's perimeter rushing attack? When Jamaal Charles cuts a run to the left sideline, he averages 6.1 yards a carry. That's a potential trouble spot for the Rams defense.
Reading Time, three Minutes
Stan Musial update: President Barack Obama's office sent official word to The Man this week via e-mail; the date and time has been set for Musial to receive his Presidential Medal of Freedom at the White House. The ceremony is scheduled for Feb. 15 at 12:30 p.m. (St. Louis time). … There was a truly special moment Friday at the 1-2-3 Club's 62nd annual Christmas party at Norwood Hills CC. When Musial arrived, the 200 guests serenaded him with a loving rendition of "Happy Birthday." Musial turned 90 on Nov. 21.
After what the San Jose Sharks did to David Perron on Nov. 4 — with Joe Thornton giving Perron a concussion with a cheap shot and other Sharks players and at least one broadcaster implying that Perron faked being hurt — I'd imagine it would be especially pleasing for the Blues to defeat the Sharks tonight at Scottrade. Perron is still out. The Blues played inspired hockey to prevail over the Los Angeles Kings, and they'll need to continue with the kind of balanced scoring and determination that we saw on display vs. LA on Thursday. It's the only way to overcome this cruel blitz of injuries. Sizzling hot goaltending helps, too.
SI.com NFL writer Don Banks, in a "redraft" of the 2010 first round — based on how the rookies have played this season — still had Sam Bradford pegged to the Rams at No. 1 overall. But in an indication of how much respect Rams offensive tackle Rodger Saffold has earned, Banks had him going fourth overall, to Washington, in the hypothetical first-round remix. Saffold was the 33rd overall choice in April's draft. … Bob Costas has landed Conan O'Brien and Faith Hill to join him at the Fox Theatre on Saturday, April 2, for the 23rd annual Bob Costas Benefit for Cardinal Glennon Children's Medical Center. For info on dinner packages, sponsorships and individual tickets, call 314-577-5605. … Dick Vermeil, speaking about Bradford on KFNS: "He's the next Peyton Manning."
The Bradford File: Sam's father, Kent Bradford, is a genuinely nice man who prefers to remain in the background rather than talking about his son in the media. But Kent Bradford recently spoke to Jenni Carlson of the Daily Oklahoman. "I just think that probably a key to Sam is that Sam has very high expectations of himself," Mr. Bradford said. "Probably all the other things, the press and the stories and all of that, he just tries to ignore. He tries to just kind of do his thing."
Kent Bradford was worried when he saw Sam sacked repeatedly in the Rams' first preseason game. "In the short period of time he was in there, I think he got hammered several times. I'm going, 'You know, I hope this works out,' because he was getting smoked. I was going, 'Oh, Lord. Come on.' … As for traveling to St. Louis (and elsewhere) for Rams games, Kent Bradford said, "I'm not going to miss 'em. I haven't missed 'em up to now. Heck, he's at the top. There's no reason to start missing 'em now." Summing up his son, the elder Bradford said, "I've always been proud of him for who he is. His sports and his quarterbacking, it's all nice and fun, but he has truly been a great kid."
St. Louis Mayor Francis Slay, who played soccer at St. Mary's High School, received a visit Tuesday from his alma mater's state championship squad. The Dragons, winner of this fall's Class 2 title, dropped by Slay's City Hall office to receive a congratulatory mayoral proclamation. Slay posed for photos with the players and told them, "Treat every game and every challenge you face as if there's a state championship on the line." The championship was the sixth state title for the Dragons. … Congratulations to Chad Watson, the Rams' director of corporate sales, and his wife Erin on the birth of their son, Carter Thomas Watson on Dec. 1. Carter joins brother Brennan at home.
Speaking to Tim McKernan on KFNS radio, Cardinals pitcher Kyle Lohse explained why departed shortstop Brendan Ryan was an issue in the team clubhouse. "I like Brendan, and I think a lot of guys wanted him to do well," Lohse said. "We all tried to help him out and tried to help him understand what being a professional was ... but I honestly think that when things aren't going so good, and you're still kind of the way he is … when you're still kind of forgetting to do the things you're supposed to, it starts to wear on you. He by no way is any reason why we didn't take the NL Central — but, I think just one little distraction that kind of rubbed some people the wrong way and it's just one of those things that doesn't help a team out. Brendan Ryan is who he is, and he's going to continue being that guy and personally I like him. I just don't think he's ever going to change and the inability to get serious about things kind of makes people really tired of you."