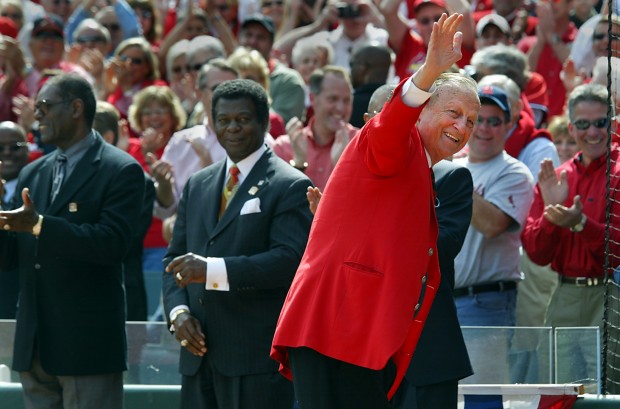 We knew this day was coming, because no one lives forever. Not even the seemingly indestructible Stan Musial. But when the word came down, when we learned that the greatest icon in St. Louis history had taken his last breath, the reality was stunning.
The Man had passed away? No, no, no. This couldn't be true. This means there would be no more of his traditional rides around the field at Busch Stadium.
We wouldn't see Stan waving to the crowd, laughing as he took his customary pantomime lefthanded swing to delight the fans.
The famous Musial harmonica would remain silent.
Who, then, would take us out to the ballgame?
Without Musial's beaming smile, the world would be a colder place. In a modern sports culture being overrun by charlatans, cheats and frauds, we'd lost one of the truly good guys, a wholly sincere person who was 100 percent worthy of love, respect and trust.
Baseball's Perfect Warrior, Baseball's Perfect Knight, was finally at rest. But don't be sad in the coming days. Musial, who spent his 92 years making others happy, wouldn't want anyone to be down.
Let's celebrate Musial's extraordinary life, and be thankful for his enduring presence through the decades. Let's keep it simple in honor of this remarkably uncomplicated man.
There has never been a more perfect union than the relationship between an athlete and a town than Stan Musial and St. Louis.
From the time Stan took his first at-bat as a Cardinal, until his death Saturday at his home in Ladue, he was part of this community's soul for 71 years, four months and two days.
With no disrespect to Cal Ripken and Baltimore, Tony Gwynn and San Diego, Ernie Banks in Chicago, Robin Yount in Milwaukee and George Brett and Kansas City, there has never been a better fit than Musial and St. Louis. His personality was the ideal match. His unpretentious style reflected the St. Louis ethos.
New York sports journalist George Vecsey, who wrote a superb Musial biography, is one who gets it.
"He was a family man who put up his own Christmas lights on his ranch house in a modest neighborhood," Vecsey wrote in the New York Times. "A friend of mine recalled going to a department store and seeing Stan and (wife) Lil testing the mattresses, bouncing up and down. They were regular citizens in a town that prized approachability."
Musial's hitting statistics are legendary, and they define his exceptional value as a player. If only we could come up with another set of numbers that tell an even better story of his value as a man.
How many autographs did Musial sign for awestruck fans? How many times did Stan go out of his way to brighten someone's day, even if he was battling a cold, or in a hurry to make an appointment on time, or physically drained after playing a Sunday doubleheader in the sweltering St. Louis heat?
Did Musial ever speak the word "no" when approached by a bashful stranger who wanted a signature, a photo or a handshake?
Did he ever let anyone down?
How many people leave a life without a single enemy?
Musial retired, from life, as baseball's career leader in kindness.
I know this town was named for another saint -- that would be Louis -- but a beloved saint went to heaven at 5:45 p.m. on January 19, 2013, so we might want to consider a do-over.
For the record, that isn't a serious suggestion. People in other cities will laugh at the notion. It's corny, hokey and hopelessly provincial. But you had to be here -- and know Stan Musial and what he meant to St. Louis -- to really understand the symbolic point of renaming the place St. Stan.
"There's no perfect human being, but I have not come across anyone in sports who was closer to the image, in reality, than Stan Musial is," broadcaster Bob Costas said. "Who has ever emanated more decency than Stan Musial does? You could always feel good about cheering him."
It's important to remember that now. Musial's passing represents a loss to St. Louis, the Cardinals, Major League Baseball, and everyone who admired him. But in a grander scope, his death is a loss for civility, sportsmanship and character.
The sports world has gone mad, with the calculating and insincere Lance Armstrong confessionals, and the craziness of a Notre Dame football player falling for a hoax. The police blotters filling up with the names of athletes gone wild. Retired NFL stars have tragically committed suicide after descending into depression caused, in part, by suffering multiple concussions during their playing days.
We're engaged in endless and vitriolic quarrels over steroids, Hall of Fame voting and ethics in sports. Fans and media are more cynical, and suspicious of what we're watching. The guy hitting all of the home runs: Is he clean? Is he real? Who can we trust?
No such questions were asked about Stanley Frank Musial.
My colleague and friend Dan O'Neill said it best on Saturday night:
Stan Musial was the Last American Sports Hero.
There are a thousand stories that define Musial's persona -- and almost supernatural charm -- in a variety of ways. Most have been repeated through the years.
Here are four of my personal favorites.
First: Musial was inducted into the Baseball Hall of Fame on July 28, 1969. It was an overcast day in Cooperstown, with the crowd subdued and distracted by the threat of rain and thunderstorms. Moments before Musial's official ceremony, the clouds got out of the way, and sunshine emerged.
"Stan brought the sun," said Pat Dean, widow of Cardinals Hall of Famer Dizzy Dean, on that day. "He always does."
Second: In the late 1960s, Musial and other major-league stars visited U.S. troops in Vietnam and went to the military hospital to console the wounded. One seriously injured soldier looked up at Musial from his hospital bed.
"You're the best," he told Stan.
Musial's response: "No, you are."
Third, Brooklyn Dodgers pitcher Joe Black, an African-American, told a story of being racially taunted by players in the St. Louis dugout during a game. Musial, batting at the time, stepped out and angrily kicked the dirt to convey his disapproval. Stan waited for Black after the game, shook his hand and said, "I'm sorry that happened. But don't you worry about it. You're a great pitcher. You will win a lot of games." Black said Musial's support helped him gain the confidence he needed to become a top pitcher.
Fourth: Legendary center fielder Willie Mays frequently praised Musial for befriending African-American players during the tense, post-integration period of baseball history. An an All-Star Game in the late 1950s the National League squad included seven black players.
"We were in the back of the clubhouse playing poker and none of the white guys had come back or said, 'Hi,' or 'How's it going?' or 'How you guys doing?' or 'Welcome to the All-Star Game.' Nothing," Mays said. "We're playing poker and all of a sudden I look up and here comes Stan toward us. He grabs a chair, sits down and starts playing cards with us. And Stan didn't know how to play poker! But that was his way of welcoming us, of making us feel a part of it. I never forgot that. We never forgot that."
That's Musial. He didn't make fiery speeches. He didn't "lead" a movement. He didn't try to promote himself as an angelic humanitarian to grab favorable publicity. He simply handled and defused a difficult situation by being himself: gracious, cordial and warm. He made a positive difference in a subtle but meaningful manner.
OK, here's a fifth story.
This may be the best Musial stat of them all: They were married for 71 years, four months and two days until Lil's death last May 3. Many years ago, at an after party at the baseball writers' dinner downtown, I sat with Lil Musial for a while.
The conversation turned to her romance with Stan.
I asked her, "Does he bring you flowers?"
Lil nodded, but said the bouquets weren't necessary.
"I don't need flowers from Stan," she told me. "Whenever he smiles at me, I fall in love with him all over again -- just like the first day we met."
(If you believe in heaven, as I do, then please be comforted by this scene: Stan and Lil sitting side by side, smiling and holding hands as you read this.)
Put into a historical context, Musial's staying power was astonishing. His career, and life, played out over a considerable and epic sweep of the American experience.
Think about this timeline: Stan stroked his first major-league hit 69 days before Japan attacked Pearl Harbor. He missed the 1945 season to serve in the military during World War II. His last hit came 54 days before the assassination of his friend, President John F. Kennedy.
On the night he died, Musial became the No. 1 trending topic on Twitter.
In the late 1950s, Ty Cobb praised Musial for being the (nearly) perfect baseball player.
Saturday night, after Musial's death, Washington Nationals pitcher Stephen Strasburg, age 24, offered an appreciation of Stan with a tribute delivered on Twitter.
Musial was a young player in 1947 when Jackie Robinson broke baseball's color line. And in his twilight Musial received the country's highest civilian honor, the Presidential Medal of Freedom, from Barack Obama, the nation's first African-American president.
What a life, and what a man.
Stan Musial belonged to St. Louis, and he will always belong to St. Louis. He's never going away. So let's celebrate. We may even hear "Take Me Out to the Ballgame" played for the first time during a Catholic funeral Mass. To quote Stan: Whaddaya say?