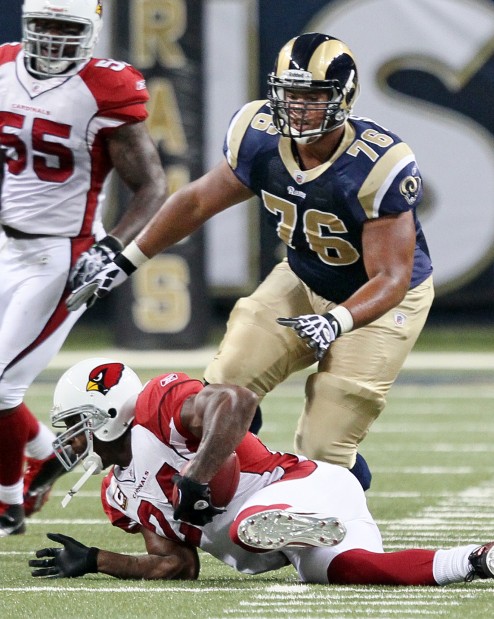 * Warning: This lead item is about an offensive lineman, and an offensive lineman who is playing very well. So of course, I understand up front that few people will read this. It's a boring topic in the short-attention span culture that rewards noise and attention-seeking grandstanders. But that's OK. I think Rodger Saffold deserves some attention. And praise.
I can't say enough about the rookie offensive left tackle and how well he's played as a starter for the Rams. Left tackle is an extremely difficult position to handle, especially for a rookie. It's one of the most challenging positions on the field, even for a 10-year veteran. And it's a high-risk position, too. A bad left tackle can cause the entire passing game to be taken down. A bad left tackle can get a quarterback injured or beaten up.
The intelligent, talented and highly competitive Saffold stepped in as an immediate starter, and has done a superb job of protecting Sam Bradford's blind side. And the Rams throw it a lot; Bradford ranks 5th in the NFL in most passing attempts, with 442. And in 12 starts Saffold has allowed only two sacks this season. And he's been flagged for five penalties.
Saffold replaced the deposed Alex Barron, who now rides the Dallas bench. What an upgrade, eh? In 74 starts for the Rams, Barron had 43 false starts, 16 holding penalties and allowed 33 sacks. 
GM Billy Devaney, head coach Steve Spagnuolo and the scouts scored big with Saffold at the top of the second round with the 33rd overall draft pick. It wasn't a sexy pick at the time -- but a great pick.
* Given the latest blow, the concussion suffered by Andy McDonald, is it too soon to panic over the Blues? Well, yes and no. A crummy answer, I know. But let me explain if I can. It's a long, long season. There's so much hockey left on the schedule. Some slumps and slides are understandable. Injuries can slow any team down. And the Blues have been rocked by them. A downturn is to be expected. It's not the end of the world, or the season. But: the Western Conference doesn't offer much cushion, much of protection. It's a tough circuit, with lots and lots of good teams -- including some deserving teams that will not make the playoffs. So yes, there has to be some urgency. I wouldn't call it panic -- urgency is the better word. Starting Thursday night, the Blues will play 12 of the next 15 games at Scottrade Center. And 10 of the 12 home games are against Western rivals. That's a lifeline. That gives this team a chance to cover the injuries to McDonald, David Perron, T.J. Oshie and Roman Polak by taking advantage of the home-ice advantage. The comforts of home give a wounded team a chance to overachieve. But suppose the Blues fail to get it done at home? Suppose they begin to flop at Scottrade, just as they did for much of last season? If that happens, if the Blues can't protect the rink at 14th and Clark, I don't believe it's being overly dramatic to suggest the team could be in serious trouble by Jan. 10, when this home-heavy portion of the schedule comes to an end.
* Of course, I'd like to see Blues GM Doug Armstrong ratchet up the aggressiveness and try to acquire some scoring punch. I mentioned that in Tuesday's "Bytes." But I also understand that a scoring touch is hard to find. A bunch of teams are looking for goal-to guys. And as others have pointed out, 75 percent of the ownership shares remain on the sales market. The Blues are packing them in at Scottrade, and Blues management always insists everything is fine (financially), but certainly it's fair to wonder if the franchise can afford to take on a whole lot of salary. So Armstrong is in a tough position. But a guy like me can always ask for a trade, right? It's easy to do from where I sit.
* Am I nuts to suggest that Blues prospect Philip McRae, 20, should soon be given a chance at the NHL level? The kid is big and strong and fearless and has nine goals at Peoria. And the Blues (obviously) have some holes on their forward lines. Am I crazy? Probably so.
* Speaking of freaking out and panicking, may I suggest that we all sort of settle down on the Albert Pujols/Cardinals talk? Am I being a hypocrite? A little, yes. A couple of months ago, I wrote about the Cardinals' need to sigh Pujols and pay (pretty much) top dollar to  keep him in STL for a long time. But that was two months ago. I've pretty much avoided jumping in on this for a long while now. Here's why: this process is just beginning. We can suggest or argue that it should have started a long time ago, and that the Cardinals were too slow to initiate negotiations. The market has changed on them, and not to their advantage, either. But I want to see what happens. I want to see how it goes. It's too soon -- for me, anyway -- to conclude that Bill DeWitt Jr. is being cheap, or that Pujols is being greedy, or that the Cardinals should TRADE PUJOLS RIGHT NOW AND GET SOMETHING FOR HIM BECAUSE THE SKY IS FALLING!!! I think we'll have a better of sense of this by the start of spring training.
Well, maybe. This will likely be a slow, drawn-out affair. Technically Pujols doesn't become a free agent until after next season. The clock is ticking, yes. But there's still a lot of clock left. It's probably a smart idea to take as much emotion out of it as possible. I think we'll have plenty of time to take sides later. Again, just my opinion. This isn't even the first inning in the Pujols negotiations. They're just warming up. So I don't plan to drive myself wacko over this, at least not yet.
* "Terriers" was canceled by FX after one season. I'm sad. But I will get over it.