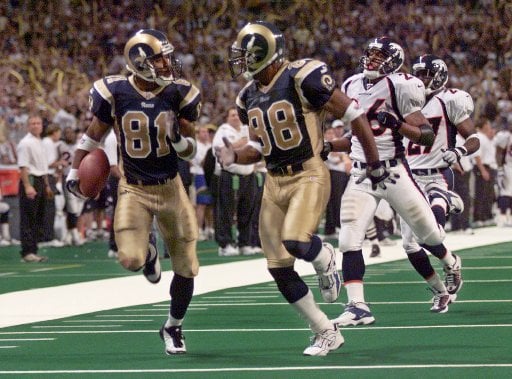 DALLAS -- Former Rams wide receiver Torry Holt isn't quite ready to call it a career. Holt, who injured a knee last summer while trying to make the New England Patriots, told me he hasn't ruled out a comeback. He's been working out and pushing the knee.
"Some days I feel good and I think, 'Maybe' this can happen," Holt said. "But there are times when the pain and discomfort is there and it takes me back to reality."
That's why Holt will likely retire. It's not as if he's looking for things to do with his time. The NFL Network recently hired Holt as a full-time analyst. He's good on TV. And he's been working with a television consultant and a voice coach so he can be even better on TV.
The NFL Network has become the second home for members of "The Greatest Show on Turf" Rams. Marshall Faulk, Kurt Warner, Holt and Trent Green are all part of the network. Mike Martz was a regular on the NFL Network until returning to coaching as the offensive coordinator with the Chicago Bears.
"We're taking over," Holt joked. "But we need an offensive lineman on the set now. Maybe 'Big O' can come join us." (That would be Orlando Pace.)
Holt played in the NFL from 1999 to 2009 -- all with the Rams except for 2009, when he spent the season with Jacksonville. Because of persistent knee troubles, Holt lost speed in his final couple of seasons. But what a terrific career he had: 920 catches, 13,382 yards, 74 TDs. No NFL wideout averaged more yards receiving per game than Holt.
"Special days in St. Louis," Holt said. "And I want to thank Rams fans for making me feel so welcome and loved while I was there. I'll always be grateful."
* T. Holt is fired up about the new-look Rams: "They've got it going," he said. "Sam Bradford is going to be very good in this league. They need to make sure they get the ball to Steven Jackson. They need to find some ballplayers to put around Bradford. Some receivers to help him out. I think 'Spags' (coach Steve Spagnuolo) knows what he's doing. They've got that defense flying. And I like the hiring of (Josh) McDaniels. He'll crank up that offense."
 * Holt on Marshall Faulk's Hall of Fame case: "Everyone knows the kind of running back he was. But people need to know about his leadership and the impact he had on young players. Marshall pushed us, he taught us, he challenged us. He just wasn't going to let anyone slide or fail to take full advantage of their ability to play this game. He played such a major role in making us what we are -- the mindset that 'The Greatest Show' had in those days."
* I caught up with Michael Strahan, the great NY Giants defensive end and future Hall of Famer who works as an in-studio analyst for FOX. I asked him about Faulk. Strahan told me a great story that speaks to Faulk's ability to be a coach on the field. "I played the game a long time, and Marshall Faulk did something I never saw anyone else do," Strahan said. "I'm not talking about running or catching the football. But he was a coach out there. I'm serious. The 'Greatest Show' would break the huddle, and I'd look across the line at Faulk, and he'd be standing in the backfield, directing traffic. He's making adjustments in their protection, he's getting the players lined up properly, he's telling Kurt (Warner) what to look out for. I've never seen a running back do that -- take over the offense and get everyone in place before the snap. I used to get on him. I'd holler at Marshall and say, 'Hey, No. 28, if you want to be a coach, take that uniform off and go put on some slacks and a golf shirt and go over there and be a coach. Get off the field!' Marshall was an amazing player in every way."
* Strahan spent a long time talking with Sam Bradford the other night at a private party in Dallas. "Impressive,"' Strahan said. "I enjoyed meeting him. The Rams are in good hands with Sam."
* The NFL Rookies of the Year will be announced Friday. You could have taken an advance photo for the winners on Wednesday, when Bradford and Detroit Lions DT Ndamukong Suh ran into each other on Radio Row and had a pleasant talk. We would be stunned if they didn't win the awards -- Bradford for Offensive Rookie of the Year, and Suh the Defensive Rookie of the Year.
* Non-football note: Mizzou basketball is 8-15 on the road in conference play since Feb. 16, 2008 ... since the start of the 2008-2009 season the Tigers are 8-12 on the road and 17-2 at home in Big 12 action. The inability to win on the road is a glaring problem for an otherwise good program... one issue: in the 20 road games, MU has averaged 19 free throws; in the 19 home games, the average is 25 free throws.
* Finally: for whatever it's worth, some of my Denver media pals tell me that Rams fans should be worried about Bradford's health. These guys covered McDaniels in Denver and say that he wasn't much interested in protecting the Broncos QB -- and would leave the quarterbacks exposed by running a lot of spread formations with empty backfields and minimal protection built in. Well, the warning is duly noted. But seriously: do we really believe Spagnuolo will allow McDaniels to be irresponsible and put Bradford at risk? There is a middle ground between being cautious and going totally wide open. The Rams have to find it.