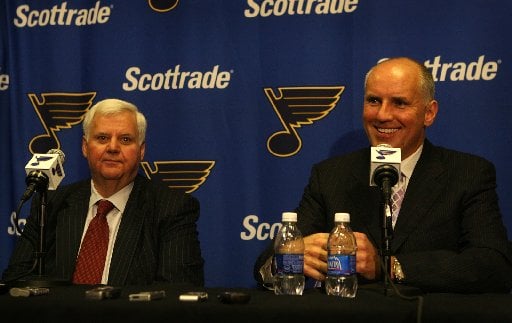 If Tom Stillman completes his purchase of the St. Louis Blues, his first order of business is automatic: a new contract for general manager Doug Armstrong.
Armstrong's contract is set to expire after next season, and the ascending Blues can't afford to lose him. Armstrong has played a tremendous role in reversing the Blues' fortunes.
Considering the franchise's newfound success and positive momentum, I don't believe the Blues would carelessly allow Armstrong to walk. Should Armstrong become available, plenty of teams would covet him.
I'm not suggesting that Armstrong has turned the Blues around by himself. Many have contributed in the project of raising the Blues from the abyss.
Jarmo Kekalainen ran the drafts and stocked the system with a strong supply of prospects before returning to his native Finland to run a franchise there. Jarmo's drafts provided a nucleus of talented players that includes Alex Pietrangelo, David Backes, Patrik Berglund, T.J. Oshie, David Perron and Roman Polak.
Before easing into retirement, former GM Larry Pleau made shrewd trades that brought Alex Steen and Carlo Colaiacovo from Toronto, and Andy McDonald from Anaheim.
Blues President John Davidson deserves credit for hiring Armstrong as vice president of player personnel in 2008, then making him the GM two years later.
Ken Hitchcock took command as coach in early November of this season, and the Blues have soared under his leadership.
Armstrong has applied some valuable finishing touches. He's made the best of a challenging financial situation. Let's take a look at Armstrong's work in St. Louis:
• When the Blues sputtered to a 6-7 start this season, Armstrong didn't procrastinate. He quickly fired Davis Payne and recruited Hitchcock, his former colleague with the Dallas Stars. With Hitchcock as coach and Armstrong as the assistant GM, the Stars won the Stanley Cup in 1999.
Hitchcock was the ideal fit for a promising but enigmatic team. Including the five-game triumph over San Jose in the Western Conference quarterfinals, the Blues are 47-16-11 under Hitchcock. They've advanced to the second round for the first time since 2002.
• With 109 points, the Blues finished second overall during the regular season and achieved that despite ranking 23rd among 30 NHL teams in payroll. With the ownership in flux, the cash-poor Blues have received financial aid from the NHL. The payroll pinch prevented Armstrong from adding salary at the trade deadline. But rather than whine, Armstrong has spent wisely, squeezing the most from his payroll dollars.
• Here's an example of Armstrong's resourcefulness: At the trade deadline last season, he moved declining winger Brad Boyes to Buffalo for a second-round draft pick. The Sabres picked up the $675,000 remaining on Boyes' salary for last season, and inherited his full $4 million salary for 2011-2012. Boyes scored eight goals in 65 games for Buffalo this season.
By dumping Boyes' salary, Armstrong used the savings to sign veteran free agents Jason Arnott and Jamie Langenbrunner last summer. The young Blues benefited from the presence of two experienced and playoff-savvy elders.
Armstrong signed another character player, center Scott Nichol, last summer. And Armstrong also traded for Vladimir Sobotka, who has been superb in a third-line role. Armstrong's other trade additions include terrific young defenseman Kevin Shattenkirk, underrated defenseman Kris Russell and winger Chris Stewart.
Stewart's goal production plunged dramatically this season, but he's still a top-nine forward on a playoff team. At least to this point, Armstrong got the better of the deal that shipped defenseman Erik Johnson, the former No. 1 overall pick, to Colorado for Shattenkirk and Stewart.
• Armstrong saved money by dealing defenseman and team captain Eric Brewer to Tampa Bay in February 2011. The Blues weren't going to re-sign Brewer, a pending free agent. There was another purpose to the trade: By moving Brewer, Armstrong addressed the team's leadership void, opening the captaincy for Backes. It was a necessary and overdue change.
Armstrong has effectively pawned even the most marginal of talents; late last season he managed to coax a third-round draft pick from Anaheim in exhange for spare winger Brad Winchester.
• Including the postseason the Blues have allowed 1.87 goals a game in 2011-2012, the lowest goals-against average for an NHL team since the league expanded from the Original Six alignment in 1967-68. The Blues have the league's best save percentage (.930) and 16 shutouts.
Armstrong brought both goaltenders here. He traded for Jaroslav Halak and signed free-agent Brian Elliott to a modest one-year deal for $600,000. The Blues later extended Elliott's contract at a reasonable rate of $3.6 million, combined, over the next two seasons.
Armstrong understands the concept of team-building. It isn't a matter of spending huge sums of money, splurging on free agents and collecting stars.
The low-budget Blues have pieces that fit together and function smoothly. Their players subjugate their egos, accept roles and put the team first.
Backes led the Blues with 24 goals this season; that ranked only 60th in the NHL. In defeating San Jose four games to one, the Blues received goals from nine forwards, and 11 players had assists. The Blues' impressive depth gave them a clear advantage over San Jose.
Armstrong must have earned stellar grades in chemistry class during his school days.
"The way we have to play as a team makes you rely on each other," Hitchcock said after the Blues eliminated San Jose. "We can't do it by ourselves, we can't rely on one guy. Our top scorer is our top checker (Backes) so it's a different element here — everybody having to trust each other so much that we play the right way. The way we have to play to win. And everybody is on that page.
"It's a very unique team in that there are no superstars, there's just a bunch of guys that grew up together, that are having fun together and really count on each other."
If Stillman wants to keep the Blues moving forward in their quest of a Stanley Cup, his first call will be to Armstrong to set up a meeting to negotiate terms for a new contract.