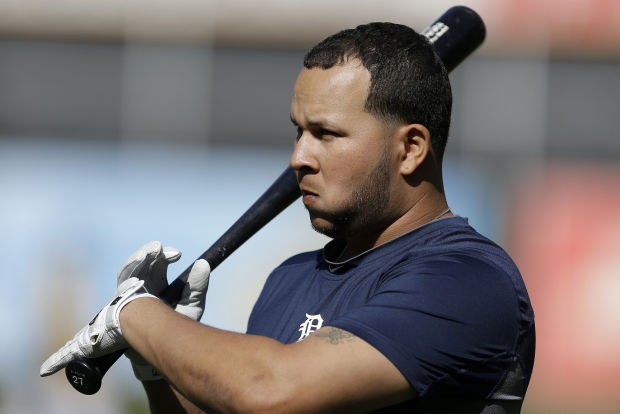 Here's an extensive look at the Cards' new shortstop, Jhonny Peralta:
The Cardinals had a shortstop problem in 2013, and had no choice but to give 448 plate appearances to Pete Kozma. Kozma was very good defensively, but batted .217 with a .275 onbase percentage and .273 slugging percentage. And the second option at shortstop, Daniel Descalso, didn't do much better offensively. The Cardinals' clear No. 1 offseason objective was finding a full-time shortstop that could boost the offense. The only problem: this was a bad year to be searching for a shortstop.
As I wrote last week: one way or another, GM John Mozeliak would have to overpay to get what he wanted. He had two choices: overpay financially, or overpay via trade. Potential trade partners were asking for starting pitcher Shelby Miller in exchange for shortstops that were about to enter the final season of their contracts.
In the end, the Cardinals took advantage of their payroll flexibility to add Peralta, a free agent, to a four-year deal. 
Last season Cardinals' shortstops combined for a .538 onbase-slugging percentage, which ranked 27th among 30 teams in the majors at the position. Peralta has a career OPS of .755, and that includes a .772 OPS over the last three seasons. Over the past three seasons Peralta ranks fourth among qualifying shortstops with that .772 OPS, behind Troy Tulowitzki (.911), Hanley Ramirez (.838) and Jose Reyes (.812.) 
Peralta will be 32 next season and 35 in the final year of his contract. There's his PED episode and 50-game suspension last season. How long can he sustain his top-five offensive status among shortstops? He's also been streaky offensively during his career, with three seasons of a sub- .700 OPS. Peralta's fluctuations could prove to be maddening. This could be the kind of deal that looks swell for two years _ and looks like hell for the final two years. 
At the time I write this, the financial details weren't available, but it's believed Peralta will make between $52 million and $56 million. My best guess is an average of $13.5 million per season. That's a big number. But I understand that this was a market-driven contract, inflated by the low supply of available difference-making shortstops.
If Mozeliak "overpaid" the investment is offset, in part, by these considerations: (A) there is no draft-choice compensation for signing Peralta, so the Cardinals kept their first-round pick in the 2014 MLB Draft. Had Mozeliak signed free-agent Stephen Drew, the Cards would have relinquished that first-round pick. And (B) Mozeliak filled his team's only glaring need without giving up any assets. The organization's bountiful stock of young pitchers and outfielders remains intact. There's value in all of that. And (C) the Cardinals are in great shape with payroll, especially with the big boost in network TV money kicking in for 2014. 
WHY PERALTA INSTEAD OF DREW?
- Number one: As we noted, Drew would have cost the Cards their first-round selection in 2014. That's not the case with Peralta.
- Number two: Drew bats lefthanded, and the Cardinals strongly preferred a righthanded bat. They wanted to avoid having an all lefthanded-hitting infield of Matt Adams at first base, Kolten Wong at second base, Matt Carpenter at 3B and a LH bat at shortstop. Peralta bats right and should help remedy the team's weakness against lefthanded pitching. Last season Peralta batted .352 with a .404 onbase percentage and .560 slugging percentage against LHP. For his career, he has a .339 OBP and .449 SLG vs. lefties for a healthy OPS of .788.
- Number three, flexibility. Peralta can do more than play shortstop if necessary. 
- Number four, I wrote this recently, and I'll repeat it now: the perception is that Drew is a better defensive player than Peralta. According to the metrics, that isn't true. More on that in a few moments... 
- Number five: durability. Peralta has missed considerable time only once in his career _ because of the 50-game Biogenesis suspension in 2013. In his eight previous years Peralta averaged 149 games and 621 plate appearances per season. He's never been on the disabled list. The oft-injured Drew played in 86 games in 2011, 79 games in 2012, and 124 games in '13.
- Number six: the Cardinals had the chance to get Peralta right now. Let's suppose they'd waited for agent Scott Boras to pit several teams against each other while dragging out negotiations on behalf of Drew _ only to lose out on Drew and Peralta. Then what? The team's biggest problem would remain unsettled. 
Last season Peralta ranked 16th among MLB shortstops with an even rating in defensive runs saved. Drew ranked 21st with minus two runs saved. Over the past three seasons combined, Peralta was +1 in runs saved; Drew was minus 6.
And the UZR/150 metric likes Peralta. Over the past three seasons combined, only two MLB shortstops have a higher UZR/150 than Peralta's 10.2 rating… Clint Barmes and Brendan Ryan.
So why is there a perception of Peralta being an inadequate defensive player? He's pretty big guy by shortstop standards (6-2, 215 pounds). He doesn't look quick out there, or graceful. But again, based on the metric ratings, he is at worst an average shortstop. The added offense makes it a common-sense tradeoff. 
Over the past three seasons combined, here are the top six MLB shortstops in Wins Above Replacement based on the FanGraphs version of WAR:
Even though he missed 50 games last season due to the suspension that came down after the Biogenesis investigation, Peralta was still worth 3.6 wins to the Tigers in '13. That ranked fifth among MLB shortstops that had at least 400 plate appearances.
WHAT ABOUT PERALTA'S AGE?
He'll turn 32 on May 28. What happens if Peralta loses range as he approaches his mid-30s? Legit concern. But the Cardinals can move him around. Peralta can play third base, first base and left field. That offers some protection against the aging process. But there is a risk involved here, even with Peralta's strong history of durability.
PERFORMANCE ENHANCING DRUGS
I'll leave the moralizing to others who are more interested in delivering these sermons from the mound. As those of you who are kind enough to read me regularly know, I'm not hung on the PED issue _ well, other than wanting to pile on Alex Rodriguez from time to time. If the PED issue upsets you, then that's your personal view. 
I have two thoughts on this...
Mozeliak and the Cardinals should expect some ridicule for signing Peralta. The move comes in the immediate aftermath of considerable "Cardinal Way" evangelizing throughout the 2013 season. Does the "Cardinal Way" accommodate drug cheats? That's the snarky way of asking the question. It's also a fair question to ask _ even if it does miss the point.
The so-called Cardinal Way is and never was a statement on morality. It's about an approach to baseball, and a philosophy that's instilled from the top to the bottom of the organization. How to play the game, how to be a good teammate, how to foster a winning environment, etc. 
Never mind the minor details; the "Cardinal Way" understandably makes for an easy target. And the Cardinals presumably knew that before giving a huge deal to Peralta, who served that 50-game suspension in '13.
Truth is the Cardinals have never viewed PED suspicions or the taint of PEDs as a deal killer or the basis for terminating a working relationship. Some of the PED-connected names include Mark McGwire, Troy Glaus, Fernando Vina, Ryan Franklin, Larry Bigbie, Gary Bennett. And those are just the guys we know about through the "official" Mitchell Report and media reports. The Cardinals' retired and venerated manager, Tony La Russa, has been called out repeatedly for the steroids proliferation in the Oakland clubhouse during his seasons there.
If the PED aspect of the Peralta agreement surprises you, then you probably haven't been paying close enough attention. If your stance is no-PEDs, period, I respect that even if I don't see it that way. 
None of this changes the reality: the Cardinals will be mocked for bringing Peralta into the baseball family and paying him so much money.  And they'll have to wear it. Management is obviously OK with that. 
As for his part, Peralta predictably expressed remorse for his actions that resulted in suspension. He was embraced by teammates when returning for the playoffs. He helped the Tigers by batting .333 with a .545 slugging percentage in 34 postseason plate appearances. It didn't erase the embarrassment or the conclusion that Peralta let his team down.
I had a friend say this to me on Saturday night: Peralta had a really good season with the bat in 2013, but how will do without the performance-enhancing drugs?
Answer: Based on his play in 2013, Peralta should produce for the Cardinals in 2014.
Peralta's dealings with the Biogenesis clinic occurred before the 2012 season. Biogenesis closed its doors and went out of business in December 2012. Peralta didn't fail the MLB test in 2013; he flunked it early in 2012. The suspension came down in 2013 … but the actions that led to the suspension took place in '12. 
I don't know what Biogenesis fed Peralta, but apparently he received the wrong magic potion ... an elixir that caused his offense to drop. 
In 2012 Peralta had his worst major-league season, batting .239 with a .305 onbase percentage and .384 slugging percentage.
Given those meager statistics, Peralta would have been better off using orange juice, tomato juice, grapefruit juice, apple, carrot, cranberry, etc.
In 448 plate appearances in 2013, Peralta batted .303 with a .358 OBP and .457 SLG. He hit 30 doubles, 11 homers and knocked in 55 runs.
Does this mean Jhonny was "clean" in 2013? Of course not. But that's why I'm restrained in PED moralizing. I have no idea what these athletes are putting in their bodies. The only time we know is when a player is foolish enough to get caught. You may believe that every player who passes a drug test is pure and virtuous; I presume none of that. The history of PED use tells us that savvy users find ways to beat the testing system.
This is what he said, via released statement, after accepting the 50-game suspension:
"In the spring of 2012, I made a terrible mistake that I deeply regret. I apologize to everyone that I have hurt as a result of my mistake, including my teammates, the Tigers' organization, the great fans in Detroit, Major League Baseball, and my family. I take full responsibility for my actions, have no excuses for my lapse in judgment and I accept my suspension.
"I love the fans, my teammates and this organization and my greatest punishment is knowing that I have let so many good people down. I promise to do everything possible to try and earn back the respect that I have lost."
WHY DID THE TIGERS LET PERALTA WALK?
During his suspension, the Tigers made a three-way deal that brought young Jose Iglesias to Detroit to take over at shortstop. He's a superb defensive player, and a cost-controlled player. Peralta could play 3B, but the Tigers are ready to go with attractive prospect Nick Castellanos as their third baseman.
At least to this point the Tigers have been in a payroll-shedding mode this offseason; they saved money by trading 1B Prince Fielder to Texas. Management is trying to create some payroll room to sign Cy Young winner Max Scherzer to a lucrative contract extension or make a run at another agent, perhaps 2B Robinson Cano. (The newly acquired Ian Kinsler can play left field.) 
In some ways, this situation is similar to the circumstances that have led to Carlos Beltran's imminent free-agent departure from the Cardinals. One difference: the Cardinals made a qualifying offer to Beltran and will receive a first-round draft pick as compensation. In retrospect, the Tigers should have made a qualifying offer to Peralta to pick up a first-round choice when he signed elsewhere.
WHERE WILL PERALTA BAT IN THE LINEUP?
Don't know, but here's a glance at how Detroit manager Jim Leyland deployed Peralta ... 
Peralta was in the No. 6 hole last season. In 2012, Peralta had 340 plate appearances in the seventh spot, and was slotted sixth for 122 plate appearances. In 2011, Peralta had 289 PA in the No. 7 spot and 249 PA in the No. 6 hole.
Here's where Peralta has logged the most plate appearances in his career:
DID THE CARDS DO THEIR HOMEWORK?
For whatever it's worth, and from what I've been told, yes. According to a source, Mozeliak had a lengthy sitdown with Peralta and also researched Peralta's PED background. The Cardinals were prepared to offer three years. Peralta made it clear to Mozeliak that the Cardinals were his first choice, but insisted on four years, because multiple teams were offering four-year deals. Peralta cashed in on a weak shortstop market. And the Cardinals _ obviously determined to fill a substantial position hole _ were ultimately willing to take on an extra year of risk.