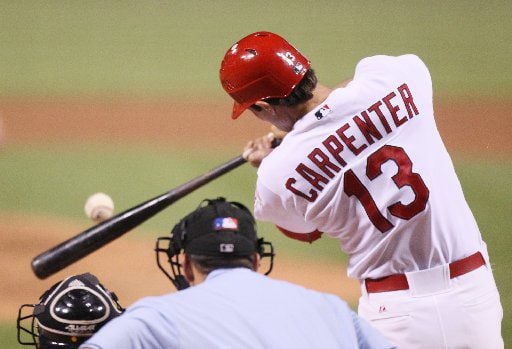 1. It's a pleasure to watch Matt Carpenter take at-bats. He generally has the best hitting approach on the team. Carpenter is patient, finesses the count, and makes the pitcher work.
Since the beginning of the 2012 season Carpenter has seen an average of 4.1 pitches per plate appearances, the most by a Cardinals' regular or semi-regular. That 4.1 percent rate would also place Carpenter in the top 20 among all MLB hitters. Carpenter has taken 58.1 percent of the pitches thrown to him — also the highest rate among Cardinals players. He swings at the first pitch only 17.4 percent of the time, the lowest rate among Cardinals hitters.
In 380 plate appearances over the past two seasons, Carpenter is batting .305 with a .375 onbase percentage and a .480 slugging percentage. That .855 OPS is topped only by Matt Holliday (.872), Yadier Molina (.858) and Allen Craig (.856.)
Carpenter bats lefthanded, but can hit lefty pitchers just fine, with a .276 average, .330 onbase percentage and .486 slugging percentage vs. LH over the past two seasons.
Carpenter grinds some of his best at-bats with runners in scoring position. Over the past two seasons he's batting .329 with RISP, and .343 with RISP and two out.
Carpenter is obviously a talented hitter, but I have a special appreciation for his cerebral approach at the plate. His calmness is effective and admirable.
2. Can your St. Louis Blues become this year's version of the Los Angeles Kings? Just asking. I make no predictions. But last season the Kings spent a lot of time muddling through uninspiring stretches of games. From Dec. 3 through Feb. 27, they went 15-15-8 and strained to score goals. On Feb. 23 of last season, the Kings acquired right wing Jeff Carter from Columbus, and the offense found a smoother gear. The Kings took off, going 12-4-3 in their final 19 regular-season games.
Like the Kings of a year ago, the 2013 Blues slogged through some deflating and confusing stretches. But GM Doug Armstrong made a dramatic roster alteration by trading for defensemen Jordan Leopold and Jay Bouwmeester in a span of three days. The moves stabilized the left side of the defense, enhanced the play of D-men Alex Pietrangelo and Kevin Shattenkirk, and greatly improved the transition game with the skilled defensive zone break-out pass that's so critical to the Ken Hitchcock system.
As you know, the Blues have won five in a row — something they did only once last season when running up 109 points.
So maybe this team has triggered some momentum that can last — into the playoffs, and beyond. But last season the Kings almost always received exceptional goaltending from Jonathan Quick, and he was the team's most valuable component in the drive to the Stanley Cup.
Can the Blues get that kind of goaltending the rest of the way? That's a big question. With a resuscitated Brian Elliott, the Blues' goaltending has settled down and appears to be a strength again. As we have learned, that can change in a hurry. Goaltending will still determine much of the Blues' fate.
3. The Blues have road games tonight at Minnesota and Friday at Columbus. The team's road performance is another reason for positive feelings. The Blues' 13-7-1 road record is good for the No. 6 winning percentage in the NHL. And they have the third-best winning percentage in the Western Conference. I'd like to be greedy and ask for two wins. But more realistically, a split would be acceptable. And then it's Sunday fun day at Scottrade, with the Chicago Blackhawks in the house for a rare 11:30 a.m. start. Tailgate!
4. The Milwaukee Brewers are next up for the Cardinals, playing three at Busch Stadium in the weekend series that begins Friday night.
The Brewers, off to a troubling 2-6 start, are enduring considerable early-season turmoil. Let's get you caught up on the developments:
First baseman Mat Gamel (knee) was lost for the season. Corey Hart, targeted to move (again) from right field to first base, is out until late May or early June as he rehabs from knee surgery.
The Brewers have five players on the 15-day disabled list including starting third baseman Aramis Ramirez and lefthanded reliever Chris Narveson. Both were on the opening day roster.
The Ramirez knee injury has a major impact on the Brewers offense, especially at his lineup spot, the No. 4 hole. In the first four games since Ramirez went out Milwaukee's cleanup hitters went 1 for 18 with eight Ks.
Manager Ron Roenicke already has yanked closer John Axford, replacing him with Jim Henderson. The move was made after Axford gave up nine earned runs in his first 3.1 innings, with a blown save and two losses. Roenicke insists the move is temporary; he wants to give Axford a chance to regroup. Roenicke gave a slumping Axford a break from closing last season, and Axford rebounded to convert 17 of his final 18 save opps late last season.
Power source Ryan Braun missed three consecutive games with a stiff neck, and was still feeling discomfort when he returned for two games against the Cubs at Wrigley Field. And the team's impressive young shortstop, Jean Segura, has been limping with a bruised left thigh and a sore right ankle.
Roenicke had to check himself into a Chicago hospital earlier this week to receive treatment for intense back spasms. He's feeling better.
Milwaukee's starting rotation has a 5.09 ERA. No. 1 starter Yovani Gallardo gave up 19 hits and 7 earned runs in 11 innings in his first two starts.
Milwaukee's bullpen has a 6.11 ERA and opponents are batting .319 against the relievers.
At least the Brewers will have their best three starters lined up for the series in St. Louis: Kyle Lohse, Gallardo and Marco Estrada on Sunday.
5. Yes, we're less than two weeks into the season. But you have to admit it's strange to see the Los Angeles Angels trailing the Houston Astros in the AL West standings. That will change, but manager Mike Scioscia was so bothered by two consecutive messy losses to the Oakland A's, he called a meeting after Wednesday's game.
The Angels, 2-6, trail the first-place A's by 4.5 games.
"The talent is in that room, and once we start to get productive, get rolling and see that confidence level where it needs to be, we're going to get into our game more often," Scioscia told reporters. "We have nobody to think about but our own club. These guys know we're going to play at a higher level."
Albert Pujols isn't the problem. He's batting .346 with a .514 onbase percentage.
The problem is owner Arte Moreno. He's obsessed with making himself and the Angels a celebrity-driven franchise. That's why he's spent a fortune on collecting aging superstar players such as Pujols and Josh Hamilton. These vanity purchases jacked the Angels' payroll up to $140 million.
It hasn't mattered. The Lakers and the Dodgers own LA, and the Angels haven't made the playoffs since 2009. After signing Pujols before the 2012 season, the Angels' home attendance dropped last season. The increasingly desperate Moreno doubled down, giving a ton of money to Hamilton.
Angels' season-ticket sales plunged by 2,000.
Moreno's hunger for "A List" status leaves the Angels with a top-heavy payroll that failed to cover needs at the back end of the rotation and in the bullpen. The Angels are very good, but they are also vulnerable. And a thin farm system won't help.
"You're talking about eight games, we have 154 left, so it's not like it's the last week of the season," Pujols said. "We have plenty of time, but we need to start getting it going. We don't want to wait until we're 25 or 30 games into the season and 12 or 13 games back and have to make up a lot of ground."