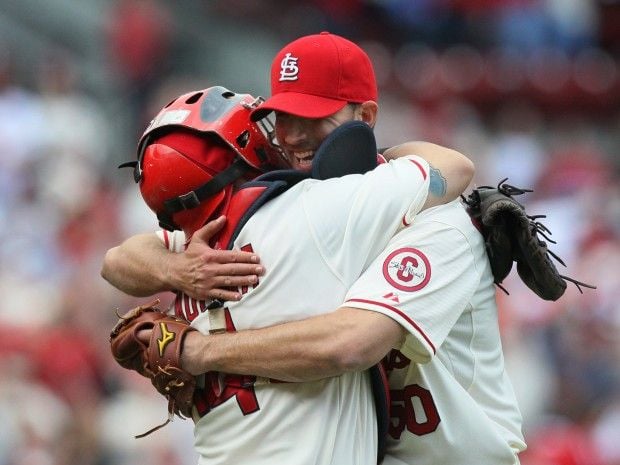 1. I loved the story, passed along by the indefatigable Derrick Goold, about how catcher Yadier Molina showed up at Nationals Park early on Tuesday to conduct an extensive video review of Washington's hitters in a determined effort to come up with a more effective pitching game plan for Adam Wainwright. And with the preparation assistance from Molina and backup catcher Tony Cruz (who joined Molina in the classroom session), Wainwright went out and dominated the Nats.
I have said it before and I will say it again: there is no player in major-league baseball more valuable to his team on a daily basis than Yadier Benjamin Molina.
A few other guys may be just as valuable (though I doubt it) as Molina  ... but no one is more valuable. 
I don't give a damn if other players hit more home runs, compile better baseball-card numbers or receive more attention from ESPN. 
All we need to know is this: since Molina joined the Cardinals in 2004, the team has a winning percentage of .558 when he starts a game.
It's easy to see why that is.
Molina rates among the best defensive catchers in MLB history. 
He's brilliant at plotting pitching strategy, calling games, and keeping his pitchers' heads aligned during intense competition. 
Molina knocked in two more runs in Wednesday's 4-2 win to complete a three-game series sweep in Washington. He has 14 RBIs and is batting .308 so far, and that includes a .409 BA with runners in scoring position. Molina had seven RBIs and a .367 BA on the Cardinals' 6-3 road trip. 
2. Jaime Garcia came through with another good start for the Cardinals on Wednesday, allowing one run in 5.2 innings and outperforming the Nationals' highly-regarded Stephen Strasburg. 
Before the season GM John Mozeliak told me he thought the STL rotation would exceed universal expectations. His prognostication is looking very good so far.
Adam Wainwright, Garcia, Lance Lynn, Jake Westbrook and Shelby Miller have been superb in April. Combined, the fabulous five have allowed three earned runs or fewer in 18 of 21 starts. They have been dinged for two runs or fewer in 14 of 21 starts.
The Cardinals' starting five has combined for the best rotation ERA in the majors, a brilliant 2.35. They have the best fielding independent ERA, 2.80. They lead the majors in wins, with 13. They are tied (with the Reds) for the most quality starts, with 16. They are second to the Reds in innings pitched.
Only four MLB rotations have allowed fewer base runners per nine innings. The STL starters have the best ground-ball rate (67.7 percent), which is a factor in their MLB-lowest home-run rate. The starters have given up only five homers in 134 innings.
Obviously, the Cardinals won't be able to sustain that 2.35 ERA. Since the pitching mound was lowered in 1969, the best rotation ERA (2.85) came in '69. And during the Tony La Russa and Dave Duncan era, the best starting-pitching ERA was 3.50, back in 2010.
But this is a good rotation and will continue to roll on as a team strength. And if there are injuries, slumps or other setbacks? The organization has multiple in-house solutions including Joe Kelly and prospect Michael Wacha.
Even after losing Chris Carpenter to injury and voluntarily losing Kyle Lohse to free agency, the St. Louis franchise is rich in starting pitching.
3. Continuing on this theme: it's been a long-honored baseball custom to declare that starting pitching is the most crucial element in a team's composition. Early on, the 2013 Cardinals are reaffirming that view.
This team is off to a 13-8 start despite (A) ranking 9th in the NL in home runs per game; (B) ranking 10th in batting average; (C) ranking 10th in onbase pecentage; (D) ranking 11th in slugging percentage; (E) ranking 11th in w/OBA; (F) having the NL's fourth-worst double-play rate; (G) having a 5.04 bullpen ERA.
The Cardinals' starting pitching is covering for the slow offensive starts, bullpen weaknesses and other minor flaws.
And now it appears that the bullpen is coming around, and we're confident the lineup will get hot, so ... 
4. Of course, this team's collective resilience is a factor in the 13-8 start. My friends in the sabermetric community scoff at the concept of intangibles, and as much as I embrace advanced statistics I'll never overlook or dismiss the human element from the game. Talent is the most important factor. Talent can override anything. And if you are lacking in talent, then you won't win much. But I do believe, and will always believe, that mental toughness plays a role in a team's success. I'm immovable on the subject.
In the first month of 2013 we've seen the Cardinals grind their way to wins by overcoming negatives. They are 3-1 in games that have immediately followed a decisive and emotionally damaging blown save. The Cardinals are clinging to first place in the NL Central despite having played more road games (15) than any team in the majors. They have a overall winning record despite being outscored 28-10 after the seventh inning. They're five games over .500 despite having blown five leads.
The Cardinals have gone 12-5 after a 1-3 start. They haven't had a losing streak since dropping the final game at Arizona and the first game at San Francisco in the season's first week. The Cardinals are winning despite a low batting average (.245), low onbase percentage (.304) and low slugging percentage (.371). They are winning even though 20 MLB teams have swatted more homers.
Again, excellent starting pitching is the primary factor in the early winning record. But we've also watched a team that locks in to take mostly good at-bats with runners in scoring position, a team that doesn't go in the tank after tough losses, a team that already has posted four comeback wins. If you don't think this team possesses admirable resilience, then you aren't paying attention.
5. Tracking the NL Central ...
REDS: Cincinnati's top pitching prospect, rookie Tony Cingrani, has impressed in his first two MLB starts. They lefty has worked 12 innings, allowed 3 earned runs, and struck out 17. Cingrani struck out nine Cubs in seven innings Tuesday and needed only 12 pitches to strike out the side in the first. … Cingrani was called up from Class AAA Louisville when Johnny Cueto went on the DL with a strained right lat … Reds fans are hollering about LH reliever Manny Parra, who took the loss Tuesday. He has an 8.10 ERA and has allowed 15 hits in 6.2 innings. ... the Reds' April schedule has been much different than the Cardinals sked; Cincinnati has played 16 of 22 games at home. Despite that the Reds trail the Cardinals by a half-game in the NLC. ... newcomer Shin-Shoo Choo apparently enjoys playing for the Reds and competing in the NL; in his first 104 plate appearances the CIN leadoff man has scored 18 runs and batted .392, with a preposterous .534 onbase percentage and .608 slugging percentage. Choo has drawn 14 walks and been hit by 10 pitches.
BREWERS: When the Crew avoided a three-game sweep by coming back to beat the Cardinals' bullpen for an extra-innings win on April 14, the triumph ignited a nine-game winning streak that's moved Milwaukee into 2nd place. How did this happen? Several reasons: Power; the Brewers have slammed 15 homers in the nine wins including five from Ryan Braun and three each from Jonathan Lucroy and Yuniesky Betancourt. Yes, Betancourt _ who has driven in 13 runs during the nine-game streak…the Milwaukee bullpen has settled down nicely with a 1.21 ERA during the 9-0 run. New closer Jim Henderson is 5 for 5 in save opps this season, and the demoted closer John Axford is rebounding in a setup role, having made five consecutive scoreless appearances during the winning streak… No. 1 starter Yovani Gallardo has recovered from a rough beginning to go 2-0 with a 2.84 ERA in his last two starts … and Kyle Lohse has pitched very well, even though he may miss a start because of a dislocated finger on his non-throwing hand.
CUBS: Chicago Tribune beat writer Paul Sullivan notes that the team has gone 24-56 since last season's July 31 trade deadline; that includes a lurching 6-13 start to 2013. When GM Jed Hoyer showed up on the team's current road trip it led to some buzzing over manager Dale Sveum's job security. But Hoyer told reporters Sveum has nothing to worry about. Hoyer put the blame on himself and baseball CEO Theo Epstein: "It's on Theo and it's on me. We have to figure out ways to get better. We're not the most talented team in the league right now. We're trying to build to get there, but as we get there we can't continue to make the kind of mistakes we've been making," … the Cubs' rebuilt rotation has been effective, posting a 3.04 ERA. But the bullpen is horrendous, with a 4.70 ERA and six blown saves. The Cubs have lost eight games already this season when leading after five innings.
PIRATES: They're 11-9 and a three-game sweep of Atlanta raised the morale. The pitching has been outstanding, with a team ERA of 3.14 which include a 1.86 bullpen ERA. But the Pirates need to pump up the offense; they're batting only .231 with a .299 onbase percentage and .367 slugging pct. The Pirates are averaging 3.6 runs per game and have scored 3 or fewer runs 11 times … CF Andrew McCutchen is off to a slow start, batting .243 and going 4 for 20 with runners in scoring position … Pirates' No. 5 hitters have combined for only 6 RBIs and a .229 average … enigmatic 3B Pedro Alvarez is batting .150 with 23 strikeouts in 60 at-bats.
Keep up with the latest Cardinals coverage from our award-winning team of reporters and columnists.