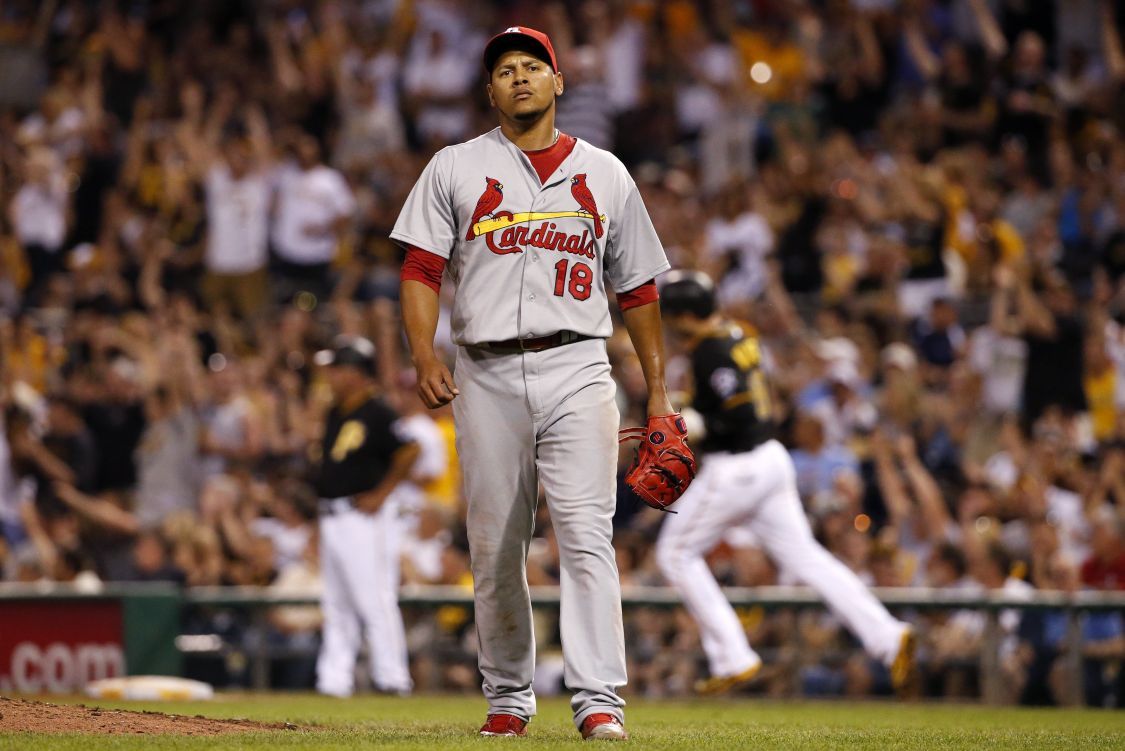 Though he wouldn't care to admit it, Cardinals GM John Mozeliak certainly must realize what's coming. It's just a matter of time, and maybe he can even stall for a while. But Mozeliak won't be able to ignore reality, or avoid the inevitable.
Mozeliak will make the phone call. Another GM will be on the line, and the negotiations will commence. Mozeliak will try to preserve as many assets as possible to keep the terms reasonable, but it won't be easy.
Once the haggling ends, the GMs will wish each other luck and say goodbye. Mozeliak will get in touch with his manager, Mike Matheny, and deliver the good news: Help is on the way, because the Cardinals just made a trade to acquire a starting pitcher.
This is how it will play out. All that's left to be determined are the particulars, starting with Mozeliak choosing a preferred option. And he can go one of two ways.
Mozeliak can pay a huge price to outbid other desperate GMs in a trade for an elite starter, someone like Philadelphia's Cole Hamels. Or Mozeliak can be less ambitious and obtain a starter to supply bulk innings to prevent the St. Louis bullpen from collapsing.
Either way, the Cardinals will have no choice but to go get a starting pitcher. They can't put the season at risk by wishing and hoping for an internal solution to cover the shortfall of innings from their starting rotation.
The Cardinals can't entirely depend on unproven and erratic starters (Carlos Martinez). They can't load the high innings-pitched totals on young starters that broke down a year ago (Michael Wacha). They can't bank on the durability of Jaime Garcia, or exaggerate the potential of an inexperienced Marco Gonzales.
With ace Adam Wainwright gone for the season with a torn Achilles, the Cardinals can't afford to absorb another injury-related hit to a rotation that's already too thin. So Mozeliak must reinforce what he has in place and the rotation fix will come from the outside, via trade.
This much is certain: The Cardinals can't go on like this. They can't continue to have so many short, woefully inadequate starts and expect the bullpen to cover an excessive amount of innings without cracking.
In Saturday's 4-3 loss to Detroit at Busch Stadium, the Cardinals received only 3.2 innings from starter Tyler Lyons. Once again the bullpen was saddled up to go the rest of the way, working the final 6.1 innings in a game that went 10 innings.
Since April 26, the day after Wainwright went down, Cardinals starting pitchers have lasted fewer than six innings in 11 of 20 starts and have a 4.56 ERA. They've cranked out only eight quality starts in the 20 games.
The rotation erosion has put an enormous strain on relievers that pitched 76.1 innings since the Wainwright injury, the most by an MLB bullpen over that time.
The Cardinals didn't fall to the Tigers because of Lyons' abbreviated start. They lost for other reasons, including some of the worst base running we've seen around here in a long time.
Led by long reliever Carlos Villanueva, the STL bullpen did another excellent job, giving up one run from the fourth inning through the ninth until Matt Belisle was jumped for the winning run in the 10th.
It misses the point to simply praise the bullpen but ignore the growing innings deficit. Matheny had to use four relievers Saturday, and there will be repercussions if the heavy bullpen-usage pattern continues.
The Cards have actually done pretty well to dodge a lot of the trouble caused by so many brief starts, winning 12 of 20 games after Wainwright's depressing exit. But the trend is starting to catch up to them.
The Cardinals have lost five of the last seven games, with their starters failing to make it through six innings in five of the seven. The Cards bullpen has accounted for 42 percent of the innings worked over the last seven contests. Way too much.
"I don't know if we're completely dodging or just deflecting because somebody's going to have to pay," Matheny said. "And it's the rest of our bullpen that's paying when we can't get our starters very deep in the game. Yeah, that's just got to change. We've got to figure out how to get it done. That's all there is to it.
"If we don't have Villanueva do the job that he did today, we would have really beat some (bullpen) guys up. Once again he was very, very good for us. But it's tough when you have a team like this and you can't get your starter through four (innings). It makes for a long day. We need them going deep."
Lyons (three) and Tim Cooney (one) have made four starts in Wainwright's former rotation spot. They've contributed only 15.1 total innings in the four outings, with a combined 6.45 ERA.
That's why Garcia, having completed his injury-rehab assignment, will most likely move into the rotation, bumping Lyons. How long the fragile Garcia will last is anyone's guess; he made only 16 starts over the past two seasons.
What about Gonzales as a fallback? While the talented Marco has the chance to be a good starter for the Cardinals in the future, nothing suggests he's ready to click off a bunch of six-inning, seven-inning starts for the big club right now.
Martinez and Wacha haven't gone deep in many recent starts, either. These days only John Lackey and Lance Lynn can be counted on to make it through six innings or more.
When starters are pulled from games early, it greatly reduces a team's chances of winning. Over the past three seasons the Cardinals had a 62-99 record in starts that covered fewer than six innings.
It isn't just the number of innings. It's also the quality of the innings.
Either way, the Cardinals have a problem.
Go ahead and point to the Cards' first-place status, and their terrific 24-12 record and tell yourself there's nothing to worry about. Proceed to reject all of this babbling about the need for another starting pitcher as nothing more than another example of some jerk in the media, trying to stir it up.
But as much as you may hate to accept it, you know that it's true: The Cardinals have to make a trade for a starting pitcher, and the time is coming. Mozeliak knows it, too.