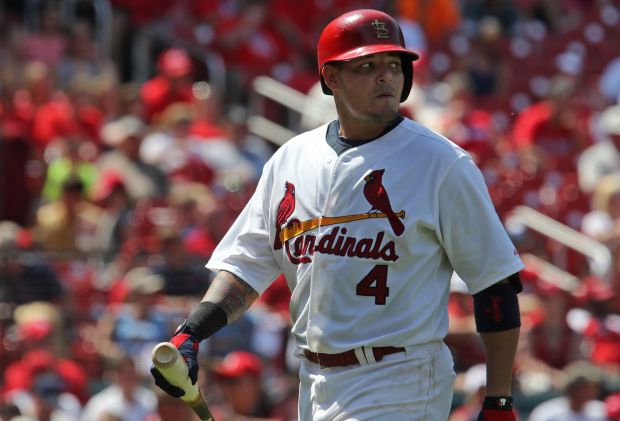 Really, there's no way anyone can put an optimistic spin on the loss of Yadier Molina. 
This could be a season-ending injury.
And yes, the Cardinals are in trouble. 
This doesn't mean the Cardinals are burnt pie, or that their season is doomed, or that GM John Mozeliak should begin auctioning off players in a bailout to prepare for 2015.
This doesn't mean their mission is hopeless, or that Tony Cruz or a catcher to be added later can't do a commendable job during Molina's absence.
Goodness, we're talking about Yadier Molina here. He's the platinum standard among MLB catchers. In the history of this great game of baseball, he's among the best to wear the tools of the catching trade.
A six-time National League All-Star. Six gold gloves. Two platinum gloves.
A marksman with the best throw-out rate in catching stealers (45 percent) in modern MLB history. An intimidator who uses the fear factor to suppress the opponents' running game; they don't want to try him. So they make sure to stay close to the base. And heck, Molina might just pick them off anyway. He has 44 pickoffs since becoming the full-time starter in 2005.
Molina won the Silver Slugger award in 2013 for being the best hitter in the NL at his position. Over the past three-plus seasons, he leads all MLB catchers in batting average, doubles, extra-base hits and total bases and is second in combined on-base plus slugging percentage (OPS).
How can you count the number of wins that Molina has meant for the Cardinals? With all due respect to the smart people who devised WAR — the wins above replacement advanced metric — Molina's true value can't be quantified.
He's a leader of men. Therapist and counselor of pitchers. Strategist. De facto coach. The face of the franchise.
Sorry, Bruce Springsteen … but Yadi is the real Boss.
You can't replace all of Yadi's qualities. You can replace some of them — but not all of the essential components that the elite Molina brings to the competition.
Molina's defense can't be matched, but he's hardly a one-dimensional player. A Cardinals team that's been scrounging for runs will feel the loss of Molina's .287 average, .341 on-base percentage and .409 slugging percentage. The Cardinals have just lost their No. 5 hitter.
So what do the Cardinals do now?
Here's the first thing: Buckle up.
Dig in, play your tails off and grind out the wins. The Cardinals are representing themselves and a great franchise and a passionately loyal fan base. They'll also be representing Molina, their unofficial captain. It would be an absolute disgrace for the Cardinals to allow themselves to fall apart during his time away from the field. It would go against everything that he stands for.
That said, I don't think the Cardinals will collapse. They may not be good enough to win this thing, but I don't think effort will be a factor.
"They've got an opportunity to respond with pity or doubt," manager Mike Matheny said of his players. "But the opposite side of that is, they can bow their necks and say, 'OK, now watch what we do.' We've got an opportunity to step up and do something special. And this is the kind of group of guys I think we have."
I watched the 2002 Cardinals valiantly and remarkably overcome the death of a teammate, pitcher and team leader Daryl Kile, to win 97 games, the NL Central title, and an NL Division Series before losing to the Giants in the NL Championship Series. And as depressing as it is to lose Molina for a long time, nothing compares to having a teammate die in the middle of the night in a Chicago hotel room.
Granted, this will be extremely difficult. And very strange. The Cardinals haven't played a considerable stretch of baseball games without Molina as catcher since the first half of the 2007 season. That year a fractured left wrist kept him on the DL from May 30 through June 28. And that was only a month. They're looking (conservatively) at a two-month absence now. And that stinks for anyone who loves the Cardinals — and even the non-Cards fan who appreciates greatness.
As ESPN's Keith Law tweeted: "Yadier Molina missing two-plus months would be bad for the Cardinals, but also just bad for baseball, period."
I happen to believe that Molina is the most irreplaceable player (to his team) in baseball. It's one of the reasons why the Cardinals didn't increase their offer to Albert Pujols to match the $240 million pitched by the Angels: because signing Pujols at that price would make it difficult if not impossible to sign Molina to a contract extension.
At the time, Mozeliak told me that Molina was the only player deemed irreplaceable by the Cardinals. But now they have to do just that: replace him. And in the middle of a tight four-team race in the NL Central.
For now, it's one step at a time. Cruz takes over. Rookie catcher Audry Perez has been summoned from Triple A Memphis. The Cardinals will likely look outside the organization for help.
According to ESPN's Jim Bowden, the former Reds and Nationals GM, here's a list of "possible trade targets" for St. Louis:
John Buck, Mariners (recently designated for assignment).
A.J. Pierzynski, Red Sox (was designated for assignment Wednesday).
It's too soon for me to parse that list. Other than Buck and Pierzynski, I don't know who's available or what the cost would be via trade. That's for Mozeliak and his staff to figure out.
But can the Cardinals find a way to still play good ball, winning ball, without Yadi? Sure. There's always a way. Just as recent Cardinals teams managed to overcome the loss of starting pitchers Adam Wainwright (2011) and Chris Carpenter (2012) and closer Jason Motte (2013).
If you still don't think it can be done, then look to the East. The Orioles lost All-Star catcher Matt Wieters to a torn elbow ligament and season-ending Tommy John surgery. And the O's are leading the AL East.
Molina's removal puts more pressure on Mozeliak to make a move to upgrade the offense. Not at catcher, specifically. But more than ever the Cardinals need help to kick-start a lineup that ranks 14th in the league in runs per game.
It's imperative for Matheny to deploy his best hitters. He can't be fooling around, trying to get at-bats for his secondary players, and worrying about hurting someone's feelings. The manager has an obligation to go with the bats that can maximize the team's offensive potential. A player's individual concerns are irrelevant; this is about the team. All about the team.
The Cardinals also have to hope to get lucky. Remember what Pete Kozma did in September 2012? No one expected that. After the Cards lost starting shortstop Rafael Furcal to a season-ending elbow injury, Matheny and the Cards had nowhere to turn. Kozma was the shortstop of last resort.
And the Koz promptly saved their season, batting .333 with a .569 slugging percentage and some killer RBIs during the final month. To top it off, Kozma delivered the two-out, ninth-inning hit that won the 2012 NL Division Series in a dramatic Game 5 comeback at Washington.
Miracles are rare. But it's possible for a few players to get hot and deliver an unexpected surge of production.
"The game doesn't stop," Mozeliak said. "We'll keep going."
The Cardinals have no choice but to press on. Their team MVP is hurting. He will be missed. It's a bad break. It's awful. But remember, there's no crying in baseball.