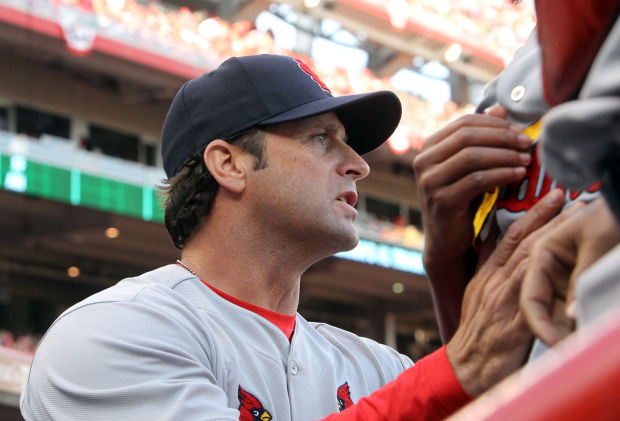 CINCINNATI • In a conversation about the spirited rivalries within the NL Central division, Cardinals manager Mike Matheny detoured into a discussion of the so-called 'Cardinal Way.' And he believes the misused phrase is working against his team. 
"I don't even want to use the term 'Cardinal Way' anymore," Matheny said Thursday in the visiting-team's manager's office at Great American Ball Park. 
Matheny said teams are "gunning" for the Cardinals -- at least in part -- because they resent the frequent mentions of the Cardinal Way and what the term conveys. Namely: a perceived expression of superiority over other baseball franchises.
Matheny clearly wants to put an end to it. 
"It's a compliment to us that there's a lot of teams that are gunning for us," Matheny said. "And some of it's accidentally self imposed with some of this Cardinal Way stuff, and this 'holier than thou' (reputation) which is not what (we are). I think you've heard a whole lot less of that coming from inside of here because this is a topic that we've thought about a lot lately."
Indeed, 'The Cardinal Way' has been misappropriated as coin of the realm in describing the Cardinals. The title actually reflects the organizational philosophy of teaching baseball fundamentals and instilling core principles on being a good teammate. It's about cultivating a winning environment. It is literally an instruction manual.
And it's definitely been blown out of proportion — by proponents and critics alike. The Cardinal Way never has been about this organization smugly touting its system as being above all others. But that perception sticks. 
"I don't even want to use the 'Cardinal Way' term anymore," Matheny said. "But that whole idea is really something to be inside this clubhouse and inside more importantly the minor league clubhouse. About what it's supposed to look like and not really for commercialization or for promotion.
"I think it got out of hand to the point where it's ugly to people outside of this organization. No good comes from it. And I think it's put people on the offensive. And they have all the reason in the world (to want to beat the Cardinals) … you know, it's like we're out there running, carrying this big banner and that's not necessarily – not at all – who we are." 
I appreciate Matheny's decision to clear the air on this polarizing topic. By the way, he did so unsolicited. I had asked a question about the Cards' rivalries with the Reds, Pirates, Brewers and Cubs. Matheny used the question as a platform for speaking out on the recent Cardinal Way conundrum. 
In the past I think Matheny played a role in twisting the meaning of the Cardinal Way by giving the impression that it's tied to a moral code. And that's tricky; instead of the Cardinal Way being just about baseball, it seemed like a mission statement on turning players into better people. 
I don't believe Matheny was trying to to hijack the Cardinal Way term to deliver a more personal, beliefs-oriented message. His intentions were, and are, solid.
What manager doesn't want his players to be good men? Matheny was hired for his leadership skills _ and leaders can shape character. But as we've all learned, attempts to define a way of playing baseball can easily be misinterpreted or distorted if it comes off as evangelizing. 
The Cardinal Way does exist, and internally it's important. But Matheny is correct in his desire to want the label removed from the public lexicon and put out of the reach of gimmicky, catch-phrase sloganeering. On top of that, Matheny doesn't want to give extra motivation to opponents. So the 'Cardinal Way' will go away for a while.