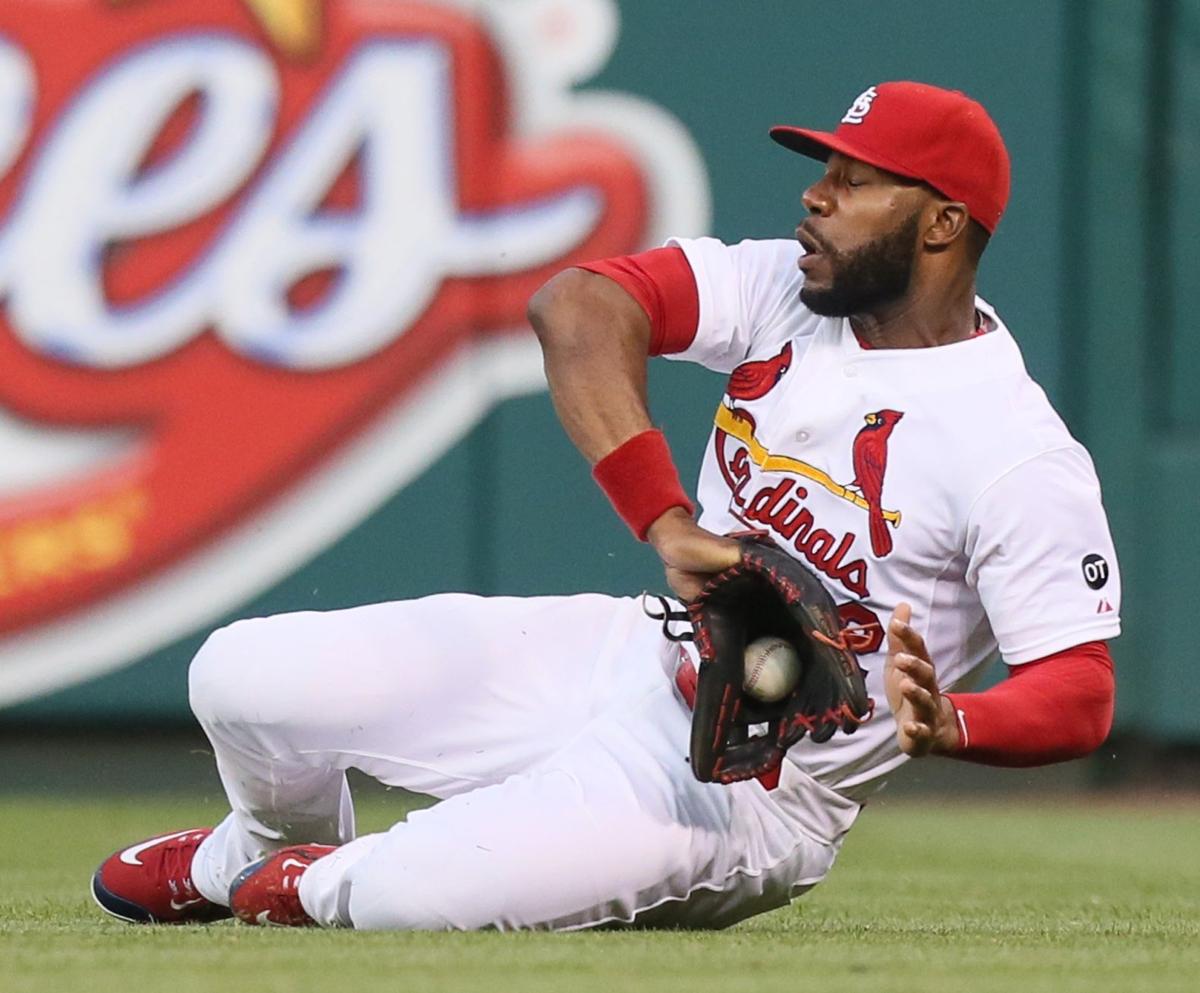 After a slow start, Cardinals right fielder Jason Heyward is making progress. The numbers aren't dramatic, and no one is suggesting that he's hitting like Bryce Harper. But over his last 20 games Heyward has three homers, four doubles, 10 runs-batted in, and a .452 slugging percentage.
Heyward has also lowered his problematic ground-ball rate over this stretch, and it's a good sign to see him putting more batted balls in flight. With the Cardinals three outs away from a loss to Arizona on Wednesday night, Heyward delivered his biggest hit for his new team: the ninth-inning homer that tied the game 3-3. The Heyward shot perked the Cardinals, who kept going for a 4-3 walk-off win. 
The timely homer gave Heyward a reason to smile and exhale after his unusually clumsy two-error game. Maybe this is what Heyward needed: a sudden turnaround in a dreadful game that was shaping up as one of his worst. And perhaps Heyward's in-game recovery to hit the bomb will propel a turnaround of his season. 
Through his first 47 games as a Cardinals, Heyward is batting .239, with a .290 onbase percentage and a .387 slugging percentage. Heyward's below-average 86 OPS+ would be the lowest of his six-season career. And Heyward's heralded defense hasn't been as smooth as anticipated.
Obviously, the Cardinals expected more after acquiring Heyward and reliever Jordan Walden from Atlanta for starting pitcher Shelby Miller and pitching prospect Tyrell Jenkins. It would be an understatement to say that Cardinals fans have noticed Miller's exceptional new beginning in Atlanta: 10 starts, 8 quality starts, five wins, and a 1.48 ERA. 
I asked Cardinals GM John Mozeliak if he regretted making the Heyward trade. I confess that it was a bullspit question because I knew what the answer would be. 
"No," Mozeliak said in responding to the 'regret' inquiry.
(What else would he say right now?)
"And I think whenever you make those kind of deals, there are reasons behind it," Mozeliak said. "And at the time, we felt that we had to do something. Not only looking at how we want this club to be put together, but we did not feel like there might be any other opportunities that would meet the type of criteria we're looking for." 
Mozeliak made the trade at a sad and terrible time for the franchise, acquiring Heyward soon after the shocking death of top Cardinals prospect Oscar Taveras. Some critics have suggested that Mozeliak overreacted and panicked, but I disagree. Anyone who knows Mozeliak realizes he's a pure pragmatist. He's doesn't allow emotions to boil over and influence a decision. Even at stressful times, Mozeliak remains calm. 
Mozeliak traded for Heyward because he saw a young talent, age 25, that was in his athletic prime. He saw a potential, long-term core player. A Gold Glove winning right fielder. A performance history that displayed onbase skill and flurries of power. And in Heyward, Mozeliak saw a vexing inconsistency that could be solved by a career restart with a new team.
The deal was a gamble for reasons that have been cited six million times already. Heyward can become a free agent after the season. Miller, a pitcher of considerable promise, already had membership in a St. Louis rotation that stood among the finest in the majors. Miller made 62 starts for a successful machine that reached the World Series in 2013, and made its fourth consecutive trip to NLCS in 2014. 
The trade is looking like Tyson-Spinks knockout for Atlanta. But baseball people firmly believe in the full test of a 162-game schedule. Heyward has ample time to validate Mozeliak's high opinion of him. 
"Though we've passed the quarter turn, I still think there's more in the tank for him," Mozeliak said. "He's a capable offensive player. I do think he's going to have to make some adjustments. When you look at the type of talent he is, and the type of athlete he is, expectations are high. Our game is pretty simple: you do or you don't. I do think he's the type of athlete that can do that. Historically he has."
It's interesting to hear Mozeliak say that Heyward has to make adjustments. Obviously the Cardinals believe there are mechanical hitting flaws that can be tweaked and fixed. The optimistic thinking was an element of this trade; Mozeliak believed the Cardinals could provide Heyward with a fresh outlook to draw out his potential. They're about to enter the project's third month.  
• A 58 percent ground ball rate. Too high. (But as we noted earlier, also coming down.) You can't consistently hit for power when your bat spits out so many ground balls. Sure, there are ground-ball doubles, but you'd better sizzle them right down the line. There are no ground-ball homers. 
• Heyward has a sickly walk rate of 6.25 percent -- which is notably lower than his career walk rate of 11%. He's seeing fewer pitches per plate appearance, so this could be a matter of him being overly aggressive. 
• Along those lines, there's Heyward's increased "chase" rate on pitches out of the strike zone. He's fished for out-of-zone pitches on 31% of his swings. Again: the approach may be too aggressive. 
• The so-called book on Heyward is to pitch him up in the strike zone, his most vulnerable area. According to the hot-zone graphics at STATS LLC, Heyward does not have a hit this season on strikes thrown at the top of the strike zone (27 swings) or high pitches that miss the strike zone (18 swings.) 
• Heyward's line-drive rate (18.5%) is slightly above his career rate. 
• Heyward's hard-contact rate (30%) is four points above last season. 
• He has a 94% contact rate on pitches in the zone. Except for the high-zone pitches, he doesn't swing-and-miss often when pitchers throw strikes. 
• It's been suggested that Heyward is struggling to handle the heat, but the numbers don't back it up. Two Heyward homers and two doubles have come against four-seam fastballs, and Heyward is batting .342 against sinkers. Breaking balls and offspeed pitches have been more befuddling to him. 
• Heyward has 5 homers after hitting only 11 all of last season. He's homered every 32.6 at-bats for the Cardinals. Last year in Atlanta, he popped a homer every 52 at-bats. 
• When Heyward hits the ball skyward, toward the wall, a high percentage of the flies have left the yard. Heyward's HR/FLY ratio of 15.6% is above his career rate of 13%. 
• Heyward isn't as pull-heavy as in the past; his percentage of batted balls up the middle has increased this season. That's usually a good thing. Many batting coaches preach the "just try to hit the ball hard up the middle" approach. 
I suppose I'm in the minority, but I don't view Heyward as a lost cause. There are flashes of subtle improvement, and he has a chance to build on that. A significant factor is plate discipline. Heyward must hit more hot-zone pitches instead of flailing at so many offerings that sail out of the strike zone.
We can keep looking back on the trade, and continue recycling the same points. It's actually a lot more interesting to look ahead, to ponder the possibility of Heyward evolving into the player that Mozeliak coveted last offseason.