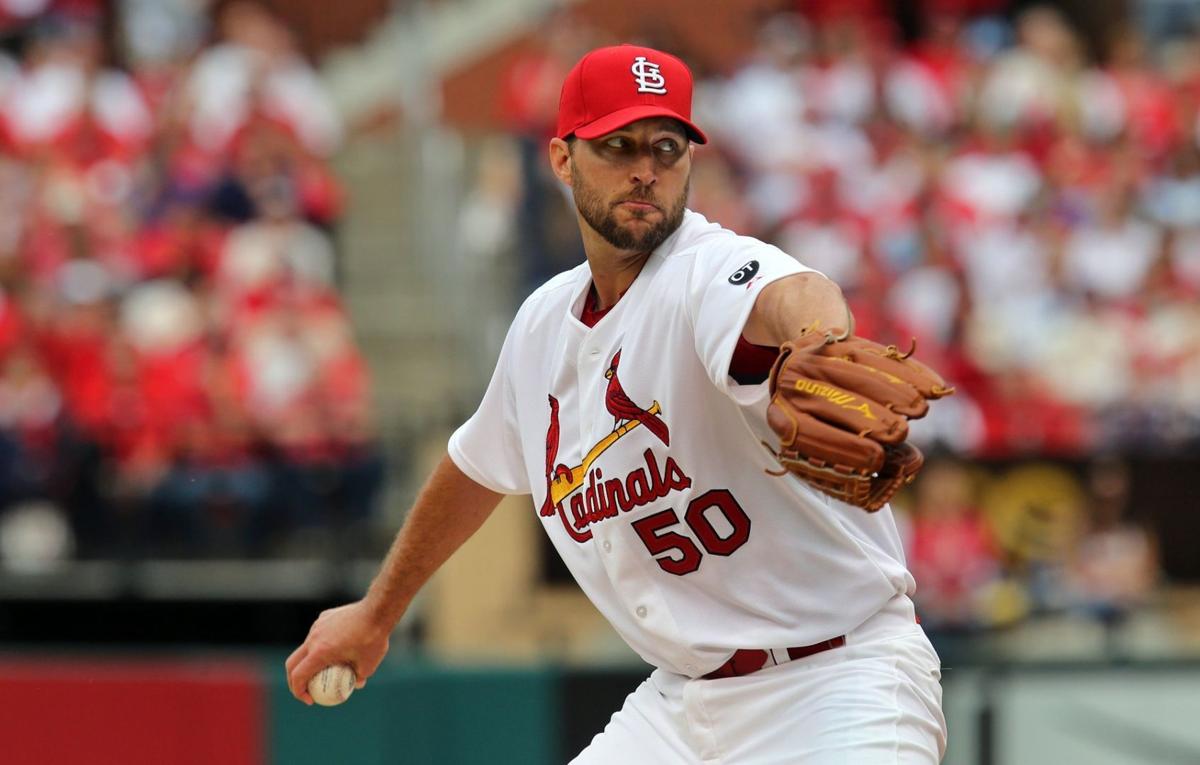 The Cardinals will have to try and replace ace Adam Wainwright, who is likely done for the season with an Achilles injury. It's a terrible blow to Waino and the team. 
Let's start by stating the obvious: you can't replace Wainwright, at least not internally. The Cards will insert a pitcher into the rotation to take his place, and they may get decent results, but the replacement won't replicate Wainwright's value. 
Over the past three-plus seasons Wainwright ranks fourth among MLB starters with 16.4 Wins Above Replacement (WAR), behind Clayton Kershaw (20.9), Felix Hernandez (19.0) and Max Scherzer (16.7). 
Since 2012 Wainwright ranks fourth in the majors in regular-season innings, is tied for fifth in quality starts (72), is sixth in ERA (2.99) and third in fielding-independent ERA (2.99.) 
During Wainwright's Cardinals' career, the team has a .642 winning percentage when he starts a game. 
There's also his intangible value as a team leader. 
All teams get hit with injuries, but this is a big one. 
So what should the Cardinals do here? 
• Marco Gonzales: after an impressive spring training, the lefthander began the season at Triple A Memphis and is the most obvious candidate. But after three starts the organization shut Gonzales down due to soreness in his left pectoral. The condition may be minor, with a move to the 7-day minor-league DL described as precautionary. Gonzales has talent and the poise to start in the big leagues, but we don't know how quickly the Cardinals want to push him as he makes his way back from the injury. And we aren't sure if the sore pectoral is a warning of a potentially larger issue. And there would be an innings limit put on him. But a healthy Gonzales is the clear choice. 
• Tim Cooney is off to a solid start at Memphis, with a 3.63 ERA and 3.78 fielding-independent ERA in three starts, with a strikeout rate of 20 percent. In 26 starts at Memphis last season Cooney had a 3.47 ERA but his more telling FIP (4.44) was much higher. And here's another question about the LH Cooney: would he be able to get RH batters out in the majors? Last season at Memphis RH bats tagged Cooney for a .274 average, .327 onbase percentage and .444 slugging percentage. The hit 18 homers off him in 497 at-bats, or one per 27.6 at-bats. The Cardinals like Cooney, and during the spring GM John Mozeliak frequently cited him as an example of the system's starting-pitching depth. After 29 Triple A starts, is it time? Unlike Gonzales and Tyler Lyons, Cooney isn't on the 40-man roster, so that would require a move, but it isn't a big deal because Wainwright almost certainly will be headed to the 60-day DL once the Achilles' diagnosis becomes official. 
• Tyler Lyons: the LH made 12 starts for the Cardinals over 2014; he posted five quality starts and a 5.89 ERA and had a calm demeanor. But Lyons wasn't sharp this spring, and so far in Memphis he has a 4.61 ERA with a way-too-high average of 1.98 walks/hits per inning. But are the numbers misleading? Yes. The early-season batting average on balls in play against Lyons is a preposterous .500, and that's the epitome of bad pitching luck. 
• Jaime Garcia: Look, we've all talked about Garcia so many times I don't think there's a reason for a lengthy rehash. It's all about his pitching health and endurance, and there's no reason to have confidence in the long-term viability of an oft-injured pitcher that's averaged only 12 starts over the past three seasons. But here's the deal: the Cardinals don't really need Garcia to be a hero for the rest of the season. He's currently rehabbing to make it back from his late-spring setback (shoulder) and probably is a few weeks away from being ready. If, in fact, he can make it back without breaking down again. But Garcia looked very good this spring ... and if he can go to the post, the Cardinals can plug him into the rotation and stay with him as long as he lasts. After all, they are paying Garcia him $9.25 million this season. But until and unless Garcia gets through his rehab, there ain't much to talk about. He's not available right now. Maybe later. 
• Zach Petrick: The RH has a 10.03 ERA early on at Memphis. It probably isn't so bad; he has a 2.94 FIP that's probably a more accurate reading on how he's pitching. The Cardinals talked Petrick up in spring training, but would they really turn to him so soon? Petrick pitched Sunday so that rules him out for taking Wainwright's next start. If the Cardinals want to go with a young starter that isn't named Marco Gonzales, it seems that Cooney is a more advanced candidate. I'd be surprised if it's Petrick so soon. Maybe down the road, depending on what develops. Same with RH Boone Whiting, who just made his first start at Memphis on Saturday night. And it wasn't pretty: 10 hits and four earned runs in 5 IP. And in case you are wondering about LH John Gast, he has a 7.94 ERA and a jacked-up 2.03 WHIP at Memphis and has to be way, way, down on the list of options. 
• Carlos Villanueva: the Cardinals signed the veteran RH for depth; he's been swinging between starting and relieving in an MLB career that began in 2006. Villanueva resides in the STL bullpen where he hasn't worked much. In 76 MLB career starts, his ERA is 5.00, and that includes a 5.58 ERA in 20 starts over the past two seasons. Do those numbers inspire confidence?  
• Trade for Philadelphia's Cole Hamels ... go all-in. That's the solution that everyone began chirping about on the internet forums and on Twitter last night. The Cardinals certainly can afford to take on Hamels' remaining contract obligation (as much as $110 million, if the club option for 2019 is included.) Hamels has been very good for a long time, and he's done well on the postseason stage. But this isn't about desire or finances; it's about the demands made by Philadelphia GM Ruben Amaro. Industry insiders think Amaro's trade demands are excessive, and in spring training the Cardinals would have agreed with that assessment. But here's the problem for Mozeliak: if the in-house options don't work, and he warms to the idea of making a run at Hamels, will Mo get there before the Red Sox and Dodgers? The market for Hamels will expand. Weird timing: Hamels will face the Cards' John Lackey on Monday night at Busch Stadium. 
• Pursue a trade for another walk-year pitcher. The big names are David Price, Jordan Zimmermann, Jeff Samardzija, Doug Fister. (I didn't mention Johnny Cueto, because he pitches in the division, and I don't see a Cincinnati-STL trade happening. There's also some unpleasant history between Cueto and the Cardinals.) As for the others we mentioned ... why would their teams trade them this early in the season, if at all? Answer: they wouldn't. Because their teams fancy themselves as contenders _ as they should. And from the ex-Cardinals file: we don't know how much walk-year RH Kyle Lohse has left, or what Milwaukee would want for him. 
• Sign Paul Maholm: unless he's signed with someone in recent days, Maholm is the only real out-of-work pitcher of note. The LH has made 250 big-league starts, and between 2012-2014 he had a 4.09 ERA and 36 quality starts in his 65 outings. Maholm looked good this spring with Cincinnati, with a 2.19 ERA and 0.73 WHIP in 12.1 innings. One other advantage to signing him is flexibility; he's capable of pitching in relief should the Cards desire another lefty for the bullpen. This would be a more experienced _ but not necessarily better _ option than Cooney. (And not a better option than a healthy Gonzales.) 
• Trade for a non-superstar starter. I could type in a bunch of names but what's the point; we know they are out there. But here's one example: RH Aaron Harang, who is off to a great start with Philadelphia, posting a 1.37 ERA in four starts. Last season Harang had a 3.57 ERA and pitched 204 innings for Atlanta. He's certainly viable, but again, it comes down to the trade price. But take a look around; other Harang-types could be had depending on Mozeliak's enthusiasm level.
• According to an MLB.com columnist the White Sox would be pleased to move John Danks' contract; the LH is making $14.25 million this year and another $14.25 million in 2016. But Danks had shoulder surgery in 2013, and since the start of the 2012 season he has a 4.92 ERA. Danks' fastball velocity has dropped sharply. No thank you.