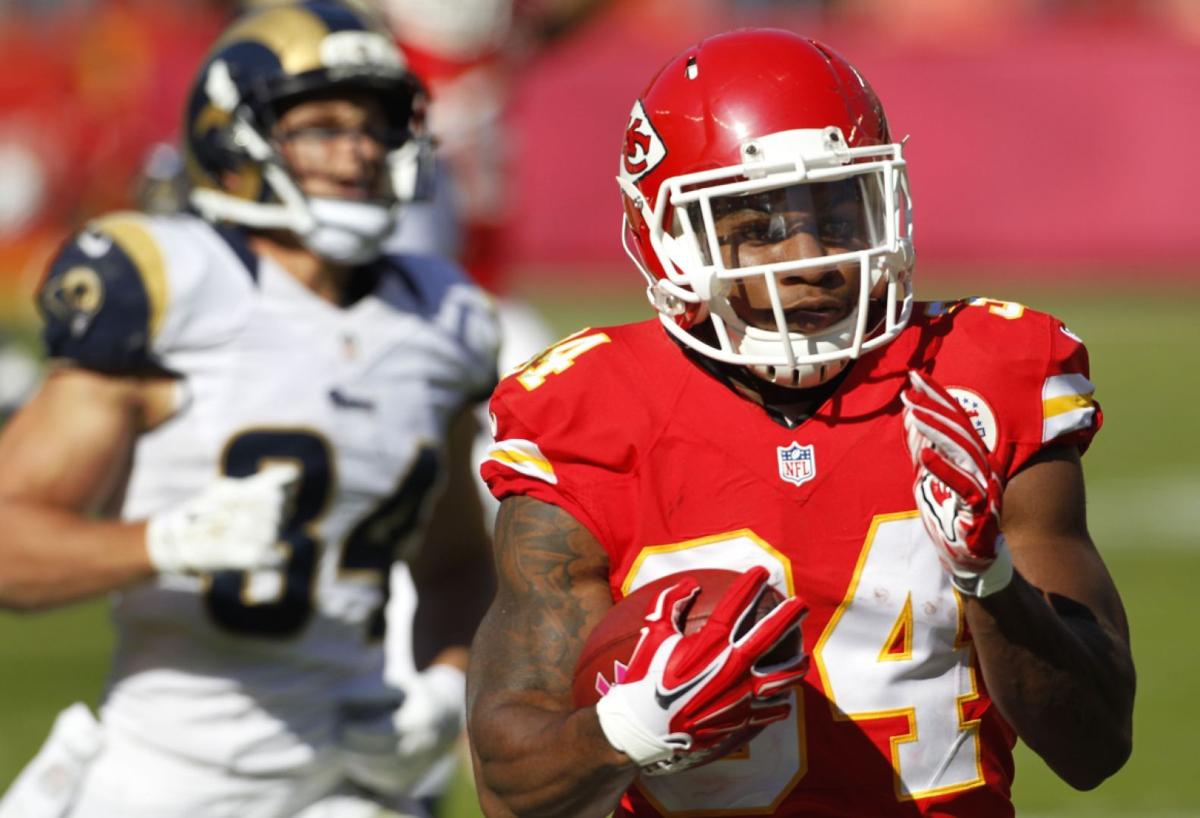 KANSAS CITY, Mo. • There is hope, Rams fans. There is absolutely hope because I am sitting here in the Arrowhead Stadium press box early Sunday evening, high above the field, and I'm looking across the parking lot to Kauffman Stadium.
There will be a World Series game played at Kauffman on Tuesday night, and if the home team can win it, Game 7 will be played on Wednesday. And for as long as this October ride lasts, an entire town of wild-eyed, overjoyed people will be wearing blue, hanging banners and signs, and putting costume crowns on their heads.
After failing to make baseball's postseason tournament for 29 consecutive seasons (1986 through 2013) the Kansas Royals will have the chance to win a World Series at home, a few hundred yards from the spot where your Rams just absorbed a punishing 34-7 beatdown administered by the KC Chiefs.
So that is why there is always hope of a Rams turnaround.
The Royals show that anything is possible.
Just don't ask me to predict if the Rams' revival will occur in your lifetime. I can't even tell you where they'll be playing.
I don't believe the year of the Rams' next winning season is listed in the Mayan calendar, but I'll double check.
Maybe your grandchildren will be able to enjoy it.
The Rams are 2-5 on the season and have lost four of their last five games after a 1-1 start. The trail will only get bloodier over the next month, with road games at San Francisco and Arizona, a home game against Denver and a road contest at San Diego.
The Rams franchise is now 45-105-1 since the start of the 2005 campaign. Pardon my mixing of sports here, but that's 151 games, or nearly enough to add up to a full major-league baseball season.
So basically, the Rams are cousins of the 1962 New York Mets (40-120), or maybe the 2003 Detroit Tigers (43-119). Or, closer to home, the 1939 St. Louis Browns (43-111.)
And there isn't a thing anyone can do about it.
I could sit here and write another angry column, the spittle flying as a I knife away at the keyboard, demanding the firing of coach Jeff Fisher, the ouster of GM Les Snead and the dismissal of the offensive and defensive coordinators.
Yeah, and what's the point? No one is getting fired. And it's not as if the team owner will pick up the phone to answer questions about his team and his plans and this whole mess.
We're stuck in an endless cycle of losing, caught in a draft of increasing alienation. I prefer disengagement over distemper. Frankly, the Rams aren't worth the rage and the risk of high blood pressure that comes with it.
That's why I dropped a '62 Mets reference in here; sometimes, a team is so bad it almost becomes comical. I'm not suggesting laughter here. I know many of you are passionate about this football team. But goodness, don't have a heart attack over it.
After using a satchel of magic tricks to upset the Seattle Seahawks last Sunday, the Rams had a chance to come to Arrowhead and get a little something going. Put together a two-game winning streak to signify that things were on the upswing. You know, a small serving of hope for the people.
The day began promisingly enough for the visitors, with a crisp opening drive of six plays, 65 yards and a touchdown for a 7-0 lead.
There's your highlight. Kansas City outscored St. Louis 34-0 over the final three hours of conflict.
"It's disappointing," Fisher said. "We had a great week, a short-lived bit of momentum, and weren't able to put two in a row together."
After scooting out for that 7-0 lead, here's what the Rams did on their next eight possessions: 33 plays, 51 yards, six punts, an interception, a missed field goal.
The Rams' offensive line was overrun for seven sacks, which overwhelmed the young starting quarterback, Austin Davis. He had no chance. 
The special teams allowed a 99-yard kickoff return to open the second half, and the rout was on. The big play was set up by a shanked kickoff from Greg Zuerlein, who also missed a 38-yard field goal that would have given his team a 10-7 lead. Zuerlein's leg has gone crooked, at least in terms of accuracy.
Coordinator Brian Schottenheimer's dull, uncreative offense managed only 135 yards after the opening series and could do little to stay on the field and give the Rams' defense a break. The defense finally collapsed in the second half.
On the offensive side, faulty preparation was apparently a factor.
"We struggled all across the board," tight end Lance Kendricks said. "It was loud out there. We couldn't get the signals out. We couldn't get the personnel out. So the game wasn't really flowing for us as it may have for them. But that's on us. We're professionals. We play ball, too. We have to be ready for that type of stuff. I just don't think we were ready for everything they threw at us."
Seven more Rams players limped their way out of this game, including starting offensive linemen Jake Long, Rodger Saffold and Scott Wells. And an eighth Ram, defensive end William Hayes was on crutches after the game.
If the Rams aren't good enough to play or win consistently when healthy, they have no shot at any sustained success with so many players missing.
To that end, I have empathy for Fisher and his staff. It isn't a fair fight right now, with the injuries chewing up a marginal team. 
And of course, some of the pain is self-inflicted. The Rams committed eight penalties Sunday.
That's about the usual quota, right?
"It's frustrating," defensive end Robert Quinn said. "To beat a Super Bowl champion (Seattle) and then come in and perform like we did today is not what we want."
It's not what anyone wants — not if they care about the Rams. I don't know if I'm just numb to it by now. Or if I've just accepted the reality. The Rams lose … and lose … and lose.
So why would we expect a different outcome, except for the occasional Sunday surprise?
I'm sorry to disappoint readers who expected me to go on the attack today. Maybe next time. But on another bloody Sunday I just didn't have it in me to rage against this broken-down machine.