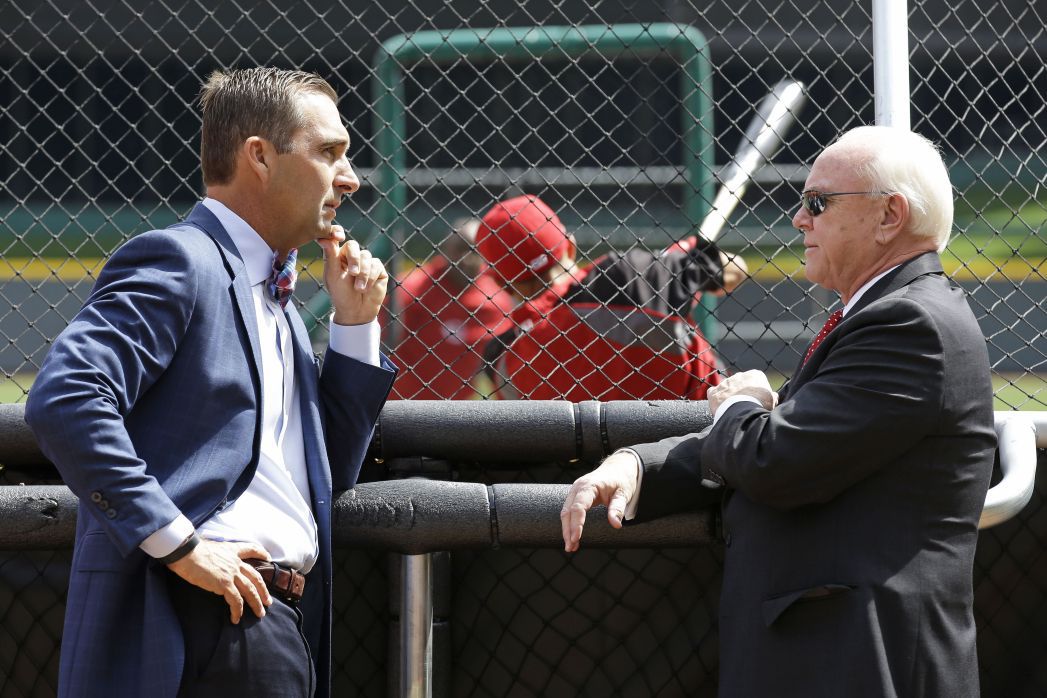 With the 30 major-league teams returning to the field Friday after pausing for the annual All-Star game rest stop, it's time for owners and general managers to make a realistic assessment of their postseason chances.
The addition of a second wild-card playoff ticket in each league keeps more teams in the chase for October. It also puts some owners and GMs in a delusional state of mind, seeing opportunities that really don't exist.
The baseball bosses look at the standings and find reasons to avoid reality. Baseball writers fuel the optimism by offering hopeful sentences such as this:  "At the All-Star break, 16 teams were within six games of a playoff spot, and 27 lurked a mere 8.5 games out." 
It creates false hope. It's difficult for a competitor to disengage, but it's even worse to keep your team spinning in a cycle of mediocrity. The pain of rebuilding can be severe, but it's worth the long-term gain.
It makes more sense to offload pending free agents and untenable contracts and replenish your roster with younger, payroll-friendly talent that can lead the way to a better future.  
As the July 31 trade deadline draws closer, let's take a look at the teams in the National League Central.
For the contenders: what do they need to augment the roster?
How aggressive will they be?
As for the pretenders: are they attached to reality?
We'll work from the bottom of the standings and make our way up. Included are each team's current playoff odds as posted by Baseball Prospectus. 
Record: 38-52, and their .422 winning pct. ranks 29th.
Standings: 18.5 games out of 1st, 10.5 out of second WC.  
Playoff Odds: Division title, 0 pct. Playoffs, 0.2 pct. 
Problems: Rotation ranks 27th in ERA (4.69) and quality starts. Surprisingly mediocre power, ranking 17th in slugging. The Brewers rank 11th in the NL with negative 9 Defensive Runs Saved. 
Buyer or Seller: They should be in the used-car mode of selling. Clear out the lot. Aging third baseman Aramis Ramirez is said to be available, and if you're willing to take on salary the Brewers would be happy to give you starting pitchers Matt Garza and Kyle Loshe and the overpaid reliever Jonathan Broxton. 
Most coveted Brewer? Multiple contenders are eyeing the formidable platoon bat being toted by first baseman Adam Lind. In 239 at-bats against RH pitching this season, the left-swinging Lind has 15 homers, 47 RBIs, a .391 onbase percentage and .552 slugging pct. With so many GMs aching for offense, the Brewers can demand a significant return in a trade. The Cardinals and Pirates presumably are among the interested parties. 
What the Brew Crew needs: An intelligent rebuilding plan. Indications are that GM Doug Melvin will move into a new executive role next season, giving ownership a chance to start fresh with new GM and a more forward-thinking baseball operation.  
Tethered to reality? Remains to be seen. And if Melvin is moving out of the GM office, do you really want him making deals that could have a substantial impact on the team's future? 
---
Record: 39-47, a .453 winning pct. that ranks 25th. 
Standings: 15.5 games out of 1st and 7.5 out of second WC.  
Playoff Odds: Division title, 0 pct. Playoffs, 0.5 pct. 
Problems: Injuries, most notably to the talented catcher Devin Mesoraco and exceptional defensive shortstop Zack Cozart. The bullpen (27th in ERA) is shaky in getting leads to the ninth inning. Reds' hitters have a Coors Field type of thing going on; they muscle up, bash homers and average 4.45 runs per game in a home ballpark that's a driving range for cheap HRs. But on the road, where conditions are more neutral, the Reds rank 28th in runs per game (3.3) and 25th in slugging (.369.) 
Buyer or Seller: Work the phones and sell, sell, sell Walt Jocketty. Just do it. The Reds have an excellent opportunity to cash in No. 1 starter Johnny Cueto, who becomes a free agent after the season. The underrated Reds starter Mike Leake is also a pending free agent. Leake can give a team plenty of innings, which is valuable. And interested GMs will note Leake's home/away splits and his 3.48 career road ERA. The Reds would excite many a team by making closer Aroldis Chapman available; he's set for free agency after 2016. For teams that need a platoon corner outfielder, ask Uncle Walt about the RH-swinging old warhorse Marlon Byrd. Lefty reliever Manny Parra and switch-hitting backup catcher and first baseman Brayan Pena can become free agents after the season, so add their names to the list. If you're enticed by right fielder Jay Bruce, national baseball pundits believe the Reds will deal him for the right price. And if the Reds wanted to be ultra aggressive, they'd try to move Joey Votto and his huge contract. But that's unlikely. 
Most coveted Red? Cueto -- or Chapman if he's made available. 
What the Reds need: To restock with quality young talent. They also need the guts to rebuild, and that starts with the owner. 
Tethered to reality? To be determined. The prevailing theory among baseball people is that Jocketty will ultimately succeed in convincing owner Bob Castellini that the intelligent way to go is disengage from the '15 season. Divest. And then invest in a promising future.
---
Record: 47-40, ninth in MLB with a .540 winning percentage.
Standings: 8 games out of 1st and currently hold the 2nd WC spot, followed closely by the Mets and Giants. 
Playoff Odds: Division title, 6.7 pct. Playoffs, 62.6 pct.  
Problems: Though the Cubs have the No. 6 rotation ERA (3.41) in the majors, the strength is clearly front-loaded, with top three starters Jake Arrieta, Jon Lester and Jason Hammel combining for 35 of the team's 45 quality starts. There's talent in the bullpen, but is there a true closer? Though saves and save percentage can be misleading or overrated, the Cubs rank 25th with a 63.6 percent save percentage. (The recent signing of Rafael Soriano may help down the line.) The Cubs have impressive young talent in their lineup but it's going through the expected period of refinement. The Cubs ranks 23rd in runs per game (3.85) and 25th in slugging (.374). The disappointing production can be blamed, to considerable extent, on the hitters' high swing/miss rate (27 pct.) and strikeout rate (24 pct.) Both figures are the second-worst in the majors.
Buyer or Seller: Both, actually. Theo Epstein and Jed Hoyer have done a superb job of fortifying the organization with elite talent through drafting and shrewd trading. This puts the Cubs in a unique position of tapping into the surplus of prospects to secure immediate help ... or moving other players _ such as shortstop Starlin Castro, or a prospect from a crowded position _ for more up-and-coming talent. 
Most coveted Cubbie: That's really hard to say. Many of the Cubs' young players would have appeal in the trade market. And there was some buzz about the Cubs' wiliingness to listen to offers for former top prospect Javier Baez, a shortstop with raw power and an astronomical strikeout rate. (If so, it's on hold because Baez will be out for a while with an injury to his left hand.) Unless we know the Cubs' internal front-office evaluations of its own talent (and we don't) there's no way of identifying likely trade pieces. There's been media speculation over the status of big-boy slugging prospect Kyle Schwarber -- would the Cubs give him up in a high-impact deal? -- but that gossip had ended. Schwarber has been promoted to take the roster spot of the injured catcher Miguel Montero, who was just placed on the DL with a thumb injury. Dealing the talented but enigmatic Castro would make sense, but after this season he's still owed $37 million guaranteed on the final four years of a six-year deal. (With a club option for $16 million in 2020.) The salary obligations may dim the enthusiasm of potential trade partners. 
What the Cubs need: A starter for the back end of their rotation. Possibly a closer if Soriano is used in a setup role. And the Cubs aren't getting a lot of offense from left field, and that's prompted trade rumors linking the Cubs to the Padres' Justin Upton, a pending free agent. 
Tethered to reality? Yes. Very much so. The Cubs have a treasure trove of prospects and can make as many trades as they want to. Including big trades. And ownership has conveyed a willingness to add salary if the right deal comes along. The Cubs have a legitimate chance to crack the postseason for the first time since 2008, and once a team gets into the tournament anything is possible. But the level-headed Epstein and Hoyer won't get caught up in the moment and lose their discipline to make rash impulse buys. They'll be looking for a way to give the 2015 Cubs a better chance without sacrificing too much of a legitimately promising future. That's the challenge facing this enviably positioned organization: should Theo and Jed sit tight and hoard their vault of prospects, or expedite their timetable by going for the gold now? If the Cubs go big, their fans will head for the fainting couch. 
---
Record: 53-35, and the .602 win pct. is No. 3 in the majors. 
Standings: 2.5 games out of 1st. And they're up 5.5 games in the WC.  
Playoff Odds: Division tile 21.2 pct. Playoffs, 87.6 pct. 
Problems: It's mostly about the offense. Sure, the Pirates could use more starting-pitching depth. And the bench was weakened by the injury to starting 3B Josh Harrison, with top backup infielder Jung Ho Kang taking over a third. The Pirates, like the Cardinals, lack power and tend to stall offensively. They're 17th in runs per game, 27th in homers per game, 22nd in slugging, 21st in OPS, and don't walk enough. With acclaimed prospect Gregory Polanco unable to get his bat going, right field is an obvious problem spot. The Pirates rank 26th in OPS (.658) and 28th in RBIs (24) at the RF position. Another issue is first baseman Pedro Alvarez. The familiar Cards killer still has decent power (12 homers, .430 SLG) but is a hot mess on defense, ranking 35th among MLB first basemen with negative 8 Defensive Runs Saved. 
Buyer or Seller: They're buying. GM Neal Huntington, one of the best in the biz, doesn't go retreat at this time of year. When the Pirates emerged as a contender in 2013, Huntington landed outfielder Marlon Byrd and first baseman Justin Morneau just before the trade deadline. Last season the Pirates submitted an aggressive bid for Tampa Bay pitcher David Price and were surprised when the Rays accepted the Tigers' proposal instead. 
Most coveted Bucco: GMs would like to pry some top prospects loose from the Pirates' excellent farm system, whether it be starting pitcher Tyler Glasnow, starting pitcher Jameson Taillon, outfielder Austin Meadows, first baseman Josh Bell, or catcher Reese McGuire. But Huntington is no fool, and he'll proceed with caution. The Pirates insist they're still bullish on the underachieving (so far) Polanco, but some industry insiders suspect otherwise. The Bucs' farm system runs wide and deep, and Huntington shouldn't have much of a problem putting together a customized package to fit the size of the deal he wants to make.
What the Pirates need: Harrison (torn thumb ligaments) is probably out until late August, so it's a good time to upgrade an uninspiring bench. The Pirates have been linked to trade rumors involving two corner outfielders in Philadelphia, Ben Revere and Jeff Francoeur. No offense to the outfielders or the Pirates -- but would adding Revere or Francoeur shift the balance of power in the NL Central? With his base-stealing speed and decent onbase skills, Revere could help. But in general, wouldn't it be wiser to stay the course with Polanco, who has a chance to develop into a prominent all-around performer? Finally, it would hardly be surprising to see Huntington acquire back-end rotation insurance. 
Tethered to reality? Yes. Under Huntington's leadership the Pirates are astute in understanding their needs, looking at available options, and making a deal without overpaying. This aggressive but sensible approach works well for the Pirates. 
---
Record: 56-33, with the No. 1 win percentage (.629) in the MLB. 
Standings: 1st place, but now only 2.5 ahead of the Pirates after leading them by nine games on June 28. 
Playoff Odds: Division title, 72 pct. Playoffs, 98.3 pct. 
Problems: In their first 50 games played in April-May, the Cards averaged 4.2 runs, batted .268, had a .333 OBP and a .404 slugging percentage. But in their 39 games since the beginning of June, they're averaging 3.7 runs, batting .242, have a .310 OBP and a .368 SLG. That represents a loss of a half-run per game, and an OPS that's dropped by 58 points. Another issue is an increased strikeout rate, since June 1 the Cardinals have the seventh-worst K rate in the majors, with a strikeout every 4.6 plate appearances. Their batting average with runners in scoring position was .265 over the first two months, but it's only .242 since June 1. The injury absence of left fielder Matt Holliday is a factor in the offensive decline, but the problems run deeper than that. The production at first base has collapsed, with the Cardinals ranking 28th at the position in onbase percentage (.285) and 28th in slugging (.370.) Mark Reynolds and the other first basemen have combined for a 30 percent strikeout rate. The production in center field is low, with 25 RBIs and a poor .640 OPS. These factors _ and Matt Carpenter's lengthy slump _ have caused a rather dramatic downturn on offense. And it won't be automatically solved by Holliday's return (presumably Friday) from the DL. 
Buyer or Seller:  If GM John Mozeliak isn't a buyer, there's going to be some unhappy Cardinals and protests from howling-mad fans. Mozeliak doesn't usually hide in July. Late last July he made one trade that didn't work (the acquisition of damaged starting pitcher Justin Masterson) and one that paid off in a big way: he deal with Boston that delivered starting pitcher John Lackey. The problem for Mozeliak is a thinned farm system that's relatively low on tradable commodities. 
Most coveted Redbird: That would be starting-pitching prospect Alex Reyes, who recently moved up to the No. 17 spot on an updated Top 50 prospects list presented by ESPN's Keith Law. Other wish-list candidates would likely include starting pitchers Marco Gonzales, Rob Kaminsky and Jack Flaherty, hard-throwing reliever Sam Tuivailala, outfielders Stephen Piscotty,  Anthony Garcia and Magneuris Sierra, infielder Jacob Wilson and shortstop Edmundo Sosa.  
What the Cardinals need: Other than a jolt for their tired offense the Cardinals could use extra rotation depth in case Jaime Garcia breaks down, or if young starters Michael Wacha or Carlos Martinez show signs of fatigue as the innings accumulate. Gonzales has been a non-factor in the equation because of left-arm miseries. He's making headway on a return, and could help down the stretch. (Or perhaps not.) And even though the Cards expect setup reliever Jordan Walden to make it back from the DL in the near future, it might be wise to add another veteran reliever because of manager Mike Matheny's tendency to push Trevor Rosenthal and Kevin Siegrist. Oh, and fewer injuries would be nice. 
Tethered to reality? You bet. Mozeliak is an established pragmatist, and that's one of his best attributes. But Mozeliak isn't afraid to step out and make a risky move that causes considerable chirping within the baseball fraternity and the usual national-media bureaus. We saw that with the successful Lackey deal; at first Mozeliak was widely ripped for giving up young starting pitcher Joe Kelly. Well, the engaging Kelly was a media hit in Boston, but his wayward pitching led to a demotion to the minors. There was shock and dismay when Mozeliak signed shortstop Jhonny Peralta to a four-year, $53 million contract before the 2014 season. (That seems to have worked out OK.) Mozeliak struck again last winter when he bartered young starting pitchers Shelby Miller and Tyrell Jenkins to Atlanta for right fielder Jason Heyward and Walden. Will Mozeliak put on his Mohatma bow tie and come out and play? That's one of the more intriguing questions looming as MLB's second half gets underway.