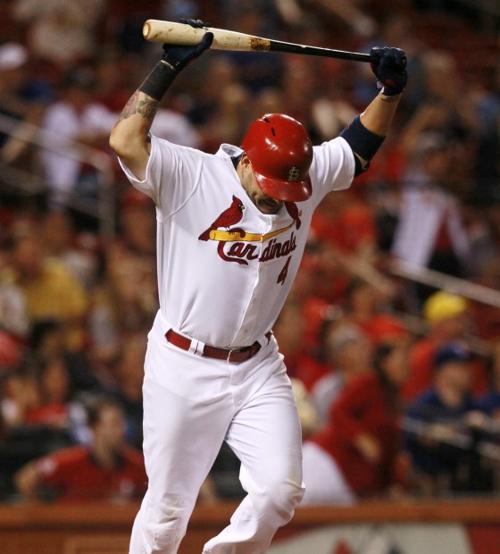 It would be inaccurate to say that the Cardinals are struggling or overrated on offense. You are what your numbers say you are.
As the Cardinals waited out the rain Sunday night before their game against Texas, they'd been a little quiet with the bats as of late but still rank No. 1 in the National League in runs per game. No MLB team has scored more runs in June.
After a long, unwanted bath during a rain delay that lasted 2 hours and 59 minutes, the Cardinals managed one run in a dull 2-1 loss to the Rangers. Texas completed the three-game sweep and shoved the Cardinals to their 10th loss in the last 19 games. 
The Cardinals have scored three runs or fewer in eight of the 19 games, and are batting .243 with a .344 slugging percentage over their last eight. This is a slump, or a trend, or something to worry about. 
It would be accurate to say that when I think about the Cardinals' offense I carry a secret fear: this lineup is more vulnerable than we want to acknowledge.
If I am concerned, does this make me a loon?
I'm guessing it would be accurate to say that you think I should switch to decaf, take up transcendental meditation or at least try to get more sleep. And you're probably right.
But now you'll have to let the man do a little mewling. While happily acknowledging that things could be much worse, there are a few troublesome issues with this Cardinals attack. 
Let's discuss, in reverse order of importance:
Issue No. 1 • The Cardinals don't hit a lot of home runs. This is true. They're 12th among 15 NL teams with an average of 0.84 homers per game. This would be the franchise's lowest HR rate since 0.75 homers per game in 1995.
Is this a big deal? Not really. (I reserve the right to change my mind on this later.) Sure, you'd like to see more home runs, but the Cardinals have the highest line-drive rate in the majors (23 percent) according to FanGraphs. The Cardinals shoot a lot of doubles down the lines and into the gaps and are tied for fifth in the NL in extra-base hits. They rank second (to Colorado) with a .408 slugging percentage.
"I think the way you think about offense is scoring runs," general manager John Mozeliak said. "Whether that comes from singles, doubles or it comes from home runs isn't really relevant. The bottom line is, you've got to score."
Issue No. 2 • The Bench. Well, I don't know how many effective benches there are in the majors. The Cardinals have two reserves, Matt Adams and Daniel Descalso, that have produced when used as starters. And Adams is seven for 21 as a pinch-hitter. Backup catcher Tony Cruz doesn't play enough for a fair evaluation as a hitter but the pitchers respect him and that's all that matters.
Outfielder Shane Robinson is batting .179 in 10 starts, and he's one for seven as a pinch-hitter. I don't know what to say about Robinson; he's doing about as well as expected in holding a place until prospect Oscar Taveras is ready. And Oscar won't be called up anytime soon; his problematic sprained ankle still is dogging him.
I don't think I need to pile on Ty Wigginton.
Do I think this bench could be better? Of course.
But if Mozeliak and manager Mike Matheny are content playing with a 24-man roster — Wigginton is more of a coach — then that's their prerogative. It's an odd way for a contender to compete, but I'm not going to have a coronary episode over it.
Issue No. 3 • The Cardinals are batting .336 with runners in scoring position. This would be a franchise record. This would be the best RISP mark by any MLB team since STATS LLC began tracking the statistic in 1974. It won't last. Only 14 teams have batted .300 or higher with runners in scoring position since '74. And if the Cardinals aren't coming through with a flurry of timely hits, then what? 
Issue No. 4 • The recession against lefthanded pitching. This wasn't a problem last season, when the Cardinals handled lefties for a .276 batting average and a heathy onbase percentage (.338) and slugging percentage (.450.)
After the latest dud Sunday the Cardinals ate batting .232 against lefthanded pitching, which ranks 22nd among the 30 MLB teams. Their .299 onbase percentage vs. lefties ranks 23rd; their weak .364 slugging percentage is 24th.
This is a glaring contrast to the Cards' stout form against righthanded pitching this year. They're one of the top-hitting teams in the majors against RH pitchers, and have gone 39-18 when facing them.
The Cardinals are only 8-10 against the wily lefthanders. And that .232 batting average is based on 719 plate appearances, so this is no small-sample nitpick. This makes no sense considering that the Cardinals virtually have the same offensive cast in place this season.
This comes down to a simple diagnosis. Last year the Cardinals' core righthanded hitters bullied lefthanded pitchers. Matt Holliday, Allen Craig, David Freese and Yadier Molina batted .332 and homered once every 17.1 at-bats against lefties.
This year we've seen a precipitous drop from the same group. I didn't include switch-hitter Carlos Beltran because his numbers against LHP haven't changed much from last season. But Holliday, Craig, Freese and Molina are hitting .269 with a homer every 55.7 at-bats against lefties in 2013.
As Post-Dispatch baseball writer Derrick Goold pointed out in Sunday's game story, Cardinal righthanded hitters have been numbed by lefthanded pitches thrown in on their hands.
The strategy has been a source of regular discussion among opposing-team scouts that write internal reports on the Cardinals.
But opponents also pitched the RH batters inside last season and the Cardinals knew what to do. So what we're seeing more than anything — in my opinion — is a breakdown of plate discipline.
I've studied the charts and the Cardinals' RH batters are swinging at too many pitches out of the strike zone, inside and outside.
Lay off. Quit getting yourselves out.
Apparently that's the message being delivered by batting coaches John Mabry and Bengie Molina.
"Obviously you think about some of the inconsistencies when we've faced lefthanded pitching," Mozeliak said. "But I don't see that as a vulnerability or major concern moving forward. Sometimes the approach and strategy just needs to change. And I think 'Mabes' and Bengie know it and they'll work on it."
We'll see how that goes. A significant test case is coming. The Cardinals' lead in the NL Central is down to a game over second-place Pittsburgh.
The Cardinals play Pittsburgh 14 times after the All-Star break and can plan on seeing plenty of Pirates lefthanded starters Jeff Locke, Francisco Liriano and Wandy Rodriguez as well as lefty relievers Tony Watson and Justin Wilson.
The Pirates have been tougher on RH batters than any major-league pitching staff, limiting righthanded hitters to a .225 batting average.
This predicament stretches beyond the Pirates, however.
The scouting report is out there, and unless the Cardinals' righthanded hitters alter their approach and become more disciplined, they'll be easy quarry for conniving lefties.
Keep up with the latest Cardinals coverage from our award-winning team of reporters and columnists.