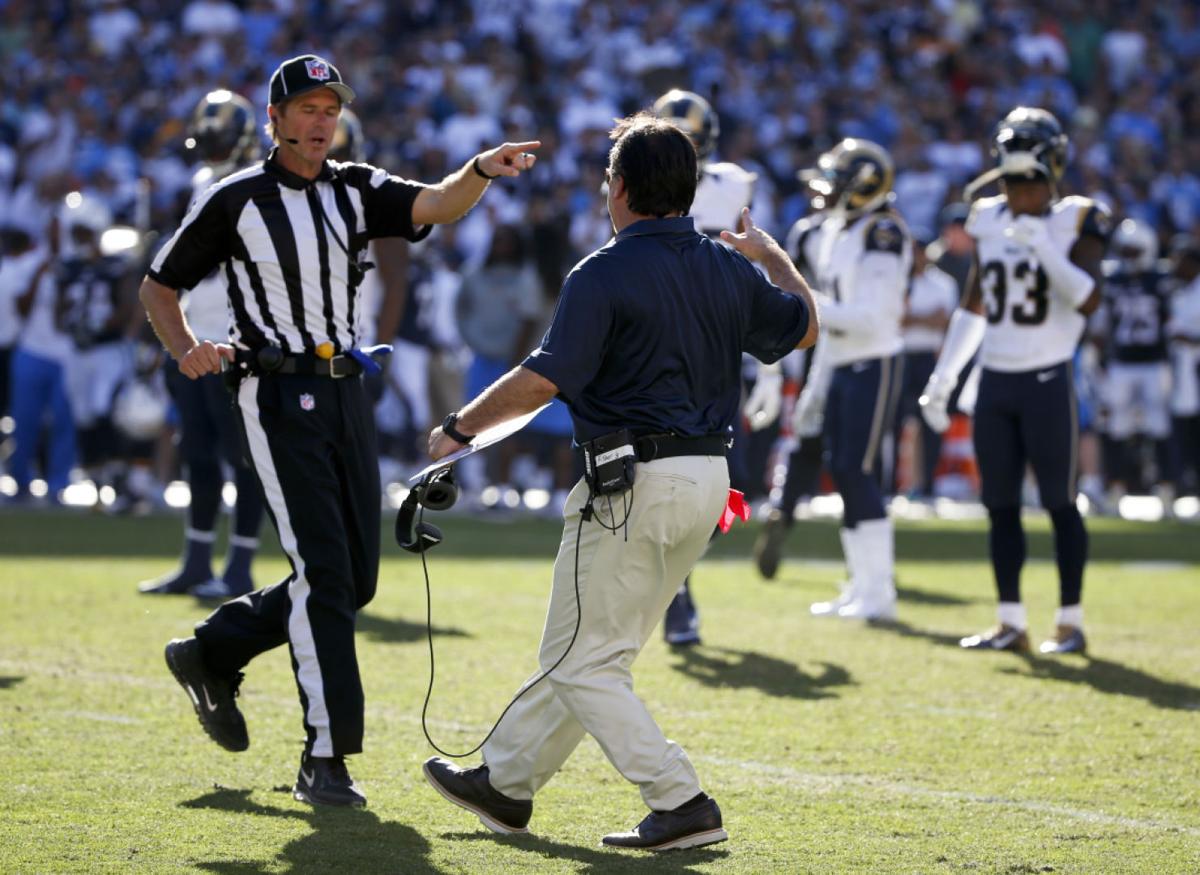 SAN DIEGO – Some quick postgame thoughts and observations from the Rams' depressing 27-24 loss to the Chargers at Qualcomm Stadium:
• The Rams are now 4-7 and must win their final five games to avoid their 11th consecutive non-winning season. This loss was a crusher; the chance to win two, three or even four games in a row and break through to a winning record vanished in that San Diego end zone with Shaun Hill's killer interception at the end. And the Rams were a distraught group after the game.
Rookie RB Tre Mason likened the sudden pain of the loss to "a stab in the back."
Teammates steadily approached quarterback Hill to offer offer some quiet words of encouragement and a pat on the back or hug.
Hill squandered a chance to win by throwing that interception with the Rams at the San Diego 4-yard line, and on the verge of scoring. The stunning turn of events occurred after Hill had moved the Rams into position with a splendid 27-yard strike to WR Kenny Britt.
"It's tough, man," guard Rodger Saffold said. "You can say all you want about that last pass but who was the person who got us there?"
• Hill offered no excuses. On the fateful play he was duped by Chargers safety Marcus Gilchrist, who swooped in front of Britt to make the easy INT. Hill didn't see Gilchrist and so never anticipated that Gilchrist would jump the throw and save the game for the Bolts. No one had to tell Hill that he just can't make a bad play like that.
"I think that's pretty evident, no matter if this is your first day playing, or your 13th year," Hill said.
• I have no problem with the Rams going for the win instead of playing it safe and settling for a tying field goal in the series that was snuffed out by Hill's ghastly interception. There's no second-guessing here. It was just a poor decision by Hill. But the last thing I want to see is the Rams cowering and playing scared with a chance to bag a road win. If you want to say they could have called a better play there, sure. But wimping out and playing for a FG? That's absolute bullspit
• Hill threw two costly interceptions and lost a fumble that was returned for a touchdown by San Diego, the latter giving the Chargers a 10-point lead in the third quarter. Hill gave the Rams an efficient, poised and mistake-free performance in the 22-7 demolition of Denver. But against the Chargers, Hill did the kind of things that cost Austin Davis the starting QB job.
• The Rams can't afford multiple giveaways by quarterbacks. The fumble return for the TD was the seventh defensive touchdown scored against the Rams offense by opponents this season. Ridiculous.
• The Rams need to start over at the quarterback position next year. They just can't keep doing the same thing with Sam Bradford (injuries), Davis (not a proven starter) and Hill (a career backup). They need a new beginning. Not that anyone was ready to make Hill the Quarterback for Life, but what we saw Sunday reaffirmed why it's smart to see him as a serviceable stopgap. Rams coach Jeff Fisher did the right thing to pull the increasingly rattled Davis after the loss at Arizona, and Hill made the coach look good by how he played against Denver. But Hill has now started three games this year and has been bad in two of them. He isn't the answer. Then again, you already knew that.
• Fisher was a little defensive after the loss. He preferred to talk about how hard his team played, and how Rams players fought back from 10 points down to have a chance to win it at the end. When I asked Fisher why his team can't seem to get over the hump and put a winning streak together, this is what Fisher said in response:
"Well, that's a good football team there. They were a playoff team last year. They've got a potential Hall of Fame quarterback (Philip Rivers), that's playing really well. We've got to learn … until we put a couple in a row together, it's going to always be hard for us. But these guys … I'm not going to change anything. I'm not going to ask them to change anything. We were pretty close to pulling this one off."
• Except that the Rams didn't pull it off. They lost a game they should have won, and it's happened too often with Fisher as coach. When will this team grow up and find ways to win instead of finding so many ways to lose?
• And Rivers may be a future Hall of Famer, but he'd slumped over his previous four games and was playing hurt (rib, chest) before getting a lot better against the Rams. After throwing a pick-six interception to Rams' CB Janoris Jenkins, Rivers got back into his rhythm and the Rams helped him. They made it easy for Rivers by dropping off in coverage and leaving huge parcels of land open for short passes that produced chunks of yardage. And when the Rams blitzed, Rivers outsmarted them because he always seemed to know what was coming and burned the Rams with quick throws. The Rams sacked Rivers three times, but other than that they didn't really get a paw on him.
• Fisher also said this when I asked him if this was perhaps his toughest loss as Rams coach.
"This is a tough one, yeah, considering who we're playing," he said. "Managing the game at the end, dealing with the officiating crew. It was, yeah, it was a tough one. I feel bad for the guys. You can't blame those players in there. There's no blame to be placed any place. Put it where you want, but this was a tough one. We've got a great locker room and a great group of guys. We're disappointed and they'll come back."
• Does that bother you? It bothers me. Yes, I know Fisher has to stay positive and keep his players pushing. And yes the Rams played hard. But they're supposed to play hard. This is what they are paid to do. There are no points given for effort. You don't get a trophy for being a good worker. This is the National Football League. Wins matter in this league, and not much else. This isn't Jayvee high school football.
• And Fisher doesn't want any blame cast after another bad loss? I think he has to be careful here, unless he wants to give the wrong impression about accountability, responsibility and setting the right kind of standards for his team. I don't think Fisher is settling for mediocrity. I really don't. But he's got to be careful about the message. Because I'd hate to come to the conclusion that he was settling for mediocrity … and not only settling for mediocrity – but defending it.
• Yeah, the game officials were horrible; the NFL should have just had some chimpanzees from the San Diego Zoo work this one. And the Rams were victimized by a few poor calls. But they had nine penalties for 90 yards, and they are the league's most penalized team since 2012, when Fisher became coach. We've gone around in circles about this, so here we go again: the Rams have to cut down on their penalties. Even with the bad calls factored in, they still commit too many penalties.
• Stan Kroenke rode the press elevator downstairs to get to his team's locker room; I'm surprised his security force made such a terrible blunder in leaving Silent Stanley exposed like that. But no worries; no one in the media bum-rushed the Rams owner. And Silent Stanley had a silent ride down.