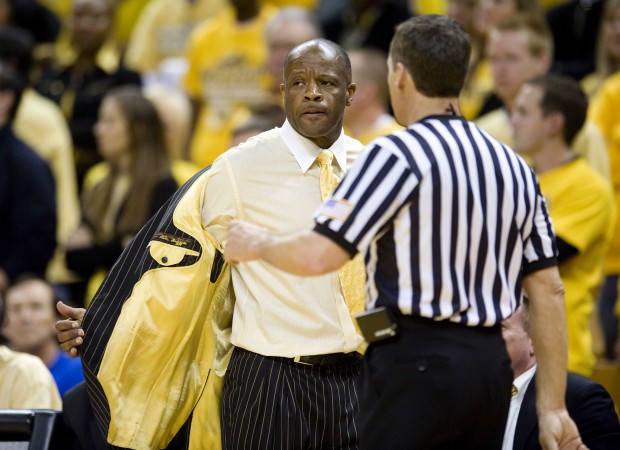 KANSAS CITY • These were all the familiar sounds of basketball. Sneakers screeching on hardwood. Whistles tweeting, the distinctive beat of a dribbling ball. Inside the Sprint Center late Tuesday afternoon, the Missouri basketball players raced through the sort of high-energy practice they hope will be the ideal preparation to create a new life in the postseason.
On the eve the Big 12 tournament, this near-empty arena was full of the unmistakable noise of hard-working players trying to find a way correct their late-season slump. All the sounds you expected to hear on the basketball court filled the air. But it was the one sound that you didn't hear that was the most startling.
It was the hushed and soothing tones of Mike Anderson. The head coach stood in the middle of the court and his voice barely rose above a whisper. He had his coaching staff ringing the court, and they were the ones shouting the key phrases of the day — "Push it! Push it! ... Movement! Movement! — and clapping their hands to set the up-tempo mood. At every break in the action, Anderson would walk into the middle of the action, wave his hands, ushering his players to come closer, then he would quietly speak his mind.
Anderson is playing a new role as he leads the Tigers into the Big 12 tournament (and hopefully beyond). His 22-9 basketball team — stuck in a three-game losing streak — is struggling to rediscover its confidence. He's convinced that the losing doesn't have much to do with X's and O's, which explains why he is acting more like a psychologist and less like a coach these days.
He talks about boosting confidence. He talks about changing mindsets. He talks about how whatever troubles happened at the end of the regular season, that's where they will stay.
"It's the postseason now," he says, "a brand-new season."
The words aren't meant for you or me. It doesn't matter if we believe him or not. All he has to do is convince his players that they're starting all over again, beginning with tonight's first-round matchup against Texas Tech. It's like a Jedi mind trick, where he motions his hands and everyone believes whatever he says. At least that's what he's hoping for. Somehow he has to convince his players that their inconsistent ways are behind them. If he can't do that, if he can't find a way to get all of them to play together again, then this postseason could be just as disappointing as the regular season.
Anderson doesn't call it pop psychology. He has another way of describing it. " I think right now, I'm just a manager of time," he said before practice. "The key to winning games is in practice. ... We've been preparing these guys both physically and mentally.. We have some guys who are playing some good basketball, now we just have to get other guys to step up and contribute."
The Tigers have spent the past few months in search of their true identity. Right now it seems as though the only identity they have discovered is a slightly dysfunctional one. Some players have bought in, some haven't quite figured things out, and others have gotten caught in the crossfire and lost their confidence.
If Mizzou is going to have any hope of an extended postseason — one that involves a deep run into the NCAAs, not just the Big 12 tourney — then it is going to take a rapid attitude adjustment here in Kansas City. The two biggest problems that the Tigers have are well documented.
No. 1: Kim English, Justin Safford and Ricardo Ratliffe need to rediscover their games and their competitive confidence.
No. 2: Defense, defense, defense. If the Tigers don't play better defense, this will be a quick and sudden death.
Anderson wants to believe that it is all mind over matter. He hopes his veteran core will show the inexperienced newcomers the right way and also prod English, Safford and Ratliffe out of their funks. "Hopefully some guys will step up and be leaders," he said. "That's where the leadership comes in. What do we have to do to get these guys going? We know they're important."
Missouri has enough talent to make a long run through this conference tournament. They have the advantage of being in the lower bracket away from Kansas and Kansas State, arguably the hottest teams in the conference. They are in a bracket with a struggling Texas and a Texas A&M team that they took to overtime on the road and a Baylor team they dominated.
But the only way the Tigers make that kind of surprising run is if they rediscover the right way to play Anderson's tough defense, light an emotional fire under Ratliffe so that he becomes a rebounding beast again and coax English back into the confident scorer he was a year ago.