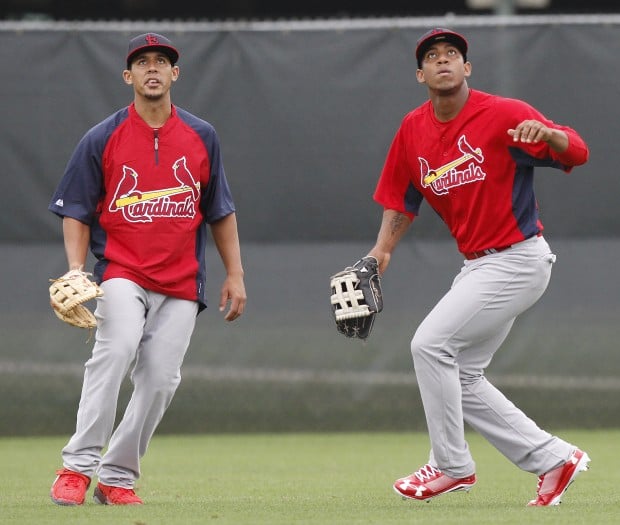 JUPITER, Fla. • On the first day of the Cardinals first full-squad workouts, a dedicated smattering of Cardinals loyalists gathered behind chain-link fences in small clusters way off in the distance. They all had come to get a glimpse of "The Phenom." But his spring-training debut on practice field No. 1 not only was shortened by cool and steady rains, it was driven under cover to an isolated, tin-roofed practice cage that wards off interlopers with a big foreboding sign:
"Players and Coaches Only Beyond This Point."
In so many ways, this was the perfect way for 20-year-old Oscar Taveras' first major-league spring training to begin; any decent sighting of him limited by a strict "need-to-know-only" basis that only heightens the delicious intrigue. Few spring training rituals are more entertaining than the annual fascination with the unproven but potentially dazzling whiz kids who have yet to play a single inning in the big leagues.
Everybody loves ''The Phenom,'' and the legend of the wiry outfielder who has been tearing up the minor leagues for four dazzling summers has reached breathless levels among Cardinals Nation. He's universally considered one of the three top hitting prospects in the minor leagues, as intriguing a talent around this organization since a kid named Albert Pujols was knocking the cover off the ball in Jupiter more than a decade ago.
"I saw him twice as a (minor-league) instructor," said manager Mike Matheny. "And I tell you, he stood out. Impressive."
But the dispatches of Taveras' limitless future have until now been the stuff of baseball rumors, urban legend and Internet buzz. But this spring, the kid has a chance to perform before a larger audience because he is going to be given every opportunity to show the organization and the curious public that he's ready for a permanent spot this summer in the Cardinals outfield.
"We've had some conversations this winter on the phone and I think he understood my Spanish," Matheny said. "But we were clear about what the expectation level is here. Not about how he handles himself on the field, but how he handles himself in the clubhouse, how he goes about his work. Some of the things that you don't necessarily know as a (20)-year-old kid from the Dominican are (how) to be able to put it in play right away. So we told him we have a group of guys here who want to help him get there. So I think he's excited and wants to make the most of it."
When you see him standing in the clubhouse in street clothes and stylish canvas sneakers, you begin to understand that despite his impressive numbers, he is still just a young kid and a work in progress. When you compare his slim, 6-foot-2, 180-pound frame to the grown men on the other side of the room, you can see that his arms and shoulders are without the sculpted definition that comes from years in the weight room. When you hear him do interviews, you can hear a dramatic improvement in his English, but there are still several things that get lost in translation when he is surrounded by a horde of reporters firing questions his way.
When you listen to him answer questions, it seems like half the time he grasps general concepts or key words and embarks uneasily on his own particular journey trying to satisfy his questioners.
"I come here for spring training," he said in his stilted English. "I want to play the game right, play the game hard. I want to work hard to maybe go to the big leagues this year, maybe start. I don't know. Maybe go to Springfield. I don't know, that's the team decision."
Despite his incredible minor-league stats, chances are Taveras is one season away from sticking with the major-league club. He can hit with power (23 homers and 94 RBIs in 124 games in Double-A Springfield). He can hit for average (.386 average in A ball in 2012 and a .321 average at Springfield a year ago). But he's still so young and there just isn't any room in the starting outfield right now with all-stars in left and right (Matt Holliday and Carlos Beltran), a young and proven .300 hitter in center (Jon Jay) and more than a few proven bats behind them.
But the great ones have a way of forcing the time clock to whirl at a little faster pace. And there is going to be ample opportunity for that to happen because Beltran will be giving up his at-bats while playing in the World Baseball Classic. Matheny plans to give the 33-year-old Holliday plenty of off-days during the spring, too. Taveras is "going to get opportunity in the outfield," Matheny told reporters on Friday. "I plan on giving him a good look at it, no question."
The fun part of this story will be watching to see if Taveras can take advantage of the opportunity. Lots of eyes will be on him, waiting to see if "The Phenom'' is as good as advertised.
"I didn't get to see him much last spring, but I will be keeping a close eye on him now," said Beltran. "He sort of reminds me of how I was when I was his age. ... From what I've seen, he is a good hitter, he's not afraid. That's a great mentality to have when you're young. A lot of young guys get really overwhelmed about being able to be in the big leagues, around so many guys who are in the big leagues for a long time. But last year he was very comfortable here, managed himself well in the dugout and on the field."