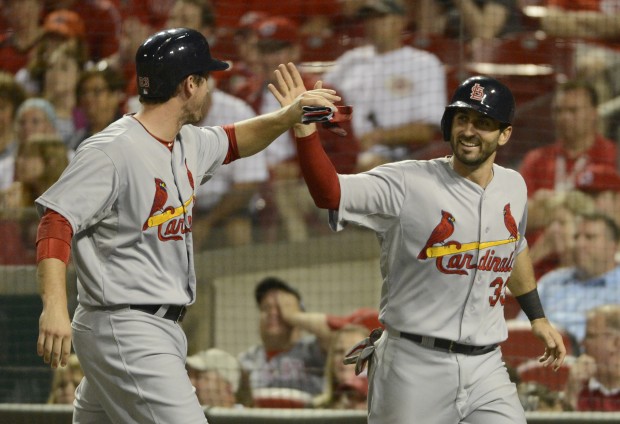 Baseball has conditioned us to believe that nothing worthwhile ever happens in a flash. There's a reason this is the sport that takes you from the end of one winter season to the brink of another. Everything about the game, from the benefits of its strategies and the ultimate validity of most of its bedrock statistics, is meant to unfold slowly, the better to appreciate and evaluate them.
Yet the 2013 Cardinals are trying hard to shatter that long-haul concept. At the rate they're going, this 162-game marathon will be wrapped up before the All-Star break. The Cards have sprinted out into the lead so quickly, so emphatically, that Usain Bolt might not catch them. I don't know how this season will ultimately play out, because strange things happen in the championship rush to October. But for the time being, I have chosen to make a rash baseball judgment:
These Cards are damned good.
We're not supposed to make such proclamations in the middle of June. We're still a few days shy of Flag Day (June 14), one of the first significant markers on the calendar that portends a season's future. But it's hard to imagine what could keep this ball club from reaching the postseason now. The best team in baseball (41-22) is still rolling along on pace for 105 victories and showing no signs of slowing down. They win on the road (22-10, best in baseball), they win at home. They have outscored their opposition by nearly 100 runs (+98), 26 runs better than the second-best team in the majors. Only Atlanta and Pittsburgh have given up fewer runs. Only Boston has scored more runs.
So please just enjoy this. I have tried to find something to fret about, and I just can't find it. They pitch. They hit. They play defense. They're smart. They're deep. The manager has become a quick study as a strategist. The general manager pushes every right button and the owner just quietly creates the environment that makes everything work.
So barring some bizarre collapse between now and October, this team is headed to the playoffs, and it's OK to acknowledge that this might be one of those rare seasons worth savoring. It's OK to embrace the fact that even all of your normal Midwestern paranoia about never being appreciated by the East Coast-biased sports media powers is something that no longer applies, since Sports Illustrated and USA Today have already written about The Cardinal Way with deep and abiding passion.
And ESPN? Well, they are putting St. Louis games on prime time TV so much, you'd think the Cards must have changed addresses and moved to Times Square.
So now that everyone outside of our city is appreciating the Cardinals, maybe it's time for even that most annoying subset of Cardinals Nation – the lunatic fringe that finds fault even in the best of times – to surrender to the inevitable.
This is a very good baseball team that doesn't appear to have many noticeable faults. There really is nothing to complain about. Nothing at all.
The last fragments of the lunatic fringe's obsessions – struggling hitters Jon Jay, David Freese and Matt Holliday – are beginning to heat up at the plate. Holliday has raised his batting average 19 points over the past seven games with four doubles, two home runs, seven RBIs and nine runs scored. Jay, who in three previous major-league seasons had a career batting average of over .300, is finally starting to get his stroke together. Over the past five games, he's batting .470 and raised his average by 16 points, scored five runs and also drove in five runs. Most impressive of all is Freese, who is on a current 19-game hitting streak, has raised his batting average by a stunning 71 points during the streak and is hitting at a .375 clip during the streak.
So what else is there left to complain about?
I believe the answer is "nothing."
And now after taking two out of three games in Cincinnati last weekend, the Cards have a 10-game stretch on the road and at home where they play three teams (the Mets, Marlins and Cubs) whose combined records put them an astonishing 48 games under .500. Meanwhile, the Reds and Pirates, who trail St. Louis in the NL Central b y four games, have a far more difficult stretch. Cincy faces three teams with a combined 87-98 record while Pittsburgh faces three teams with a combined 97-90 mark.
The Reds and Pirates also get to beat up on each other for four games next week, which means the Cards could build on their lead and basically put this division on lockdown before the All-Star break.
And now starting pitcher Jake Westbrook seems to be healthy again, which means the strength of this team – the starting rotation – is about to gain additional power. With Westbrook back in the rotation soon, Mike Matheny has options at hand that would allow him to move either of his impressive rookies, Michael Wacha or Tyler Lyons, out of the rotation and into a middle-relief role to bolster the bullpen.
This is the sort of good news that could send a paranoid, doom-and-gloom fan of the perennially cursed Cubs into an uncomfortable, dreary fit. The overwhelming fear of failure – built up over a century of so many ill-fated teams – has conditioned Cubbie lovers to anticipate the sky falling in some weird and demented fashion.
But Cardinals Nation should know better. There's no need to wait any longer for this season to unfold slowly. And there's certainly no reason to flinch and fret like Cubs fans waiting to get mugged in a dark alley. In Cardinals Nation, early success does not translate into a summer of discontent.
Instead, it ought to translate into this simple phrase: Don't worry. Be happy.