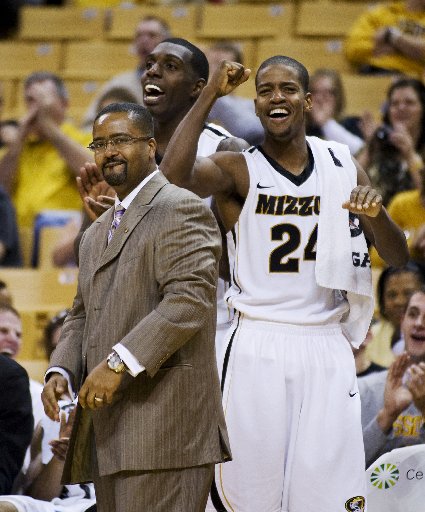 COLUMBIA, MO. • Kim English smiled, which is not unusual because the kid with the sweet jump shot and the megawatt grin always seems to smile. But this smirk had extra meaning. A television reporter was breathlessly trying to describe what was in store for English and the rest of his Missouri teammates on Saturday night — only the greatest, most colossal, gigantic, enormous, historic and monumental basketball game in the history of the planet Earth.
You know, typical Mizzou-Kansas pregame hyperbole.
English preferred to capture it in more contemporary terms.
"It's just a mid-season conference game," he said with a shrug of his shoulders and a little mischief in his eyes.
Of course, it's a lot more than that. It's a game with significant history attached.
After 105 years, 266 games and a lot of contempt from both sides of the border, the Tigers and Jayhawks this month are putting to rest one of college basketball's greatest rivalries. With Saturday night's game in Columbia and one in Lawrence on Feb. 25, these contests will be the last opportunity for Mizzou fans to hurl clever (and occasionally vulgar) insults at the Jayhawks — at least for the foreseeable future.
It might not be "The Game To End All Games" to the Tigers, but Saturday night will be the last crack at another over-the-top emotional postgame celebration that always follows a victory over KU. Kids spilling out of the stands and creating mob scene at center court. A spectacle of emotion for MU fans because who doesn't love knocking off certifiable college basketball royalty?
But please pay attention to the subtly of English's message, even if it's delivered with a wink and smile.
He wants folks to understand that Saturday has nothing to do with the way things always have been, which basically has had the Tigers playing the subservient role in this century-old relationship.
"Should (the fans) storm the court if we win? I don't know why they would," said the senior guard for the No.4 ranked Tigers (20-2). "I didn't like it when they did my freshman year. I just don't like giving people the satisfaction of feeling that (the Jayhawks were upset). Look, they are an exceptional program with national championships and all those trips to the Final Four. But we are living in the here and now."
And what's the here-and-now status of KU vs. MU?
"It's just two very good basketball teams," English said without a blink.
What he's saying is that when the No. 4 Tigers play a home game against the No. 8 Jayhawks, the No. 4 team is supposed to win.
This is what I've come to like about the Tigers. There's a boldness about them that just fits. It's not arrogance; it's confidence. They're not cocky. They're convinced. Cocky is all about bravado with no evidence to back it up. Conviction is all about belief based on facts in evidence. And this is a team that has won 20 of its first 22 games, three out of four conference road games and has basketball wise guys singing their praises.
"I like the fact that they're fearless," said ESPN college basketball analyst Jay Bilas, who is to be on hand Saturday for the network's "College GameDay'' coverage. "They have so many courageous players. I know we're talking about basketball, so the word 'courageous' might be misunderstood. But what I mean is they have no fear of driving to the basket. They're willing to make tough plays. They space the floor and get the ball to the open man. Their go-to guy is the open man, which is not true of a lot of teams."
Add Bilas to the growing number of commentators who have seen the Tigers play and digs everything about them. When you listen to people talk about them now, you hear some fascinating words: Smart. Unselfish. Consistent. Dangerous. Entertaining. Tough.
Bilas might be their biggest fan.
Sometimes it's good to look at a team through neutral eyes that aren't clouded by emotion, loyalty or irrational expectation. I talked to Bilas a few days ago and until I mentioned the Tigers' shortcomings they did not come up in the conversation.
"Can they overcome a lack of size and lack of depth?" Bilas asked. "I think they can. If this was a team in the Missouri Valley Conference, we'd be celebrating them as to how incredible they are because they're so small and have little depth. I want to tell you that this is a fabulous team. I'm lucky that I don't have to pay to watch teams play, but I would pay to watch this team play."
OK, Jay, but can we get back to their weaknesses?
"I like that they're unbelievably fast, they get up and down the floor and play at different paces," he said. "They have done a really good job of getting odd matchups in their favor. If they have a size disadvantage, to them it's not a size disadvantage, it's a quickness advantage, it's a spacing advantage. Because they can shoot so well and drive it, they can run (different offensive sets) ... there's not a spot on the floor that you don't need to guard. As good as (fifth-ranked) North Carolina is — one of the best five or six teams in the country — there are guys on Carolina you don't have to guard. You don't have to guard Kendall Marshall because he can't hurt you from the 3-point line. There are five guys for Mizzou that can kill you from any spot on the floor."
OK, Jay, but they're short. Really short. And they play only seven guys. And did I mention how short they are?
"I know," said Bilas. "But they're very unselfish. Like I said, they give up the good shot for the great shot and because of that, I think all of those guys seem to know instinctively that if they give it up, they'll get it back."
But they're short. They have no depth. And they're short.
"I think they can win the whole thing," Bilas said. "I don't think there's a team out there that they can't beat. Now they're subject to the same things that every other team is this time of the year. You run into a night when you're missing open shots and you're subject to get beat, but I like their chances."