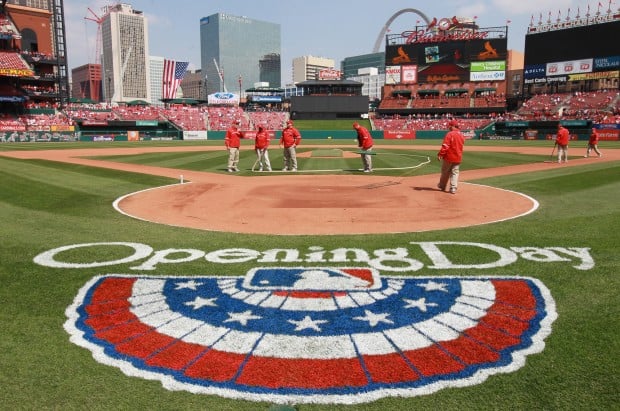 For the second year in a row, Fox Sports Midwest is apologizing for a snafu in its coverage of the pregame festivities at the Cardinals' home opener.
As the players in the starting lineup were being introduced Thursday, FSM cut to a taped introduction of the game telecast, then went to commentary from the announcers in the broadcast booth just after No. 3 hitter Albert Pujols — who has been the subject of contract haggling that has angered some fans — received loud cheers from the crowd.
Viewers were left in the dark as the rest of the lineup was introduced, later being told that Matt Holliday and Lance Berkman received big receptions. Then those wanting to see former Cardinal Jim Edmonds throw out the ceremonial first pitch got just an abbreviated shot of that — with the added aggravation of ads popping on and off the screen to obliterate much of that.
"The ceremony ran long, which made it difficult to fit everything in before first pitch," FSM general manager and senior vice president Jack Donovan said in a statement. "It was a mistake for us to cut away during the introduction of the lineup, and we apologize to Cardinals fans."
Last year, the most anticipated moment of the festivities was how the crowd would react to the introduction of new Cards hitting coach Mark McGwire, who not long before had admitted using performance-enhancing substances during his playing days. But just as he was about to be introduced, FSM went to an interview with nondescript outfielder Joe Mather, then coverage of the introductions resumed after McGwire was done. That led some fans to think there was a cover-up in case McGwire was booed. Donovan said then that wasn't the case, that FSM's timing was off because those ceremonies also ran long.
"We're covering a live event and at live events things happen,'' he said then.
Jay Randolph lost his job as a Cardinals television play-by-play voice when Fox Sports Midwest took over the team's entire local TV package this season, eliminating the approximately 20 games he broadcast on KSDK (Channel 5). He had broadcast the team for 21 seasons, over two stints, and it looked as if his ties to covering the team were done.
But he's coming back to the airwaves, albeit not on play-by-play. FSM has hired him to work occasionally on its pregame programming and among his assignments will be conversations with Redbirds standouts of the past, interviews with Cards manager Tony La Russa, pieces about "Cardinal Nation" and some narration work.
"It's a comfortable jacket of familiarity with Jay's voice," FSM executive producer Kevin Landy said. "It's a good fit."
Late night is the new battleground in sports radio.
"The Late Shift" is set to debut Monday in the 10 p.m.-midnight slot at WXOS (101.1 FM), where it will be on weeknights and focus on baseball, at least for now. Cliff Saunders is the host, with contributions on a rotating basis from the Post-Dispatch's Joe Strauss and Derrick Goold as well as 101's Brian Stull and Chris Duncan.
That follows the lead of KTRS (550 AM), which moved its sports-talk show from early evenings to the 9 p.m.-midnight slot in January, then bolstered the 10 o'clock hour by adding candid former Cardinal Jack Clark for a gig during the baseball season.
A few weeks after KTRS made its shift to the later hours, KMOX (1120 AM) added sports programming from 8 p.m.-midnight. Plus, KFNS (590 AM) recently added the "Andy Spitz Show" in the 10 p.m.-midnight slot.
WXOS program director Jason Barrett said the new show on his station will feature calls from listeners, something the station rarely does during the daytime.
It will be "more interactive since that's more of the appetite of the audience at that time," he said. "Most people during that time period are listening 10-20 minutes."
It's a strange opening day in the Final Four this year.
The equivalent of a "Bracket Busters" game (Virginia Commonwealth vs. Butler) more likely to be seen in February on ESPN than on Final Four Saturday on CBS serves as the lead-in for the other national semifinal game, a showdown between blue blood programs Kentucky and Connecticut. And CBS Sports chairman Sean McManus has no idea what to expect in ratings from this never-before-seen doubleheader of such contrasts since the current NCAA tourney format of seeding began 32 years ago.
"I'm not usually in the business of predicting or projection ratings, but I think it's all going to come down to how close the games are," he said on a conference call this week. "I'm not going to say, 'We're going to do a bad rating because we have two teams from mid-majors.' I think it depends on what story lines develop between now and then and how close (that) game is. ... I'm not going to project a good rating or a bad rating."
A "mid-major" team will be in Monday's title game for the second season in a row, after Butler came up just short against Duke last year. That telecast had the best rating for the championship contest in five years .
"We're guaranteed of having a Cinderella on Monday night and that's a good thing," Jim Nantz, who is broadcasting the tourney for the 26th time (22nd on play-by-play), said on the call. "Historically this will be viewed, if one of those two emerges Monday night, as the greatest Cinderella story maybe we've ever seen in this tournament. I know you can say, 'Wait a minute, what about Villanova (as an eighth seed) back in 1985?' Villanova came out of the Big East. A different deal."
Neither Butler nor VCU comes from a conference anywhere nearly as large as the Big East, but those schools are alive while all but two "big boys" are not.
"It does not have that usual Final Four ring to it, but I think this is a really special moment in the history of this tourney," Nantz said.