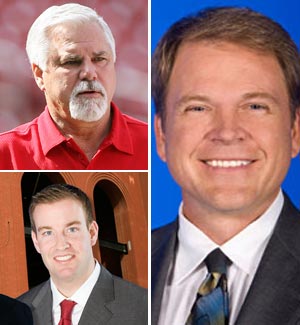 More Horton, less McLaughlin and Hrabosky.
That's the new lineup for Cardinals telecasts as Fox Sports Midwest becomes the sole carrier of their local TV coverage now that the team has ended its ties to KSDK (Channel 5), which aired 20 or so games in recent years. So FSM increases its slate of games to about 150 (the exact number depends on how many ESPN and Fox pick up, with FSM's minimum being 148) and all three of its announcers - Dan McLaughlin, Al Hrabosky and Rick Horton - return. Each will work about 100 games.
That's an increase of 39 for Horton but a cut of 20 for McLaughlin and Hrabosky. McLaughlin will do play-by-play in all his games, working with analysts Hrabosky and Horton 50 times each. Horton will do play-by-play about 50 times alongside Hrabosky.
FSM general manager Jack Donovan said Thursday the schedule assures all will be fresh.
"The guys can be rested and sharp,'' he said. "When you're doing 150 games, we want the same energy and enthusiasm on games late in the season and in the middle of the week maybe against less exciting teams. We want people bringing the high level of enthusiasm and excitement, and being rested a little bit makes that happen more - guys aren't tired, on the road as much."
But Horton primarily has been an analyst in his seven seasons on Redbirds telecasts and most of his relatively small amount of play-by-play has been on radio. So the move to that slot on TV is a bit curious given that an experienced and knowledgeable play-by-play man in multiple sports who has done the Cards before, Bob Ramsey, is in town and has expressed interest before in returning to the booth. He would have been a fine fit for 50 games if a deal with his primary employer, WXOS (101.1 FM), could have been made. But Donovan is bullish on Horton.
"Ricky is an outstanding talent; he only makes the broadcast booth better,'' Donovan said. "We think Dan does a great job and Al does a great job, and having Ricky on board makes it a better team."
He said he has no reservations about Horton's lack of TV play-by-play experience.
"Whenever we've seen him on the air he seems like the consummate professional,'' Donovan said. "We weren't concerned about that; he's very comfortable in the role, well-liked by the team, the front office, the players and people here at Fox. We think he can step in and do a great job.''
There had been some rumbling last fall that Horton might go after the analyst vacancy on Washington Nationals telecasts to work with former Cardinals broadcasting colleague Bob Carpenter. But Horton said he never seriously pursued the job, which is going to former major-league utility man F.P. Santangelo. So Horton, a pitcher on Cards World Series teams in 1985 and '87, knows he'll be scrutinized by being relatively raw in TV play-by-play.
"I am excited about the opportunity of getting better at it, and I do know it is going to be in some ways a challenge for me - certainly more difficult for me at this point to do play-by-play than it is to do color,'' he said. "But the repetition might be a valuable thing for me. One of the reasons it's harder is I don't do it as much. The more I did it on radio, the more comfortable I felt. I think the pacing of play-by-play on TV, I hope I'll get better at it and I'll get some direction and feedback from people in the know But I do think it will get smoother as I get more repetition.''
And he's already been doing homework.
"I have studied it some, I try to be as prepared as possibly and try to make it my own,'' he said. "I am excited about the opportunity. I know it's going to be a lot of work, an adjustment to do that many games. But I'm really looking forward to it.''
Also, Donovan said Hrabosky will be on about 40 to 50 postgame shows on days when he isn't in the booth, thus giving him more total appearances than last season. Hrabosky, Horton and Cal Eldred will take turns as analysts on that program, filling the void for the ousted Jack Clark.
Hrabosky "will strengthen our postgame,'' Donovan said. "People definitely stop and want to listen to Al. ... This should make our postgame more entertaining. He'll be very visible on our air.''
All three broadcasters are scheduled to work on opening day, March 31, when the Cards face San Diego.
No changes are expected in the radio booth, with Mike Shannon and John Rooney set to return as the broadcasts move back to KMOX (1120 AM). That station is expected to go to a sports-intensive format from 6 p.m.-midnights beginning next month, now that the entertainment-oriented John Carney is vacating his evening slot and moving to morning drive-time on KEZK (102.5 FM).
Ken Wilson, who announced Cardinals and Blues games in the 1980s and then was the primary TV voice of the hockey club before being fired in 2004 after 20 seasons, is going to do about 40 radio and a few TV broadcasts this season for the Seattle Mariners.
Wilson, who called games for that team from 1977 to 1982, is one of five men who will be used on a rotating basis to help plug the hole created by the death in November of Hall of Fame announcer Dave Niehaus. Rick Rizzs, who had been Niehaus' partner, will be the main man in the booth.
Wilson, who moved to Hawaii after leaving St. Louis, has been in Portland, Ore., in recent years and is heading into this fourth season running the West Coast League, a summer collegiate baseball organization.
He said he's glad to return to broadcasting, and although he isn't pursuing a full-time job, he'd be interested "if the right opportunity came along."
The "Fairways and Greens'' golf show, hosted by Jay Randolph Jr. and Jeff Smith, is in its 20th season and airs this year from 8 to 9 a.m. Saturdays on KFNS (590 AM). St. Louisan Jay Williamson, a PGA Tour pro, has been added as a co-host. He plans to play in about a dozen tournaments this year and will participate via telephone on the weeks he's playing.