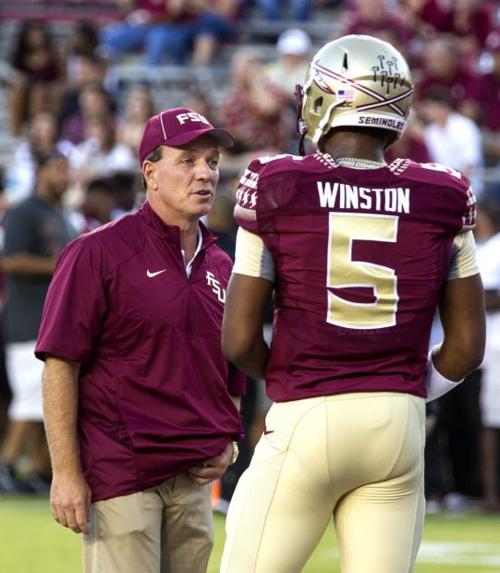 Every weekend, Post-Dispatch columnist Joe Strauss — aka "El Diablo" — jumps into the fire by handicapping some of the weekend's biggest football games.
---
Those familiar with The Inferno are well-acquainted with some of the bad-beat sob stories written last season. The infamous "backdoor cover " became an unwelcome part of the lexicon within a mediocre season that contrasted a remarkable (blush) 2012 run on social media.
Well, truth in advertising inspires me to present the other, more positive side as last week's investment choices offered a 6-4 return thanks to the Dallas Cowboys' and Baltimore Ravens' remarkable comebacks against the Rams and Cleveland Browns, respectively. The Pokes covered after trailing by three touchdowns. The Ravens delivered with two field goals in the final six minutes. The Cowboys had no business beating the Rams 34-31. The Ravens' win was more justified. Regardless, the outcomes extended The Inferno's recent surge, which this week continues without benefit of opinions on the Rams (bye week) or Mizzou (on-site coverage might lead to an embarrassing press box reaction to a cruel turn).
This week's plate looks rather ordinary. I mean, Gameday is traveling to Columbia East to promote Mizzou-South Carolina a week after Indiana embarrassed Truman in CoMo. Stanford-Washington looks more entertaining but the late kickoff doesn't mesh.
Don't be discouraged by the lack of local flavor. At last glance, investing wisely on Akron-Pittsburgh delivers just as well as Mizzou-South Carolina or last week's (un)fortunate recovery at the Edward Jones Dome.
Let us proceed as The Inferno boards for Columbia via Atlanta and Augusta, Ga.
NC State (+18.5) vs. Florida State
This game defines "free money." The much-scrutinized Seminoles are coming off a Winston-less scare against Clemson, who should be under NCAA investigation after botching a win at least three times last Saturday night. (Inferno honks still danced over the Clemson cover.) Free Shoes U. hasn't come close to covering in its four games dating to the final BCS Championship game. Graduation has diminished them. FSU has averaged 32 points against Oklahoma St., The Citadel and Clemson. True, the Wolfpack is 4-0 against an unimpressive schedule that contains an underrated win over Georgia Southern, which outplayed an ACC foe before ultimately losing late at Georgia Tech Sept. 13. This game offers one of the most powerful trends in the college game. Good or bad, NC State has long tormented FSU, going 11-1-1 against the number in their last 13 meetings. The 'Pack has won outright three of the last four games in Raleigh. The exception was a 9-point loss in 2008. The combination of trend and Florida State's bland start make this spot too inviting to ignore.
Wisconsin (-34.5) vs. South Florida
The Badgers' late meltdown against LSU looks worse given the Tigers' no-show last weekend against Mississippi State. However, Wisconsin is now positioned where style points count. They rolled Bowling Green last week and are averaging 7.8 yards per rushing attempt. USF stayed close to Maryland in its opener only due to six turnovers. Without such help they were badly exposed at home against NC State. Wisconsin doubles down on last Saturday's conference-record 644 yards rushing. They name the score at Camp Randall.
Washington (+7.5) vs. Stanford
Rarely does the Inferno go against the Cardinal. This week is an exception as Washington brings a stout running game into its conference opener. The Huskies' pass defense is a question but their ability to run the ball against an opponent they've defeated in Seattle and played to a 3-point loss in Palo Alto suggests value rests with the home dog. The Huskies aren't the same offense without QB Keith Price; however, their defense held Stanford to 14 first downs and 282 yards last year.
New Orleans (-3) at Dallas
The Saints won by 32 in New Orleans last November while outgaining the Cowboys, 625-193. Jerry's World has recently offered little home-field edge. The Cowboys have lost their last four at home, albeit to San Francisco, Denver, Philadelphia and Green Bay. It's difficult to get past last Sunday's woeful first-half performance against the Rams. There should be points aplenty here.
San Francisco (-4.5) vs. Philadelphia
The Eagles remain undefeated despite a) trailing Jacksonville by 17 in Week 1 b) squeezing out a 3-point win at Indianapolis and c) getting outgained by 132 yards at home against Washington. This does not sound like a dominant team. The Niners managed just 28 yards rushing from anyone other than quarterback Colin Kaepernick last week against Arizona, a vastly superior defensive team. The Niners have received much backing this week. The Eagles are a fun team to play because of their quick-strike offense. However, it's difficult to rationalize the Niners falling to 1-3 in a home tilt.
---
Indiana (-4) vs. Maryland
A classic match-up between one team that can't stop the run (Maryland) and an opponent exposed by the pass (Indiana). The Hoosiers would appear ripe for a comedown in their Big 10 debut. Maryland is coming off a 14-point win at Syracuse in which the Terps got outgained by 220 yards. Maryland has been turnover-prone at times this season. They've also been outgained by 467 yards the past two weeks while Mzzou mustered only 10 more yards than IU last Saturday. We're swimming against a tide of public and pro money here. Tevin Coleman should flex in this spot after rushing for 247, 190 and 132 yards his first three games.
Tennessee (SEC) (+17) at Georgia
Georgia has won the last three games but only by an average seven points. Last year's tilt went to overtime before the Dawgs escaped Knoxville with a three-point win. Tennessee comes off a 24-point loss at Oklahoma. However, the margin was distorted by two interceptions in the Sooner end zone, including one returned for a OU touchdown. Georgia wins, but not by three possessions.
Pittsburgh (ACC) (-20) vs. Akron
The Panthers are coming off a tough loss to Iowa in which they squandered a 10-point win despite outgaining the Hawkeyes by more than 120 yards. The nation's rushing leader, sophomore running back James Connor has put up 153, 214, 177 and 155 yards and nine touchdowns. Supposedly a defense-first team, Akron surrendered 100 yards to each of two Marshall backs in an ugly loss last week. They've shown little big-play capability and should get plowed by a physical opponent. The Zips will struggle to score.
Chicago (+2) vs. Green Bay
The Packers are this week's strong wise guy play. They've won seven of their last eight against the Bears and covered six of the last seven. But here's a thought: What if the Packers are actually as bad as they've looked on offense? Aaron Rodgers stunk it up last weekend in Detroit as the Green Bay offense surrendered more points than it scored. Seattle absolutely whipsawed the Packers in the season opener. The angle here is the Bears coming off a Monday night game. There is legitimate bias against such teams; however, the Bears are 5-2 against the number following up a Monday night game. The Bears have also covered only three of their last 16 at Soldier Field. The Chicago defense isn't especially good while turnovers have fed the Packers' average 26.3 points allowed. The Packers need this game but won't get it.
Pittsburgh (NFL) (-7.5) vs. Tampa Bay
This just in: The Bucs simply can't score. It's not just that the Steelers have covered in the team's last four matchups, it's that there is no pulse evident in a Tampa Bay team that completely revamped its offense last off-season. Uncertainty remains regarding the Bucs' QB situation. The Steelers are no offensive dynamo but they are coming off an impressive 37-point display at Carolina. Le'Veon Bell and LeGarrette Blount both went for 100-plus yards. The wager here comes down to whether the Steelers can score more than 24 points at home. The suspicion is yes, they can. Warning: Public money on Pittsburgh. Sharps on visitors.
Indianapolis (-7.5) vs. Tennessee (NFL)
The primary reason for early optimism about the Titans was Jake Locker's return to form. Well, Locker is a question mark for this tilt and the Titans have scored three touchdowns in consecutive losses since taking out Kansas City in Week 1. The Colts opened the season with losses at Denver and against Philadelphia, arguably two of the league's top five teams. The Colts have won nine of the last 10 between the two. More importantly, they've covered five of the last six. Too many trends going the wrong way for Tennessee.
---