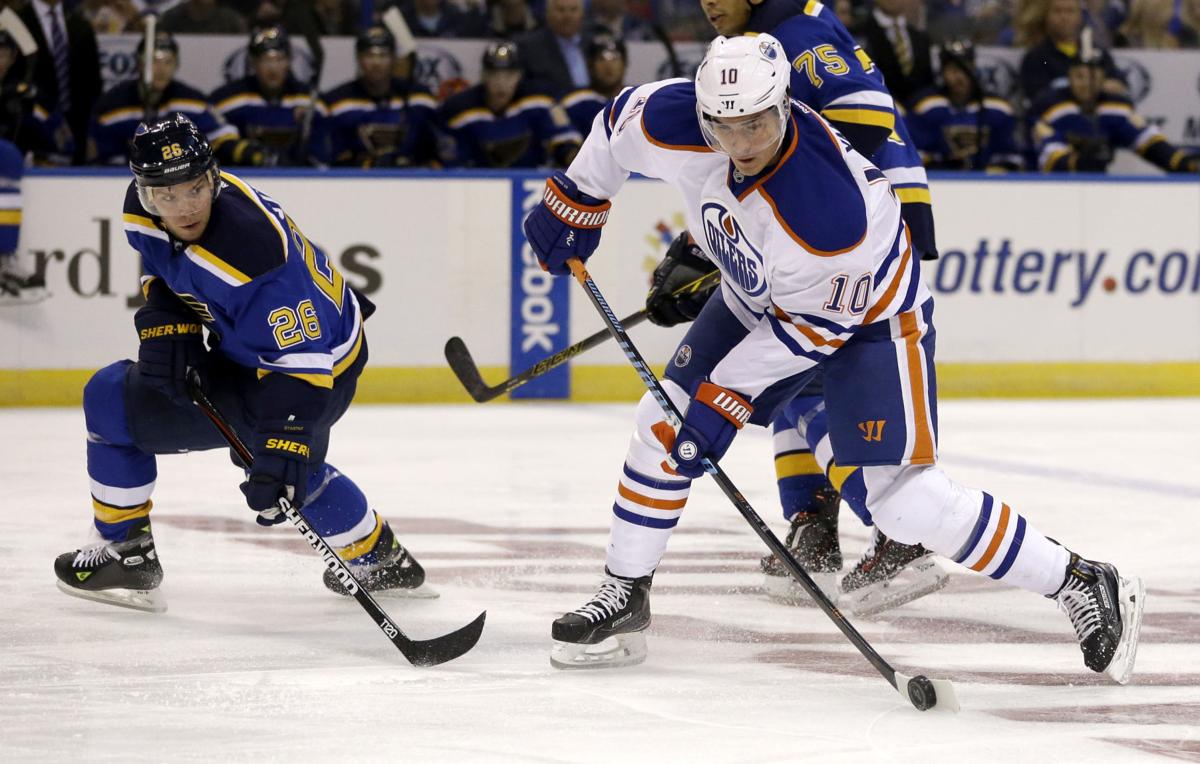 As it stands today, Nail Yakupov ranks among the worst first-overall draft picks in modern NHL history.
Several forwards have flopped. Patrik Stepan heads that list, since he never scored more than 14 goals in a season. Brian Lawton had a 20-goal season, at least, and goofy Alexandre Daigle once scored 26.
Among defensemen, poor Greg Joly went to the expansion Washington Capitals and posted a plus-minus of minus-114 in his first two seasons. Needless to say he never really recovered from that.
Can Yakupov, acquired by the Blues on Friday, recover from his struggles in Edmonton and avoid eternal hockey infamy? Can he re-establish his value in the walk year of his contract or is he destined to return to Russia as an NHL washout?
He started OK for the Oilers, scoring 31 points as a rookie during the abbreviated 48-game 2012-13 season. He scored 17 goals, including 11 in the last 14 games.
But Yakupov earned a minus-84 rating during his next three seasons while producing just 80 points in 204 games. He is still young enough to salvage his career, of course, but the Edmonton Oilers clearly felt he couldn't be fixed.
Oilers general manager Peter Chiarelli came to that conclusion after watching him for one season. "I don't know if it's fair for me to assess why it didn't work out just looking at one year, but I could see there wasn't a fit," he told reporters in Edmonton.
"He's a young player who had skill and talent, but from what I saw the year before to what I saw this past year, I thought his game diluted. I don't think he was playing to his strengths. There are areas of his game that can improve and need to improve and I'll leave it at that.
Coach Todd McLellan concurred. He got some life from Yakupov by playing him with budding superstar Connor McDavid, but then again McDavid could prop up a sportswriter on his wing. He is just that good.
Other combinations did not work well for Yakupov, who labored while wearing the "draft bust" yoke.
"By the time we arrived here it was infected already," McLellan said of Yakupov's game. "He had a lot of past baggage that he was carrying with him. We tried to get him going and it worked for a while with Connor, but both their injuries derailed that."
Ultimately Jordan Eberle moved to McDavid's flank and flourished. Yakupov faded deep into the supporting cast. The Oilers essentially gave him to the Blues, gaining addition by subtraction and the cap space to sign free agent defenseman Kris Russell.
Still, Yakupov shouldn't take the fall for Men of Oil's inability to translate an endless supply of high draft picks into on-ice success.
"The players who've left here don't shoulder any blame. It's the group as a whole," McLennan said. "That's not on them, it's on all of us, everyone who's been part of the organization the past decade."
Among the players benefiting from the changes in Edmonton is Our Town's Patrick Maroon, who adds heft to the Oilers front lines. He, top line winger Milan Lucic and Zach Kassian make them more imposing.
"We've got more size," McLellan told Edmonton reporters. "Maroon, Kassian, Lucic . . . more size that plays on a regular basis."
AROUND THE RINKS: Florida was hoping to make a deep playoff run this season after adding skill to its blue line and a second quality goaltender in James Reimer. But the long-term loss of winger Jonathan Huberdeau to a leg laceration stings. His playmaking skills helped that top line with Aleksander Barkov and 900-year-old Jaromir Jagr flourish . . . Former Blues great Keith Tkachuk must be proud of his boy Matthew, who took the Calgary training camp by storm. Showing many traits that made his father one of the game's great power forwards, the younger Tkachuk earned a third-line role as a teenager . . . Restricted free agent Jacob Trouba wants to get paid like a cornerstone defenseman. And he wants out of Winnipeg. The Jets are willing to make that trade, but only if they get a cornerstone player back. Trouba has yet to play like a cornerstone defenseman in his career, so don't expect a resolution any time soon . . . The Anaheim Ducks are missing unsigned RFA's Richard Rakell and Hampus Lindholm. To lock in both players and comply with the salary caps, the Ducks would have to move out another contract . . . Assuming that the Flames finally lock up budding superstar Johnny Gaudreau with a long-term deal this week, as expected, Calgary and Edmonton will resume the Battle of Alberta for real this season.