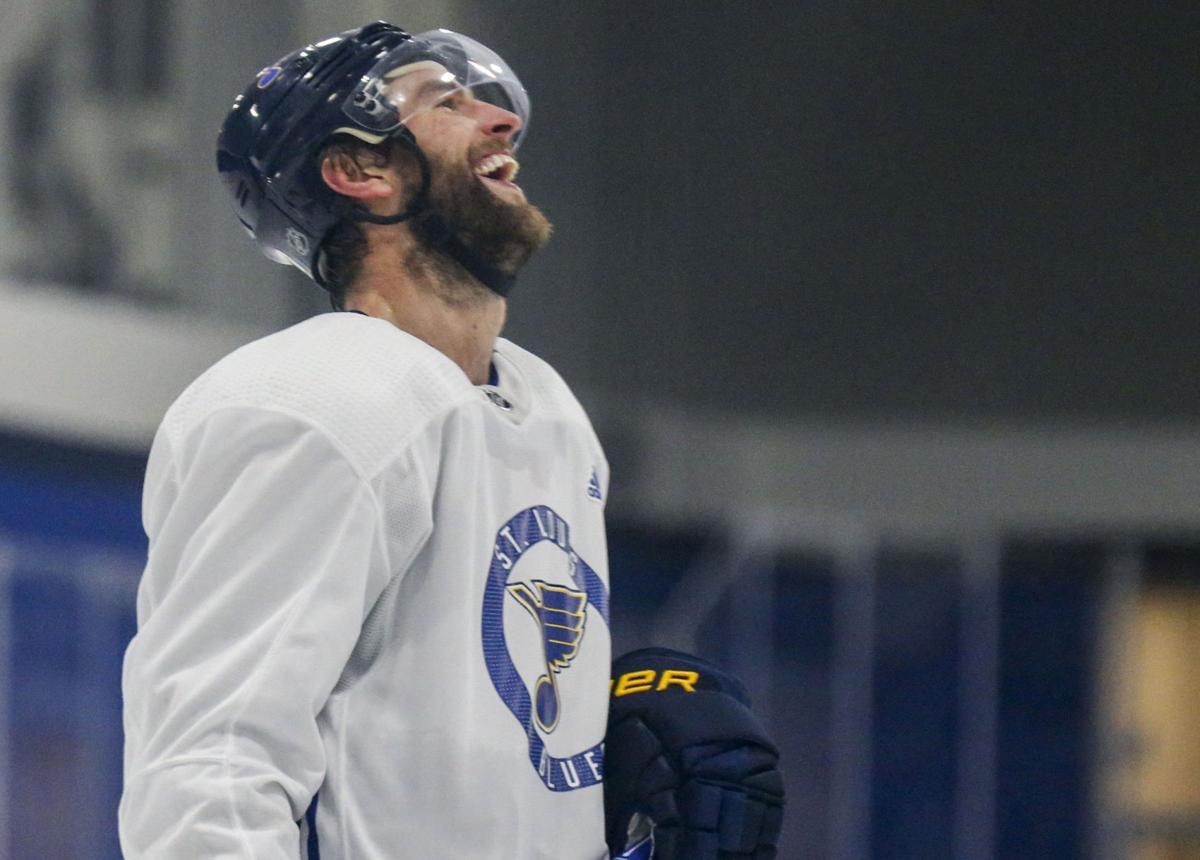 The Vegas Golden Knights gave former Blues captain Alex Pietrangelo a big workload during their 5-2 victory over the outmanned Anaheim Ducks.
His free-agent signing created salary cap complications for the team, which led to the trading of No. 3 center Paul Stastny and Top 4 defenseman Nate Schmidt. And on their Opening Night the Golden Knights had to deploy just five defensemen and 13 forwards to make the numbers work.
Pietrengelo led the Vegas skaters with 25:30 in ice time and the other four D-men played 22:05 or more. Alex earned one assist and a plus-2 rating.
So how did it feel debuting with a new team?
"A little different without the fans, obviously," Pietrangelo said. "I feel like I've adjusted well."
"So far so good," he said. "We played well tonight; the team did a good job out there. I enjoyed myself out there. It's a fun group to be a part of."
Pietrangelo isn't burdened with the team captaincy in Las Vegas. That task falls to winger Mark Stone, who led the charge against Anaheim with a goal, an assist and his typically strong all-around play.
"He led the way, that's why he's wearing the 'C,'" Golden Knights coach Peter DeBoer said. "He has the ability to raise his level at important times and that's what you want your captain to do in those moments in the game."
Here are other developments worth noting after the season's first two days:
The San Jose Sharks looked like a team ready for a complete overhaul. Management disagreed, opting to stay the course. They brought back Patrick Marleau and bid farewell to Joe Thornton in a swap of old guys, but otherwise they decided to give their veteran one more shot. The Sharks opened with a 4-3 shootout victory over the Arizona Coyotes, with a rejuvenated Erik Karlsson playing 32:12.
The Minnesota Wild are in the midst of a modified rebuild, with GM (and former Blues winger) Bill Guerin blending in more young players to work with legacy veterans Ryan Suter and Zach Parise. The cornerstone for that rebuild is winger Karill Kaprisov, who scored the game-winning goal and earned two assists in the Wild's 4-3 overtime victory over the rebuilding Los Angeles Kings. He played nearly 22 minutes and earned a plus-3 rating.
Former Blues scouting czar Jarmo Kekalainen has his hands full as general manager of the Columbus Blue Jackets. Top center Pierre-Luc Dubois has asked for a trade and coach John Tortorella has stuff to say about that publicly – thus ensuring that the Dubois soap opera will provide a huge distraction for him team. The Blue Jackets responded to all of this with an uninspired 3-1 loss at Nashville to open their season.
Blues fans know that coach Joel Quenneville is a stickler for disciplined team defense. So he is slamming the page on last season' fiasco with the Florida Panthers. Coach Q isn't just demoting veteran power-play quarterback Keith Yandle, he threatening to remove him from the lineup and snap his 866 games-played streak. But here's the rub: Yandle enjoys full no-movement protection and he carries a $6.35 million cap hit through 2022-23. Wish new GM Bill Zito luck trying to resolve this issue with a trade. The Boston Bruins are a logical fit, but the Panthers would have to retain a lot of money in that swap if Yandle would be willing to play along. Yandle's agent is accusing the Panthers of pressuring Yandle into waiving his no-movement protection, so this scenario could get chippy.
If you are looking for a head shot worthy of a NHL suspension, look at what Washington Capitals forward Nic Dowd did to Buffalo Sabres center Eric Staal in the open ice. That was egregious head-hunting. On the other hand, Sammy Blais' hit on Devon Toews, which earned a two-game suspension, was a classic example of a contemporary crackdown. Blais was skating behind the net. Toews, hunched over, left his head into the skating lane. Blais should have stayed to his right to avoid him, but Sammy doesn't believe in avoiding contact. The NHL is working hard to protect its players, but the players also need to do a better job of protecting themselves.
The New York Rangers rolled into the season with high hopes after adding first overall pick Alexis Lafreniere to their emerging team. Then the arch-rival New York Islanders came into Madison Square Garden and throttled them 4-0.  "We just weren't prepared to play the right way," Rangers coach David Quinn said afterward. "We allowed them to get into position all night long because we didn't skate. We didn't play with the right intentions. There wasn't a lot of good tonight, that's for sure."
First overall 2019 draft pick Jack Hughes was a Year 1 disappointment for the New Jersey Devils. But he has packed on some muscle and taken over as the top center with Nico Hischier sidelined by a foot injury. Hughes earned two assists and played nearly 22 minutes in a 3-2 shootout loss to the Boston Bruins.