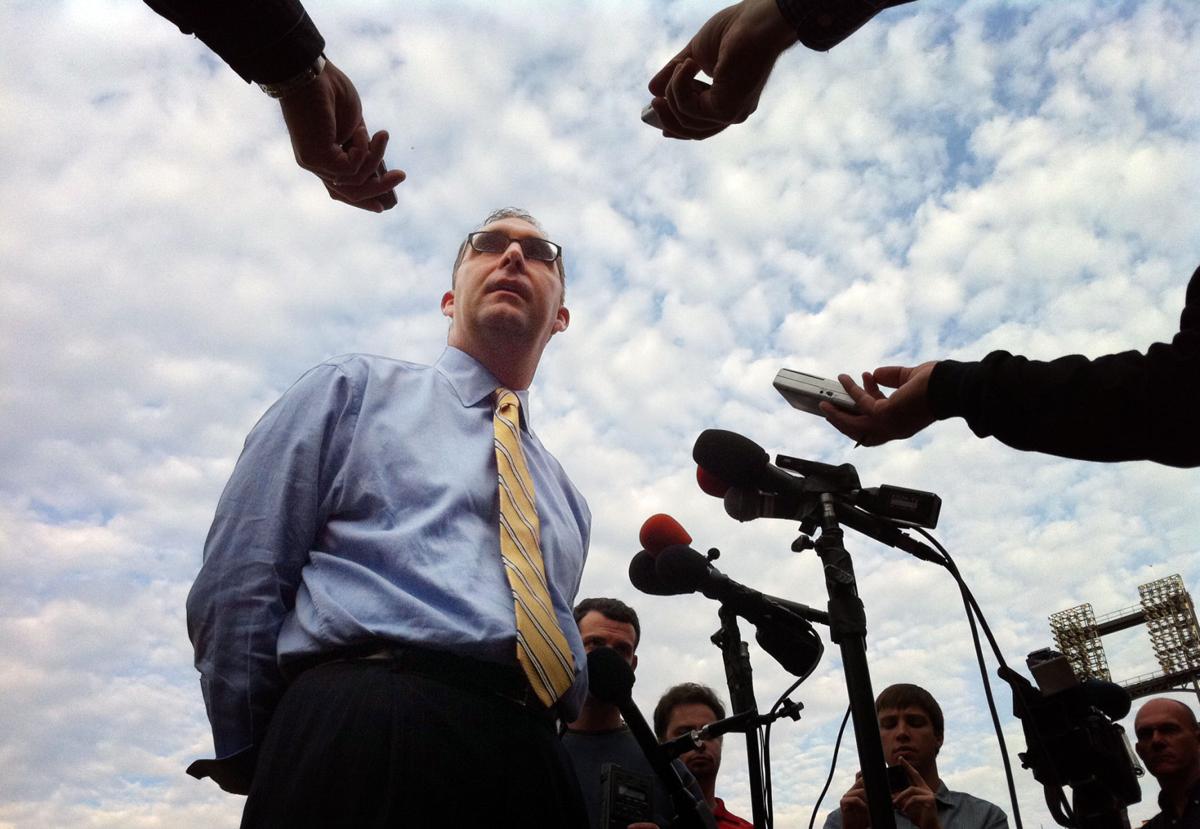 Will we see peace within the Cardinals baseball operation in our lifetime? Fans can only hope so.
The turf war has left a high body count. The latest casualty was Cards bullpen coach Marty Mason, an outspoken critic of the Jeff Luhnow Camp.
The battle has been raging for years. Former general manager Walt Jocketty opposed Luhnow's ascension to player development czar midway through the previous decade, since it came at the expense of Walt's guys.
Festering disagreements led to Walt's departure and left a rift in the Cards organization. The infighting continued, even as one recent Cards draft pick after another reached the majors.
Imagine if the farm system hadn't reversed form and become consistently productive.
Imagine if the organization hadn't graduated several power arms and a couple of Rookie of the Year candidates the past few years.
Imagine if greater organizational depth didn't give GM John Mozeliak the leverage to trade for Matt Holliday, among others.
The carnage in and around Busch Stadium might have been shocking.
Elsewhere, baseball people must be scratching their heads. Folks in Cleveland, for instance, can't understand the fuss.
They love the work that closer Chris Perez has done since arriving from the Cards in the Mark DeRosa deal. Perez replaced Kerry Wood as Cleveland's ninth-inning specialist this season and converted 23 of 27 save opportunities with a 1.71 ERA.
"This kid is going to become one of the best closers in the game, maybe as soon as next year," a scout told Basesball Prospectus late in the season. "He's got great stuff and isn't afraid of anything. He is in charge from the moment he steps on the mound."
Perez is no Mike MacDougal, but he has a chance.
Folks in San Diego don't get the outrage. They love the job reliever Luke Gregerson has done since arriving in the Khalil Greene trade.
Gregerson has pitched in 152 games in two seasons as a set-up man, recording a 3.23 ERA. He solidified the Padres bullpen and helped San Diego contend for a playoff berth.
Perez and Gregerson were 2006 draft picks, along with outfielder Jon Jay. Combine them with 2005 draft picks Jaime Garcia, Colby Rasmus and Mitchell Boggs and that is a solid return on draft investment.
Next season Allen Craig (eighth round, 2006) will compete for more at bats in St. Louis and Brett Wallace (first round, 2008) will bid for the everyday first base job in Houston. Both are career .300 hitters in the minors and both flashed some potential last season at the big league level.
Can they become "impact hitters" in the majors? We will see. Both have tools and both will get opportunity.
We don't know if post-2004 Cards draft picks Tyler Greene, Nick Stavinoha, Bryan Anderson, Daniel Descalso, Adam Ottavino, Mark Hamilton, P.J. Walters, Steven Hill, Jess Todd (Indians) and Clayton Mortensen (A's) will offer more than fill-in help in the majors.
We don't know if '08 pick Lance Lynn can become an innings-eating starting pitcher in the bigs.
We don't know if top '09 pick Shelby Miller can become a top-of-the-rotation starting pitcher to succeed Chris Carpenter some day.
We don't know if Dominican prospect Carlos Martinez can become a power-pitching force once he fills out and matures.
But it's a safe bet that most of these recent picks will offer more than anybody taken in the 2004 draft, "highlighted" by the likes of Chris Lambert, Jarrett Hoffpauir, Mike Parisi and Mark Worrell.
Remember when the Cards' idea of filling a sudden need meant calling up hitters like Stubby Clapp, Bo Hart, John Rodriguez, Eduardo Perez and Cody McKay or pitchers like Mike Crudale, Gene Stechschulte, Travis Smith and Jason Simontacchi?
Back then, the Cards stocked their Triple-A team with minor league journeymen. Although the Cards produced some terrific front-line players (Albert Pujols, Matt Morris, Yadier Molina, J.D. Drew, Danny Haren, et al) they did NOT produce the quantity needed to ensure roster stability.
Jocketty was a savvy trader with a keen eye for reclamation projects. He usually found ways to work to compensate for the lack of organizational depth.
He found two Tony Womacks for every Roger Cedeno. He kept the Cards in the hunt year after year.
But the industry changed as more teams opted to spend their revenue-sharing dollars to actually keep their good players. Pickings became slimmer.
To match Jocketty's amazing success here, Mozeliak must keep the prospects coming. This is the mandate Bill DeWitt Jr. has given him. This is the new business model.
Mozeliak has made additional changes to keep the player development program rolling, moving more old-school baseball men into prominent roles to mollify the major league field staff.
Now the Cards will try to move forward. Manager Tony La Russa and most of his coaches return, and various executives are settling into the revised player development roles.
Will the surviving employees adhere to a cease-fire and put all its collective energy into getting back to postseason play?
Enough of this nonsense. The Cards have missed the playoffs three of the past four years. There is much work to do and no more time for bickering.