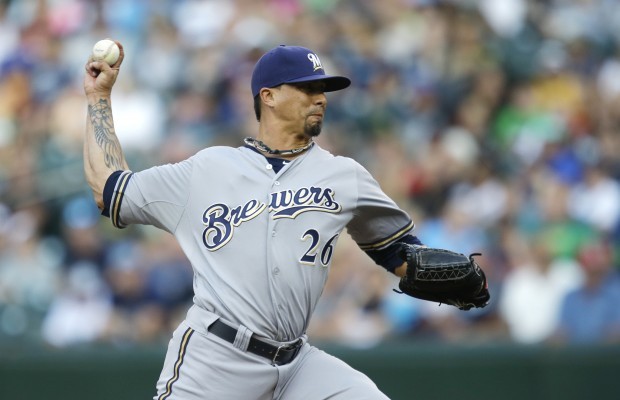 After much internal debate, the Milwaukee Brewers signed Kyle Lohse to a three-year, $33 million free agent contract in the spring.
Cardinals general manager John Mozeliak wouldn't go that far to keep Lohse in his rotation. He made him a qualifying one-year offer to earn a compensatory draft pick if Lohse signed elsewhere.
He later used that pick to select elite lefthanded prospect Rob Kaminsky. He also pocketed an eight-digit salary slot for future use.
Mozeliak banked on the maturation of the many young Cardinals pitchers pushing toward the big leagues. He didn't want to block their development.
Sure enough, one prospect after another graduated to the big leagues to fill voids. Shelby Miller became a fixture in the rotation. Joe Kelly moved quickly in that direction, too.
Trevor Rosenthal stepped into the eighth-inning slot. Seth Maness emerged as a reliable set-up man. Kevin Siegrist became a lefthanded hammer for the bullpen.
Michael Wacha seems ready to play a major role, too, and the team can see big days ahead for Carlos Martinez, Tyler Lyons, John Gast, Sam Freeman, Keith Butler and Michael Blazek.
But consider all the bad stuff that happened since Lohse signed in Milwaukee:
Jaime Garcia's ticking shoulder finally detonated. He was mostly outstanding for nine starts, posting a 5-2 record with a 3.58 ERA, but the joint finally gave. Surgical repairs sidelined him for the rest of the season.
After allowing just seven runs in 39 innings in his first six starts, Jake Westbrook developed elbow inflammation. He was not the same pitcher when he returned from the disabled list. Heading into today's start, he was 0-3 with an 11.02 ERA in two starts and one emergency relief appearance this month.
Jason Motte's ticking elbow went off, too, forcing him to undergo season-ending Tommy John surgery. That created a bullpen chain reaction that drew some starting pitching candidates into relief roles.
That chain reaction claimed Mitchell Boggs, an excellent eighth-inning specialist last season. Boggs got the first shot at replacing Motte. He failed, then continued failing in St. Louis and Memphis. He finally departed to the Rockies in a trade.
Chris Carpenter's valiant comeback bid failed. He whipped his whole body into shape for one last try . . . but the chronic nerve problem resurfaced and effectively ended his career.
After winning two of his three starts as a fill-in, Gast suffered a shoulder injury that required surgical repairs.
Marc Rzepczynski washed out as the combination lefty specialist/long man and exited to Cleveland in a trade. His old role currently falls to Lyons, who earlier filled in as a starting pitcher.
Former closer Fernando Salas washed out as well, forcing the Cardinals to rotate various rookies in his old slot.
Had Mozeliak seen half of those disastrous developments coming, he might have offered Lohse the same deal Milwaukee gave him — especially since the Brewers bid included significant deferred money in Year 1.
Too bad general managers must operate without the benefit of time travel. That makes their job so much harder.
The Cardinals liked Lohse. He was a great fit in St. Louis. Fans here didn't always appreciate him. He might argue that the management team and field staff didn't always appreciate him, either.
Lohse got results here when healthy. He is a hard-core competitor who turns real or imagined slights into motivational fuel. He battles on with nagging ailments.
He understands how to pitch, as he showed again Tuesday night while beating his old team. He can field. He can bunt. He would be a solid No. 5 starter on a great National League staff and a capable No. 4 man on a good staff.
If Lohse falls to them on waivers -- wishful thinking, of course -- the Cardinals should claim him.
(The Brewers put him on waivers earlier this month but pulled him back after failing to strike a deal with the claiming team. It's unlikely Milwaukee would merely dump his salary now. Perhaps the Brewers would consider moving him in the offseason as part of a rebuild.)
The Cardinals can clear plenty of payroll after this season. Carpenter ($12.5 million), Westbrook ($8.75 million) and Rafael Furcal ($7.5 million) should exit the books and Carlos Beltran ($13 million) could walk as well.
Given all of that — and the calamities that befell Cardinals pitchers this season — big money for Lohse would make more sense now than it did during the winter.