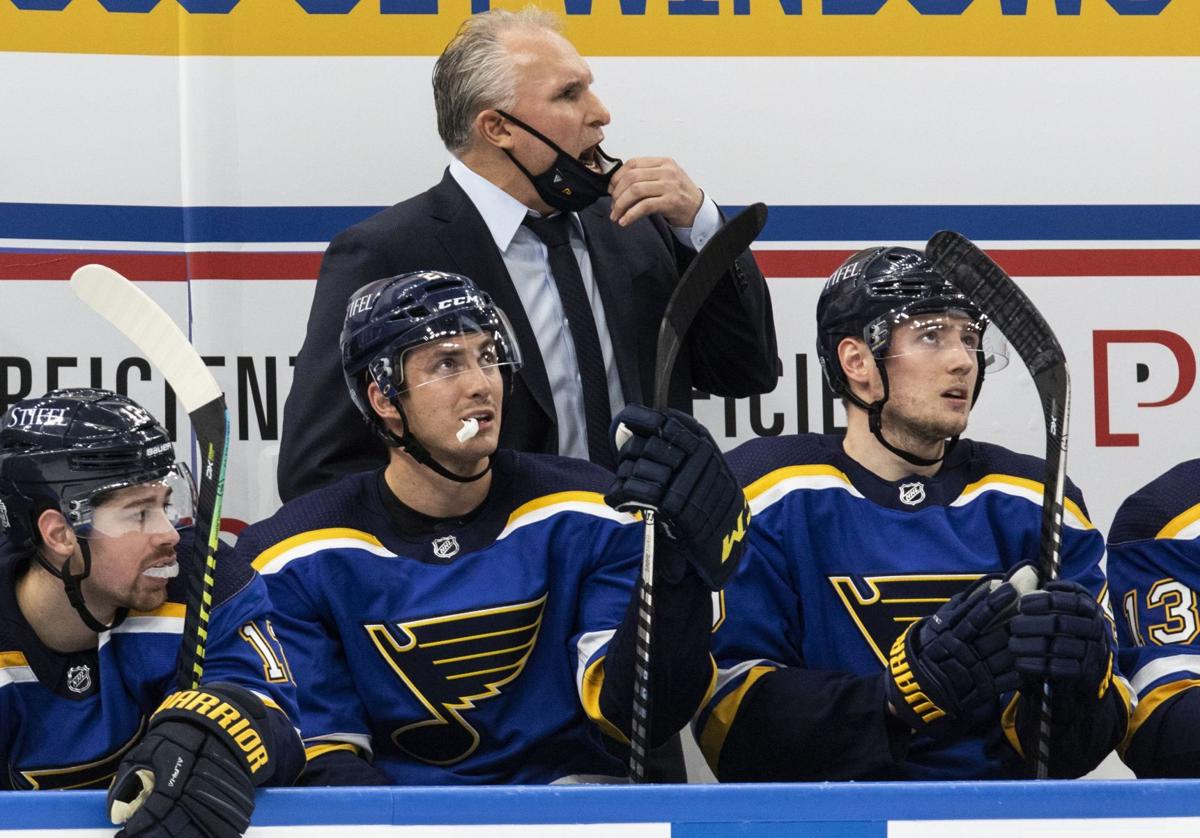 The Blues have fallen back into the baffling malaise that got coach Mike Yeo fired in November of 2018.
Back then we wondered why such a deep and experienced team wasn't piling up goals and stacking up victories. Now we're wondering the same thing as the Blues' losses mount despite the return of key players.
They have gone 9-14-5 in their last 28 games — and 0-6-1 in their last seven — to fall into sixth place in the West Division, five points out of the playoffs.
Like Yeo before him, coach Craig Berube has tried everything to prod the Blues back in the right direction.
He has juggled his forward lines and defensive pairings constantly. He has shuffled his lineup, scratching regulars Vince Dunn and Mike Hoffman along the way.
Berube dropped winger Vladimir Tarasenko back to the third line and gave rookie goaltender Ville Husso back-to-back starts ahead of Jordan Binnington in his latest gambit.
The result: Monday night's resounding 6-1 loss to the Vegas Golden Knights.
So now the Blues are struggling to rebuild their team game. As we know from the last time they reached this point, the process can be arduous.
"It's not just going to happen," Blues forward Tyler Bozak said after Tuesday's intense practice at Centene Community Ice Center. "It's going to take a lot of hard work."
Back in 2018, heavy roster turnover contributed to the team's poor start. This season a litany of injuries caused constant lineup churn and eroded the group's cohesion.
Berube led this team on its Stanley Cup charge, so he understands the rebuilding challenge. The Blues still have many holdovers from their championship run, so enough players know what this turnaround will take.
There may be some roster retooling, too, since general manager Doug Armstrong must deal with expiring contracts, the looming expansion draft and several more seasons with a flat salary cap.
He could move a player or two ahead of the April 12 deadline to get a head start on changes for next season.
Otherwise the reemergence must become organic, just as before. The Blues must start the process by winning a game, then another, then another to start regaining confidence as a group.
"Confidence is a huge thing," Bozak said. "When you're confident, you're playing your best hockey. Sometimes it takes just one little play in a game … one little thing that happens for you that can turn things around."
The Blues must regain their shared commitment and their collective resolve.
"It's a whole," Berube said. "It's not one person. It's everybody. We have to have better buy-in from everybody."
The problem is not tactics or playing style. At the end of the Yeo Era, many critics dismissed the Blues as too slow. In their tentative state, they were constantly a step or two behind the play.
But that same group of players eventually got rolling and won the Cup, despite their lack of speed skaters.
These Blues are faster than the Cup-winning Blues, so now folks are wondering if their failure owes to their lack of size or toughness.
Again, it's not that simple. These days the Blues are playing smaller and softer than they really are.
They want to step up their play. They do step up their play … but when something bad happens, they tend to buckle.
"I know this group cares," Berube said. "Things aren't going well right now. To get out of it, you have to keep believing and keep working and keep competing and stick together. That's the only way to get out of it, OK? When things don't go right sometimes with us, we go the other way and that can't happen."
Monday night's loss offered a vivid illustration of their fragility. The Blues had plenty of jump early on but once again they failed to score first.
Defenseman Torey Krug got a clean look at the net right off the top, but he tried (and failed) to set up Brayden Schenn instead.
Winger Jaden Schwartz zig-zagged through the Golden Knights with the puck, but goaltender Robin Lehner denied him with a right-pad save.
On a three-on-two rush, winger David Perron burst up the right wing, took a cross-ice pass from Hoffman, cut left into the slot … and missed the net with his shot.
Center Robert Thomas set up the trailing Tarasenko coming down the middle of the ice, but Tarasenko fired wide. Thomas found Ivan Barashev cutting to the net, but Lehner stopped Barbashev in tight. Perron broke in from the right wing and fired a slap shot over Lehner's glove and off the post.
Meanwhile, the Golden Knights scored twice on shots from the blue line through traffic. One shot was deflected and the other was screened.
The Blues cut the lead to 2-1 when Zach Sanford came in on left wing, fought off a slash, circled the net and fed Bozak in front.
Rather than build on Bozak's goal, the Blues collapsed again when the Golden Knights countered.
"Goals went in and we stopped playing, stopped competing," Berube said. "And that can't happen. Things don't go your way out there, but you always have to stay with the competitiveness and the work ethic."
But the exasperated Blues haven't done that, so they are right back to where Berube's tenure began.