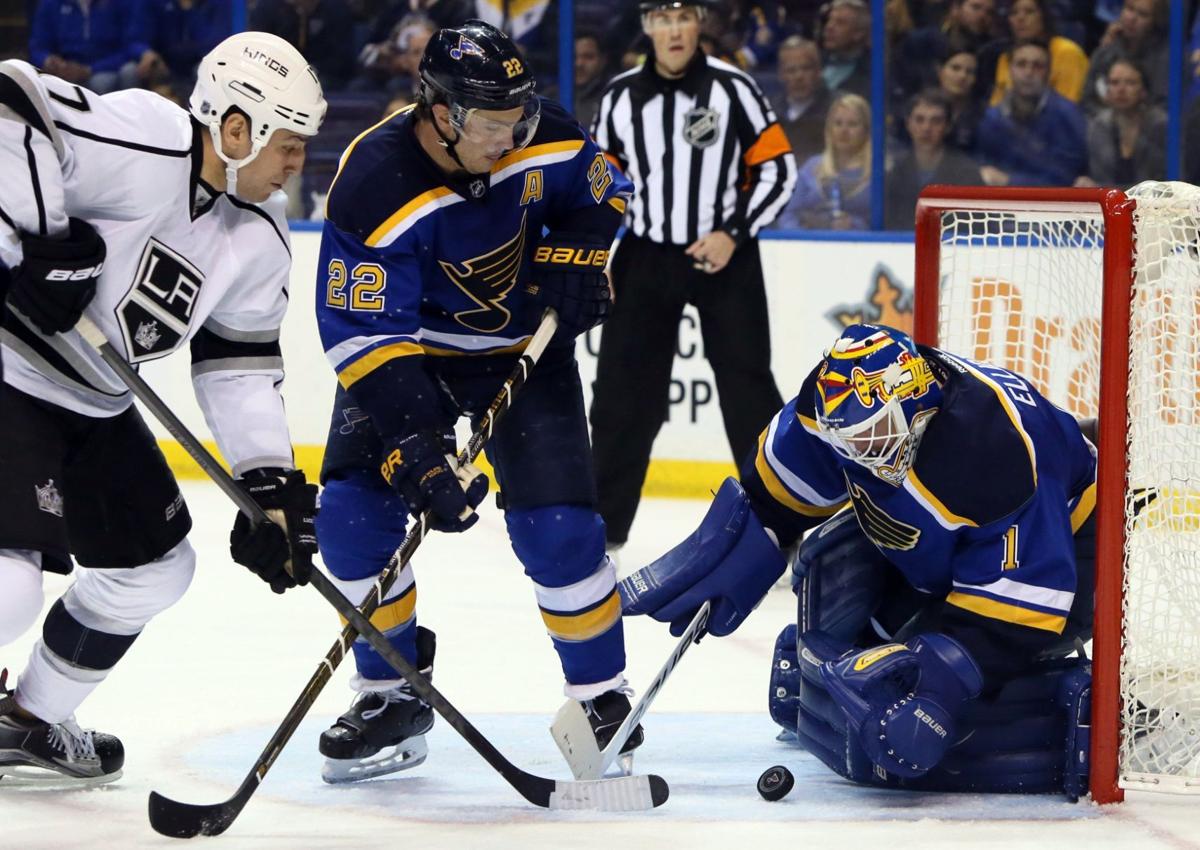 Back in the colorful Ron Caron Era in Blues history, "The Professor" would declare "The meat is on the burner!" as the NHL trade deadline neared.
Then he jumped on the phone to peddle his players. Caron's willy-nilly managerial style kept things lively for fans, but it created roster churn and dressing room chaos.
The same was true under "Iron" Mike Keenan. He clashed with — and either traded or tried to trade — every quality Blue during his reign of error. Wayne Gretzky, we hardly knew you!
Manic wheeling and dealing is difficult these days, due to the super-sized contracts, no-trade clauses and the increasingly restrictive NHL salary cap.
"It's more economics than anything," Blues general manger Doug Armstrong said. "As a manager and as a management staff you're always saying this player would be a good fit for us and you can put him in there and jam him in and make it work. Right now it's more a math equation than anything to make the salaries work in our system."
So Armstrong can't just throw meat on the burner. At best he can throw some trade ideas into the Crockpot, er, the marketplace and let them stew for weeks while fellow GMs assess their roster and salary cap puzzle.
As Monday's NHL trade deadline nears, Armstrong is open to making upgrades. But he likes his team, a talented and resilient group that has battled constant adversity.
And with myriad long-term injuries complicating roster management and pushing his payroll up against the cap, he can only make dollar-for-dollar trades.
"This is the buyer or seller market, it's not the apple-for-apple market," Armstrong said. "If you're seller ... you're looking to trade money and bring in younger assets for those experienced players. So you don't see a lot of true hockey trades at this time of year where everybody is assuming a little bit on a future contract."
Also-rans like the Toronto Maple Leafs are looking to dump contracts, create salary space and accumulate draft picks and prospects. For the umpteenth time the Edmonton Oilers are in that position, too.
"It doesn't seem like there's any less sellers this year than in years past, at this time of the year," Armstrong said.
He might consider defenseman-for-forward trade proposals. With Alex Pietrangelo recovered quickly from his injury and youngsters Colton Parayko and Joel Edmundson looking more capable all the time, the Blues are hearing from teams shopping for blue line help.
League scuttlebutt has Armstrong willing to move defenseman Kevin Shattenkirk, which is a head-scratcher. Such gifted puck-moving defensemen are difficult to find. No other Blue has the skill and instinct to create the opportunities he does, especially on the power play.
Sure, the Blues could use help up front with all-purpose stalwart Alexander Steen out for the next month or so with an upper-body injury. Adding another true center would help, too, since coach Ken Hitchcock wants to see more of David Backes on the wing. Steen recently saw time in the middle, supporting fellow centers Paul Stastny and Jori Lehtera.
And, yes, keeping Shattenkirk beyond next season will be difficult, since he figures to earn at least $7 million per year on his next deal. But the Blues are eager to take their first deep playoff run in ages. They can't fret about expiring contracts.
This applies to Backes, who could become an unrestricted free agent this summer. The smart play is to treat him like a rental, see how the playoffs go and then make tough payroll decisions in the summer.
"If we were in 10th or 11th or 12th spot in the Western Conference I'd probably be going to him right now, 'Obviously you're an unrestricted free agent, do you want to go a contending team?'" Armstrong said. "We are that contending team. We are that team that is in the top part of the NHL. Trading David Backes for some form of a draft pick, I think, would be an injustice to the players in that room right now."
Goaltending is another discussion point this week. Although Jake Allen is back to fill in for the injured Brian Elliott, the Blues don't have an NHL-tested commodity in the No. 3 slot.
We were all reminded of this when Allen was slow to get up after a goal mouth collision Thursday night against the New York Rangers. So, yes, Armstrong will shop for emergency help.
"It has to be a player that can go back to the minors when (Elliott) comes back or else we're over the cap," he said.
Armstrong is deliberate, but not timid, as deadlines near. Back in 2013 he acquired defensemen Jay Bouwmeester from Calgary and Jordan Leopold from Buffalo, spending first-, second- and fifth-round picks as well as depth players Reto Betta and Mark Cundari in the deals.
Bouwmeester re-upped in St. Louis and became a cornerstone player. Leopold filled in capably when the Blues were thin in the back end, so those deals helped.
In 2014 Armstrong tried to make a goaltending upgrade, sending skittish Jaroslav Halak with Chris Stewart, prospect William Carrier, a 2015 first-round pick and a 2016 third-round pick to Buffalo for Ryan Miller and Steve Ott.
Miller flopped miserably in goal and moved on to Vancouver as a free agent. At least his stay here was brief.
Last season Armstrong altered the blue line, renting shot blocker Zbynek Michalek for prospect Maxim Letunov and acquiring rugged D-man Robert Bortuzzo for Ian Cole and a seventh-round pick. (He also added the Ghost of Olli Jokinen for finesse winger Joakim Lindstrom, but it's like that deal never even happened.)
Those 2015 moves didn't spark a long playoff run, so once again Armstrong feels urgency. The Blues rank among the NHL's elite again this season, but their lack of playoff success has been bad for business.
This franchise needs more playoff revenue. It must reward fan loyalty and broaden its fan base. But even if Armstrong can make the numbers work, he won't make a change just to make one, as Caron and Keenan did back in the day.
"I believe in those players in that room," he said. "If I can find a way to support them, I'm certainly going to try and do that. But my belief is that group in there, I really truly believe this is the year that for us to have success, our best players, they're not looking for assistance from outside. They know the responsibilities lie on their shoulders. I think to a man they are ready for that challenge."