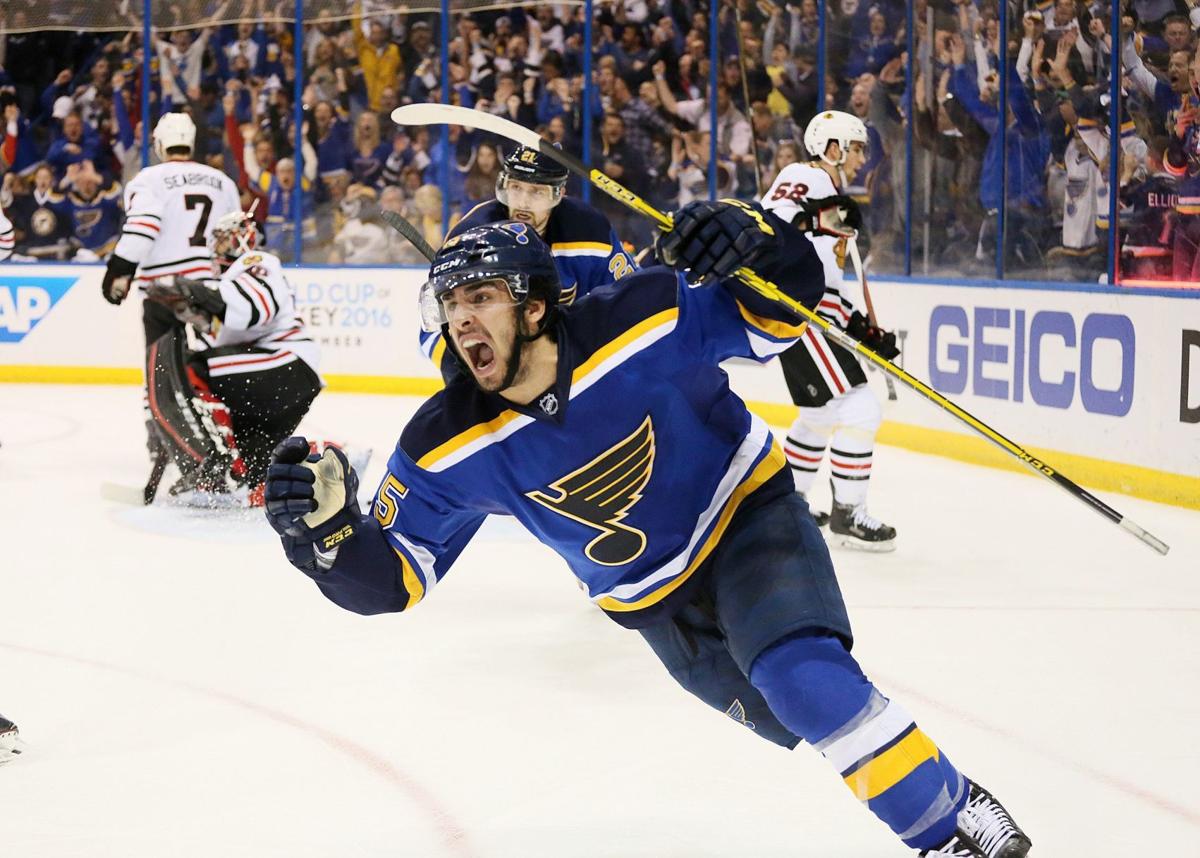 When winger David Perron gained free agency this summer, he wanted to go where he could play an up-tempo, pressing game.
"This summer I was kind of looking at teams that could win," he said, "but I was also looking at teams that would provide that style."
So the Blues weren't on his radar screen. After all, they had played a "heavy" game the previous few seasons while emulating the Stanley Cup-winning Los Angeles Kings.
"When the Blues called — they were the first team to call — I was kind of shocked a little bit and happy because I always liked it here," said Perron, who wore the Note from 2007-2013 before playing in Edmonton, Pittsburgh and Anaheim.
Perron's return, the hiring of Mike Yeo as coach in waiting and the pursuit of wayward son Vladimir Sobotka were part of the stylistic overhaul general manager Doug Armstrong envisioned for his team.
This shift to a faster tempo sets up a fascinating season as the Blues transition from coach Ken Hitchcock to Yeo, from departed captain David Backes to new captain Alex Pietrangelo and from the steady netminding of Brian Elliott to the aggressive goaltending of Jake Allen.
Veteran hit men Troy Brouwer and Steve Ott are gone, along with the bulldozing Backes. Tenacious forwards Perron, Jaden Schwartz, Robby Fabbri and perhaps Ty Rattie will assume bigger roles.
"I love the way this team plays," Perron said. "I think I've played my best hockey when I play that kind of style."
Versatile forward Alexander Steen is another natural fit for this system. So is free-wheeling defenseman Kevin Shattenkirk, who could put up big numbers during the walk year of his contract — assuming Armstrong doesn't trade him for additional firepower up front.
Center Paul Stastny played dogged hockey during last spring's playoffs, creating hope that he could handle some of Backes' dirty work. Fourth-liner Scottie Upshall is well-suited for the pressure game too.
But odds are, the Blues won't be as good as they were in 2015-16 when they racked up 107 points and reached the NHL's Final Four for the first time in 15 years. They took their run with impressive talent wedged under the league's salary cap.
That was their best shot to win the Cup in a long, long time. They could take a step back this season while transitioning to a new style.
But the Blues will be fun to watch as they evolve with their younger team nucleus. In time, they will reemerge as Cup contenders as Fabbri, Schwartz, Allen, Vladimir Tarasenko and Colton Parayko reach their potential.
They are following the league-wide trend toward more speed, as exemplified by the Cup champion Penguins. Pittsburgh's third line of Nick Bonino centering Carl Hagelin and Phil Kessel became a prototype for this attacking style.
While the Kings are resisting that trend — "I'm not into flavor of the month," GM Dean Lombardi sniffed — the Blues are wisely following suit.
Schwartz, a key figure in the new scheme, will miss the first few weeks of the regular season, making the transition more challenging. The Blues will miss his skill, hockey sense and reliability.
He tends to get to the right place at the right time. That quality is especially important in this pressing system, which can yield odd-man counterattacks when somebody blows an assignment and ends up on the wrong side of the puck.
The Sobotka melodrama was another negative development. The Blues saw him as a perfect fit for this new system, but his planned escape from the KHL was thwarted by a contractual mess.
(After firing one Petr Svoboda and later hiring another Petr Svoboda to represent him, perhaps Sobotka needed to find still another Petr Svoboda to get him out of his deal with Avangard Omsk.)
The Blues will need full buy-in from the players on hand to make their go-go style work. That starts with Tarasenko, who must help set the tempo this season rather than lagging behind it — as he did for stretches of last spring's playoffs.
He should follow the lead of the frenetic Fabbri, a star in training. Like a latter-day Doug Gilmour, Fabbri can hunt pucks, create opportunities and finish. Wouldn't it be fun to see Fabbri and Tarasenko on the same line, helping Jori Lehtera speed up, too?
Forward Patrik Berglund is another interesting case. He played perhaps his best hockey as a Blue during last spring's playoffs, shifting up to full speed to create offensive opportunities.
That version of Berglund could center one of the top three Blues lines and position himself for a nice raise on his next contract.
So there is much work to do. This evolution from heavy to buzzing will take time. From time to time, Blues will get caught out of position and their play will become helter-skelter.
"If we can keep improving here, we're going to get more turnovers through the neutral zone, more attack time, make teams more nervous," Hitchcock said. "When you put it in perfect structure, it looks really impressive."