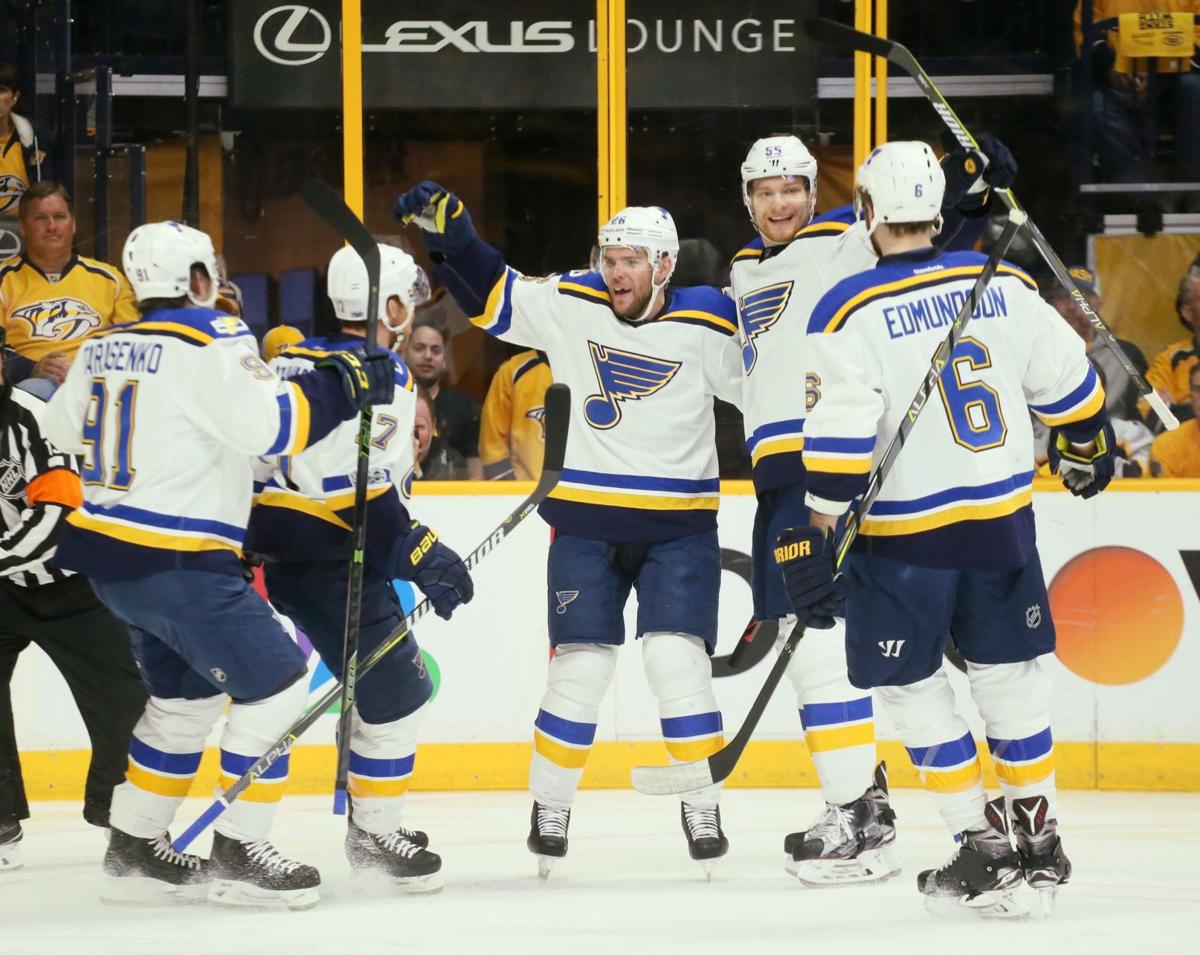 The Blues could have handled the Nashville Predators in their second-round playoff series, and they know it.
By making a play here and avoiding a mistake there, they could have returned to the NHL's Final Four. Since there is no juggernaut lurking in the Western Conference bracket this season, perhaps they could have played for the Stanley Cup as well.
"It hurts right now for us," coach Mike Yeo said during his postgame news conference Sunday. "It stinks. I hate it."
But the disappointment they feel is a measure of the progress they made during this successful transition year. Expectations soared during the past few months as the retooled team took off.
The Blues came together after general manager Doug Armstrong fired coach Ken Hitchcock and promoted Mike Yeo to the post. Key young veterans stepped up in the big games, rookies supported the postseason push and a strong new nucleus formed.
The team learned much about itself while closing the regular season with a 15-2-2 run, upsetting the Minnesota Wild 4-1 in its first-round series and then pushing Nashville to six games.
Most of what the Blues learned was quite good.
They discovered they have a true No. 1 goaltender in Jake Allen. With the aid of assistant general manager Martin Brodeur — the former all-world netminder who came down from the executive suite to coach him — Allen finally reached his full potential.
He cleaned up his mechanics, harnessed his aggression and matured into a cornerstone performer right before your eyes. He stole the Wild series with one improbable save after another and gave the Blues every chance against Nashville.
Imagine how that success will bolster Allen as he moves forward in his career.
The sturdy play of Colton Parayko and Joel Edmundson was another revelation. They gave the Blues a second shutdown defensive pairing, making it far more difficult for the Wild and Predators to force favorable matchups.
Parayko followed a stunning rookie breakout with a strong second campaign, avoiding the dreaded sophomore slump. The big kid played big. So his outstanding postseason was no surprise.
But Edmundson ... wow. He progressed from being the No. 6 (and occasionally No. 7) defenseman to earning a Top 4 role after Kevin Shattenkirk departed to the Washington Capitals at the NHL trade deadline.
Edmundson proved opportunistic while scoring three playoff goals — after scoring three in 69 regular season games — but his shift-to-shift reliability is what we will remember.
That plus-12 rating in 11 postseason games was no fluke. He was that good, playing aggressively yet poised in all situations. Edmundson blossomed into a legitimate Top 4 defender before his age 24 season.
"There's a lot of things that I'm very pleased as a coach with this group," Yeo said. "A lot of growth. I felt like, whether it's Jake first off, the way that he played, the confidence that we have going into the biggest moments and how he's going to rise up to that.
"You look at (Edmundon) and (Parayko) and then you look at all the young players that factored in late this second part of the season, I'm excited about a lot of things."
Put Jaden Schwartz's breakout near the top of that list. He has always been a solid all-around performer when healthy, but he took the next step during the last few months.
He developed strong chemistry with Vladimir Tarasenko late in the regular season, helping fuel No. 91's late-season scoring surge with one deft pass after another from the opposite wing. Then Schwartz asserted himself as a shooter in the playoffs, putting 33 pucks on goal and scoring four times.
Time after time after time he forced a turnover and converted it into a scoring chance with his skill, vision and persistence. This was not the same player who scored just two goals during a frustrating 37-game span earlier this season.
Defenseman Alex Pietrangelo also became more offensively assertive after Shattenkirk's departure. Russian exile Vladimir Sobotka excelled upon his return from the KHL, adding tenacity and touch to the Top 9 forward group.
Veterans Alexander Steen and Paul Stastny battled through injuries and excelled, providing strong character examples. This was critical for a team that lost trusted veterans David Backes, Steve Ott, Troy Brouwer and Brian Elliott from last season's leadership group.
Rookie forwards Ivan Barbashev and Zach Sanford got a good taste of postseason play. Rookie defenseman Jordan Schmaltz got a late-season look, too, and one playoff spin.
That should launch them toward a productive summer of work and bigger expectations for the next training camp.
The Blues will lose one player to Las Vegas in the expansion draft and perhaps a few fringe players to expired contracts. Armstrong could make a few other changes through trades or explore free agency.
But the bulk of the work for next season was accomplished during the past few months as individuals grew and the group coalesced.