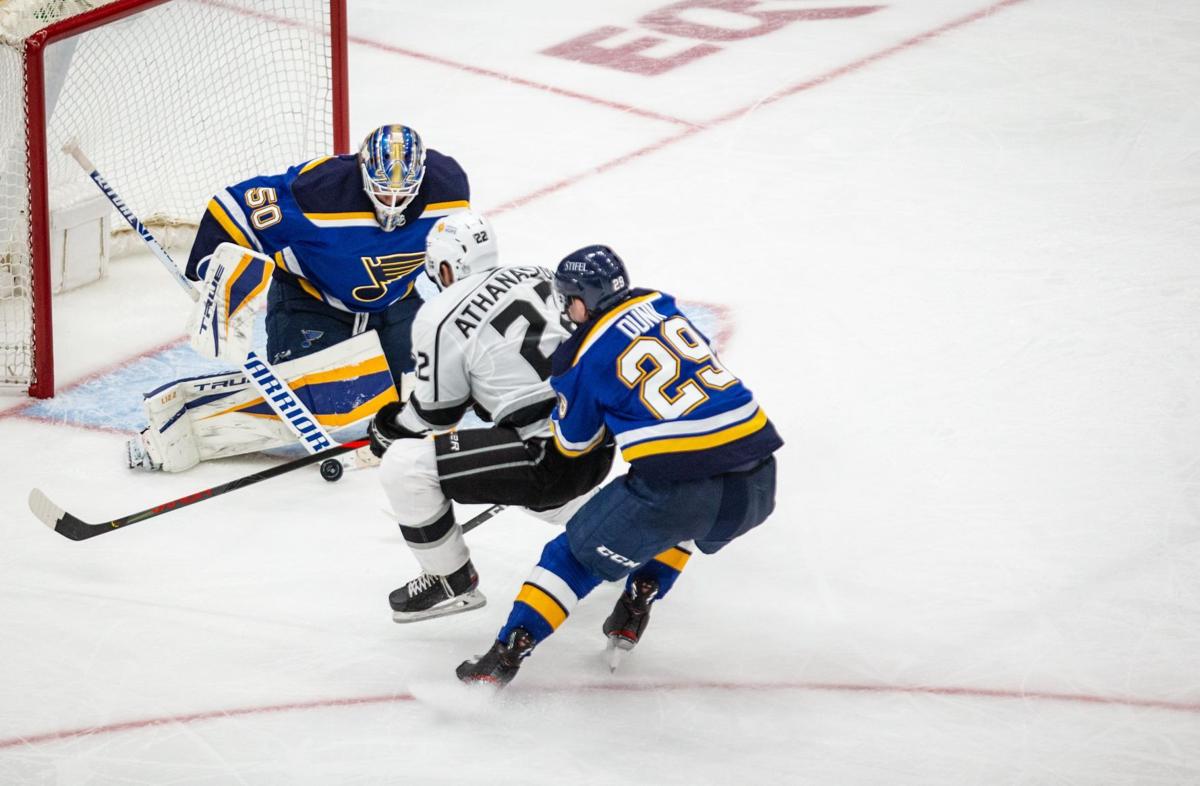 The Blues are no longer defending Stanley Cup champions, but they still expect to be Cup contenders.
They have new faces up and down the lineup, but they claim the same identity.
Their style remains unchanged: Tilt the ice with sustained offensive pressure. Possess the puck, wear down their opponent, and capitalize on mistakes.
At their core, the Blues are still the Blues. They still work hard. They still hit people. They dig in, they bounce back, and they rally.
But the more circumstances change, the harder it becomes to remain the same.
One by one, players who hoisted the Cup in celebration have either moved on or suffered long-term injuries.
Defensive bulwark Jay Bouwmeester suffered a career-ending cardiac episode. Gritty Alexander Steen suffered a career-ending back condition. Captain Alex Pietrangelo left as a free agent. Reliable Carl Gunnarsson just suffered a season-ending knee injury.
Scorer Vladimir Tarasenko is working his way back from still another shoulder operation. Workhorse defender Colton Parayko is shelved by a nagging back problem. Crafty Tyler Bozak has been out for a month and counting with an apparent concussion.
Two-way winger Jaden Schwartz has a lower-body injury. Emerging forward Robert Thomas has a broken thumb. Checking line stalwart Ivan Barbashev has a cracked ankle.
The Blues have remained competitive through all of that. Converting that commitment into actual victories, though, is not easy,
Another example came Wednesday night when they fought tooth-and-nail against the streaking Los Angeles Kings but lost 2-1. Coach Craig Berube liked what he saw from his team . . . except for the struggling-to-score part.
"I thought our team worked hard tonight," Berube said.
This week David Perron tried to put a Cup-is-half-full spin on the team's predicament. He noted that grinders Jacob de la Rose and Mackenzie McEachern have stepped up nicely on the checking line to help the Blues sustain their forecheck.
Back when the season started, we wondered if those guys would ever play this year. The same went for depth forward Austin Poganski.
Sammy Blais was on the outside of the lineup looking in back in January and now he is getting another chance for regular work. Berube is sticking with the struggling Zach Sanford while also asking more of rugged veteran Kyle Clifford.
"I think guys should be excited whoever's got more ice time, bigger opportunity and it's right through our lineup to be honest with you right now," Perron said. "When all the guys are coming back, we would have a much different lineup than we had even the first couple games of the year. Anybody that's in the lineup right now should be excited."
True, motivation should not be a problem for the Blues these days. Berube is giving many players an opportunity to advance themselves.
Justin Faulk is moving past his difficult first season in St. Louis, logging big minutes on the top pairing. He is wearing an 'A' on his sweater. And unlike last season, he is seeing significant action on the power play.
Defenseman Torey Krug hoped for a bigger role when he signed with the Blues as a free agent. Now he, too, is playing more minutes and assuming more defensive responsibility. He is getting to prove that he's more than a good power-play quarterback.
Defenseman Robert Bortuzzo has spent the bulk of his career in the No. 6/No. 7 defensive slot, moving in and out of the lineup. Now the Blues need him to establish himself as a NHL regular.
Up front, Jordan Kyrou is graduating into a catalyst role. When the season started folks wondered if Berube would ever trust him with a spot on his top three lines.
Free-agent addition Mike Hoffman opened as a third-line winger with a bit of power-play work. Now he is logging bigger minutes with a more prominent offensive assignment.
Oskar Sundqvist has moved up from the fourth line into the top nine and even on the power play. There he was in the 6-on-5 scenario Wednesday, scoring in the desperate scramble.
"That's what I see out of it," Perron said. "There's opportunities out there. Guys should be excited. Wins aren't easy, but you've got to grind it out, find a way and you start going the other way. Guys coming back, things like that, maybe your spot solidifies in the lineup. Who knows, that's how careers go."
Perron knows this well. Change is inevitable. Player stocks rise and fall. When chances arise, players must be ready to make the most of them.
The well-traveled Perron became an essential worker for the Blues during his third stint. He excelled during the Cup run and he assumed a bigger role when Tarasenko went down with his shoulder injury.
We'll see how many of his teammates can take the same sort of step. It may take several weeks for the Blues to get healthier.
Player after player must shoulder a heavier load for this team to earn points. If enough of them can bear up, the Blues will remain in the playoff chase and eventually emerge as an even stronger team.
Demonstrating perseverance is how the Blues gained their winning identity in the first place. They can do this.