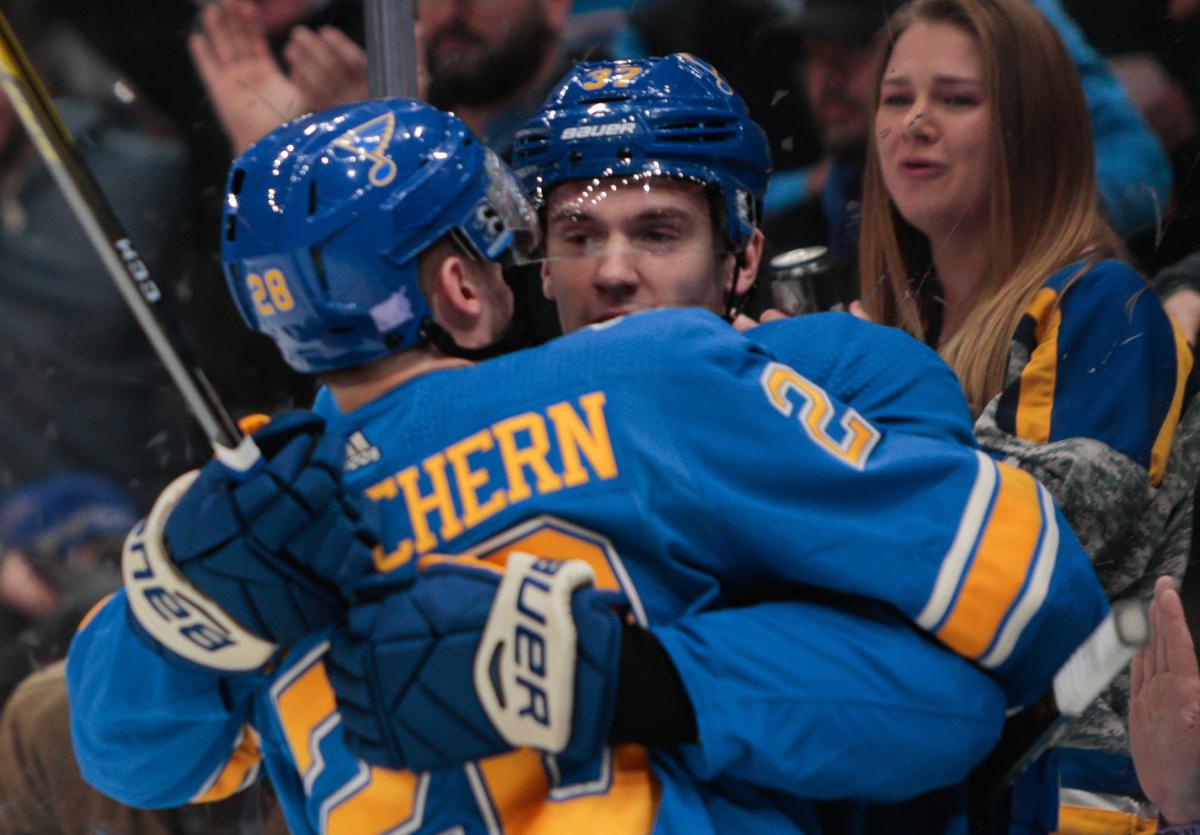 Someday, power forward Klim Kostin and explosive winger Jordan Kyrou could flank playmaker Robert Thomas on an exciting kid line.
It's easy to imagine their skill sets meshing nicely. Thomas is already an emerging NHL talent and both Kostin and Kyrou have tasted competition at the highest level.
But never forget that player development is a dicey proposition, unpredictable and often time-consuming. There are no sure things.
The Blues must remain patient with these two while pushing them to their full potential. They have flashed tremendous upside but, as general manager Doug Armstrong recently reiterated, "It's a man's league."
The Blues have graduated notable talent in recent years, which helps explain why they finally raised a Stanley Cup banner. Alex Pietrangelo, Vladimir Tarasenko, Jordan Binnington, Jaden Schwartz and Colton Parayko were just some of this franchise's home-grown products.
The process is fraught with danger, though, and this franchise has suffered its share of misadventure, too. Similar prospects taken in similar draft slots have experienced contrasting outcomes.
Let's start at the top. Looking to build from the blue line out, the Blues picked Erik Johnson first overall in 2006 and Pietrangelo fourth overall in 2008.
Outsized expectations weighed on Johnson, since he was picked ahead of future stars like Jonathan Toews and Nicklas Backstrom. Like former first overall pick Doug Wickenheiser, Johnson wrecked his knee in a stupid off-ice incident.
He became a good player, not a great one, and his trade to Colorado gave him a fresh start. Meanwhile, Pietrangelo matured into one of the league's elite defensemen, which is exactly what the Blues hoped Johnson would become.
Look into the middle of recent drafts, where the Blues have selected some rangy U.S. high school forwards bound for college hockey. They selected Max Gardiner 74th overall in 2010 and Mackenzie MacEachern 67th overall in 2012.
Gardiner, whose brother Jake is a NHL defenseman, played sparingly as a freshman at the University of Minnesota. He spent a year regrouping in the USHL before landing at Penn State.
MacEachern played one season in the USHL, then three seasons at Michigan State where he improved steadily. He kept grinding away as an AHL role player and graduated to the Blues during his third pro season.
Gardiner had a productive first year at Penn State before fading as a junior and senior. He made the news in 2015 when police arrested him in Scottsdale, Ariz., after a resident discovered him in her backyard after his heavy night of drinking.
He never signed with the Blues.
In a less dramatic example, ever-confident Vince Dunn (56th overall pick in 2015) bypassed the unassertive Jordan Schmaltz (25th in 2012) for a puck-moving defensive role. While Dunn rose quickly, Schmaltz settled back in the AHL and moved on to the Toronto organization after playing 42 NHL games over three seasons.
Thomas (20th overall in 2017) is breaking out for the Blues this season. Meanwhile, Robby Fabbri (21st in 2014) is relaunching his career with the Red Wings.
Fabbri scored 18 goals as a 20-year-old. But back-to-back major knee injuries derailed his career. He never earned a regular role last season under coach Craig Berube.
The undermanned Red Wings teamed him with skilled forward Andreas Athanasiou, and Fabbri quickly relocated his rookie form.
"Here he's had the opportunity to play," Red Wings coach Jeff Blashill told reporters. "Now he's going to go back out the next shift if he makes a mistake or not, that's the reality of the situation that we're in, and we can afford him that opportunity and he's grabbed it."
Kyrou (35th overall in 2016) could play for the Red Wings today as well because that team could really use his skill. For now he is regaining his stride in San Antonio after recovering from knee surgery.
Kyrou's next shot at the NHL will come this season, perhaps sooner than later. Can he show Berube more than Fabbri did?
Kostin (31st in 2017) and Tage Thompson (26th overall in 2016) also offer interesting contrasts. Both are big wingers with NHL-caliber shots, but Kostin is much stronger and Thompson is more seasoned in the North American style.
Coming from Russia, Kostin landed in the AHL as an 18-year-old. He learned hard lessons battling older players. He got his first NHL trial in his third pro season.
He demonstrated his potential Saturday night while scoring his first NHL goal with a rush right down the middle of the ice. He busted a move, backed off three defenders and snapped a wicked shot past Predators goaltender Juuse Saros.
Thompson, 22, has already played in 107 NHL games. But he has struggled at this level, first for the Blues, then for the Buffalo Sabres after departing in the Ryan O'Reilly trade.
Armstrong wants Kostin and Kyrou to do more than that. He wants them to make a difference at this level, just as Thomas and Dunn have.
"We believe in these young guys," Armstrong insisted.
But for now you're going to see a lot of veteran Troy Brouwer and not so much of Kostin and Kyrou. Blues fans will have to wait on them and wonder which path their careers will follow.