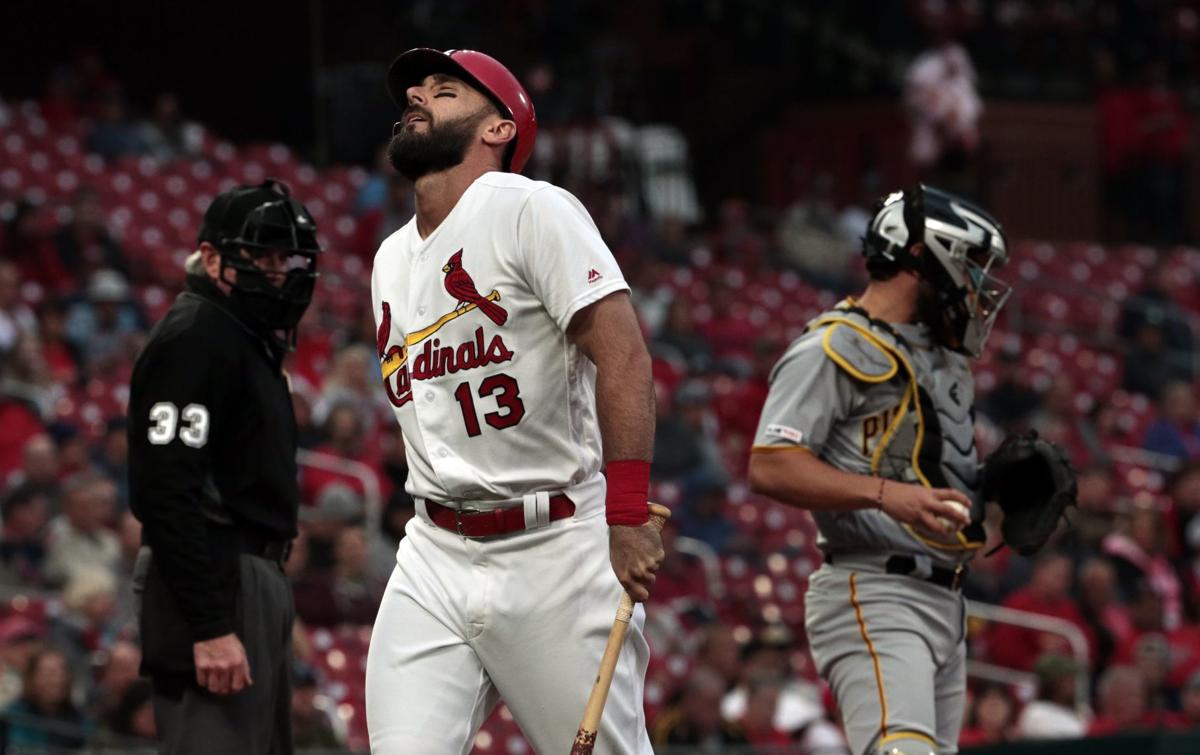 There's no sugar-coating it: The Cardinals are a mediocre, middle-of-the-pack team.
They sit at .500 two months into the season. They have lost seven consecutive series and 16 of their last 22 games. They haven't won back-to-back games during May.
Shuffling the batting order didn't stir change and neither did a players' meeting.
The Cardinals can't fire manager Mike Matheny and hitting coach John Mabry again, so the management team must focus on the roster. Near-term adjustments are needed and tough long-term decisions loom.
President of baseball operations John Mozeliak has been down this road before. History tells us he can find upgrades.
He landed the emerging David Freese for the faded Jim Edmonds. He sent middling prospects to Oakland for Matt Holliday. He swapped moping Colby Rasmus for critical pitching help during the 2011 title run. He secured John Lackey (and his friendly contract) while ditching the Ghost of Allen Craig. He got Jedd Gyorko for Jon Jay and John Gant for Jaime Garcia. His people found Alex Reyes in the Dominican Republic, Jose Martinez in the minors and Miles Mikolas in Japan.
Ah, but Mozeliak also wasted millions of dollars on free-agent pitching busts Mike Leake, Brett Cecil, Greg Holland and Luke Gregerson. He traded a stack of useful outfielders for nothing much and he rushed a couple massive contract extensions as the marketplace turned hostile toward veterans.
So now there's work to do.
Look at the unsettled pitching scenario. The Cardinals realized Adam Wainwright might just be a stopgap starter this season. They knew Michael Wacha could break down again, which is why they aren't sweating his impending free agency.
They did not expect Mikolas to struggle mightily after getting his contract extension, or the star-crossed Reyes to punch a wall and break his non-pitching hand.
The Cardinals weren't shocked that the battered Gregerson didn't bounce back from injuries. But Andrew Miller's inconsistency, Mike Mayers' shoulder injury and Dominic Leone's sudden downturn were unhappy bullpen surprises.
"I think everybody that's standing in front of me would agree that May hasn't gone as planned," Mozeliak told reporters Friday. The Cardinals now are 7-16 this month after blowing a 3-0 lead in the ninth Sunday night and losing to Atlanta 4-3 in 10 innings.
This team entered spring training hoping to build a sturdy five-man rotation and a bullpen full of shutdown relievers. It has fallen well short of that goal and it can't count solely on internal solutions such as Reyes, Genesis Cabrera, Ryan Helsley and Daniel Ponce de Leon.
Starting pitcher Dallas Keuchel and reliever Craig Kimbrel remain unsigned as free agents. The bidding on both standouts should intensify after next week's draft, when teams no longer would surrender a pick to sign them.
The rebuilding San Francisco Giants figure to trade starting pitcher Madison Bumgarner, and other hurlers could hit the market as losing teams bail. Opportunities to upgrade the pitching will abound this summer.
Will Mozeliak address the outfield crowding during that process? The Cardinals spent giant free-agent dollars on Dexter Fowler, who, thankfully for the team, has regained his solid 2017 form. The team assembled a huge trade package to get Marcell Ozuna, who has resumed the run production he provided Miami in '17.
Prospect Harrison Bader has developed nicely in center field. Jose Martinez just keeps hitting, so he commands playing time. That leaves prospect Tyler O'Neill stuck in the minors, reminding us that the organization spent quality lefthanded pitching prospect Marco Gonzales to get him.
The Cardinals could reduce the outfield clutter by letting Ozuna depart in free agency after this season, but the team would miss his powerful presence. Also, the team spent key prospects Sandy Alcantara and Magneuris Sierra to get him.
Because Mozeliak has lost outfielder Jason Heyward to free agency and moved outfielders Stephen Piscotty, Tommy Pham, Randal Grichuk and Oscar Mercado for underwhelming returns, the franchise can't afford to waste any more outfield assets.
Consider the corner infield picture. Paul Goldschmidt and Matt Carpenter are in their 30s. They make a combined $29.25 million this season and are guaranteed a $44.5 million per season through 2021. Goldschmidt has another three seasons (at $26 million per!) past that. Neither veteran is hitting to his compensation level. In fact, neither player is producing as well as Cardinals castoff Luke Voit (13 homers, 37 RBIs) is in New York.
Meanwhile, top Cardinals corner infield prospects Elehuris Montero, Nolan Gorman and Malcolm Nunez offer great promise. They are 20, 19 and 18 years old, respectively, and holding up against older competition.
Other organizations will target that trio in trade talks this summer, but can Mozeliak afford to go there?
The Cardinals still have an outfield surplus (O'Neill, Lane Thomas, Adolis Garcia, the fast-rising Dylan Carlson, the injured Justin Williams), and a massive supply of utility infielders (Gyorko, Yairo Munoz, Drew Robinson, Edmundo Sosa and Tommy Edman) to put into play.
And how many untouchable players are on the current roster? The fade that started last September is threatening to carry into June. Standing pat with these Cards would be a bad idea.