Professional hockey is cold, hard business. Sometimes dreams come true, but most times they don't and the good times never last.
Former Blues Pat Maroon and Kevin Shattenkirk know these verities all too well.
Both players returned home to play hockey, settling for team-friendly deals to do so. While Maroon enjoyed a dream season in St. Louis, Shattenkirk endured a two-year nightmare in New York City after departing the STL.
Neither player stayed put for as long as they hoped they would. Both took big pay cuts to sign with Tampa Bay this summer.
There are worse outcomes of course — the Lightning are widely favored to win the 2020 Stanley Cup — but this isn't how Maroon and Shattenkirk hoped their free agency would play out long-term.
Maroon signed a one-year, $1.75 million contract with the Blues last summer and played a key role in their epic Stanley Cup run. Maroon emerged as a respected team leader in the dressing room and on the ice.
He embodied the team's "heavy" playing style that wore down opponents through the grueling four-round postseason marathon. He banged bodies and crashed the net.
He scored the overtime series-clinching goal to push the Blues past the Dallas Stars (barely) in the second playoff round. This was his David Freese Moment.
He and his animated son Anthony were key characters in this storybook playoff run. Maroon became a classic hometown hero while earning a prominent place in local sports lore.
If Maroon settles back here when his playing days end, his popularity should serve his life after hockey well. People tend to gravitate toward this guy.
Alas, Shattenkirk enjoyed no such glory after he returned home to play for his beloved New York Rangers.
After a stopover with the Washington Capitals, who acquired him as a rental player for the 2017 stretch run, Shattenkirk signed a four-year deal worth $6.65 million per season.
He could have received more years and more dollars to play elsewhere, but his boyhood dream was to make Madison Square Garden his home.
Then everything went wrong. Shattenkirk played poorly during his first Rangers season before suffering a serious knee injury.
While he was recovering, Rangers management went into bail-and-rebuild mode and started dumping veteran players.
Shattenkirk played better last season, but the rebuilding accelerated. When the Rangers committed big dollars to Artemi Panarin and Jacob Trouba, management bought out the final two years of Shattenkirk's contract and sent him packing.
Shattenkirk, 30, signed a one-year, $1.75 million deal with the Lightning, hoping to take a run at the Cup while rebuilding his value. He could rack up a lot of points playing with Nikita Kucherov, Steven Stamkos, Brayden Point and Co.
"You know, this is obviously an important year for me to show everyone I'm back to my old self and prove that I can be a player in this league again," Shattenkirk told reporters after signing that deal. "In order for that to happen, you want to put yourself in the best position, and I think this is one of the best positions by far I can be in as a player."
Maroon's departure from the Blues this summer was less acrimonious. Many factors made it almost inevitable.
The NHL salary cap didn't rise as high as expected. General manager Doug Armstrong surprised many experts by signing both Jay Bouwmeester and Carl Gunnarsson to one-year extensions to maintain his veteran depth on the blue line.
Young forwards Sammy Blais and Zach Sanford showed well in the playoffs while providing many of the elements Maroon brings. With Robby Fabbri coming back for another try and prospects Jordan Kyrou and Klim Kostin on the horizon, the Blues have a crowd forming up front.
Maroon turns 32 next April. The NHL is getting faster all the time and the Big Rig carries a heavy load.
With dollars tight, the Blues took defenseman Joel Edmundson through salary arbitration. His $3.1 million award was notably less than what he sought and what he should get through unrestricted free agency next summer.
The tight dollars also led to forward Ivan Barbashev's ongoing contract standoff. He is a restricted free agent, as Edmundson was, but he lacks arbitration rights. KHL offers are his only leverage.
Against this backdrop Maroon finally abandoned his hope here. He signed with Tampa Bay for one year and $900,000.
Maroon joins a juggernaut coached by Jon Cooper, his coach on the old St. Louis Bandits team that won the NAHL's Robertson Cup back in 2006-07. Maroon led that charge and Cooper is counting on him to bring toughness and leadership to the Lightning.
That team needs more heart and grit after suffering a stunning first-round playoff sweep following its amazing 128-point regular season.
"One door closes and another one opens," Maroon wrote on Twitter. "I'm so pumped to get the opportunity to play for the Bolts and I can't wait to get down there and meet my new teammates and see all the fans! Anthony has mapped out that Disney World is 84 miles away."
So life in the NHL goes on ... until it doesn't.
---
Quick hits from Gordo
DOES SCHENN STAY OR GO?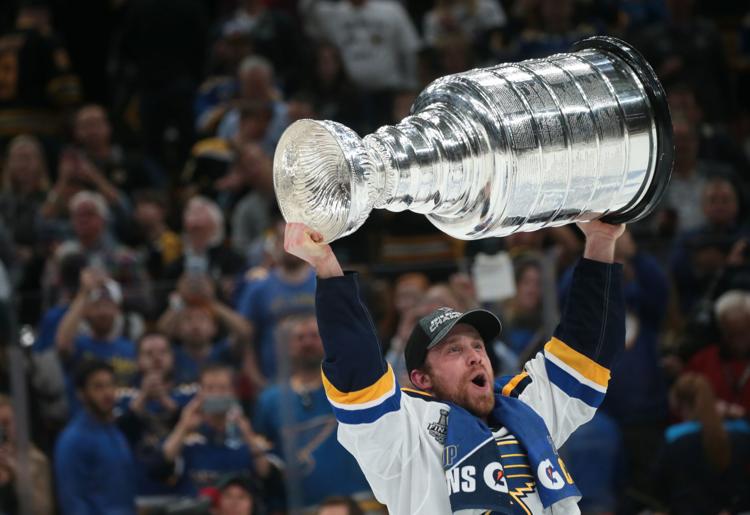 QUESTION: Does "Army" keep Brayden Schenn and then let him walk as a UFA. Contracts signed this year suggest at least $6 millions X 6 years. That may be fair for Schenn. but given the cap and ages on the team, does he stay or go?
GORDO: There is no reason to trade Schenn. The Blues are defending a Stanley Cup and he's a big part of the championship chemistry. As for what happens beyond this season, re-signing Alex Pietrangelo is the top priority. After that it gets interesting.
The looming expansion draft forces Armstrong to pencil in his long-term nucleus and proceed carefully with contract extensions featuring no-movement clauses. Schenn could top $7 million per season on the open market if he bounces back with another 70-point season -- an entirely reasonable target if this team fixes the power play.
So if I'm Brayden Schenn, I bet on myself rather than accept a team-friendly deal. And if I'm Doug Armstrong, I play out the season and reassess things before the market opens.
BLUES MORE ATTRACTIVE NOW TO FREE AGENTS?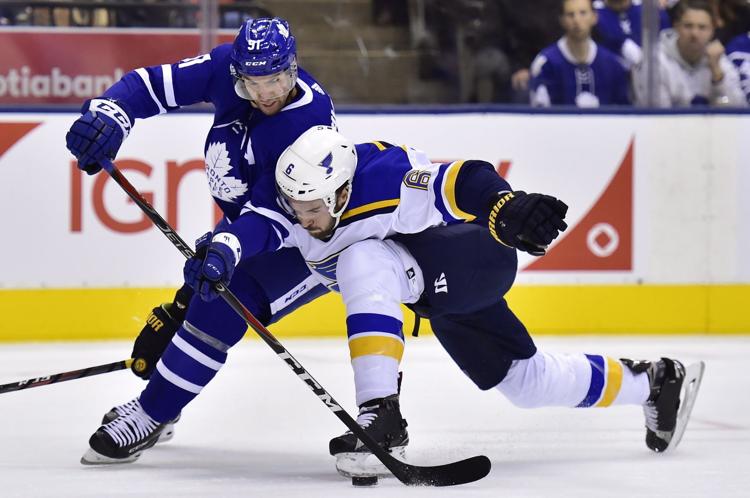 QUESTION: Last summer, John Tavares gave the Blues the cold shoulder during free agency. At one point, St. Louis was a place players wanted to play. Does winning the Stanley Cup help that?
GORDO: The Blues have lots of good players. They have won a Stanley Cup, They have a well-respected GM. So they will continue to get good players, although it could be many years before they chase high-end unrestricted free agents. They will ride this nucleus for a while.
CAN BLUES KEEP UP THE PRESSURE?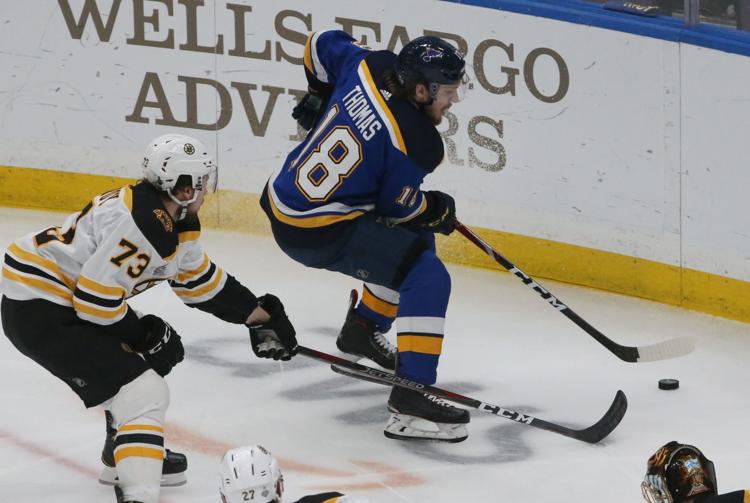 QUESTION: Can the Blues play as hard this year as they did in the second half of last year? They grind teams down in the second half by being relentless. Their offense seems to rely on their pressure defense.
GORDO: That would be the big concern for next season. Playing that style takes a toll, as the Los Angeles Kings can tell you. But if Robert Thomas keeps emerging and Jordan Kyrou plays his way into the top 9, this team will have more ability to score off the rush and win different ways.
BIGGEST THREATS OUT WEST?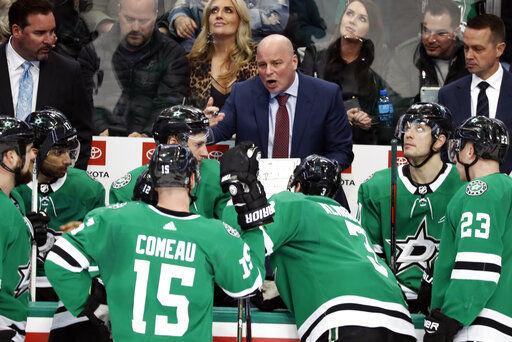 QUESTION: What teams in the West should worry Blues fans? Looks like Vegas and the Stars are primed for a run.
GORDO: I liked what the Stars did, adding Joe Pavelski in place of Jason Spezza. He can win some draws and help the power-play, as Spezza did, but he should offer way more on the power-play. Corey Perry isn't a big scorer any more, but he'll bang around and add some finishing skills to the supporting cast. And young defenseman Miro Heiskanen is poised for stardom -- a special, special player. That team needed time to figure out Jim Montgomery (and vice-versa), but they came within an inch of beating the Blues in the playoffs and they should come out flying this year.
As for Vegas, that team is just stacked. Adding Mark Stone creates a powerful Top 6. Paul Stastny could have a big year. Marc-Andre Fleury is still an elite goaltender and that team has depth and skill on the blue line.
Other than those two, look for Calgary to pile up a lot of points. I liked the bet on goaltender Cam Talbot. Minnesota could be better than you expect under the next GM, since the return of Mikko Koivu and Matt Dumba and the addition of Mats Zuccarello will help some of the younger guys take that next step. Finally, look for Arizona and Vancouver to make a push toward the bracket and add depth to the playoff race. Both teams added proven talent to their talented young nucleus.
---
Follow-up: Can't count out Nashville. That defense is still loaded after trading Subban, Renne still is an elite goalkeeper and they strike me like the Blues and Washington during the last two years. It's a team with a ton of talent and depth that has been very good for years but has not gotten it done for whatever reason.
GORDO: Yes, I should have talked up Nashville too, as I have in earlier chats. That team lost top wingers Viktor Arvidsson and Filip Forsberg for big chunks of action and got a terrible year from center Kyle Turris. Essentially GM David Poile traded P.K. Subban off his deep and talented blue line to get Matt Duchene as the new No. 2 center. Throw in winger Mikael Granlund for a full season (60 to 70 points?) and that team is going for it.
ANYTHING NEW ON BIG RIG AND BARBY?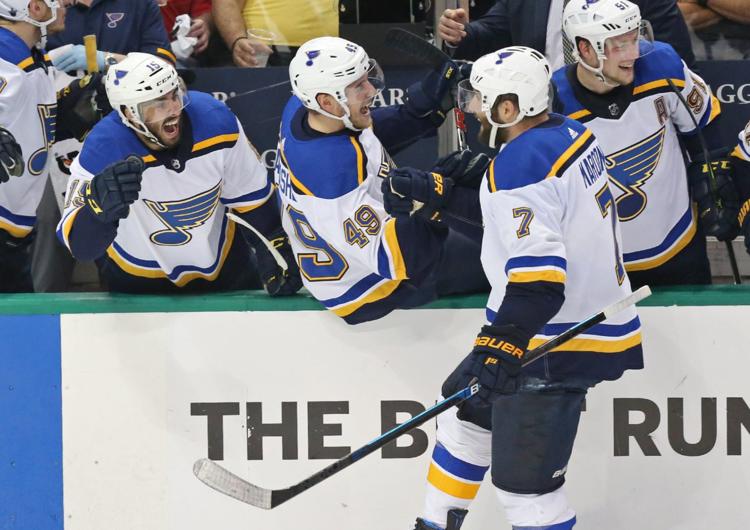 QUESTION: Any word on where the Blues stand on making offers to Barbashev and Maroon?
GORDO: The Blues' salary cap space is known to all. It is not a lot of money, about $2.7 million. Armstrong can't bluff because the number is sitting there in black and white. At the moment Armstrong doesn't seem inclined to trade somebody else ahead of training camp so he can make a bigger offer.
I believe Armstrong would like to get Barbashev signed for somewhere between $1.5 million to $2 million, then perhaps move somebody at the end of training camp (assuming nobody suffers a major injury) to create some injury replacement flexibility under the cap.
---
Follow-up: I like Patty Maroon, but can we as fans all stop acting like he's Steve Yzerman? I would rather "Army" pocket that money for stretch-run dollars. Your thoughts?
GORDO: The biggest need right now for Armstrong is enough flexibility to deal with injuries. He would need to trade a veteran or two to have any meaningful money to spend during the stretch run.
WILL KYROU BE IN THE MIX?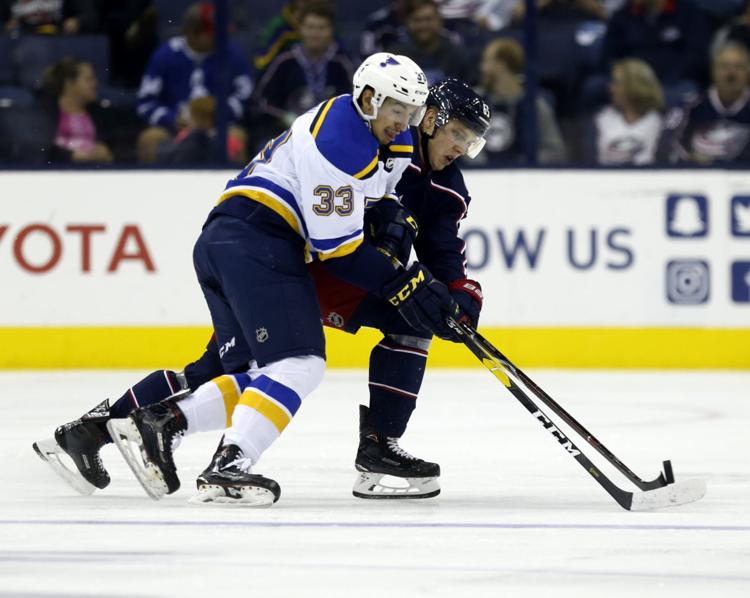 QUESTION: How does Jordan Kyrou find a way into the lineup? You can't just give him a spot, but adding some skill and speed would appear to be important this yea. Who would lose ice time?
GORDO: Kyrou is too talented to keep out of the mix. He had a nice first year in San Antonio, so he needs significant NHL time this season. Zach Sanford, Sammy Blais and Robby Fabbri have played up and down the lines and in and out of the lineup. And right now Pat Maroon is on the outside looking in and Ivan Barbashev is unsigned, so the forecast for the front lines is murky. And injuries inevitably make things murkier.
If Barbashev signs in Russia, don't be shocked if straight-line banger Mackenzie MacEachern or even Jordan Nolan get some of that fourth-line work. Craig Berube likes both of them.
---
Follow-up: When Robert Thomas started playing, it took him a few months to find his way. Hoping Berube and Army give Kyrou the same opportunity because we need more scoring. He's fast, too, and more speed is another thing the Blues need.
GORDO: He is a huge X-factor. Thomas got the first chance because he had the better two-way game. Now that the Blues have firmly established their identity under Berube, perhaps it will be easier to plug in Kyrou and get him in sync with the program. He should pick it up much faster on a team that has it all together.
IF IT'S BYE-BYE BARBY, WHO FILLS HIS ROLE?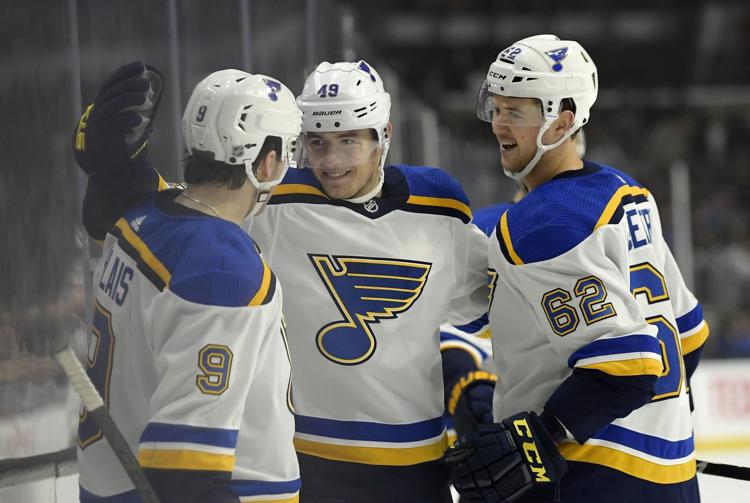 QUESTION: It looks like it's "bye-bye Barby." Which guys will get a look in Barbashev's role? Who do you see getting the "Big Rig gig" on the third line?
GORDO: As noted earlier, Berube likes both Jordan Nolan and Mackenzie MacEachern as fourth-line hit men. Neither offer Barbashev's offensive upside, but either could fit with Sundqvist and Steen.
Sammy Blais and Zach Sanford are the two guys most likely to benefit from Maroon's exit, if that's how it plays out. Blais could also play hit man on the fourth line. Longer term, the team hopes Klim Kostin graduates into such a role. He can manhandle players his own age, but he was only sporadically effective as a teenager playing in the AHL.
IT'S NEVER TOO EARLY TO TALK ABOUT THE LINES!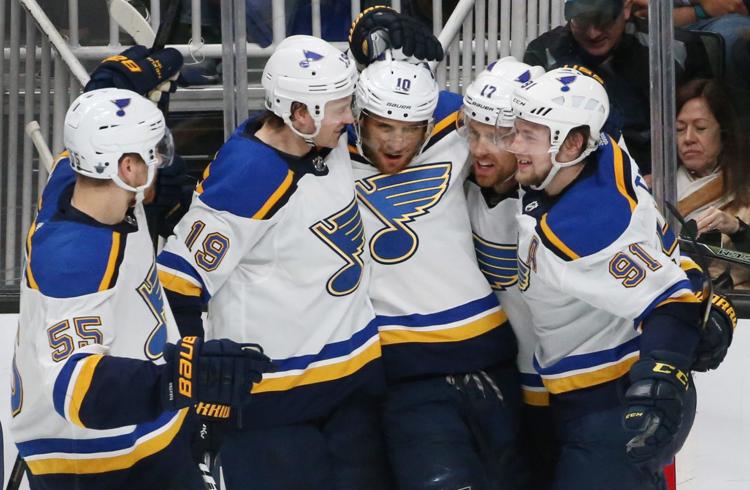 QUESTION: If you're Berube, how do you set your lines to start the season? Do you try to recapture the magic of the Schenn-Tarasenko-Schwartz line? If so, who plays opposite Perron on the O'Reilly line? If Bozak is your 3rd line C, does that keep Sunny down on the 4th line? 
GORDO: Start with the same Top 6 you won with against Boston. Right now you are missing Barbashev from the fourth line and Maroon from the third line, but you presumably will get a healthy Thomas back for the third line and we earlier went over the fourth-line possibilities.
---
Follow-up: Who do you see as the No. 2 center? Bozak seems to have the inside track, but he's really more a 3. Sunny had a breakout last year, but I don't see him there yet. Does a strong camp earn Thomas a shot?
GORDO: Bozak is really the No. 3 center and he is very good in that role. I see Thomas moving up to the No. 2 role at some point. But right now O'Reilly and Schenn are the top two centers.
SPLITTING THE GAMES IN GOAL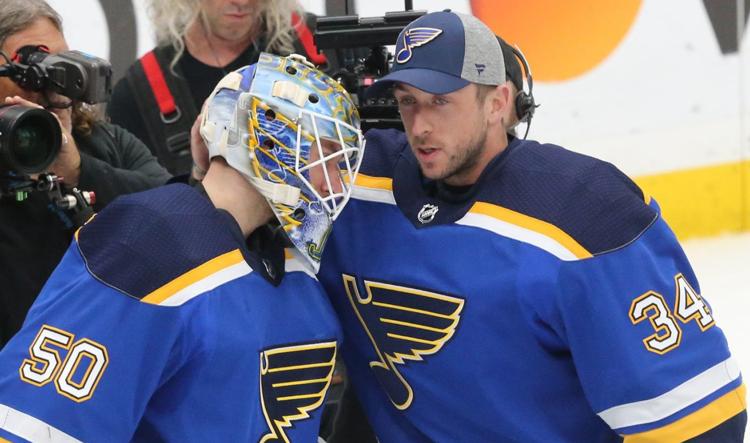 QUESTION: In a perfect world, what would be the breakdown for the number of starts between Binnington and Allen? I could see Binnington starting around 50 games or a little more, but Allen is a quality backup and you need to keep him sharp.
GORDO: Those numbers are about right. Most NHL coaches are thinking along the lines of 52/30 for a top guy these days. Binnington has never taken the wear and tear of a full campaign, so expecting more than that seems unrealistic.
---
Follow-up: The goal crease looks crowded in San Antonio. The Blues have Husso and Fitzpatrick stationed there, and the Rampage also signed veteran Adam Wilcox. Where does everyone go? Fitzpatrick back to the ECHL seems counter-productive to his development. GORDO:
GORDO: Husso is the guy in San Antonio, but he has to stay healthy. The same goes for Fitzpatrick, who played just 33 regular-season games last year and two more in the playoffs in his first pro campaign. Fitzpatrick needs to take a big step this season, perhaps splitting time between the AHL and ECHL to make sure he gets the reps. Wilcox is a veteran AHL back-up, so he offers protection on an AHL deal.
PROSPECT WATCH: MITCH REINKE AND NIKO MIKKOLA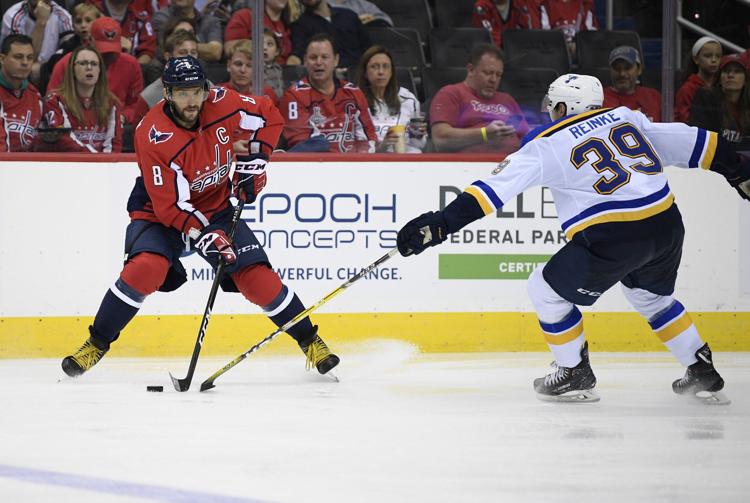 QUESTION: Do you see Reinke or Mikkola pushing for top 6 minutes this season? Even though this team appears to be pretty set with its D, we've seen defensemen surprise before (Edumdson, Parayko, Dunn) and make the team when no one expected.
GORDO: Derrick Pouliot is a former eighth overall pick (2012, Pittsburgh) with 200 games of NHL experience, so right now he is No. 8. Carl Gunnarsson and Robert Bortuzzo are fighting to stay in the Top 6, as they did last season when healthy. So that is a strong group,
Might Armstrong trade somebody (Joel Edmundson?) at some point? Sure, because Mitch Reinke is ready to fit in after a strong rookie season in the AHL and Niko Mikkola seems primed to become the next rangy shutdown defender for this franchise.
WHY LET DEL ZOTTO GO?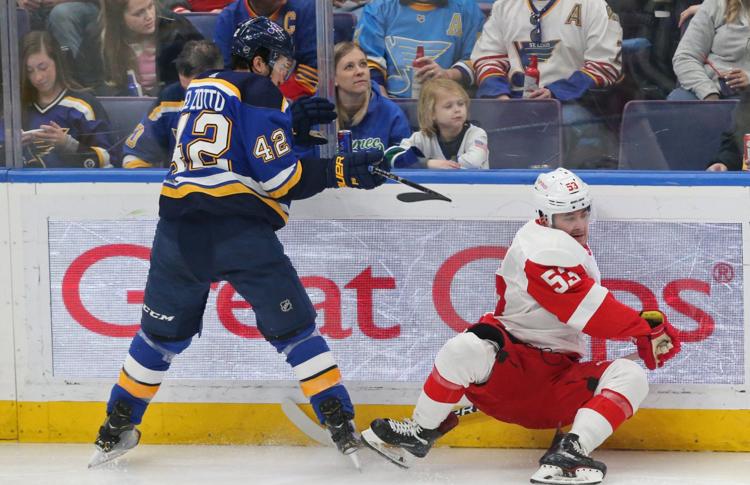 QUESTION: In limited play, Del Zotto looked like he would be a nice offensive defenseman. Anaheim gladly took him back. What was wrong with keeping him and trading Edmundson? Berube hand-picked Del Zotto, then they let him go and overpay Edmindson?
GORDO: Two different players there. Edmundson still has a chance to grow into a Top 4 role. At times he played at that level, at times he fell back. Del Zotto is just an extra guy at this stage of his career. The Blues are comfortable with Pouliot as the No. 8 guy going into camp.
Edmundson is headed for $4 million-plus in the open market after this season, barring a career-altering injury, so it's easy to imagine Armstrong either dealing him at some point and just playing out the season with him as a rental. The only way that changes is if Edmundson takes a quantum leap forward and earns a spot next to Pietrangelo and Parayko in the long-term nucleus.
WHY NOT SHATTENKIRK FOR THE POWER PLAY?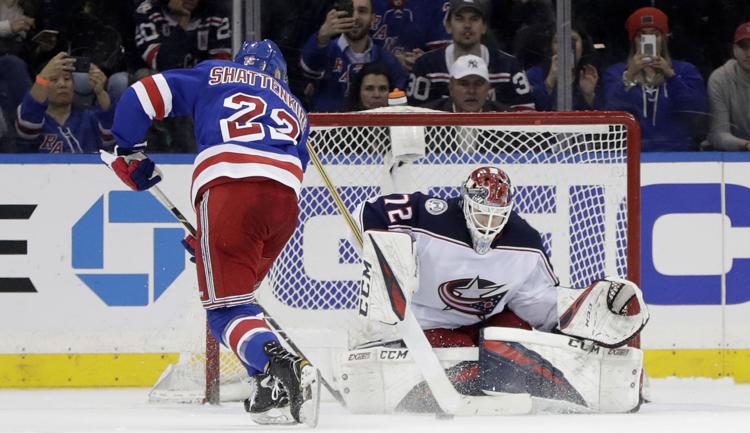 QUESTION: Blues have a lame power play, and there was Shattenkirk sitting out there for no compensation and 1.75 million per year. Blues could have signed him as a power-play specialist. Why didn't Army kick the tires?
GORDO: Army and his scouts have seen Shattenkirk play the last two years. And they know his defensive liabilities quite well. Armstrong's goal was to keep as much of the Cup team together as possible, and that's what he is doing.
NO HALL OF FAMERS WEARING THE NOTE?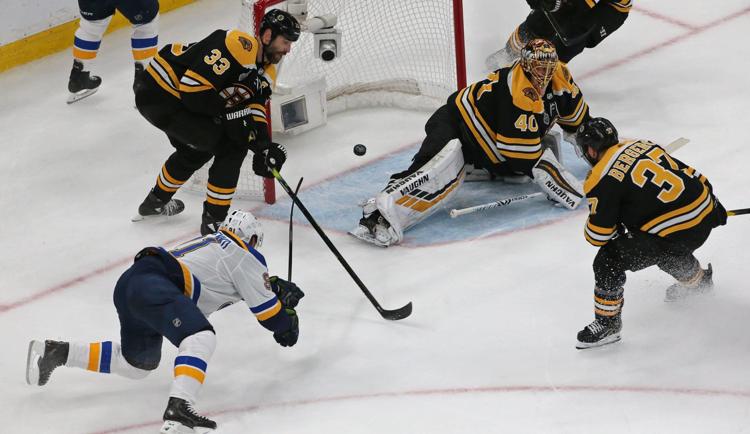 QUESTION: If you look through the rosters, every Stanley Cup winner has featured at least 1 Hall of Fame player. Right now at least, the Blues look to be the first team to break that trend. Jeff, you see anyone on this roster that might one day rise to getting a plaque in Toronto?
GORDO: If Vladimir Tarasenko stays healthy and keeps playing, he could put up big career numbers to back his Stanley Cup credential. He has more star power than Ryan O'Reilly or Alex Pietrangelo, but if those two play forever and win some more, they could feel some Hall of Fame love some day. O'Reilly has picked up some nice hardware already. Pietrangelo could help his cause with a Norris Trophy breakthrough.
---
Follow-up: Pietrangelo's days as a Norris candidate might be behind him, but you think he could still take that final step? Seems almost impossible to win the Norris without a 65-70 point season. Blues' power play would really have to take off for Alex to sniff that type of point total.
GORDO: True, Alex would need to push up to the 60-point range to get some of the love Drew Doughty gets. But that is certainly doable with a better power play and a faster start by this team. He had 30 points in last 45 last season and he posted a 3/16/19 line n 26 playoff games. The year before he scored 20 points in the first 22 games.
ONE PLAYER TO BUILD AROUND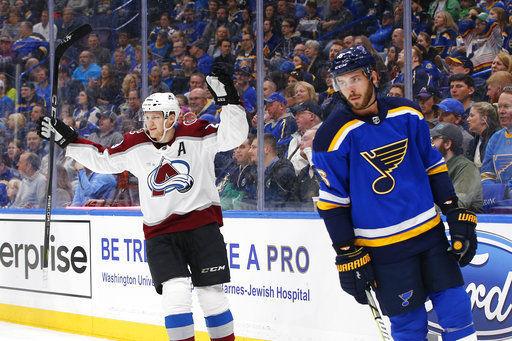 QUESTION: If you could pick any player in the NHL not named Connor McDavid to build your team around, who would it be?
GORDO: I'd go with Nathan MacKinnon. He is explosive and he just keeps firing pucks. He was born for today's game. While other coaches are too cute for their own good, Avalanche coach Jared Bednar elected to bundle his top guys together and play the heck out of them in offensive scenarios. (Ken Hitchcock did the same last season in Edmonton, which is why Draisaitl and McDavid went nuts.) Still, what MacKinnon has done is impressive.