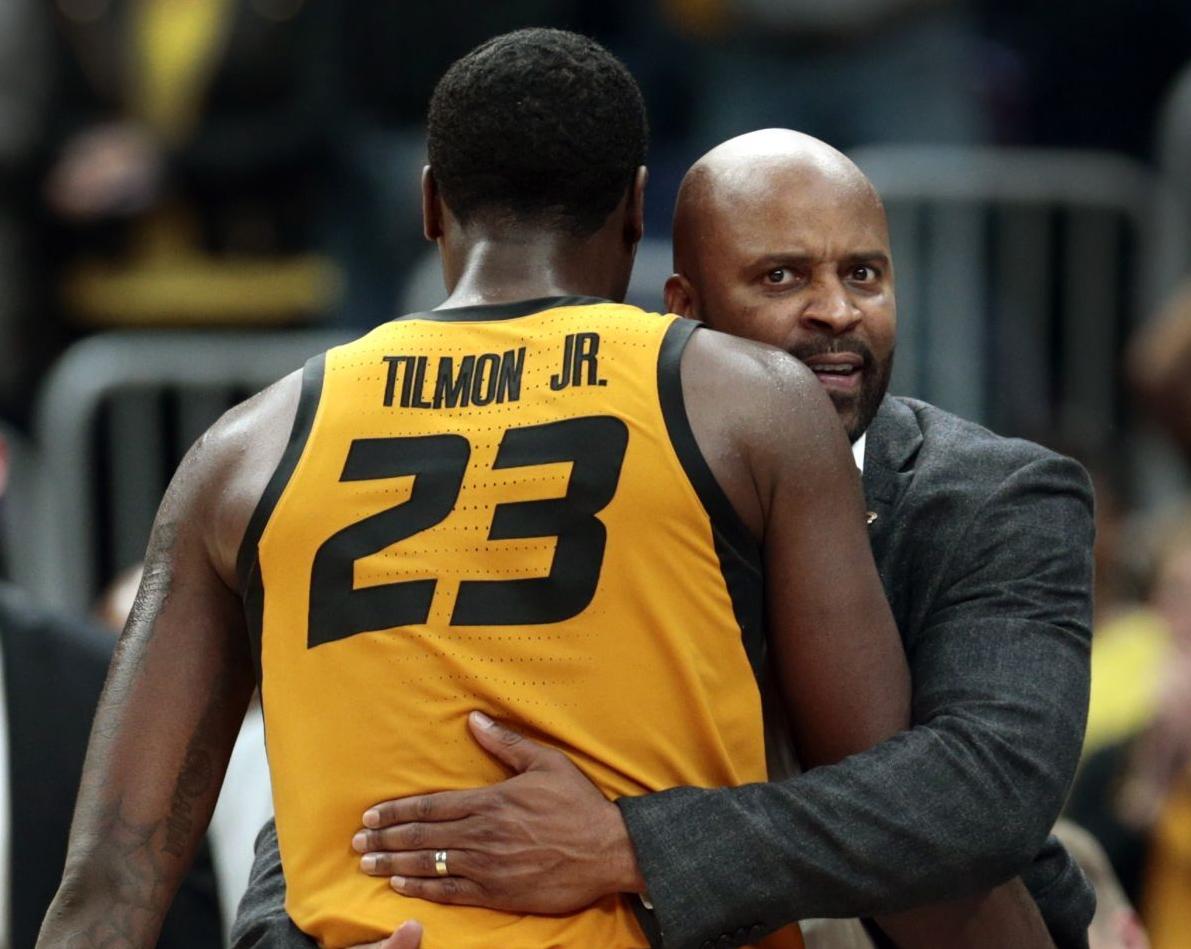 The timing was perfect for Mizzou coach Cuonzo Martin. College basketball's '21 Transfermania helps him to reset his roster at a critical point in his tenure.
Martin returned the Tigers to respectability while operating with integrity. He delivered two brief NCAA Tournament appearances sandwiched around two sub-.500 campaigns. 
Missouri hired him to clean up a massive mess and he succeeded, despite suffering major injury misfortune.
His next challenge is returning to prominence. The realistic target date for that should be 2023.
What happens this spring could decide if he succeeds.
"I think our program is in a great place," Martin insisted at the Southeast Conference Tournament. "We're going to continue to get better. I think we're just getting started."
Since he made that claim, mercurial point guard Xavier Pinson exited the program while threatening to land at rival Auburn for his senior season.
Eternal forward prospect Parker Braun also hit the transfer portal, failing to fill out to SEC specifications. The mysterious Ed Chang, a JUCO transfer who never played one second for the Tigers, entered that portal Tuesday to free up another scholarship.
(Chang didn't even rise to the low level of Christian Guess, who played seven minutes in one game for the Tigers in 2018-19. Guess moved on to North Idaho College for a year, averaged 15.1 points in 10 games for Samford this season ... and then landed back in the transfer portal. Does he still have his apartment key from Columbia?) 
Senior jump shooter Mark Smith announced that he will take advantage of the NCAA's pandemic waiver and play another season — but at Kansas State for Bruce Weber, not for Martin in Boone County.
The news of Xavier Pinson's departure from the Tigers via transfer came shortly after the Tigers lost to Oklahoma in the NCAA Tournament. In t…
Incumbent Kobe Brown could be the one rebuilding block after his breakout season at power forward. He is the only Tiger who clearly improved during the up-then-down campaign.
Seventh man Javon Pickett could assist the retooling too, since Martin appreciates his work ethic and selflessness. Pickett is a classic tweener, though, too small to play the power game and not skilled enough to flourish out on the floor.
Then there is shooting guard Torrence Watson, who fell into a spot substitute role this season, and huge Jordan Wilmore, who played tiny minutes (21, rounded up).
So Martin is essentially starting over again, albeit with the Tigers enjoying a better national standing than he inherited from hapless Kim Anderson.
Can the program exploit its higher profile in this frenzied transfer marketplace? Can the Tigers expedite their thorough rebuild in this new recruiting environment?
Assistant coach Chris Hollender helped woo guard Brandon McKissic to UMKC, so the Tigers are a finalist for him. McKissic could add ballhanding, 3-point shooting and perimeter defense.
The Tigers recruited guard Tamar Bates before, so they are checking in again now that de-committed from Texas. Bates jilted the Longhorns after coach Shaka Smart fled unforgiving boosters in the Lone Star State for the safety of Marquette.
Toledo forward Marreon Jackson, the Mid-American Conference player of the year, entered the portal and reported interest from Missouri. New Mexico forward Bayron Matos also heard from the Tigers.
Martin filled one big need by attracting Green Bay guard Amari Davis, a proven scorer and willing defender. Davis can actually hit a mid-range jumper, which could make Missouri's half-court offense less clunky.
Now the Tigers must add at least three more impact players on top of Davis and the solid five-man freshman class. That group, signed early, should be Martin's best group since he began his regime with the Porter Family Package.
Missouri got in early on high-flying Springfield Kickapoo forward Trevon Brazile, who could prove to be an excellent find. He brings the tools to defend well, but his offensive game will need more work.
Forward Sean Durugordon spent the second semester practicing with the Tigers on scholarship, so he should be further along than the other freshmen. Who knows, maybe Chang helped speed his development in practice to earn his scholarship dollars.
Center Yaya Keita comes with a hearty endorsement from De Smet coach Kent Williams, who coached under Martin at Missouri State and Tennessee. But Keita missed this season while recovering from knee surgery, so that diminishes near-term expectations.
Hence the need to add another proven big man.
Point guard Anton Brookshire led Kickapoo to the Class 6A Missouri state title. He checks all the boxes with his personal makeup, but he must build a sturdier physical frame.
Kaleb Brown, Kobe's 6-foot-6 younger brother, is plenty sturdy. But judging from his high school highlight mixtape, he will need to shed some sturdiness before he can help the Tigers.
Hence the need for a proven point guard.
With more than 1,000 college-tested players looking for a fresh start next season, Martin will have every opportunity to attract the plug-and-play talent he needs to move the program forward.
And attract he must at this pivotal juncture in his regime.