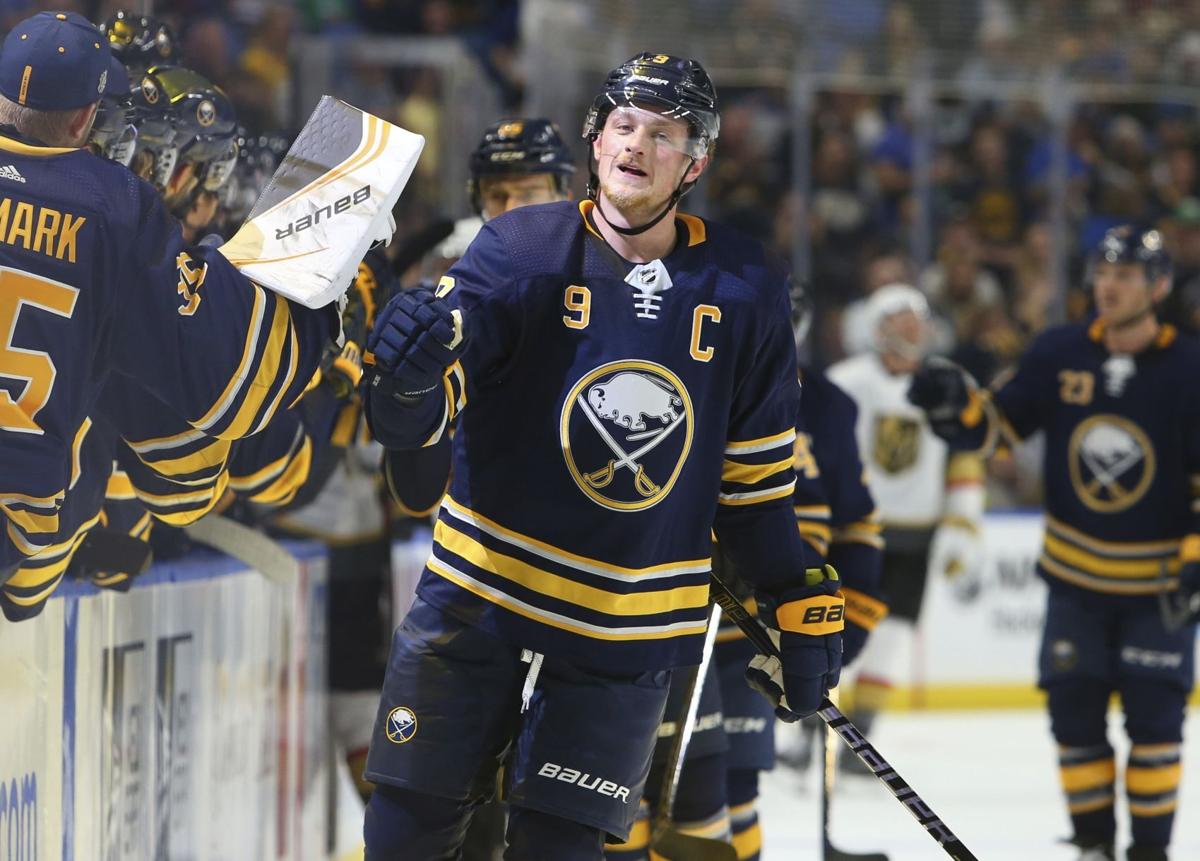 At first blush, Blues general manager Doug Armstrong doesn't anticipate making big changes despite his team's quick playoff exit.
But the potential for blockbuster NHL trades is as high this summer and Armstrong will be as engaged as ever.
"This will be an active year, not only in St. Louis but around the league," Armstrong said. "Any time you have expansion you have teams do what's best for them, whether it's not exposing players to Seattle or making trades where they feel they're in a better spot than just giving Seattle a list of players."
Each team must confront flat salary cap years to come. And several teams are plotting a roster makeover.
"I think it's going to be an interesting summer," Armstrong said.
The Buffalo Sabres are nearing the breaking point with star center Jack Eichel. Like Ryan O'Reilly before him, Eichel has grown weary of losing.
Imagine what a 1-2 punch of him and O'Reilly would look like here.
The Sabres won the NHL Draft Lottery this week, but the 2021 class doesn't feature an elite center at the top. So if Buffalo moves Eichel, the team will need significant offense in return.
The New York Rangers seem best positioned to make that play. Under their new management, they are motivated shoppers.
The Calgary Flames need jostling after a most disappointing campaign. Blues fans are on high alert for trade rumors involving Our Town's Matthew Tkachuk.
That young villain's robust playing style would fit nicely here. But the Flames would rather move Sean Monahan or even Johnny Gaudreau if they overhaul the roster.
With cornerstone defenseman Seth Jones vowing to bail on Columbus in free agency, the Blue Jackets must deal him first. John Davidson is back at their helm after exiting the Rangers and he will oversee the bidding.
Jones would make the Blues' back end much sturdier. But the trade cost would be high, as would a potential contract extension.
So there are more likely destinations for Jones, starting with Chicago, Los Angeles, Florida and Toronto.
The ever-resourceful Armstrong isn't afraid to shop the high end of the market, though, and the expiring contracts of Jaden Schwartz, Mike Hoffman, Tyler Bozak, Alexander Steen and Carl Gunnarsson give him flexibility.
Also, restricted free agents Zach Sanford, Ivan Barbashev and Vince Dunn could exit via the expansion draft or a trade.
Vladimir Tarasenko's $7.5 million cap hit, multiple shoulder surgeries and declining production make him the top trade chip for Blues fans as they propose make-believe trades.
In the real world, we're guessing Tarasenko has limited appeal to other general managers. Only a moron would pay a premium for him while assuming his injury risk and cap hit.
But Armstrong got the Philadelphia Flyers to take The Ghost of Jori Lehtera in the Brayden Schenn trade, so you never know.
More realistically, Armstrong's chips could include Dunn, Sanford, Barbashev, Robert Thomas, Jake Walman, Scott Perunovich and Klim Kostin — who boosted his stock during the KHL playoffs.
Armstrong would be willing to part with premium draft picks, too, while trying to get his talented nucleus back into the Stanley Cup chase.
This offseason could yield all sorts of opportunity.
The Pittsburgh Penguins fell to the New York Islanders in the first round, so the new executive team of Brian Burke and Ron Hextall could activate. Sidney Crosby isn't going anywhere, but cohorts Evgeni Malkin and Kris Letang aren't as secure.
Malkin has put up big numbers between his many injuries, especially when Crosby has been out of the lineup. Geno might have another run or two left in his legs.
The Toronto Maple Leafs also lost in the first round, blowing a 3-1 series lead over their arch-rival Montreal Canadiens. That put the Brendan Shanahan-Kyle Dubas management team is firmly on the spot.
The Maple Leafs must balance their roster. Their top four forwards consume half of the team's $81.5 million cap allocation.
Upon further review, wooing No. 1 center John Tavares when the team already had No. 1 center Auston Matthews was stupid. Spending to keep William Nylander while Mitch Marner was also nearly as dumb.
Now the team is handcuffed with gritty winger Zach Hyman headed toward a bigger payday in unrestricted free agency.
While the Blues could use another winger willing to play in the tough areas, Hyman carries overpayment risk. He scored at a 28-goal pace within Toronto's highly-skilled attack, but sustaining that pace elsewhere would be difficult.
Toronto's logical move would be trading Nylander and his $6.9 million cap hit. He offers dazzling speed and skill, but the Blues hope they have the same potential with Jordan Kyrou.
Now, if the Maple Leafs shop defenseman Morgan Rielly, that's different. Rielly could be a nice rent-to-buy option in his last contract year.
Imagine him teaming with Colton Parayko to do heavy lifting while the Torey Krug-Justin Faulk tandem gained more offensive deployment.
This market features many such possibilities to ponder. And maybe, just maybe, it will yield an interesting surprise or two for Blues fans.