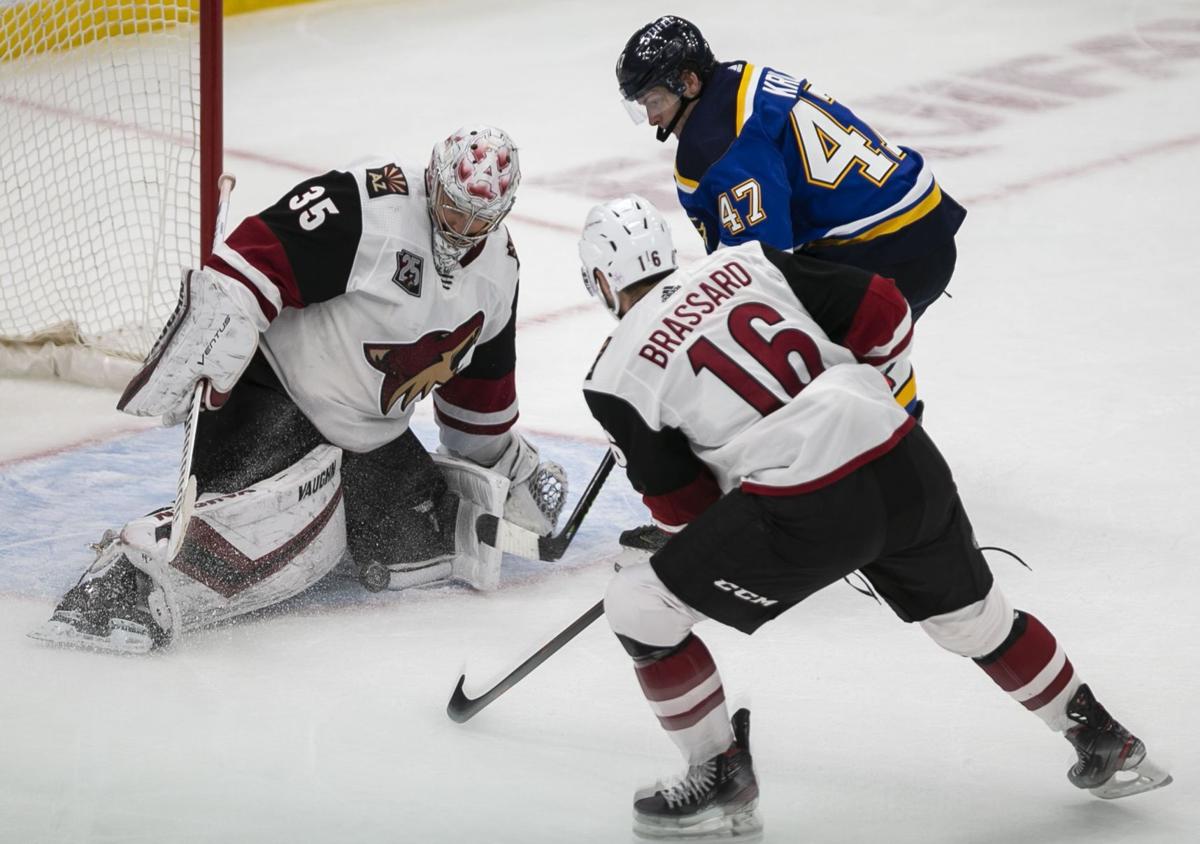 Yes, just making the NHL playoff bracket is a big deal. 
As the Blues close in on another postseason berth, it's instructive to look at some teams that either missed the playoffs or are in danger of missing.
That adds some perspective to the achievement.
It's no surprise that the Arizona Coyotes faded. Their standing ahead of the Blues in the Central Division pecking order was always precarious, despite the surprising success the team enjoyed a year ago.
But it IS a surprise that general manager Bill Armstrong, former Blues assistant GM, didn't get a head start on his mandated roster overhaul before the NHL trade deadline passed.
Now the Coyotes are in a 3-10-1 free fall, just awaiting their mathematical death to arrive. A challenging summer awaits their front office.
Matthew Tkachuk and the Calgary Flames collapsed this season and not even the return of grumpy Darryl Sutter to the bench could revive them. Major roster changes are likely coming, with lots of focus on formerly explosive forward Johnny Gaudreau.
The Philadelphia Flyers had big expectations for this seasons, thanks to their blend of good young players like goaltender Carter Hart and Joel Farabee and remaining veterans like Claude Giroux, Jakub Voracek and James van Riemsdyk.
But they flopped, no thanks to their marshmallow-soft defense and Hart's startling swoon – which gave former Blues netminder Brian Elliott more than he could handle.
Hart is sitting out the remainder of the season with a knee injury and general manager Chuck Fletcher must ponder a summer of change.
The Rangers are another fascinating team. They have high-end young players making major strides, which is great news. Their sheer skill level is impressive. But they felt the cold slap of playoff elimination Monday and coach David Quinn is feeling the heat.
Cornerstone center Mika Zibanejad had a down-and-up season and John Davidson and Co. must decide whether he merits a huge long-term investment like they made in Artemi Panarin. Also, this might be the time to trade Ryan Strome, who is a year away from unrestricted free agency.
The battered Dallas Stars are running out of time to overtake Nashville for the final spot in the Central Division. They also face many questions about their future.
No. 1 center Tyler Seguin and goaltender Ben Bishop essentially lost this regular season due to major surgical repairs. Bishops worthy stand-in, Anton Khudobin, is about to turn 35.
Power forward Jamie Benn's decline continued. Winger Alexander Radulov is also in the twilight, so will the Stars have to commit to a full restart?
The same goes for the San Jose Sharks, who exited the playoff chase Monday. General manager Doug Wilson assembled an expensive team nucleus that combined age-related regression with inexcusable underachievement.
Look at some of the annual cap hits on that team: Erik Karlsson ($11.5 million), Brent Burns ($8 million), Logan Couture ($8 million), Evander Kane ($7 million), Marc-Edouard Vlasic ($7 million), Timo Meier ($6 million) and Martin Jones ($5.75 million.)
Wish the next management team retooling that team under the NHL's flat salary cap.
There was no end to the drama with the Columbus Blue Jackets this season. Cornerstone center Pierre Luc-Dubois wanted out – and his trade to Winnipeg netted Patrik Laine, who quickly tuned out coach John Tortorella. The other return on that trade, Jack Roslovic, appears to be a good get.
But GM Jarmo Kekalainen, another former Blues assistant GM, created a bad scenario with his hard bargaining with players and his stubborn support of Tortorella.
That the Chicago Blackhawks felt the harsh reality of elimination was not a surprise. That they lasted as long as they did in the playoff chase WAS a surprise, especially after they lost talented center prospect Kirby Dach for much of the season.
The transition will continue as Patrik Kane, Jonathan Toews and Duncan Keith play out their well-earned contracts and GM Stan Bowman replaces his stand-in veterans with decent prospects.
That could take a few years. The Blues will welcome their reunion next season when the NHL returns to its normal alignment.
Once upon a time the Winnipeg Jets were a darkhorse candidate to make a deep playoff run. Those were good times. Now the Jets are staggering toward the finish line with a seven-game losing streak.
Winger Nikolai Ehlers is sidelined for the rest of the regular season and goaltender Connor Hellebuyck has struggled. The Jets will make the bracket, but they may arrive without momentum.
The Red Wings will be a fun follow this summer as Steve Yzerman steps up his rebuild. When he dealt power forward Anthony Mantha to the Washington Capitals before the NHL trade deadline he proved that he wasn't fooling around.
He got enigmatic Jakub Vrana back in that deal. While Vrana scored five goals in his first six games for the Winged Wheel, four came in one game. He has teased fans with his star potential for years but he has not been able to get his game to the Next Level.
Remember when the Flyers felt compelled to trade Brayden Schenn to the Blues because Nolan Patrick was ready to move into the No. 2 center slot? Those were good times.
Patrick, the second overall pick in the 2017 NHL Draft, has endured an injury-marred start to this career. He peaked at 31 points in 72 games in 2018-19, then missed the 2019-20 season with a migraine disorder. And this year he settled in on the fourth line.