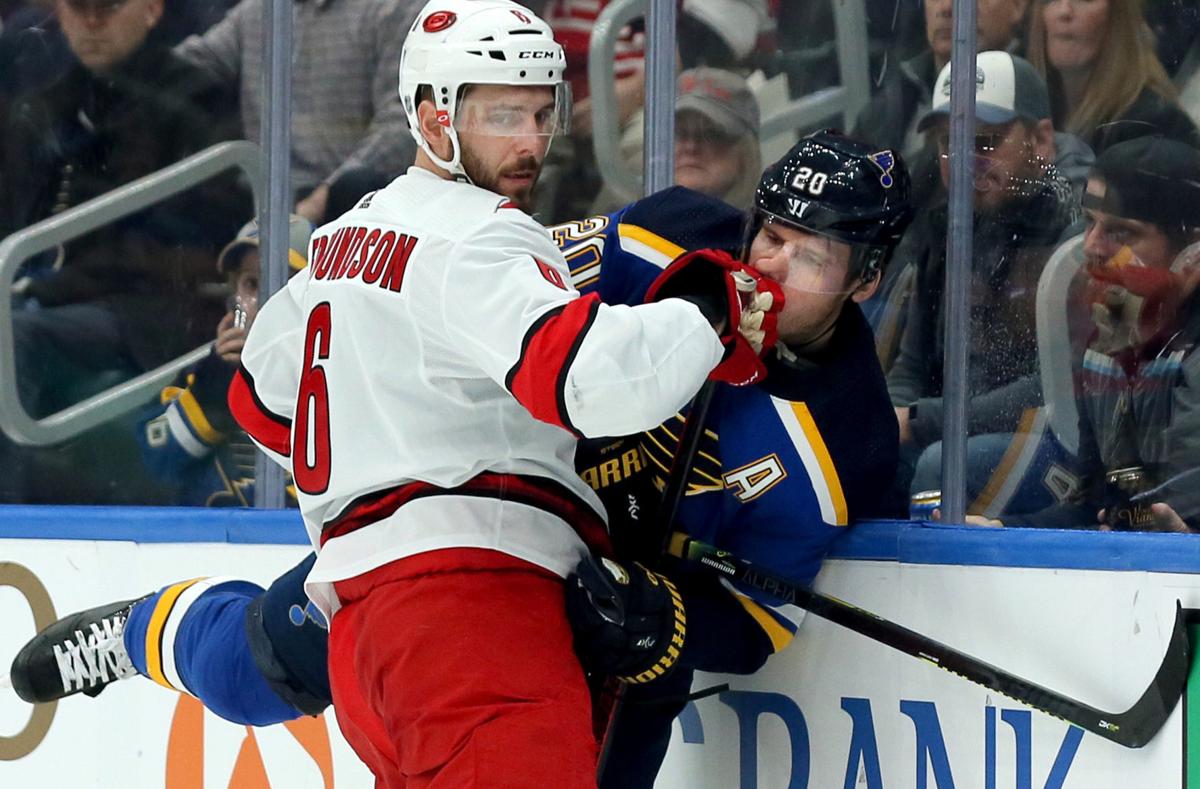 As defenseman Joel Edmundson was closing in on the higher-earning stage of his career, Blues general manager Doug Armstrong became skeptical about such an investment.
That's one reason why he traded Edmundson to Carolina in the package to get defenseman Justin Faulk, who offered an upgrade of skill and experience as well as some protection against Alex Pietrangelo signing elsewhere.
Edmundson had a decent year for the Hurricanes, scoring seven goals and adding 13 assists with a plus-7 rating in 68 games. But Carolina acquired Brady Skjei at the trade deadline to become even deeper on the blue line.
So the Hurricanes concluded that Edmundson didn't fit into their long-term nucleus. With Edmundson, 27, becoming an unrestricted free agent after carrying a $3.1 million salary cap hit this season, the Hurricanes traded his rights to the Montreal Canadiens for a fifth-round pick.
Habs general manager Marc Bergevin would not have spent that pick if he didn't believe he could sign Edmundson and reunite him with former Blues goaltender Jake Allen – whom he acquired earlier to back up Carey Price.
Before the pandemic hit, Edmundson could have reasonably demanded $20 million-plus on a five-year contract. He plays a physical game, he skates well enough to keep up in the modern NHL and he can shoot the puck.
It will be interesting to see what he can command in this NHL economy.
Bergevin is pondering additional moves, including moving talented forward Max Domi, who struggled offensively this season. Phillip Danault emerged as a strong two-way center in Montreal, Nick Suzuki is a potential No. 1 center and young Jesperi Kotkaniemi turned heads with his strong postseason play.
So Bergevin has the leverage to explore another major trade.
DE LA ROSE AND THE CAP
Just as Armstrong didn't see long-term money in his budget for Edmundson, he reached the same conclusion aboutforward Robby Fabbri. So he swapped Fabbri to the Red Wings for Jacob de la Rose.
Fabbri got a two-year contract from the Red Wings with a $2.95 million cap hit. The Blues retained de la Rose for the minimum of $700,000 next season – which is more than he could likely earn in Europe.
De la Rose will offer low-cost depth for the Blues and make it easier for Armstrong to subtract a forward for cap reasons if need be. De la Rose filled in nicely during the postseason and his ability to kill penalties gives him value -- especially at that price.
AROUND THE RINKS
• The New York Post suggests the Rangers could move restricted free-agent defenseman Tony DeAngelo rather than invest $5.5 million to $6 million per year on a long-term contract. Offensive defenseman Adam Fox had a strong rookie reason for the Blueshirts and Jacob Trouba could shoulder a bigger power-play role should DeAngelo depart in a trade.
The Rangers must also deal with their goaltending surplus. Buying out the final year of Henrik Lundqvist's contract – which carries an $8.5 million hit – would free up about $3 million in salary cap space.
• The Pittsburgh Penguins made another move to create salary cap space, moving forward Nick Bjugstad and half of his $4.1 million salary to the Minnesota Wild for a seventh-round pick.
The Penguins kept $2.05 million of that salary, but they didn't have to trade away an asset to move him. At $2.05 million, Bjugstad will offer some depth to the Wild as the franchise moves on from mainstay Mikko Koivu.
Penguins GM Jim Rutherford is actively shopping goaltender Matt Murray, too, to address is salary cap crunch. He is seeking a first-round pick – but with goaltending market offering myriad options, no team has been willing to meet that price.
• The Arizona Coyotes may part with goalie Darcy Kuemper as part of financially-driven makeover. He is an attractive option since he carries a manageable $4.5 million cap hit for the next two seasons.
• If goalie Robin Lehner re-signs with the Golden Knights as expected, Vegas will try to move Marc-Andre Fleury. But his $7 million salary cap hit will complicate that effort.
• Elsewhere on the goaltender front, the Vancouver Canucks could let Jacob Markstrom exit via free agency and bank of Thatcher Demko. Re-signing Markstrom would not only stress the team's cap scenario, it would put Demko in play for the expansion draft if Markstrom got no-movement protection.
Another player to watch in Vancouver is forward Jake Virtanen, whose underwhelming postseason could thrust him onto the trade market. He will be due pretty big money in his next contract coming off of an 18-goal season.
Be the first to know
Get local news delivered to your inbox!