Now that Mitch Marner has re-upped as a restricted free agent with the Toronto Maple Leafs, Canadians can get back to their everyday life in the Great White North.
His unresolved contract had been the focal point for the entire nation. Marner finally settled on a six-year deal with an annual average value of $10.893 million.
He got a shade less in AAV than teammates Auston Matthews and John Tavares. Marner didn't bet on himself with a shorter-term deal, but in six years he will be able to hit unrestricted free agency in his athletic prime.
So that was a compromise of sorts. He gained security and he will get a shot at even bigger money on his next deal.
The Leafs became the first NHL team with three forwards with eight-digit AAV contracts. Combined with William Nylander, those four will eat up $40.5 million under the salary cap -- which sits at $81.5 million this season.
Going forward, something will have to give if Toronto hopes to upgrade its so-so defensive corps.
Elsewhere in free agency, Boston Bruins defenseman Charlie McAvoy signed a shorter-term deal that is the new model for mid-level RFAs. His three-year deal carries a moderate $4.9 million average cap hit, but Year 3 pays him $7.3 million -- setting a high bar for the qualifying offer setting up his next contract.
The Tampa Bay Lightning have offered a shorter-term deal (a reported three years, $5.7 million AAV) to RFA Brayden Point. That won't fly. The Lightning have sufficient cap space to pay him real money, but the franchise has a history of getting players to sign team-friendly deals to keep a powerful roster in place.
While it would be surprising to see Point, Mikko Rantanen (Colorado Avalanche), Kyle Connor (Winnipeg Jets), Brock Boeser (Vancouver Canucks) or Our Town's Matthew Tkachuk (Calgary Flames) miss regular season games as unsigned RFAs, nobody would be shocked if mercurial winger Patrik Laine didn't sign a timely deal in Winnipeg.
Laine had a down season for the Jets -- that one five-goal outburst against the Blues aside -- and it's fair to wonder about his fit there. A short-term deal would make sense for both sides, but will Laine agree with that?
For now he is skating with SC Bern in Switzerland.
The Minnesota Wild are burdened by their gigantic contracts with defenseman Ryan Suter and winger Zach Parise, who will count a shade more than $7.5 million against the cap each season until 2025.
Previous general manager Paul Fenton gave free agent winger Mats Zuccarello, 32, five years and $30 million this summer before getting the axe. Then new GM Bill Guerin one-upped him by giving defenseman Jared Spurgeon, 29, a seven-year deal for a shade over $53 million.
(That contract reminds us that Blues captain Alex Pietrangelo will get paid for real on his next contract. Lesser defensemen are getting crazy money in the league.)
The Wild could surprise this team by making the playoff bracket this season and winning a round or two. But at some point a total rebuild will become inevitable, given the advancing age up and down their roster.
These massive contracts won't make that process easier.
AROUND THE RINKS
Dallas Stars defenseman Julius Honka hasn't been able to crack the NHL lineup on a regular basis. So now he wants out. The Montreal Canadiens could use another good young defenseman. If the Carolina Hurricanes trade Justin Faulk, then they could factor in the chase as well. ... The Hurricanes have been in discussions with the Anaheim Ducks on Faulk, who has a year left on his current contract. If he could agree to a new deal with the Ducks, that trade could happen. The Hurricanes have targeted talented, but injury-prone winger Ondrej Kase as the return. Apparently the Ducks balked at Faulk's contract demands and those talks cooled. ...
While former Blues fourth-liner Kyle Brodziak had to retire due to nagging back issues, his former linemate Scottie Upshall is back from knee surgery and trying out for the Stars in camp. Other former Blues on camp PTOs include Chris Stewart (Philadelphia Flyers) and Troy Brouwer (Florida Panthers). Stewart played in England last season. ...
900-year-old defenseman Andrei Markov is campaigning for a NHL offer after two years in the KHL. The Canadiens have taken a pass, preferring to stress youth. Meanwhile, defenseman Slava Voynov gave up on the NHL and signed another KHL deal. His return to the NHL has been complicated by his league suspension for domestic violence. ... Evgeny Kuznetsov got off easy from the NHL with his three-game suspension for a positive cocaine test at the World Championships. The league has taken a softer stance on recreational drugs, stressing rehabilitation over punishment.
---
10 questions as the Blues open camp
1. PARTY'S OVER. WHO'S HUNG OVER?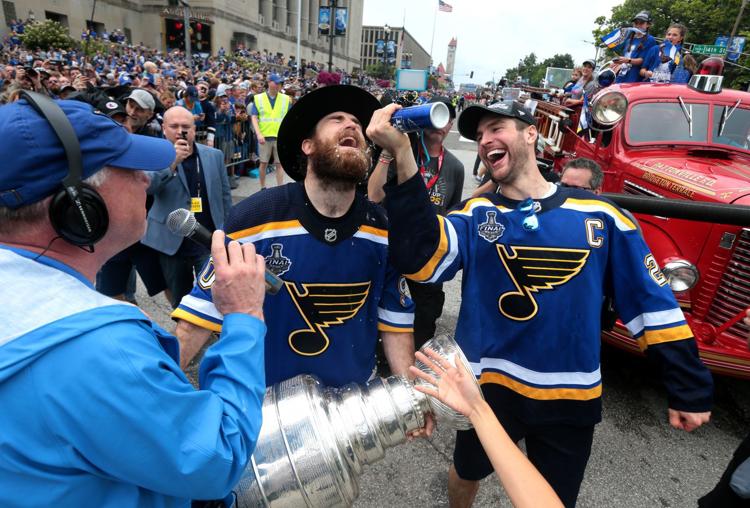 Over the past 20 years, only one NHL team has pulled off a repeat as Stanley Cup champions. That would be the Pittsburgh Penguins, who went back-to-back in 2015-16 and 2016-17. Over that same period, only two teams have failed to make the playoffs after winning the Cup the previous season: the Carolina Hurricanes stayed home after the 2006-07 campaign and the Los Angeles Kings did so after the 2014-15 season.
So where will the Blues fall along that spectrum? As mentioned, they won Game 7 of the Cup Final against Boston on June 12; they're back in camp on Sept. 13. That's barely three months of down time to recharge batteries, recover from the wear and tear of a season (and in a few cases surgery), and get in some training for the coming campaign. Are the Blues ready to go at it again?
2. CAN THEY STAY HUNGRY?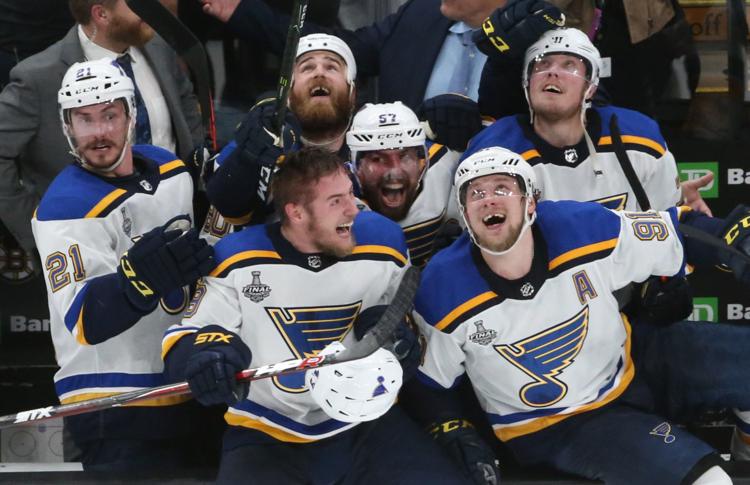 Hangovers are sometimes inevitable. Motivation is an entirely different thing. No matter what happens this season — or the next 20 seasons — the 2018-19 Blues will forever be legends in this town. They go down in local sports lore as the team that ended a dry spell that lasted a half-century by bringing St. Louis its first Stanley Cup. And they did so in dramatic fashion, going from worst in early January to first on June 12.
Will success spoil the Blues? Will heads swell? Did they train as hard in the offseason? Will they have the same resolve, resiliency, mental toughness that they displayed last season? The NHL is so balanced, the Central Division so stacked, even a slight dropoff could mean the difference between mounting a spirited title defense or being the '07 Hurricanes or '15 Kings.
3. BINNINGTON — STILL NOT NERVOUS?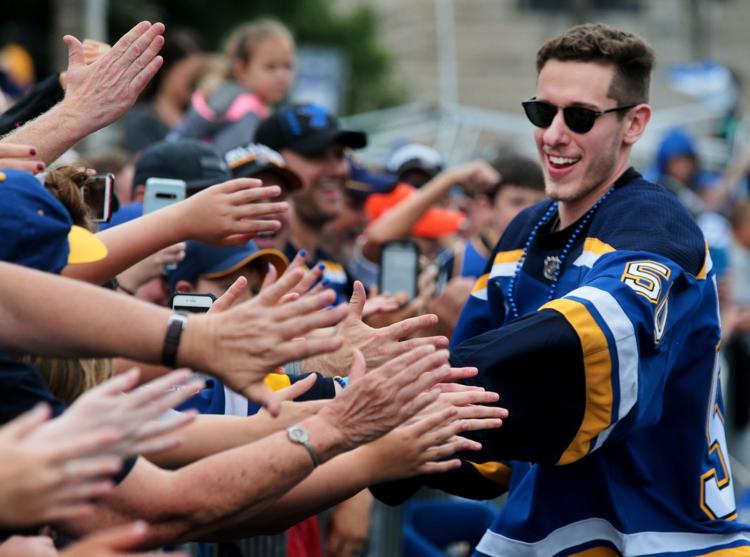 No one expects a repeat performance by Jordan Binnington — do we? But even if he's somewhere in the same area code as his out-of-nowhere performance last season, the Blues should be in good hands in goal. Even so, the entire NHL pretty much knows what he's about this time around. He won't sneak up on anyone.
Binnington played with a chip on his shoulder a year ago after being all but buried on the organizational depth chart. That fire and intensity was plain to see, long before he made his mark as a Stanley Cup champion. Little more than a year ago, Binnington was excited that his two-way contract paid him $100,000 even if he stayed in the AHL. Will success, and a two-year, $8.8 million contract change him? In other words, will Binnington actually get … nervous?
4. COULD THIS BE IT FOR PETRO AND/OR SCHENN?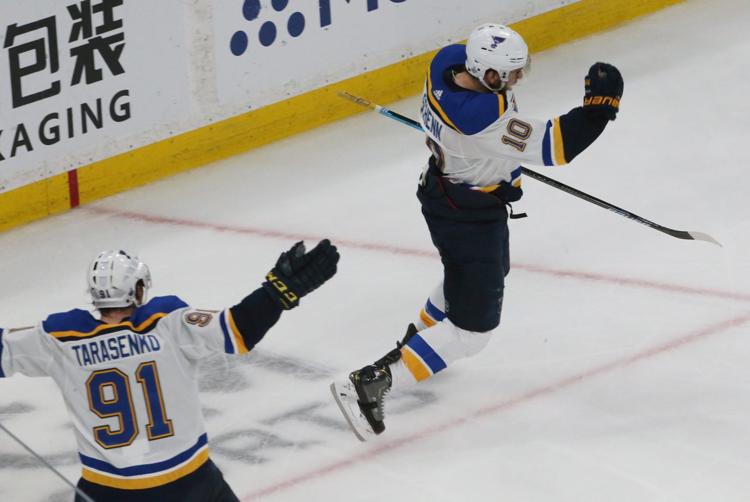 General manager Doug Armstrong and his front office staff have done a masterful job in recent seasons with roster management and managing the salary cap. The Blues have avoided situations where they've had to expose many players to unrestricted free agency in any particular offseason. They've been able to maneuver through tight cap situations while avoiding the cap issues that have plagued other teams.
Once again, they don't have many players scheduled for unrestricted free agency after this season. Then again, two who are, Alex Pietrangelo and Brayden Schenn, are two big names. Will the Blues be able to retain both players and remain in cap compliance? Do they want to retain both players? There are several factors that could affect the equation as the season unfolds, including team performance, the two players' performance, and whether the salary cap increases for 2020-21.
5. THIS YEAR'S 'SUNNY' SUNDQVIST IS . . . ?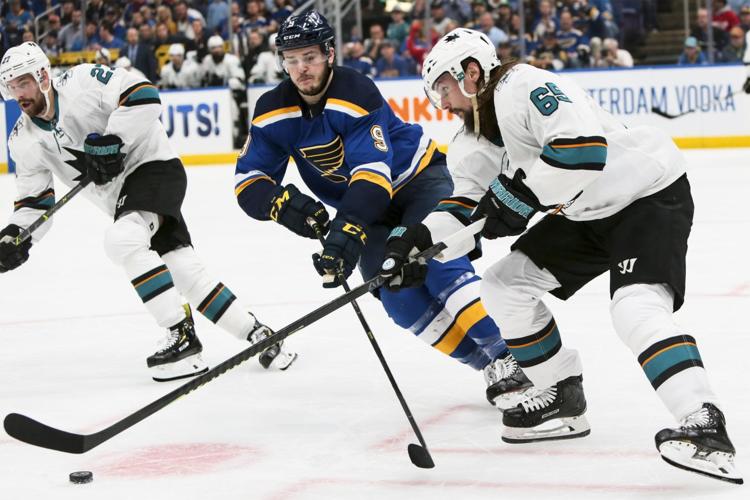 After a busy offseason of player acquisition, Oskar Sundqvist was anything but a lock to make the opening-day roster a year ago. But after an offseason of hard work, Sundqvist broke out with 14 goals and 17 assists in the '18-19 regular season and added four goals and five assists in the playoffs. He was one of the team's top penalty-killers and even saw power-play duty in the regular season.
So who is this year's breakout player? Sammy Blais, Zach Sanford and Robert Thomas are all candidates. In the 2014 draft, 175 players were taken before Blais, but he showed signs last season of combining physical play with scoring ability. Sanford displayed flashes of being an effective power forward. As for Thomas, he could make a significant leap from the nine goals he scored as a teenager last season.
6. HOW DO YOU MAKE THIS CLUB?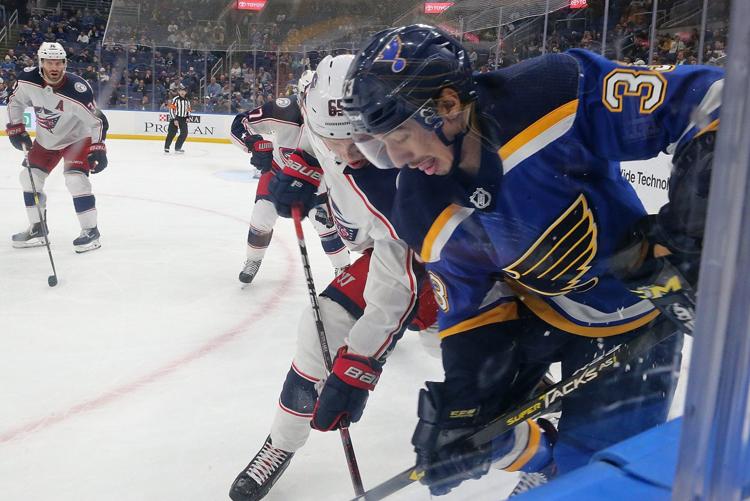 Pat Maroon signed a free-agent deal with Tampa Bay last month, but of the 23 Blues who appeared in the playoffs last season, he's the only departure. So for those prospects in San Antonio, how do you make this roster? Easier said than done barring injury. But injuries are a part of hockey, and at any given time in a season, it's safe to assume the Blues might be down a man or two.
That's where forwards Jordan Kyrou and Klim Kostin could step in, or defensemen Niko Mikkola and Mitch Reinke. Those four look like they're next in line to make a roster push, with Kyrou getting a taste of the NHL last season (16 games). Don't forget about Jordan Nolan as a potential call-up player. He has played in 375 NHL games — 14 for the Blues last season.
7. CAN SAVARD SPARK POWER PLAY?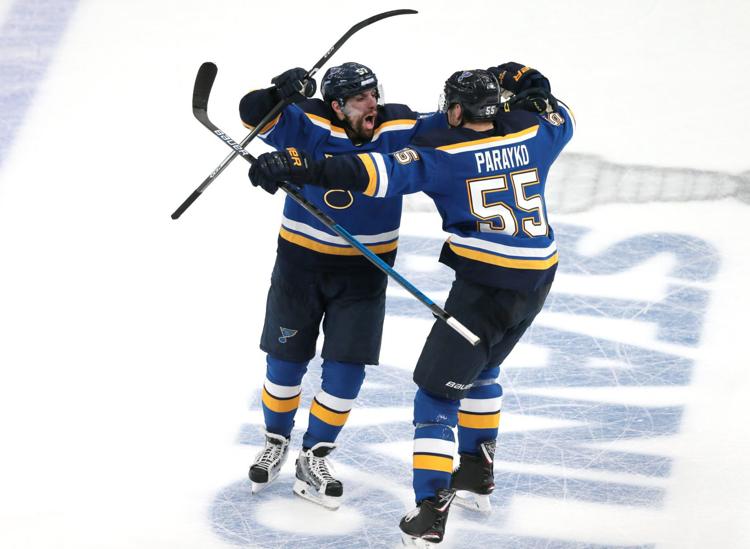 Marc Savard, whose NHL career spanned 13 season and more than 800 games, was added to the Blues' coaching staff — where among other things he's charged with improving the power play. It has been forgotten by many that the Blues finished a very respectable 10th in the regular season in power-play efficiency. But no one has forgotten the Stanley Cup Final series against Boston, in which the Blues somehow managed to win the Cup despite going an abysmal one-for-18 on the power play.
As a player, Savard knew a thing or two about scoring on the power play: 80 of his 207 career goals came with the man advantage, and he had three seasons with 10 or more power-play goals. But as a coach? Power-play tutelage or otherwise, that's a blank sheet. This is Savard's first coaching job.
8. WHICH SIX PLAY ON D?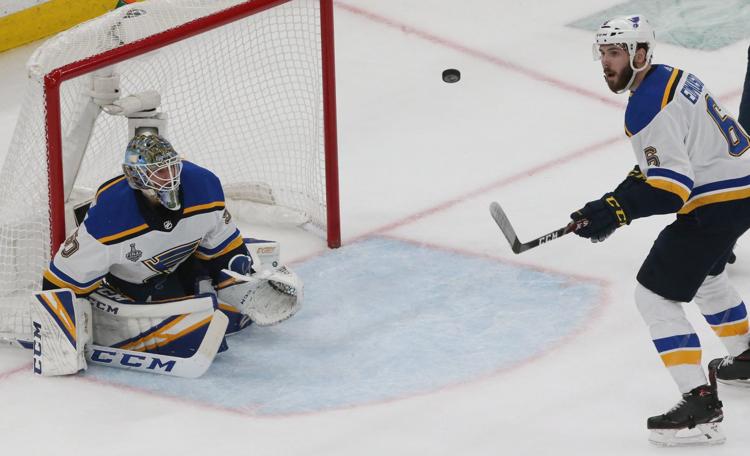 The Blues' top seven defensemen from a year ago all return. They have 3,532 games of NHL experience between them, ranging from Vince Dunn's 153 games to Jay Bouwmeester's 1,184. And those are just the regular-season games. The point being, all are NHL veterans — although Dunn is entering just his third season. And all are used to playing.
With rare exception, teams dress only six defensemen for games. So who's the odd man out on game day among the seven? Last year during the regular season, it wasn't much of an issue because the Blues rarely had all seven healthy and ready to go. But what if that's not the case this year? Joel Edmundson, whose role ranged from top defensive pairing all the way to healthy scratch at times, is someone to watch here.
9. NOW OR NEVER FOR FABBRI?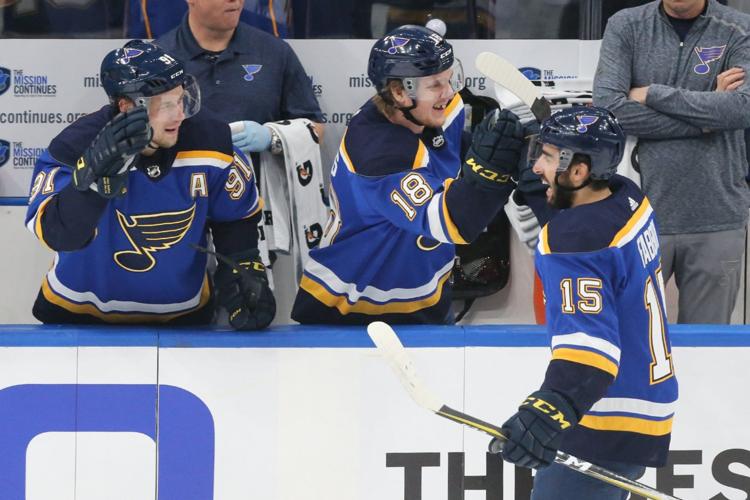 It's often the case that players recovering from major knee surgery, regardless of the sport, really return to form in their second season after the surgery. The Blues certainly hope that's the case with Robby Fabbri. He's actually coming back from two knee surgeries, but this is his second season back from the most recent procedure.
If Fabbri returns to form, and he showed flashes of it last season, he's a top six — certainly a top nine — forward. And if he doesn't? Well, the parade could pass him by in St. Louis, with young players such as Sammy Blais, Zach Sanford, Robert Thomas and prospects Jordan Kyrou and Klim Kostin all vying for a roster spot and playing time. This is a huge year for Fabbri, who looked like a star in the making not that long ago.
10. WILL HUSSO BOUNCE BACK?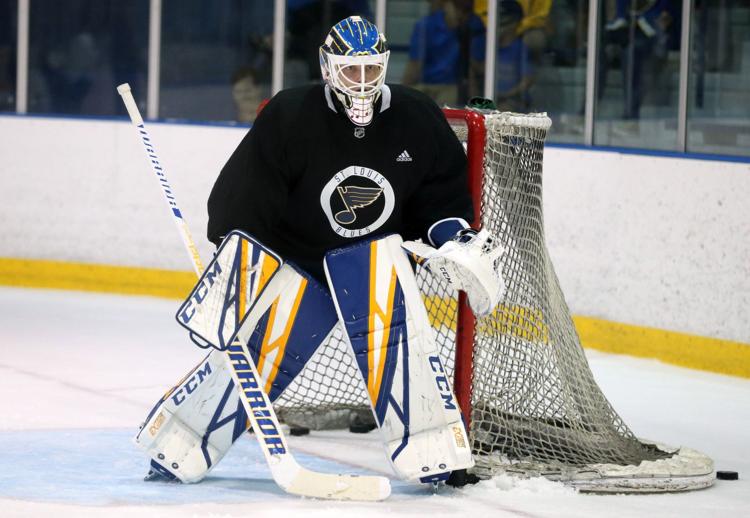 It's also a huge year for Ville Husso. Last year at this time, he was viewed as the Blues' goaltender of the future. Not Jordan Binnington. As such, he was ahead of Binnington on the organizational depth chart, third behind Jake Allen and Chad Johnson. A nagging ankle injury slowed Husso's development last season with the San Antonio Rampage, but even before the injury he wasn't posting the kind of numbers he had previously in the American Hockey League.
Once again, Husso enters camp as the Blues' No. 3 goalie behind Binnington and Allen. He needs a strong, injury-free year in San Antonio to restore the organization's faith that he can be a starting goalie in the NHL. In turn, that could eventually impact Allen's future with the team, or who knows — even Binnington's — if he struggles this season.