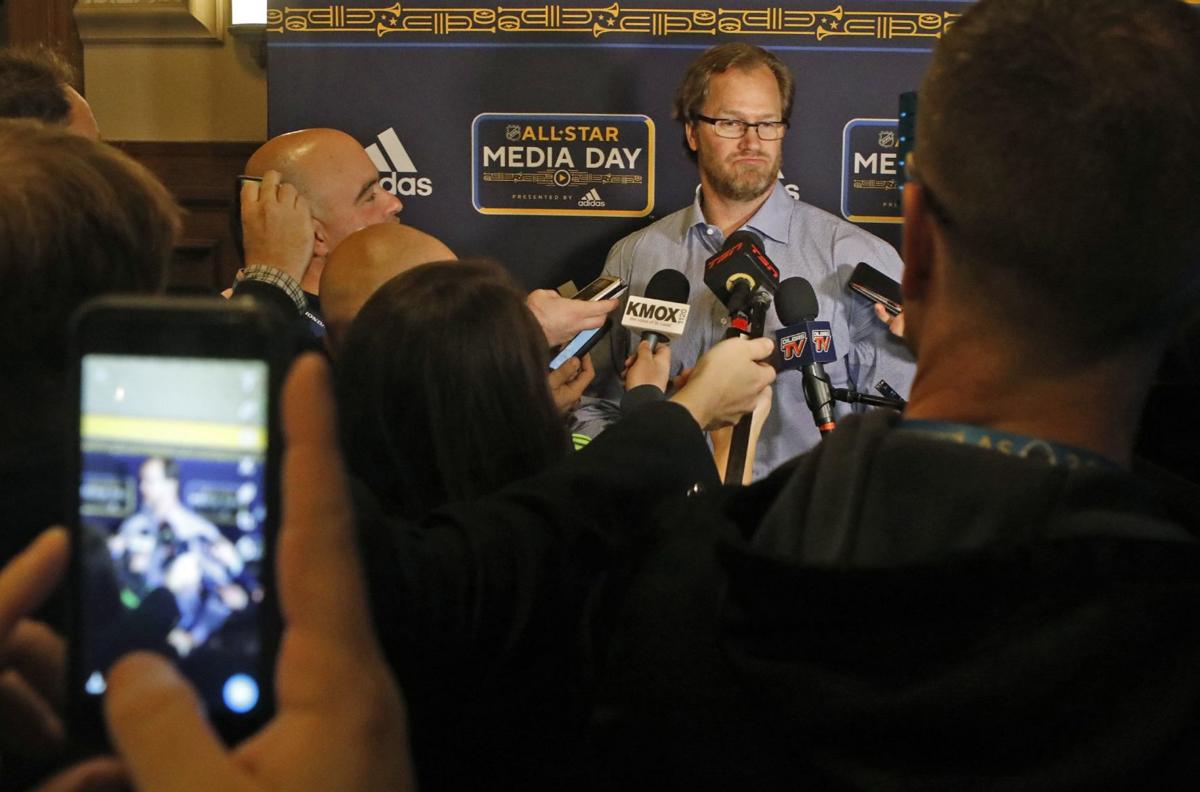 Welcome back! We have some real hockey news to ponder, including the New Jersey Devils hiring venerable Lindy Ruff as coach and Chris Pronger departing the Florida Panthers front office to devote time to his family's luxury business venture.
Pronger was an executive-in-training for the Panthers under Dale Tallon for the last three years while keeping his home base in St. Louis. There's no doubt he has the acumen to rise to a key NHL leadership position as former Blues players Brendan Shanahan and Marc Bergevin have done after their playing days.
But running a hockey operation is a LOT of work. It's a year-round, high-pressure job. Free time with the family is scarce, even in the summer. That life is not for everyone.
Pronger is leaving hockey for now. If he wants to get back in the game at some point he will have opportunities.
Blues fans will always stand ready to nominate him for work in the STL.
As for Ruff, he's an interesting choice to run the Devils' bench. That franchise has anxious ownership. The Devils went into "win now" mode for this season and failed miserably.
The trade for defenseman P.K. Subban backfired horribly. His famously undisciplined play undermined the Devils' defensive structure and he added almost nothing to the 5-on-5 offense or power play.
First overall draft pick Jack Hughes flopped in his rookie season, the Devils struggled to score and coach John Hynes got canned.
Rather than look for ways to give winger Taylor Hall a big contract extension, the Devils traded him and his expiring contract to Arizona and later held a full-scale fire sale after firing GM Ray Shero.
Tom Fitzgerald served as interim GM after Shero's demise. Now he has the job on a more permanent basis. He and Ruff, who replaced interim coach Alain Nasreddine, will try to rebuild the team from the ice up.
Former Blues goaltender and executive Martin Brodeur played a significant role in these appointments. He joined the Devils to work on the business side, then shifted over to advise the owners on hockey matters.
Devils centers Nico Hischier and Hughes are fine building blocks and perhaps goaltender Mackenzie Blackwood will become one as well.
"I'm very excited about the organization," Devils co-owner David Blitzer told reporters. "We have fantastic young talent. We've got cap space. We've got prospects moving through the system. We're really excited about what the future holds for the organization."
But Subban and battered goaltender Cory Schneider count a combined $15 million against the salary cap for the next two seasons, so Fitzgerald will have to work around that dead money.
Fortunately the team created lots of salary cap space after offloading veterans this season and the Devils aren't likely to go on a spending spree this early in the rebuild.
"Here's the reality: We think that the core of our team is obviously very exciting for a very long period of time," Blitzer said. "At the same time, there's going to be some very different dynamics here in the coming season and future seasons obviously from what's going on from the global pandemic standpoint."
Fitzgerald will either have to give gifted winger Nikita Gusev a contract extension or deal him for future assets at some point next season to continue the overall. And he better make the most from all the draft picks already acquired in this season's fire sale.
"I certainly think over a couple of years that we should be in a zone of contention," Blitzer said. "When that first step to the playoffs is, it would be wonderful if it was next year. Is there a line in the sand that says we're going to make the playoffs next year? Of course not.
"We would certainly be aiming for that in this coming season, but I think you continue to build, and the players are going to be telling us, to a large extent, when that moment is."
Be the first to know
Get local news delivered to your inbox!