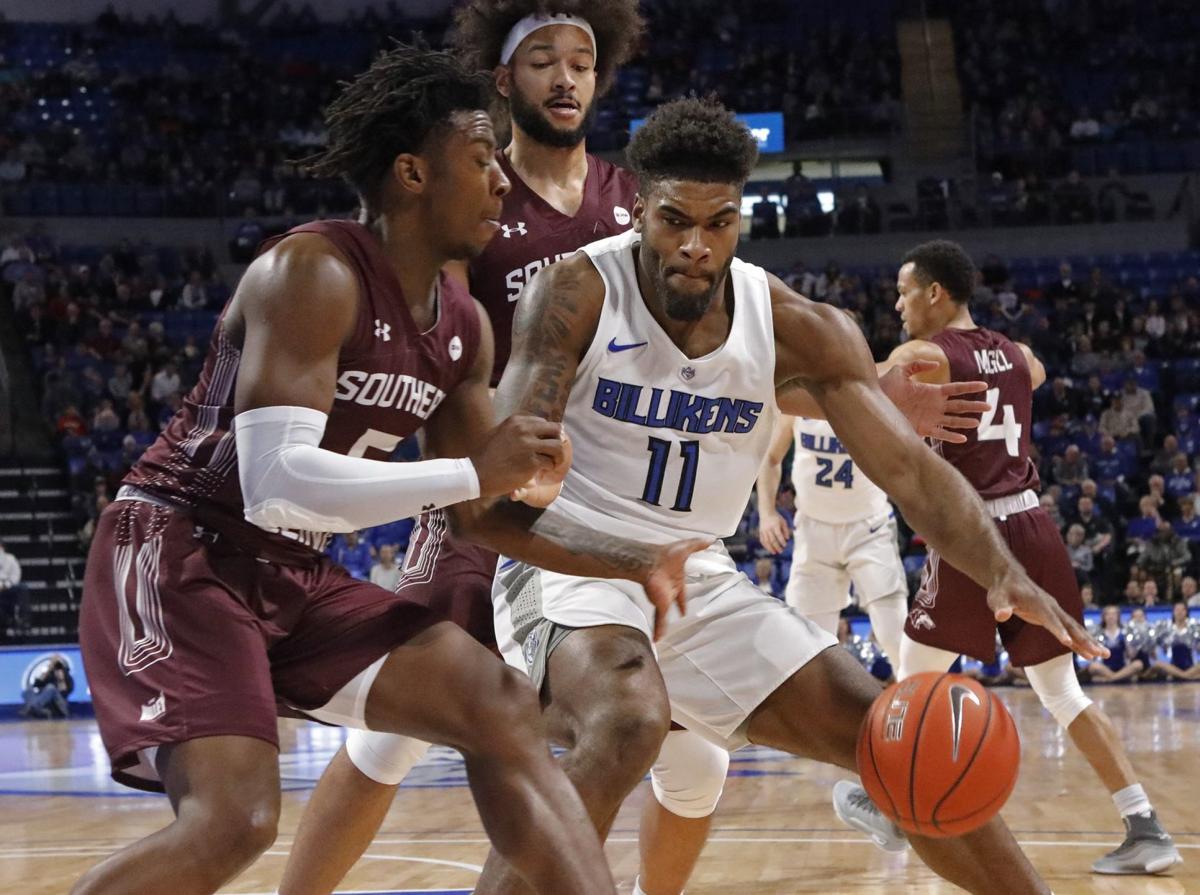 Go ahead and pencil in Bryan Mullins as Missouri Valley Conference Coach of the Year in his first season at SIU Carbondale.
Last week his Salukis extended their winning streak to seven games and climbed into second place. Mind you, experts picked them to finish last in the MVC preseason poll and that was before they lost star guard Aaron Cook to a broken hand.
Mullins rounded up a strong recruiting class after replacing Barry Hinson, getting instant help from graduate transfers Barret Benson (Northwestern) and Ronnie Suggs (Missouri) and long-term building blocks with freshmen Marcus Domask and Lance Jones.
Along the way the Salukis took assorted other injury hits, including Sekou Dembele's season-ending leg fracture. And yet they have battled on in the balanced MVC, playing tenacious defense and running an efficient offense.
They look a lot like Loyola, where Mullins served as an assistant coach under Porter Moser. And they look a lot like the yesteryear Salukis when Mullins was a standout guard in Carbondale.
They are easily the most pleasant surprise on the area college basketball scene.
Here is how the area's Division I basketball programs stack up:
1. Illinois (16-7)
 The Illini suffered their second loss to Maryland, this time losing 75-66 Friday night at home. They led the Terps by 14 points before fading. Guard Ayo Dosunmu scored 16 points, but he missed 12 of 17 shots from the floor including five of six from three-point range during an inefficient performance. The Illini have suffered back-to-back losses for the first time since the start of Big Ten play – and powerful Michigan State rolls into Champaign next. Sparty hammered Illinois by 20 points earlier this season in East Lansing.
2. SLU (17-7)
Once again the Billikens took a good run at Atlantic 10 power Dayton. Once again they fell short, tumbling 71-65 in Ohio on Saturday. Losing postman Hasahn French (15 points, eight rebounds) to fouls with 5:12 to go proved too much to overcome against the Flyers. SLU got 22 points from Jordan Goodwin but just nine points from its depleted bench. This setback followed another loss to Duquesne – this time at home, 82-68 Wednesday night despite another 20-point game by Goodwin.  
3. SIU Carbondale (15-10)
The Egyptian Dogs roll on. First they prevailed 64-60 in overtime at Evansville on Wednesday night, then they returned home to edge Missouri State 68-66 on Saturday. Benson (38 points, 17 rebounds in the two victories) and Domask (40 points, 15 rebounds) continue to shine. Domask hitting the winning buzzer-beating jumper against the Bears while Jones was the overtime hero at Evansville.
4. Missouri (11-12)
Any conference victory will be precious this season, but there were some extra positives from the Tigers' 83-79 overtime victory over Arkansas at home. Earlier this season, would you have expected Reed Nikko and Mitchell Smith to combine for 19 points and 22 rebounds in a single game? Both were having trouble getting on the court at all. Here is another plus: After playing just four empty minutes in MU's ugly 68-51 loss at Texas A&M, freshman forward Tray Jackson produced nine points, four rebounds and one spectacular blocked shot in 15 minutes against the Razorbacks. Jackson was a key recruit for coach Cuonzo Martin and the Tigers should spend the remaining schedule to expedite his development.
5. Missouri State (11-14)
After coach Dana Ford expressed exasperation with his team, the Bears responded by stepping on reeling Illinois State 80-60. Tulio Da Silva (22 points, eight rebounds) looked more like last season's standout version of himself. But then Missouri State's struggle resumed. Senior Keandre Cook and Lamont West, a transfer from West Virginia, combined for just nine points off the bench during the loss in Carbondale. West has been a massive disappointment since being named MVC Newcomer of the Year in the league's preseason poll. He has scored five or fewer points in six of his last seven games.
6. SIU Edwardsville (6-19)
The Cougars upset Eastern Kentucky 83-78 Saturday at home to enhance their bid to reach the Ohio Valley Conference Tournament. That was their third victory in league play. Freshman forward Shamar Wright scored a career-high 20 points to give first-year coach Brian Barone more long-term hope. Seniors Brandon Jackson (14 points) and Anselm Ezuegbunum (12 points, 10 rebounds had strong games in the front court. Earlier in the week the Cougars lost 58-49 at home Morehead State. Zeke Moore (13 points) was their only double-digit scorer.
The Redhawks finally won an OVC game, edging Jacksonville State 76-72 on Thursday night at home to snap their 10-game losing streak. Alex Caldwell (17 points, eight assists), Skyler Hogan (16 points, seven rebounds and Sage Tolbert (14 points, six rebounds) all played well. Then SEMO fell just short against Tennessee Tech on Saturday, losing 62-60 despite 21 points from Nygal Russell.