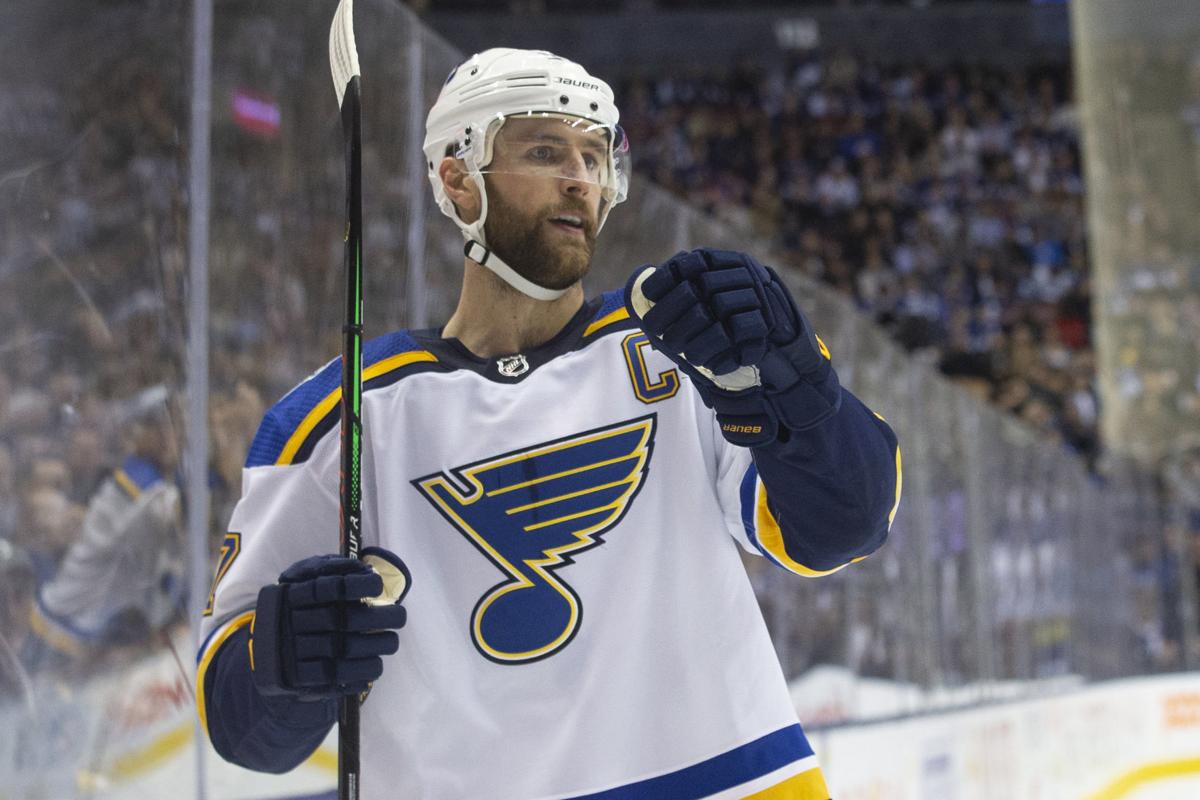 Blues defenseman Alex Pietrangelo has the rare opportunity to finish his NHL career where he started it.
He earned that chance as the captain of a Stanley Cup champion. The Blues would love to make that happen and get another piece of their winning nucleus locked in.
General manager Doug Armstrong expressed his desire to sign Pietrangelo and Brayden Schenn to long-term extensions — and he quickly got Schenn in the fold for eight seasons beyond this one.
This quest to maintain the Blues' core group has put the management/player dynamics on public display. We all get to play along with the general manager and the athlete as they mull the variables.
Armstrong's job is to wedge as much talent under the NHL salary cap as he possibly can on a year-to-year basis. Tom Stillman's ownership group lets him spend to the cap, but the money guys expect him to be smart about it.
The player's job is to earn maximum contract leverage and exploit that according to his priorities. He must weigh the security of a longer-team deal against the potential to earn more on an annual basis by assuming risk with a shorter-term contract.
Does the player want to stay put or is he looking to move to a more desirable market and/or a better franchise?
These things play every which way. For instance, Artemi Panarin and Sergei Bobrovsky wanted out of Columbus and they landed in New York (with the Rangers) and South Florida, respectively, for this season.
Pietrangelo's buddy John Tavares had an opportunity last year to become an Islander for life by re-upping in New York. That once-mighty franchise finally got new and more competent management after enduring two decades of mediocrity.
The Islanders finally got the ball rolling, er, puck sliding toward a new arena to be built on Long Island where most of the players actually live. But . . .
That franchise wasted Tavares' talent for nine years through sheer organizational incompetence. The new arena was a few years away and Cup contention still seemed distant, even with Lou Lamoriello taking over the hockey operation. So Tavares became an unrestricted free agent. When his hometown Toronto Maple Leafs came calling, he seized the opportunity to play on a loaded team with top-flight coaching and front office management.
The Blues' scenario is far different. The team just won the Cup. The franchise's ownership is committed to winning. This once star-crossed franchise now is a destination team.
It has a nicely renovated arena and a new practice facility. The cost of living here is favorable and players can raise their families in a reasonably hassle-free environment.
Schenn agreed to an eight-year extension here with an average annual value of $6.5 million. Had he scored 70 points this season, as he did two years ago, he could have gone into the free-agent marketplace and commanded at least another $1 million per season.
But he's happy here. He's on a great team with almost every key player locked in for multiple years. Signing early eliminated the injury risk from his end.
The collective bargaining agreement allowed the Blues to offer him eight years while outside bidders could have only gone seven years if he opted to leave town.
As for the average annual salary, players want the respect that comes with a big number. They are mindful that a big number is good for peer members of the players association. Then again, what's the bottom line on an extra $1 million or $1.5 million per year when you factor in taxes, real estate and other costs that vary widely from state to state or state to province?
(Newcomer Justin Faulk accepted less in his seven-year, $45.5 million extension from the Blues than what his camp reportedly sought from the Anaheim Ducks when that team explored acquiring him.)
Pietrangelo's camp is factoring all of these elements as they explore the possibility of an extension here. He is making $6.5 million this season and he's worth significantly more.
Sportsnet reported that the Blues see eight years at $8.25 million per year as a target number. That seems a bit low for an elite defenseman, but again, Armstrong is working against the cap.
Right now Vladimir Tarasenko and Ryan O'Reilly are the team's top earners, at $7.5 million per year. Schenn and Faulk will slide in behind them when their extensions kick in. By contrast, the Maple Leafs are paying Auston Matthews an average of $11.6 million per season, followed by Tavares at $11 million and Mitch Marner at $10.9 million.
Armstrong's stated goal for this team is to have many really good players with no one individual approaching the top of the NHL's pay scale. That approach has helped the Tampa Bay Lightning maintain a tremendous talent base.
"We don't have the highest-priced athletes in the game, but we have a lot of really well-paid athletes," Armstrong noted. "That's sort of our mandate and our focus. As we build a team, that's what we're trying to accomplish."
They can get that done with Pietrangelo — and there's no reason to believe they won't.