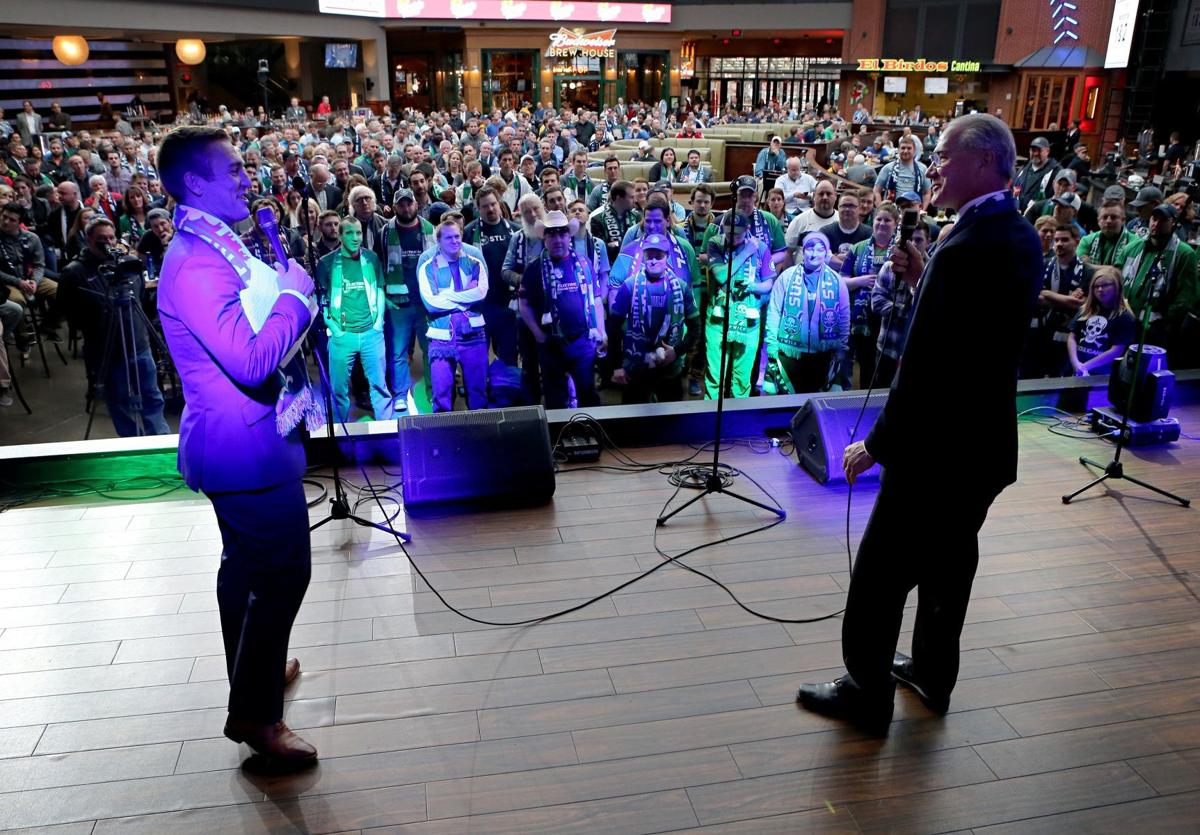 In this country, investing in soccer always has required strong faith.
Can the sport take off and pay off? The question has hung over Major League Soccer since it launched 21 years ago. It looms over the campaign to build a soccer stadium in downtown St. Louis, land an MLS expansion franchise and score soccer events.
City voters will consider that question in April to vote on Proposition 1 and Proposition 2. Both must pass to generate the $60 million in public support the local ownership group seeks to help fund a stadium that could cost between $155 million and $200 million.
SC STL made its pitch to voters Monday, staging a news conference and later a pep rally at Ballpark Village featuring MLS Commissioner Don Garber and former MLS and U.S. national team star Taylor Twellman.
"I want to fly over the Arch, see the lights on, U.S.-Honduras, World Cup qualifier, winner of that game qualifies for the '22 World Cup," said Twellman, who starred at St. Louis University High. "I guarantee that will happen here.
"But it can't happen if we don't have a stadium, it can't happen if the stadium isn't under the Arch, and it can't happen unless everybody that has a chance to vote gets off their rear end and doesn't assume this is going to happen."
Twellman is a true believer. So were the MLS founders who envisioned professional soccer selling in the U.S., despite past failings. They took the leap and formed the league.
Soccer-mad St. Louis was one of the initial target cities, but suitable owners did not step forward. That's a shame, because folks missed their chance to get on the ground floor and realize exponential franchise appreciation.
After enduring staggering early losses, losing and shuffling franchises and suffering a period of painful retrenchment, the owners still believed the sport could grow in the U.S. Eventually they expanded to new markets, building soccer-specific stadiums and paying bigger dollars to woo international talent.
Developer Jeff Cooper believed. Twice he tried to land an expansion team for the $572 million soccer stadium complex he planned for Collinsville. Unfortunately his bids failed.
Although only some of its teams were profitable, MLS kept investing in growth. The league doubled in size, spreading into Canada and into some non-traditional soccer markets in the Sun Belt.
"Atlanta was not a market that anyone ever thought of as a soccer market," Garber said. "There were people that were buying season tickets to that team that had never bought a season ticket to a professional sports team before. Less than 3 percent carryover between the Falcons season ticket holders and the Atlanta United season ticket holders, both owned by the same owner. There's new communities of fans that are coming in."
Seeing all this, SC STL chairman Paul Edgerley, vice chairman Jim Kavanaugh and other investors believed soccer could flourish here. They committed to spending hundreds of millions to secure and operate an expansion team and back the construction of a new stadium.
"MLS has been in existence for years now and I'd say the overall attraction and the momentum is at an all-time high," Kavanaugh said. "Soccer domestically and soccer on a global stage is at an all-time high. We're in a great position here in St. Louis to bring an MLS team to downtown. We have a great location right next to Union Station that will play off the whole Market Street from the Arch grounds to Scottrade to Ballpark Village, the Cardinals, the Blues."
I believe that. There is some serious MLS buzz these days. Just ask your friends in Kansas City.
And a stadium next to Union Station could revive a section of downtown that is withering.
SC STL insists the financial benefits of building a stadium would exceed the public cost. It wants voters to block out the Rams/Dome debacle and trust that the stadium would generate $77 million in general revenue over 30 years.
It wants voters to see this investment as something bigger, too — a giant step toward making St. Louis a more attractive destination for millennials and a more progressive place overall.
I'm not sure about all of that, but I believe a team and its stadium would become civic assets.
"The timing is now," Kavanaugh said. "I think we need to take advantage of it. Because if we allow this to pass us by, I truly think we're going regret looking back in years if we didn't take advantage of this opportunity. I think we will. We just need everybody to get out and vote (next) Tuesday."
Garber wants voters to believe a successful stadium vote will bring an expansion team to town, although he can't guarantee that with 12 cities bidding for four expansion teams.
But, he reiterated, "without a positive vote this project is not going forward."
Believers abound elsewhere.
Detroit and Indianapolis want in. So do San Diego and Miami. So do Nashville, Phoenix, Charlotte, Cincinnati, Sacramento, Tampa-St. Petersburg and Raleigh-Durham, N.C.
St. Louis is on the clock. Edgerley, Kavanaugh and the others are ready to take a major leap in faith.
Be the first to know
Get local news delivered to your inbox!