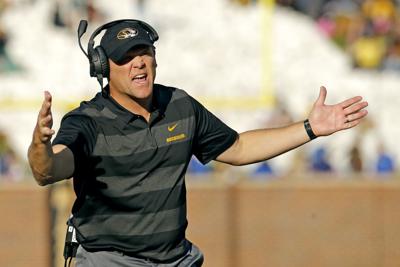 Mizzou fans know a doomed football regime when they see one. They can read bad body language.
This time last season they watched Florida stagger into Columbia after coach Jim McElwain's firing and surrender 45-16. They saw Tennessee stumble in the next week and capitulate 50-17, prompting coach Butch Jones' dismissal.
Fretful boosters saw no such quit from Missouri on Saturday in Gainesville, Fla. Instead, they rubbed their eyes in wonderment as the Tigers salvaged their season and ensured coach Barry Odom's job security with a stunning upset.
Rebounding from their devastating 15-14 loss to Kentucky — which will stand forever on Mizzou's Pantheon of Nightmarish Losses — the Tigers dominated No. 13 Florida 38-17.
This was Odom's first victory over a ranked team. That it came on the road made it especially satisfying.
That it came the week after the Kentucky fiasco spoke volumes about Odom's leadership ability and the belief he inspires from his players.
The Tigers had every excuse to sag and lose their way. Instead, they redoubled their effort in practice and arrived in Florida with laser focus.
Missouri owned both sides of the line of scrimmage from start to finish. The Tigers kept pounding away at the Gators despite losing star tight end Albert Okwuegbunam to a shoulder injury during the first half.
"I kept saying, I kept preaching to the guys, (the Tigers have) lost some close games this year," Florida coach Dan Mullen said during his postgame news conference. "They've made mistakes in those games. What happens when they don't make big mistakes? What happens when they don't get big penalties? What happens when they don't turn the ball over?"
Well, you saw what happened Saturday. The Tigers won big against an excellent opponent in a challenging venue. They refused to put this game in the hands of the officials and risk another atrocious last-second call.
If another midgame monsoon struck, as it did at South Carolina, they appeared prepared to overcome that as well.
Now the Tigers are the best 5-4 team in the country. They stand one victory away from bowl eligibility. They should stride confidently into their remaining games against Vanderbilt, Tennessee and Arkansas.
Quarterback Drew Lock is riding high, having set aside his exasperating second half against Kentucky. Not coincidentally, receiver Emanuel Hall is back to active duty after missing four games because of a groin muscle strain and the death of his father.
And the entire team is in a much better place after earning one of the most surprising and impressive victories in the program's history.
If Missouri athletics director Jim Sterk has kept a list of potential coaching candidates tucked in his pocket, he can put those names back in his desk drawer. Odom answered any questions about his status Saturday.
Of course, he has much more work to do. The Tigers must build on this victory one step at a time, starting with Vanderbilt on Saturday.
They would like to win out this year, like they did season, and win a bowl game, too, unlike last year.
Along the way Odom and his staff must pick up a good graduate transfer quarterback to replace Lock. They must finish the job on the recruiting trail and secure a quality class for 2019.
They must muscle up for the heavy lift ahead in the SEC East. Georgia is finally reaching its full potential under coach Kirby Smart. Mark Stoops has elevated long-suffering Kentucky just as Gary Pinkel lifted Mizzou.
South Carolina is viable again, as it reiterated by rallying at Ole Miss on Saturday. Tennessee is making strides under first-year coach Jeremy Pruitt, as the Volunteers proved earlier this season with their breakthrough victory at Auburn. Arkansas won't stay down forever.
With the league mandating tougher nonconference schedules, too, a perilous path awaits the Tigers in future seasons. Winning will be tougher than ever.
Odom must also help build a bigger fan base, grow more revenue for the athletic department and improve his program's resources. The South End Zone project is another big step in the right direction, but, let's face it, this school will always have to play catch-up to the major powers.
It's no wonder the hypercompetitive SEC produces so many coaching casualties. These days McElwain is regrouping as the receivers coach under Jim Harbaugh at Michigan. Butch Jones is biding his time as an analyst for Nick Saban at Alabama.
Meanwhile, Odom is still on the job at Mizzou, grinding away day after day with unquestioned commitment. While most other coaches would consider the school a steppingstone, Odom regards it as his destination.
Saturday's victory, and all the good it represented, gives him firm footing to stay a while.