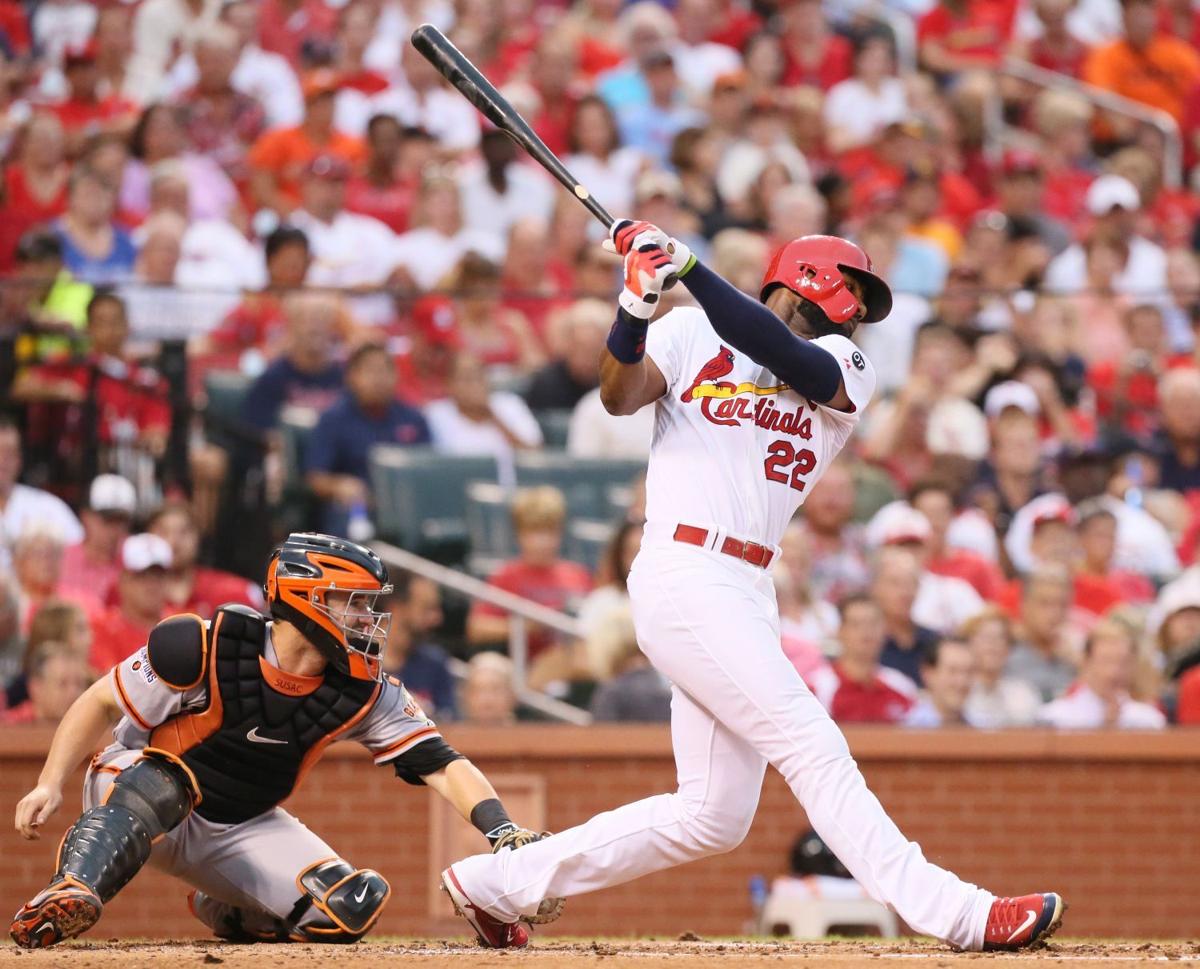 The Cardinals are only human. As resilient as they have remained this season, at some point even they could suffer one too many injuries.
That time may be at hand. Their latest setbacks could make it very hard to sustain their 100-victory pace.
Uh-oh! That ushered rookie Tommy Pham into the fray before he could settle in after his recall from Memphis. Pham found himself in center field flanked by rookie Stephen Piscotty and newcomer Brandon Moss.
This is not the outfield manager Mike Matheny envisioned using against the defending World Series champions, but once again he had to make do with whichever players were still ambulatory.
The Cardinals have overcome the loss of ace starting pitcher Adam Wainwright, eighth-inning reliever Jordan Walden and middle reliever Matt Belisle for most of the season. They soldiered on without hitters Matt Holliday, Matt Adams and Jon Jay for extended periods, too.
The team hasn't had to convert the players lounge into a triage area yet, but that could be next if players keep going down.
And that money the Cardinals have been pouring into international scouting? It might be time to explore the cyborg market instead and buy a wrench set for the training staff.
This team has been scraping out narrow victories by squeezing the most from their surviving players. Grichuk's injury will make that more difficult. He helped hold the offense together while those around him fell.
From June 10 until his injury Sunday afternoon, Grichuk produced 12 doubles, 13 homers and 34 RBIs. Those are really big numbers for this bunch.
He began making consistent contact this season, hitting .302 in May after returning from his early-season back strain. He followed by that hitting .282, .287 and .278 during the next three months.
His swing adjustments held up nicely this summer. Grichuk hit .286 against righthanders and .280 against lefthanders, allowing him to handle center field on an everyday basis in Jay's absence.
His absence forced Matheny to make still more lineup adjustments. He moved Heyward from right field to center field Monday night against the San Francisco Giants. Piscotty from moved from left field to right and Moss moved into left field.
Grichuk's injury compromised the Cardinals offensively and defensively. Before Monday, Heyward had played one game in center field since 2013 — and that was Sunday, filling in for the last few innings.
About three hours before Monday night's game, Heyward practiced judging fly balls in center field during batting practice. He tracked a blast through the left-center field alley and made a leaping catch up against the Cardinals Hall of Fame sign on the wall.
"It's cool to be out there," Heyward said. "Fewer walls, more room to roam around in without worrying about crashing."
But apparently he still had to worry about hamstring tightness. If that problem forces him to miss time, a decimated batting order will get even weaker.
Matheny has exhausted his good options, so now what?
Peter Bourjos is one of the game's better defensive center fielders, but he hasn't hit well enough to play. Since July 1 he is seven for 51 with 18 strikeouts and just three RBIs during that span.
It's hard to believe this is the same fellow who hit .271 for the Angels back in 2011, with 26 doubles, 11 triples, 12 homers and 22 stolen bases. THAT was the player GM John Mozeliak hoped to get from Anaheim in the David Freese deal, but he never showed up.
Pham is also a capable center fielder. He missed much of the spring while recovering from a quadriceps muscle strain, also known as "The Official Injury of the 2015 St. Louis Cardinals."
He hit .327 with a .901 on-base plus slugging percentage at the Triple-A level this season. He went just eight for 44 during his earlier fill-in stint with the Cardinals, but he hit four doubles and a homer. In his first at bat Monday he grounded into a forceout to strand a runner at third.
Another option for center field is Piscotty, who has the necessary wheels and arm. "I've been taking reads there also," he said. "I played a few games in Memphis in center and during batting practice every day I try to take a few reads."
He mostly played right field in recent minor league seasons, but he has played left field in Holliday's absence and filled in at first base with Mark Reynolds and Moss struggling. "Whatever they need," Piscotty said.
What the Cardinals need is for Piscotty (.333 in his first 24 big league games) to remain healthy and keep producing. And getting something from Moss would help, too.
He went five for 34 with 11 strikeouts in his first 12 games as a Cardinal. Monday night he lined a sharp single to right field in his first at bat and drew a walk in his next at bat.
The downward spiral that began with the Indians earlier this season continued after his trade. Moss won't fully recover from hip surgery until next season.
Can he produce a few runs in the meantime? The Cardinals certainly hope so, since Mozeliak spent pitching prospect Rob Kaminsky to get him from the Cleveland Indians.
Some timely hits the next few weeks could make that trade look somewhat less terrible for the Cardinals.
"I think this gives an opportunity to use Moss every day, too, and Reynolds has been doing well," Mozeliak told reporters before Monday night's game. "These things are never great, but it's part of the game."
Yes, well, the Cardinals are painfully aware of that. They have suffered many casualties this season.
We'll see if these latest setbacks finally knock them down a notch.