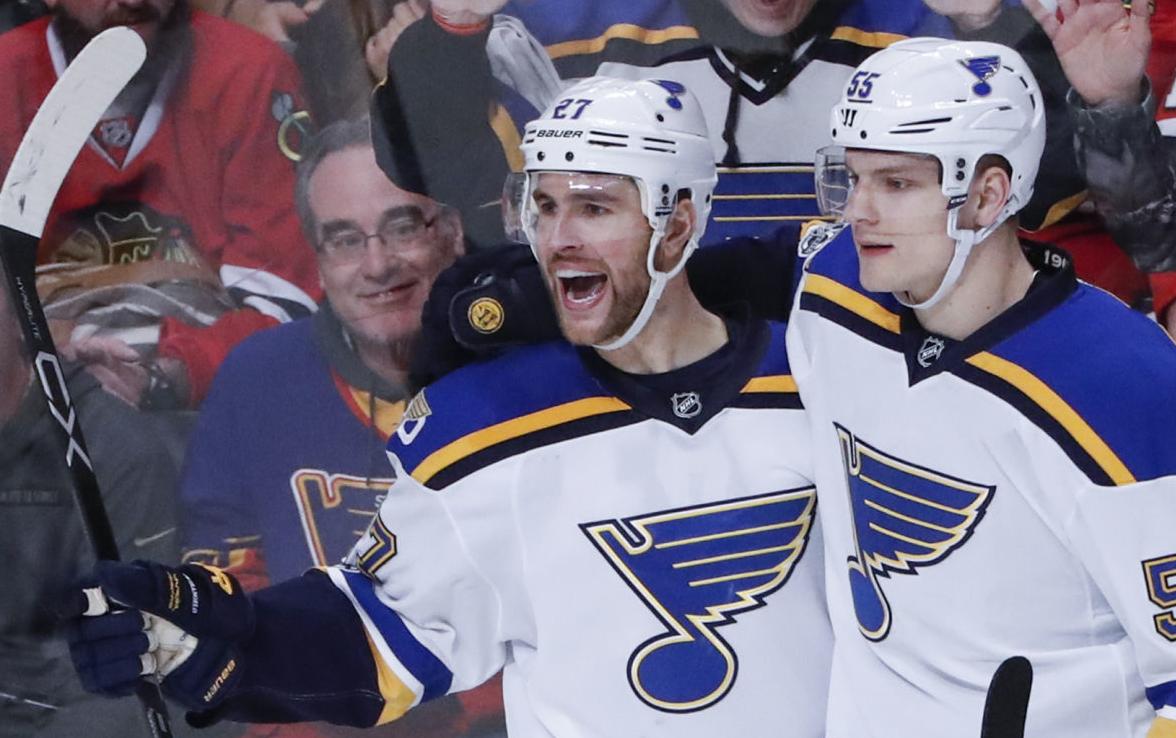 Rival NHL teams covet many cornerstone Blues players, most notably defensemen Colton Parayko and Alex Pietrangelo as well as winger Vladimir Tarasenko.
Blues general manager Doug Armstrong always is willing to listen, particularly with his disappointing team lagging far behind in the playoff race.
As the NHL's holiday roster freeze ends, he will open again for business.
The Blues' two victories on their recent three-city Canadian tour were nice, but this player combination has failed to sustain the collective will to win. There is no reason to keep the band together.
But they are built to win during the next few seasons. Long-haul rebuilding makes no sense. Now is not the time to trade for more high draft picks and more prospects.
If the Blues trade proven talent, they must get proven talent back.
They have a strong group of core players in their prime, a nice group of young veterans with potential and plenty of interesting prospects in the pipeline. If they trade a nucleus player, they must get at least one nucleus player back.
Consider the case of Parayko, who recently came in No. 1 on the Trade Bait List of Canadian sports television network TSN.
Parayko is a big, strong, right-shot defenseman who glides on his skates and hammers 100 mph slappers. He logs big minutes and plays in all game scenarios. He has played for North America and the World Cup and for Canada and in the World Championships.
He is 25 years old with a low odometer reading, having traveled the college route. He is locked under a contract until 2022, with a manageable $5.5 million salary-cap hit.
Blues coaches implore him to be more physical and shoot more aggressively. He has seven goals in his first 34 games this season, so why can't he get 15 per season?
He still has much room for improvement. But even as is, Parayko is a player every NHL general manager would love to have.
So what's fair trade for him?
Edmonton traded winger Taylor Hall to get defenseman Adam Larsson — and all Hall did last season was win the Hart Trophy as the league's MVP.
Parayko is more valuable than Larsson, so what's a fair price for him?
Please don't say slow-developing Oilers prospect Jesse "The Body" Puljujarvi and a first-round draft pick, as one scribe suggested.
And what's fair value for Pietrangelo? At 28, he is in his ninth full NHL season. He has suffered more wear and tear than Parayko, including his current hand injury.
He is under contract for one more season, with a $6.5 million salary-cap hit. While that lack of contract length is a negative from a trade standpoint, Pietrangelo arguably is one of the best all-around defensemen in the league.
He kills penalties, makes lots of defensive-zone starts and matches up against top forward lines. Like Parayko, he is a righthanded shooter at a position short on them. Like Parayko, he has proven himself on the international stage.
Pietrangelo has topped 50 points three times in his career, including last season. If he went to Toronto, he could help that long-suffering franchise win a Stanley Cup.
So what's that worth to the Maple Leafs? One noted NHL Insider suggested supporting cast winger Andreas Johnsson would be a starting point. No thanks!
That same guy noted the Blues would have to take back Nikita Zaitsev and his $4.5 million salary-cap hit for five years. That would be stupid, like accepting Eric Brewer in a Chris Pronger trade.
Draft picks? That wouldn't help in 2019-20. The same goes for prospects, however blue their chips.
Talented young forward Mitch Marner? OK, that's worth discussing. This is Alex Pietrangelo, not a rental asset such as power-play specialist Kevin Shattenkirk or second-line center Paul Stastny in the final season of their contract.
Top wingers aren't as valuable as top defensemen, yet Tarasenko also should command compelling offers. Although this season has been an offensive struggle for him, he has another four years left on his contract with a $7.5 million cap hit.
That's just Jason Spezza money. That's just Bobby Ryan money. That's less than Corey Perry money. And as NHL salaries soar, No. 91's contract will look better and better in the years to come.
Carolina is aggressively shopping for scoring, so Tarasenko can see lots of Hurricane warnings on social media. But the only Carolina forwards worth discussing in a trade of this magnitude are emerging stars Sebastian Aho and Andrei Svechnikov.
It's hard to imagine Carolina trading either player. Martin Necas, Teuvo Teravainen, Michael Ferland ... the Hurricanes have other forwards with value, but Tarasenko is an upper-tier talent.
So while Armstrong seems willing to make a big trade to shove this team onto a better track, winning such a blockbuster deal would be difficult.
---
ANY TRADES IN THE WORKS?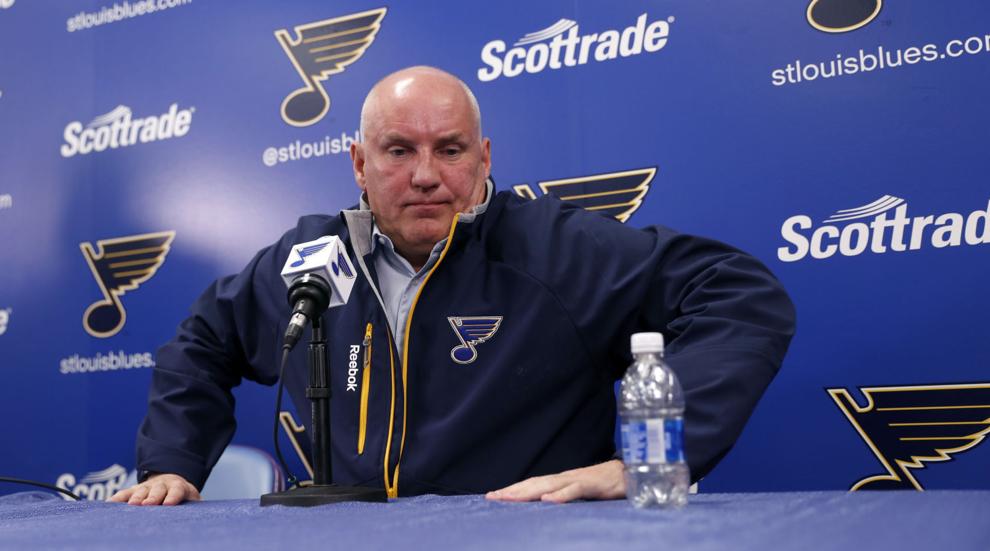 QUESTION: Are there any trades brewing? 
TOM T.: At this point, certainly everyone would seem to be fair game, though in this situation, Doug Armstrong has to get a good return on any trade. This isn't like dealing an impending free agent at the deadline where you get a prospect and a draft pick. If you're going to trade a significant player, you have to get a significant player back, which makes the deal tougher to make. Unless the team goes on some remarkable run here, which seems unlikely, a trade seems inevitable.
But getting the other team to give up good talent so far hasn't happened and with the team's still erratic play, I sense that Armstrong wants to make a trade to shake something up. But that hasn't happened, which must mean that all the offers haven't been sufficient.
UPDATE ON THE COACHING SEARCH?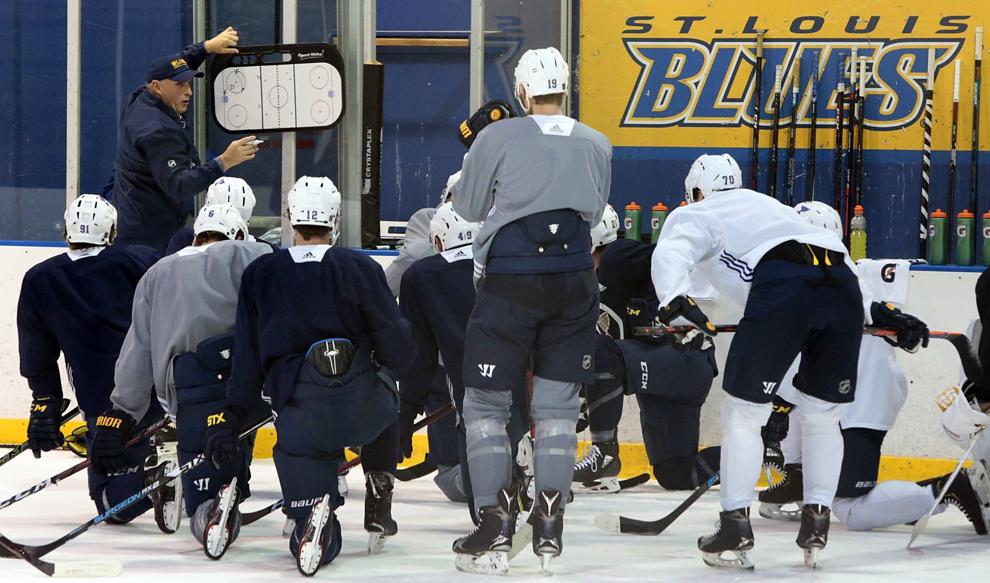 QUESTION: Who do you realistically see being named as the Blues head coach? 
TOM T.: If it was someone who was available right now, I would think that person would have been hired, unless that person recently lost a job and wanted some time off or that person was weighing to see what other jobs might come open and if there was a better one out there. Though Armstrong said they would consider everyone for the job, I would think with a team like this, you would go for someone with NHL experience. 
WHO GETS THE BLAME FOR TOO MANY MEN ON THE ICE?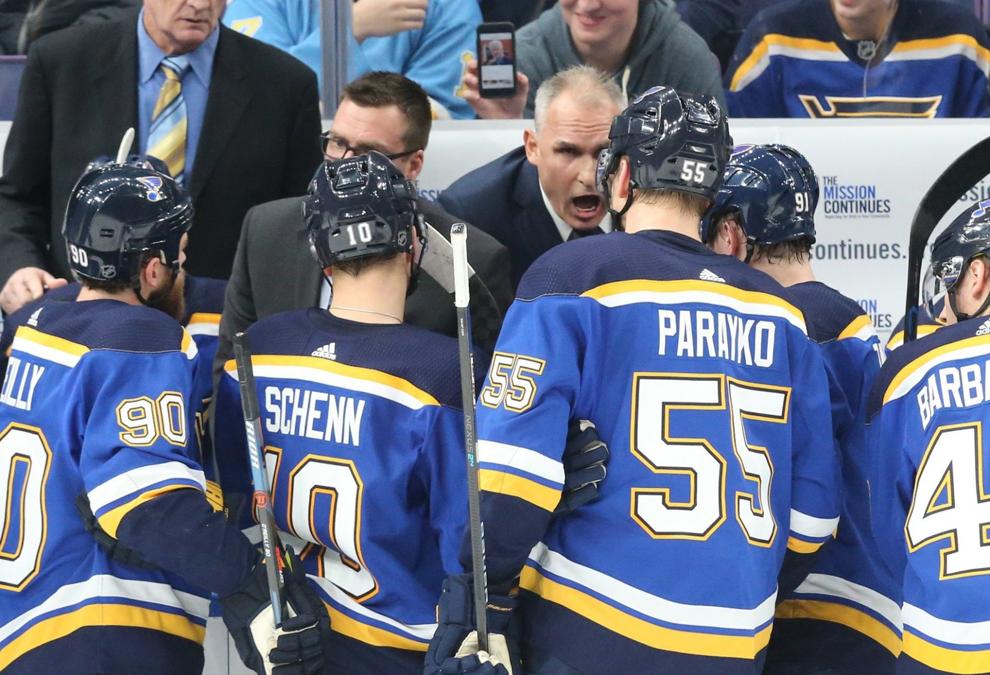 QUESTION: Too many men on the ice, over and over. Who gets the blame for that? The repeated blunder only reinforces the perception that this team has no focus.
TOM T.: As my colleague Derrick Goold has pointed out, back when he and I covered the team in the Quenneville era, too-many-men penalties were thought to be a sign of a team not paying attention to the coach and it usually marked the end of the coach's time with a team. But the barrage of penalties under Berube speak to something different. Berube took the blame for Tuesday night's penalty, but sometimes it's been guys coming off and then changing their minds, other times guys being slow in getting to the bench, other times they're bad luck with the puck being played directly to a guy leaving the ice.
The Blues had one the other day where the guy heading to the bench could see that he couldn't touch the puck or it would be a penalty and he did it anyway. So I think in the Blues' case, it's definitely the players. 
HOW SOFT ARE THE BLUES?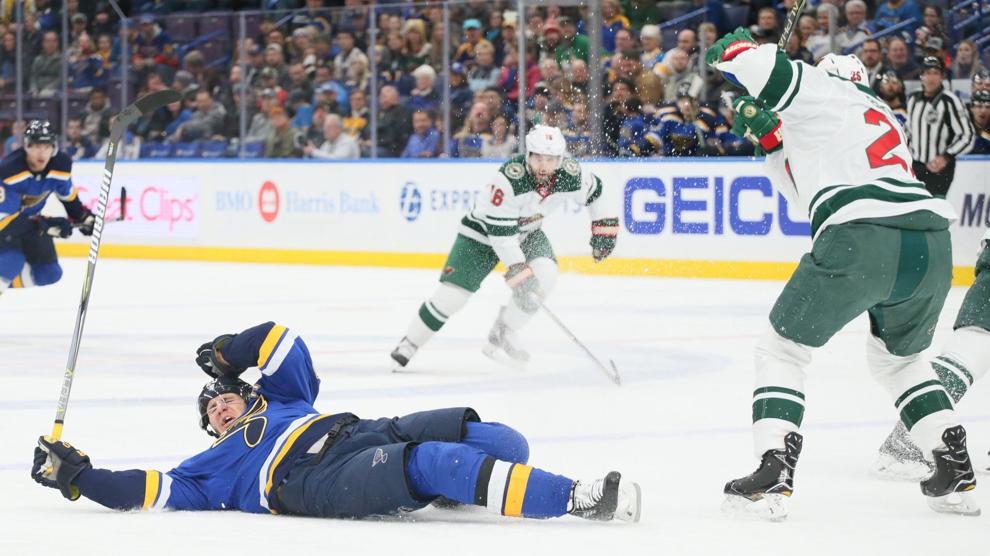 QUESTION: This team is playing very soft. How can the players not realize that when they make some hits, they have played their best games this year? The effort, or lack thereof, is inexcusable. 
TOM T.: Every now and then, they start thinking they're artists and go for the beautiful play. The fact that Sammy Blais leads the team in hits, and he's spent half the season in San Antonio, is telling. 
IS THE LOCKER ROOM TOXIC?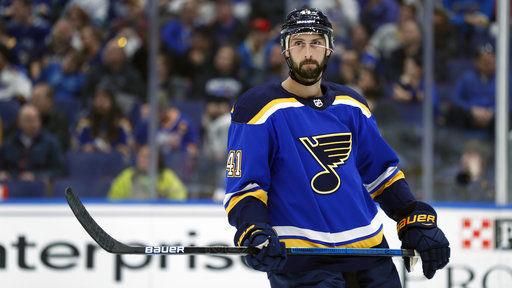 QUESTION: Are there rumblings about how well the guys get along? A lot of fans are clamoring for the Blues to call up a bunch of prospects and give them a look. If the locker room is toxic, wouldn't it be counter-intuitive to expose their best prospects to this mix? If it's a healthy atmosphere, fine. But the lack of effort all season from this team suggests it's not.
TOM T.: There are always rumblings. We get asked about the rumblings every week. Teams that are losing are far more likely to have internal squabbles. That goes for the Blues and most any team in any sport, other than teams that have committed to losing for a season.
Teams like the Blues have a high level of frustration and that's when you're going to see Bortuzzo and Sanford going at it. It's not a good thing, but it's also not an unusual thing.
AND, WHAT ABOUT ARMY? DIDN'T HE CREATE THIS MESS?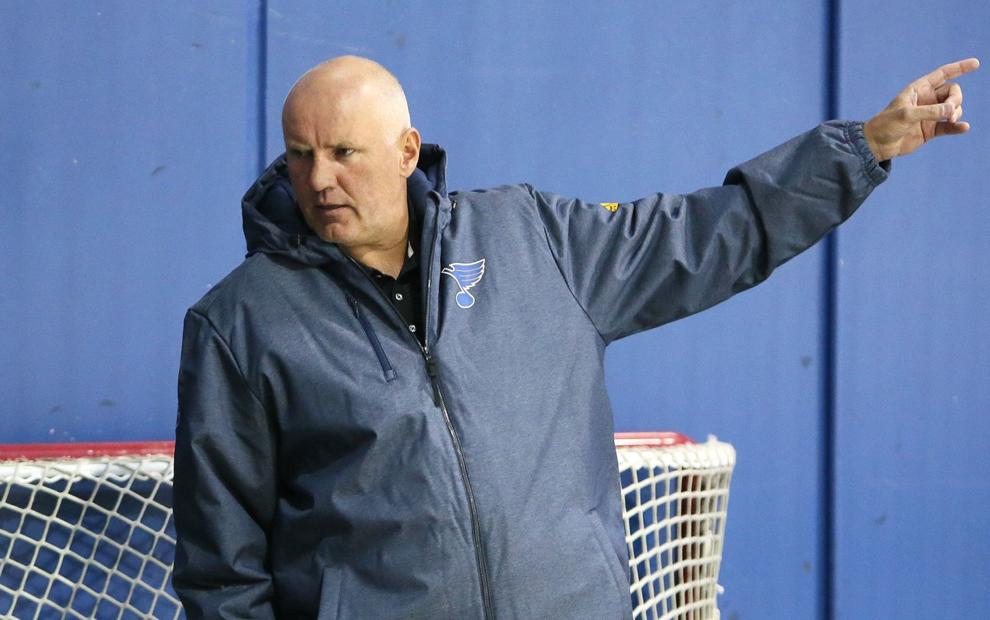 QUESTION: A lot of fans are blaming Doug Armstrong for assembling this team, but we didn't hear many people complaining when the trades were made or when the signings occurred last offseason. At what point does the GM take the fall for the performance of the team? My opinion:It seems to me to be unfair and shortsighted if Army takes the fall in this case. 
TOM T.: I made this point in the last chat I did, that people sure seemed happy with Armstrong's offseason moves in the offseason when he made them. The crowd at the Icebreaker event at Ballpark Village was a sign of that.
When does a GM take the fall for the team's performance? The coach already has. Armstrong's leash is no doubt much shorter than it was before. As he said when he signed his contract extension, it doesn't mean you'll be here until the end of the contract, it just means you'll get paid. Armstrong will hire a new coach and, if next season isn't better, his future will be in serious doubt.
STILLMAN'S SILENCE
QUESTION: I saw Mr. Stillman on Sunday right after the game. He had the look of someone who was going to fire a person at the drop of a hat. His silence is troubling. Has he made any statements either in support of the team or expressing his disappointment? 
TOM T.: He has not publicly spoken on the subject in any direction. Our columnist Benjamin Hochman asked, and Stillman declined. And who can blame him for being unhappy? The team's play is not helping the bottom line at all. 
PLAYOFFS NOT OUT OF THE QUESTION?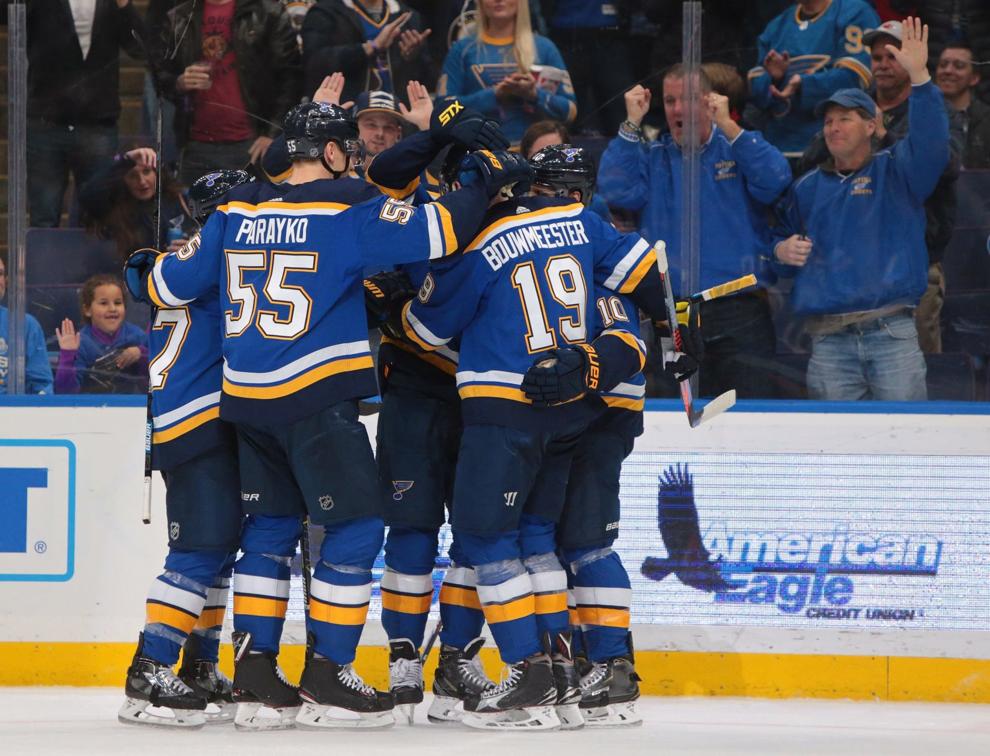 COMMENT: Las Vegas has played 4 more games than the Blues and is 10 points ahead. LV is a wild card leader. Edmonton is 9 points ahead and has played 3 more games. If the Blues could win those 4 games, they would only be 2 points behind LV. Trying be optimistic here. They are not that far out on the lost side. 
TOM T.: At this point, I wouldn't be too confident of the Blues winning those four games but yes, if they could, they'd be back in it. A hot streak would help, but with the Blues' erratic play, a hot streak seems as likely as finding a yeti in your backyard.
When the Blues were in Las Vegas right before Yeo was fired, he told me how the "optics" made the team look worse, that because they played fewer games, they were further behind in points than they might have been had they played three more games. And maybe that's the case. But until the Blues start winning multiple games in a row, making up those points will be tough.
The reality is, the Blues have to win about two out of three games the rest of the season to get to the points level they'll need to make the playoffs. Two years ago, at the All-Star break, I think, Hitchcock told a few of us that the team needed to win two out of three road games the rest of the way to make the playoffs. We laughed (quietly, and after he left the room) because at that point, the team was terrible on the road, winning one out of three. They needed a total turnaround. Guess what? They did it. So anything, I suppose is possible. 
WILL BLUES 'LOSE FOR HUGHES'?
COMMENT: I've become a realist about the Blues with more than 50 years of experience. Many in local media think the problem is some controllable issue like effort. They say the team is "fragile." But the bottom line is this: The Blues do not have enough talent to win. Maybe the "Lose For Hughes" strategy would work best for 2019 and beyond. 
TOM T.: I don't know that any team is inherently doomed. The Blues have had some good teams and had bad things happen. There are 31 teams in the league, so if there was a totally random distribution, in 50 years, odds are you won't win more than one or two Cups. The Blues have had some chances, for instance the President's Cup year, and they didn't do it.
Getting Jack Hughes, the potential No. 1 draft choice, won't be easy. Chicago and Los Angeles are very bad, and will have the best odds of drafting first. Right now, a website that tracks these things has the Blues at 7.5 percent to draft first, but even if the Blues had the worst record, they'd be only 18.5 percent to draft first. Now, the worst case scenario is the Blues don't make the playoffs but finish something like 11th overall. I don't think tanking is an option.
BERGIE SAYS BYE-BYE BUFFALO
QUESTION: Having covered Patrik Berglund, does this seem in character to you? Giving up that much money seems pretty crazy. Do you think he wants to go back to Sweden to play? 
TOM T.: Considering this doesn't happen very often, where a player and team mutually agree to end a contract the size of Berglulnd's, I'd say it's out of character for most anyone in the NHL. I don't know that he wants to go back to Sweden, but it sure seems like he doesn't want to be in Buffalo. And it's not like he grew up in Spain and moved to Buffalo. A Swedish winter should get you ready for Buffalo. And he's playing for a team that's doing pretty well.
Maybe he misses St. Louis. Maybe he wishes Buffalo had more Swedes on the roster. The whole thing seems a bit odd. And yes, he's giving up $12 million, but he's earned $21 million in his NHL career, so that should soften the blow. 
MOST IMPORTANT (AND REALISTIC) MOVES TO MAKE?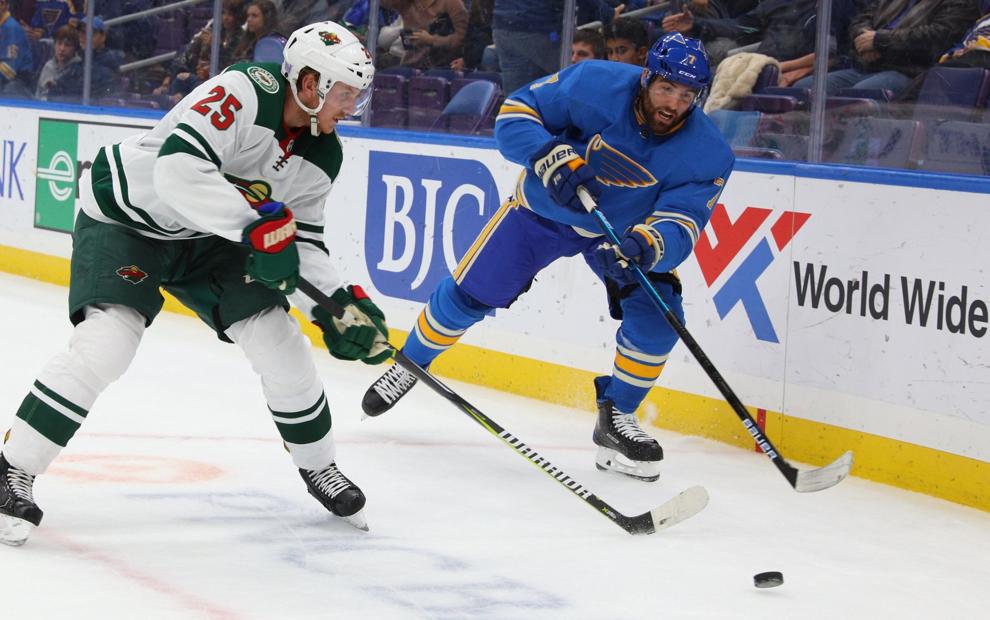 QUESTION: What do you think would be the most important, realistic move the Blues could make before next season to improve the team — other than by hiring Coach Q?
TOM T.: Well, if you could send Fabbri and Schwartz on a pre-emptive trip to Lourdes to keep them healthy, that would be a plus. If Jake Allen hits his annual December/January swoon, which usually happens right about now, then the team definitely will have to look for a new goalie. Three seasons of that would be too much. But acquiring goalies can be guesswork. Teams aren't giving up established winners, so you're looking at guys who are free agents coming off hot years and hoping they keep it going, or backups who are blocked.
I think the right coaching hire, even if it's not Quenneville, would make the team improve and, as the team's play since Yeo was fired has shown, the problem seems not to be with the coach. They'll need an effective stay-at-home defenseman and a forward who can play well down low, unless, of course, Maroon finds his game and shows he's that guy. So much will depend on how this team closes out the season. 
TRADE NOW? OR WAIT?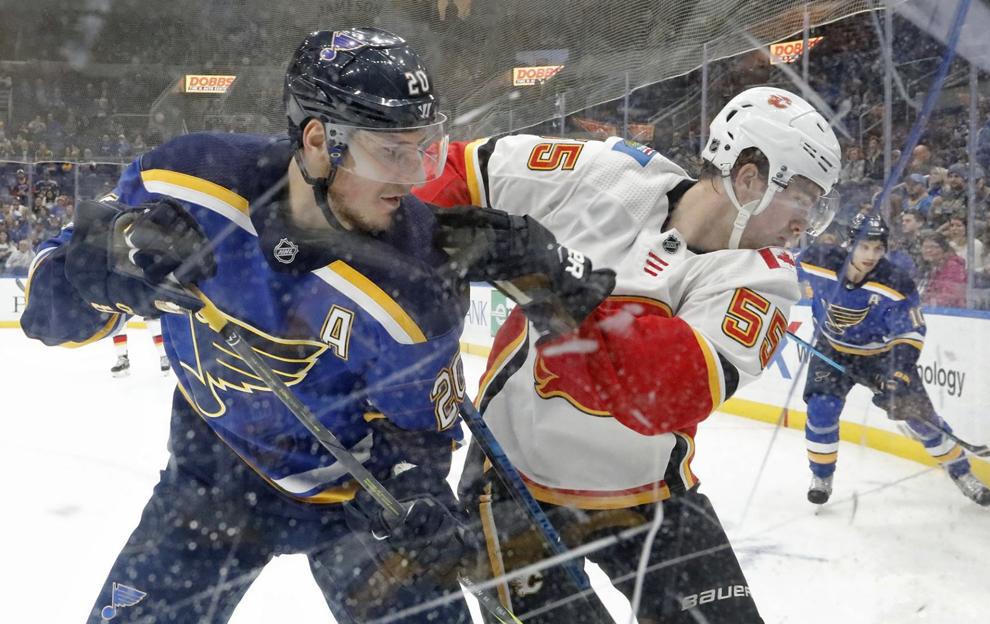 QUESTION: Why does everyone keep saying to "make a big trade" to shake things up? Values are low for everyone except O'Reilly, who shouldn't be going anywhere. Also it would seem most players would love to go to a better team, which is ... almost anywhere? A trade for the sake of making a move would seem more hurried than a Bouwmeester breakout pass. 
TOM T.: There is something called an "action bias," which makes people do things when standing pat is actually the better strategy. It's why teams make deals at the trade deadline, so it seems like they're doing something even if, in the long term, not doing anything is the better call. Something certainly seems wrong with how the Blues are constituted, because there's plenty of talent there that isn't performing well together. Sometimes you have seasons where everyone just plays poorly at the same time and that could be the problem: 15 players having off years.
But if you want to salvage this season, a move could alter that chemistry and give the team a chance. And with the team having had back-to-back seasons like this, the problem may be that the talent, or how the team chemistry isn't what it's cracked up to be. In that case, a change could help. For a while, I advocated standing pat, but I'm increasingly thinking something has to be done for the sake of doing something. 
FULLY COMMITTED TO JAKE IN GOAL?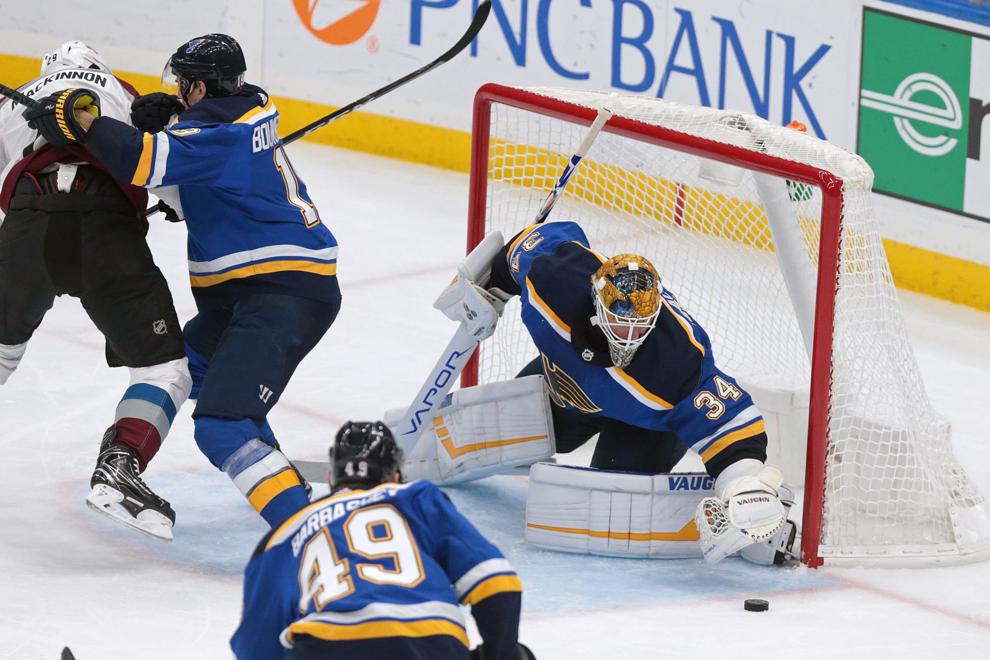 QUESTION: Are the Jekyll/Hyde Blues primarily going to ride the Jake Allen wagon the rest of this year? 
TOM T.: By rest of this year, do you mean 2018? If so, yes. Berube said the other day that, with not many back-to-backs on the horizon, they would be riding Allen just about every game. I don't see Jordan Binnington starting before the back-to-backs in early January, unless Allen has some horrendous outings. So far, Allen has played well enough to earn that, but this is the critical time for him. Late December, early January is his danger zone. I asked him about this the other day. He said he was feeling good. 
Follow-up: Was there any conversation among Blues brass over the last offseason of keeping Carter Hutton over Allen?
TOM T.: Hutton felt he had earned the chance to be a No. 1 goalie and wanted that chance. The Blues, no doubt, had internal discussions that decided that Jake Allen was their no. 1 goalie. Teams like Buffalo came along and offered Hutton No. 1 goalie money, and the Blues weren't going to commit that much money to the position. And the situation was complicated by, if they signed Hutton, they would have to move Allen, which wasn't going to be easy in last offseason's goalie market.
WHAT'S WRONG WITH TARASENKO'S SHOT?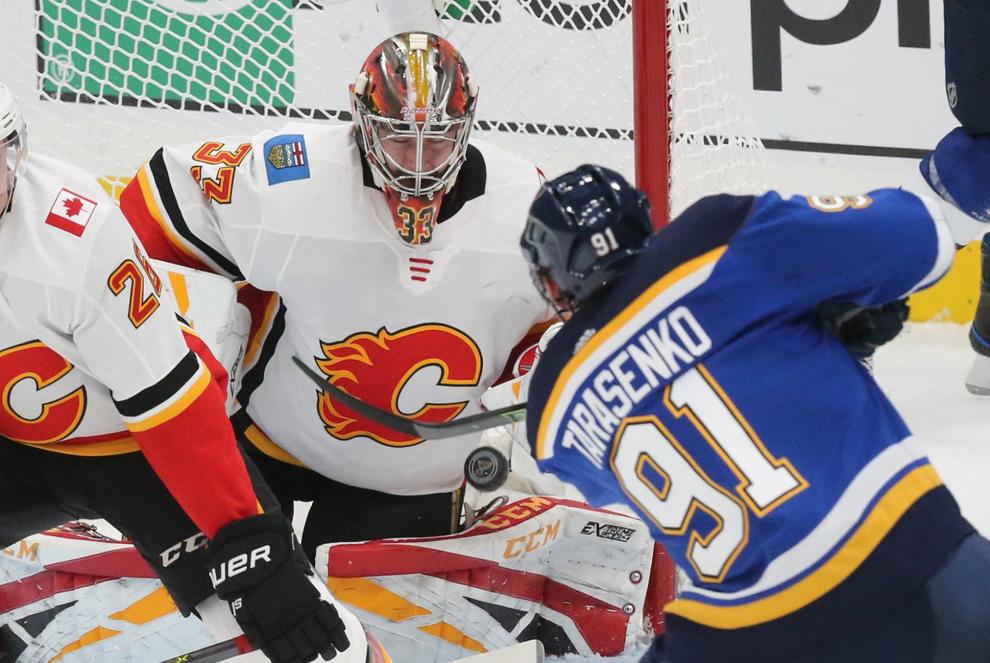 COMMENT: It's obvious that Tarasenko's shot is off. His shoulder is probably nowhere near 100 percent. The release is slower, the angle of his arm is different and the shot just doesn't have that devastating speed to it. To those who think the Blues should get rid of Tarasenko: I think he'll be back to a 40-goal scorer when his shoulder is 100 percent healthy. 
TOM T.: Experience tells me that players who are coming off injuries with offseason surgeries often need about half the season to get back to where they were before. Witness Bouwmeester. That could well be the same with Tarasenko, though he has maintained all along he feels fine. But any doubts in his mind about his shoulder could explain why he suddenly has shown a desire to become a playmaker. The problem for the Blues is, if Tarasenko isn't scoring 30-plus goals, that's going to put a definite drag on the offense.
NOT ENOUGH 'D' FROM DUNN?
QUESTION: Vince Dunn is the third defensive pairing, but gets top power-play time. Is that also a fair representation of how he is playing, good offensively but still suspect defensively?  
TOM T.: Dunn hasn't scored a goal since Oct. 22 and has 10 assists, so his offensive game could use some help. It's clear they still don't trust him defensively. There's been ample chances to use him on the top pairing and more often than not they've used someone else, though there's also the case to be made that for the Blues, having two offensive-minded defenseman on one pairing is asking for trouble, considering the number of odd-man rushes this team gives up.
From a quick glance at the numbers, I'd say he's last -- or low -- among Blues defensemen in hits. While that stat can be very erratic and vary from building to building, he hasn't been credited with one in seven games. 
PUMPING UP PARAYKO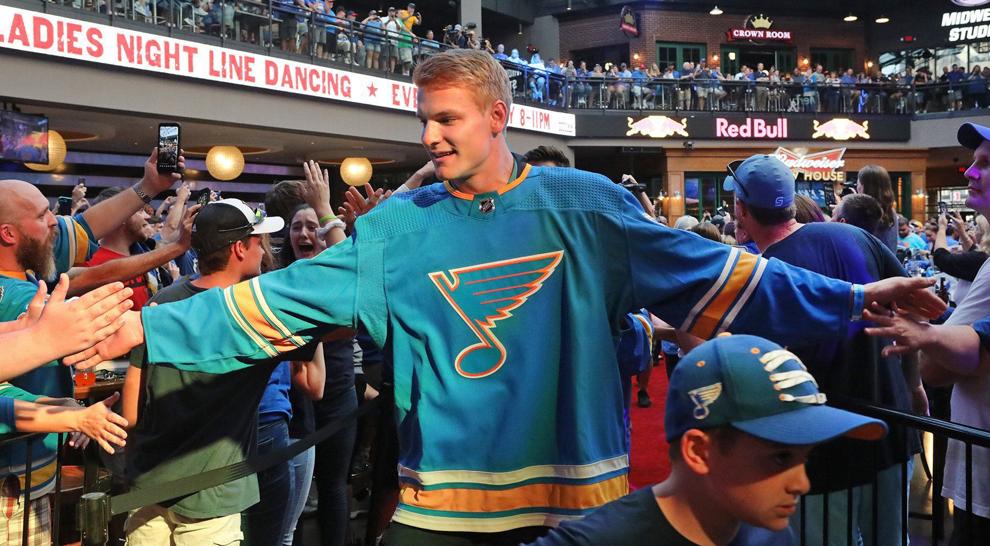 QUESTION: Colton Parayko's detractors have been quite loud this season. But finding a guy with Parayko's size, speed, shot, etc. is not easy. He has the raw physical ability to match any defenseman in the league. The Blues just need patience to get it all out of him. Hoping fans and the Blues' front office realize this.
TOM T.: Parayko had four goals in the first 10 games of his rookie season, which set an unsustainable target for him. People thought he was going to keep on going. It may have been the worst thing that could have happened to him expectations wise. Throw out those four goals and four to six goals a season is what would seem normal for him, but after that start, people thought he was going to be scoring in double figures. 
Still, he has a very strong shot and should take it more because it can make things happen. Berube has said they've told him they want him to shoot at least five times a game, and he has done that more often, but there are still times -- like against Arizona, when he shot once -- that he's not doing it. This has been a big test for Parayko now with Pietrangelo out, where he's been called on to play first pairing minutes and match up with top opponents. He's done well, though with the money the team is paying him, he needs to provide a lot.
WHAT INCENTIVE IS THERE FOR THE BLUES TO GO ALL OUT?
QUESTION: What incentive do the players have to go all out when if traded they would likely end up with a playoff-contending team? What recourse does the coach have if the players are not playing up to their abilities?
TOM T.: Well, if they go all out, they could be on a contending team here and not have to pull up their family and move. And there's no guarantee you could be traded to a contending team. You could end up with a team building for the future that is looking for something specific.
As for the recourse the coach has, in most cases, all he has is the healthy scratch. The Blues have used it on Perron, Maroon, Bouwmeester and Dunn, among regulars, this season, to send messages, which has had mixed results. But with 23-man rosters, there's only so many players you can use it on at any one time. And then you could limit their ice time when they do play. You could also send guys down to the minors, but if they have to clear waivers, that's a risky proposition since if they have any NHL experience, you're likely to lose them with nothing (actually, not quite nothing) in return.
AND FINALLY, A POSITIVE REMARK ABOUT ... JAYBO?
QUESTION: It is hard for me to admit/believe, but it seems JayBo has been playing better lately and jumping up into the offensive zone more. am I mistaken? If not, why do you think this is the case? 
TOM T.: Yes, it seems Bouwmeester has been playing better of late, and the fan base doesn't have that cringe factor every time the puck gets near him. No doubt he is feeling better physically better than he did at the start of the season, and one of the Blues' mistakes early may have been playing a not 100 percent Bouwmeester at the start.