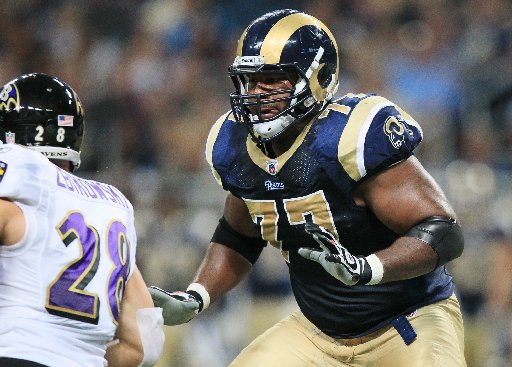 By dealing Jason Smith to the New York Jets for fellow offensive tackle Wayne Hunter, the Rams made it official.
The second overall pick in the 2009 NFL Draft climbed atop the franchise's Pantheon of Failures.
The Rams have done a consistently poor job of drafting since the Mad Mike Martz Era, when Super Bowl architect Charley Armey somehow lost control over personnel. The franchise has made some memorable blunders at the draft since then, overreaching and gambling and generally missing the boat.
But Smith turned out to be the biggest mistake of them all. Here is how they rank in this corner of cyberspace:
1) Jason Smith, OT: Once upon a time, Smith played tight end for Baylor. Then he added muscle and moved to tackle. The Rams saw him as a uniquely athletic prospect. General manager Billy Devaney believed Smith could grow into something special. Smith didn't. A spate of nasty concussions further limited his development. Smith immediately fell to the second unit behind failed Chiefs tackle Barry Richardson during Jeff Fisher's first training camp as the new coaches discovered his same old shortcomings.
The following assessment from Smith's NFL.com draft profile proved prescient: "Raw in his pass-set technique, standing a bit upright and backpedaling instead of sliding to mirror his man. Locks onto his man at first, but eventually loses his balance and grip due to his average upper-body strength and footwork. Does not have much of a punch in pass protection. Can lose the hands battle on the line."
That sounds like Jason Smith all right. Alex Barron wasn't great during his penalty-prone five years as a Ram, but at least he wasn't helpless against the pass rush.
2) Eric Crouch, WR: The Nebraska quarterback arrived with the 95th overall pick in 2002. Martz had a brainstorm: This college football star could become an explosive yards-after-catch receiver! That was an interesting theory, but in real life Crouch had no desire to go into traffic to catch passes. The experiment failed and Crouch beat a hasty retreat home. Also failing that year: The attempted conversion of Ohio State quarterback Steve Bellisari to safety. Ah, the memories we have!
3) Tye Hill, CB: The 15th overall pick in the 2006 draft arrived brimming with confidence. He looked the part of playmaker. He sounded the part. Then the games started and he began biting on pump fakes and getting lost in coverage. Hill ended his Rams career with four interceptions in 21 starts. Just four selections later San Diego drafted future Pro Bowl cornerback Antonio Cromartie.
4) Claude Wroten, DT: The Rams saw first-round talent in him. A drug bust at LSU caused him to sink to 68th overall in the 2006 draft. For a year, anyway, he appeared to be a solid pick. But those drug issues followed him into the NFL and cut short his Rams career the next year. He was last seen with the Edmonton Eskimos this summer before getting clipped.
5) Jimmy Kennedy, DT: He was supposed to go much higher in the 2003 draft. The Rams hadn't given him a lot of a thought. But when he fell to the No. 12 slot, Martz and Co. figured "We have to take this guy, right?" Wrong. "They didn't need me; I was just the best available," Kennedy said in 2009. "It was kind of like a red-shirt year when I first got there. I had Lovie Smith, he left. … Jim Haslett. I had Mike Martz, he got sick." Kennedy fashioned an enduring but unspectacular career, but look at some of the guys the Rams passed on to take him: Troy Polamalu, Calvin Pace, Willis McGahee and Dallas Clark.
6) Dominique Byrd, TE: The 93rd overall pick in the 2006 was an excellent athlete. But he wasn't the world's most dedicated athlete. He and fellow tight end Joe Klopfenstein (46th overall pick that year) were supposed to fit Scott Linehan's offensive vision. Byrd made Klopfenstein look like Jackie Smith by comparison; 'Nique caught six passes during his two forgettable St. Louis seasons.
7) Mardy Gilyard, WR: The offensively challenged Rams picked him 99th overall in 2010, hoping to tap his big-play potential. Although he brought some energy to the squad, he wasn't exactly a quick study. He lasted long enough to catch six passes and return 16 kickoffs before washing out. Tampa Bay found a potential star receiver that year in Mike Williams just two picks later.
8) Jon Alston, LB: This undersized Stanford linebacker arrived as the 77th overall pick in that tragic 2006 draft. He had some special teams potential, but his Rams career lasted three games. He moved on to Oakland and actually started eight games during a two-year span. Useful outside linebacker Clint Ingram (46 starts in the next four years) went to Jacksonville just three picks later.
9) Donnie Avery, WR: The first receiver picked in the 2008 draft will spend his career being compared unfavorably to Eagles star DeSean Jackson, the seventh receiver picked in that draft. The Rams grabbed Avery for his speed, but injuries derailed his career here. His halting transition from a collegiate spread offense to NFL route running did not help either. That wasn't a great draft year for receivers, but still . . .
10) Travis Scott, G: This fourth-round 2002 pick was just a part-time player at Arizona State. He seemed as surprised as anybody else that any team drafted him. He hung around the franchise for a year after straining some fat during his first camp. He never fashioned his doughboy physique into NFL condition and he departed without ever playing in a real game.
You could argue that five or six or nine other players deserve to make this top 10 instead. But you be hard-pressed to name a more disappointing recent Rams draft pick than Jason Smith.